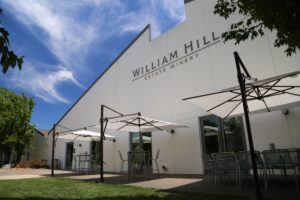 William Hill Estate dates from 1978 and has been sold a number of times since 1992, most recently in 2007 to the Gallo Family Vineyards. This winery is located about a mile from the Silverado Country Club in a beautiful location perched on top of a hill surrounded by hills and vineyard land. As a result, the Silverado Country Club often refers their guests to this tasting room.
This is home to their estate vineyard which is fairly large at 142 acres. This is where some of their Bordeaux varieties are planted predominately to Cabernet Sauvignon with smaller blocks including Merlot, Petit Verdot, Malbec and Cabernet Franc. William Hill is just south of the Stags Leap district and minutes from Silverado Trail.
The tasting room backs right up to their main cellar storage room, which is huge. Be sure to ask to step inside for a better view. Look through the windows and you will see hundreds of cases piled up in this large room. Gallo is a huge wine company, but compared to other wine corporations of even smaller size, they are first rate. We have been to several of their tasting rooms (not only in Napa) and in our experience, their staff are always top notch, informed, professional and helpful.
The estate tasting is "the" tasting here! It typically covers 7 or 8 of their varietals. A very unique feature of this winery is all their red wines are blended with small quantities of Petit Verdot. The reason for this is it helps create a Bordeaux style blend and brings color, tannins and a nice backbone to the wines.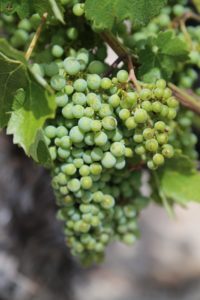 We started out with a 2005 Napa Valley Chardonnay with production at 28,000 cases and compared this to the same vintage Reserve Chardonnay of which only 3,500 cases are produced. The Napa Valley Chardonnay is a great outdoor wine; its rather light, crisp and slightly creamy with melon and citrus aromas. The Reserve on the other hand is all about the fruit; this is a rich Chardonnay that will easily stand up to foods higher in fat, salt or oil content.
The 2003 Merlot has the most fruit driven aromatics of any of their wines we tried. Think of a cross between a Pinot noir and a younger Cabernet with concentrated cherry flavors. William Hill makes two radically different Cabernet Sauvignons. The 2004 vintage is one of the lighter bodied Cabs we have tried during our Napa wine odyssey. Despite being made from fruit from similar vineyards this wine is radically different. The keywords for this wine are "more, more more"! More aging, more French Oak, more tannins, more body.
Some wines are also only available for purchase or tasting at the winery; these are their "Winery Exclusives" which are produced in extremely small quantities and typically include varietal wines often used for blending in other wines, i.e., Cabernet Franc, Malbec & Petit Verdot.
The 2003 Petit Verdot deserves special mention. It is a big wine, bigger than a number of Cabs we have sampled. PV is a grape that produces wine extremely dark in color; this version bursts into your mouth with a variety of flavors including cherry and plum with some subtle notes of vanilla.
If the weather permits special outdoor tastings can be arranged by appointment. On clear warm days the views are expansive featuring both hillside vineyards and rolling hills.
Check their website for any tasting specials. Visit: www.williamhillestate.com
NOTE: this review has been identified as needing a major update.