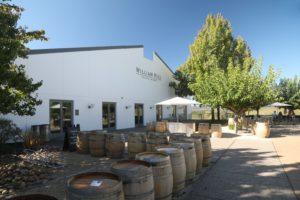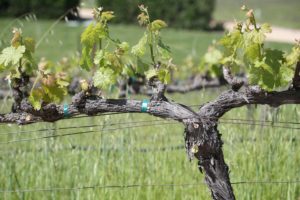 William Hill Estate dates from 1978 and was founded by William (Bill) Hill. While traveling through Europe Bill became bitten by the wine bug, especially from his time spent in Burgundy. Bill moved to the San Francisco Bay area from Oklahoma to attend Stanford University and eventually moved to Napa Valley in 1974. He made his first wine in 1976 from Mt. Veeder but never released it. A year later he made another vintage; this was the first vintage released under his new winery at the time using his namesake, William Hill. For many years the William Hill wines were made at other wineries; the current winery was built in the late 1980s. William sold the winery in 1992 and it has since changed hands several times. E & J Gallo Winery has owned the winery and property since 2007.
Bill is a pioneer of vineyard development in California, Oregon and Washington. In 1998 he co-founded Pacific Premiere Vineyards and during 13 years with the company he oversaw the development of thousands of acres of high-end vineyards throughout the west coast of the USA encompassing some 40+ premiere properties. Incidentally the first Napa vineyard he developed was on Diamond Mountain in the mid 1970s – a piece of property he called Diamond Mountain Ranch now owned by Sterling Vineyards. And Bill developed the vineyard site on Mt. Veeder for what later became the Hess Collection Estate Vineyard.
Over the years, Bill has worked with a number of Napa's more influential winemakers or winery owners including André Tchelistcheff, Ric Forman, Donald Hess and Robert Craig. Much later, Bill opened Silverado Studios; a brief foray into operating a tasting room along the southern part of the Silverado Trail which is now owned by Laird Family Estate. Today, Bill owns Broken Rock Vineyard, a 90-acre site about 2 miles in on Atlas Peak Road (not far from William Hill Winery, this vineyard supplies fruit to select premium producers as well as to his family's own brand, Prime Solum).
William Hill Winery is located about a mile from the entrance to the Silverado Country Club (home of PGA and Senior PGA events). Due to its proximity to the golf course, the Silverado Country Club often refers guests here. And while the winery is in the country, it is only about a 12-minute drive from downtown Napa.
The winery sits in a beautiful location and is perched on top of a hill surrounded by rolling hills and estate vineyards. The site is approximately 200 acres of which 140+ are planted to vineyards – nearly all to Bordeaux red varieties including the majority variety, Cabernet Sauvignon. Smaller vineyard blocks include Merlot, Petit Verdot, Malbec and Cabernet Franc.
Because of their elevation above the valley floor, southern Napa location and proximity to the San Pablo Bay, it is not uncommon for the property to be somewhat breezy at times. And often this site (and the southern part of Napa Valley in general) is much cooler in the summer than merely 35 minutes to the north in Calistoga.
The Gallo Family, E & J Gallo Winery
The original winery under Gallo family ownership was founded in 1933 in Modesto, California immediately following the repeal of Prohibition – by two brothers, Ernest and Julio Gallo. Ernest and Julio's parents immigrated to the USA from northern Italy – and both brothers were born near Modesto. Tragically Julio was killed in a jeep accident in 1983 involving his wife and his two granddaughters including now winemaker Gina Gallo (the three women survived the accident).
A milestone in the company's rich history was the founding of Gallo Glass Company in 1958 – now the largest glass manufacturing plant in North America. Other milestones include the launching of the Carlo Rossi brand in 1975 and Bartles & Jaymes wine coolers in 1984. The purchase of Louis Martini Winery in Napa Valley in 2002 was just the beginning of Gallo's acquisition of numerous brands, wineries and vineyard properties – accelerating around 2011 and continuing today.
Within the Napa Valley, E & J Gallo Winery owns Louis M. Martini Winery, The Ranch Winery (purchased 2015), Orin Swift Cellars (purchased in 2016), Franciscan Winery (purchased 2019), Pahlmeyer (purchased 2019) and the iconic Stagecoach Vineyards on Atlas Peak (purchased in 2017).
Hospitality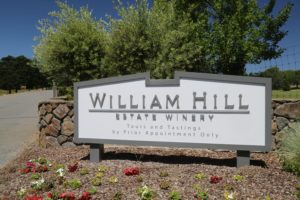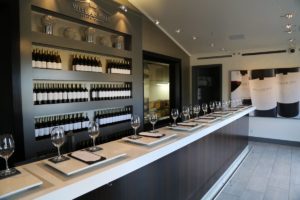 Tastings are by appointment – either the Overlook Bar Tasting (includes a flight of four wines) or the Estate Tasting a more in depth tasting of their Napa Valley Chardonnays and estate-grown Bordeaux-variety wines.
The Estate Tour and Tasting is available by reservation and includes a short walk through part of a nearby vineyard block (with excellent views looking down on the winery and vineyards), a walk-through of their production facility (and it is sizable with barrels stacked 4 and 5 high) followed by an indoor seated tasting of select limited production current release wines (a current vintage of the Benchmark release as well as a library selection) – paired with several delicious cheeses and cured meats.
While not an official sub appellation, this specific part of Napa Valley is often referred to as the Silverado Bench – a series of rolling hills that are not high enough to be called mountains and are not low enough to be considered the floor of the valley. A prominent white bench appropriately titled the "Silverado Bench" is located outside of the tasting room – from here one enjoys excellent views overlooking the southern part of Napa Valley. A number of celebrities have also visited this bench including Tiger Woods.
And the large vineyard seen from their terrace is Silver Oak's flagship vineyard for their Napa Valley Cabernet Sauvignon (Soda Canyon Ranch).
Select Wines
As of our latest update, William Hill produces around 50,000 cases a year, most of which is made off site and are marketed through various distribution channels. The wines offered for visitors are generally much more limited production wines only available to those who visit the winery, online or through their wine club. William Hill produces several different categories of wine including the Coastal Series (wines from California's north and central coastal regions), Napa Valley Series (wines from throughout select vineyard sites in Napa Valley), the Winemaker Series (limited production wines found only at the winery or online) and the Benchland Series (limited production mostly wines from their estate property surrounding the winery).
Somewhat unique for a Napa Valley winery, William Hill produces a number of 100% varietal or nearly 100% varietal wines from red varieties that are often primarily used for blending purposes – including Malbec, Merlot, Petit Verdot and Cabernet Franc. These wines are part of either the Winemaker or Benchland Collective series.
William Hill produces several different styles of Chardonnay including a Napa Valley Chardonnay (much larger production) and a Carneros Chardonnay as part of their Winemaker's Series. No Chardonnay grows on the estate. The Napa Valley Chardonnay is a lighter style wine of this variety – crisp yet with a mouth feel that shows some creamy characteristics. The Winemaker's Carneros Chardonnay tends to be a richer showing, a wine that will pair well with foods higher in fat, salt or oil content.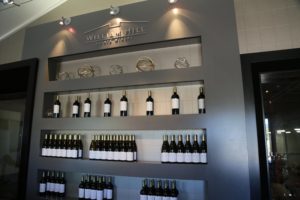 The 2014 Benchland Series Malbec is noticeably dark purple in the glass – offers aromas of leather, darker fruit and some pretty floral notes including violets and dried rose petals. Very balanced and food friendly – with tannins that are noticeable – not for any sort of harshness but how seamlessly they linger on the finish. Offers plenty of fruit on both the bouquet and palate – this wine is not as earthy or gamey as some of the few Argentina Malbecs we have tried from Mendoza. This is a fairly rare 100% varietal Malbec from the Napa Valley.
The 2014 William Hill Winemaker Series Petit Verdot offers briary or brambly aromas including ripe blackberry and boysenberry. Shows plenty of fruit on the bouquet with just a hint of cedar box. Fairly voluptuous on the palate – shows a core of dark cherry fruit across the palate. Firm yet not overly grippy tannins anchor a very long finish. Very few wineries in the Napa Valley produce a 100% varietal wine from Petit Verdot.
The 2014 William Hill Benchmark (their flagship Bordeaux red styled wine) offers pretty aromatics tending to be darker fruit than red fruits including plum, black cherry along with darker spices. Full bodied with layers of flavor, this wine is juicy on the palate finishing with flavors of blackberry, plum and red cherry. Pleasing tannins show big but not bold – and are fairly well integrated into the finish.
NOTE: updated tasting note coming by late 2023.
—
Of note, the Atlas Peak fire in October 2017 burned extremely close to the winery and destroyed a number of homes in the nearby vicinity in the hills to the east of the property. The fire burned the William Hill sign at the bottom of their driveway but did not actually burn any of their vineyards or winery buildings.
For more information or to join one of their wine clubs, visit: www.williamhillestate.com
Winery

Vineyards

Property