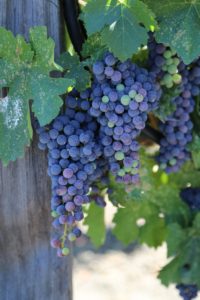 WaterMark Wine is a small longtime under-the-radar boutique winery run by long time Napa Vintner Phil Steinschriber. Phil is also winemaker for the much coveted Cabernet Sauvignons of Diamond Creek Vineyards on Diamond Mountain and because of his long history (35+ years) working in the wine industry in the Napa Valley has access to extremely good fruit sources. He has been around the beverage industry ever since he was a child. He later worked as a wine buyer which ended up in part being the path to fueling his interest in wine.
He earned his degree in Agriculture Chemistry from Fresno State and then after a short stint in Israel making California style kosher wines, and as winemaker for a winery in New Mexico he moved to the Napa Valley and worked for a now defunct winery for several years. In 1991 he became winemaker for Diamond Creek Vineyards and has since made his mark for this winery, often earning top scores for his Cabernet's.
The WaterMark wines are layered and complex and need we mention available at much less the cost then some of the wines he makes for other premium wineries. Phil's wines are all hand produced. They are made in a Bordeaux-style. The grapes for the 2005 Napa Valley Cabernet Sauvignon were harvested by hand in the very early morning, then cold soaked for 4 days, pressed sweet for the free run juice and then fermented. No pumps are used, punch downs are carefully regulated and are done less often in the later stages of fermentation to help ensure a wine that is less tannic. All aging is done in small French Oak barrels.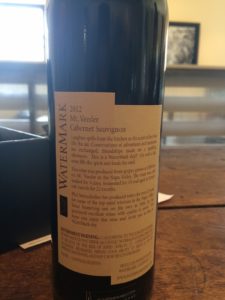 We met Phil many years ago at a tasting and then followed up with Tim Mertz who worked at A Dozen Vintners (before they closed) and has helped Phil with a number of harvests. We were fortunate to be able to taste WaterMark's inaugural 2004 Cabernet Sauvignon with Tim – now here is a wine worth getting your hands on!
Napa's secret and sometimes not so secret recipe is combine unique high end terroir with a long time well-regarded wine maker veteran; you have the ingredients for success in the wine industry. The 2004 Cabernet Sauvignon is all about the fruit; you can tell this as soon as you breath in the aromas on the bouquet. Aromatically this wine is big with raspberry and spice components including black pepper. The palate continues with raspberry and cherry with notes of chocolate, cloves, cinnamon and subtle nuances of tobacco, vanilla and toasted oak to round out the finish. Speaking of the finish; it is clean and very long. There is a lot packed in this wine, both in fruit and spice flavors.
The 2012 Mt. Veeder grown (vineyard at 2,000 feet) WaterMark is dark ruby in the glass with medium viscosity. Aromatically it reveals notes of blueberries, darker cherries and a dark cedar box note with hints of mushroom. A nice intensity of fruit shows on the mid palate through to the finish. Both oak and grape tannins linger with a touch of toasted oak. The tannins are well integrated and do not dominate. A good food wine that over delivers for the price.
Watermark focuses entirely on Cabernet Sauvignon with the one wine mentioned above as well as a Howell Mountain Cabernet Sauvignon. Their wines have good acidity and backbone structure and will age nicely for a number of years. Their first vintage was in 2004 and production is tiny at merely several hundred cases of each wine. As a result the easiest way to find their wine locally is to visit ACME Fine Wines in St. Helena or Backroom Wines in downtown Napa or view: www.watermarkwine.com