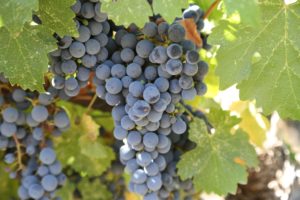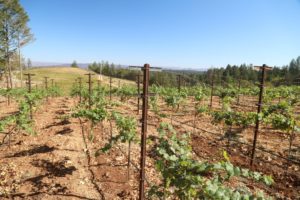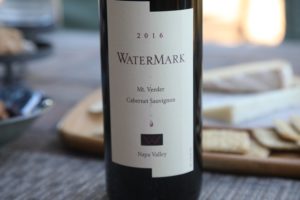 WaterMark Wine is a small under-the-radar boutique winery run by long time Napa Valley based vintner Phil Steinschriber and his wife Diane. For 30+ years Phil was also winemaker at Diamond Creek Vineyards, crafting some of the most coveted Cabernet Sauvignons in the Napa Valley.
Phil's parents immigrated to the USA after both survived time in several concentration camps separately from each other during World War II, in Poland and Germany. Phil spent some of his childhood in New Jersey where his parents raised chickens – and after being unsuccessful in this venture they pivoted completely both in location and type of business – and drove across country to Los Angeles where the family moved and purchased a liquor store in Watts, (Los Angeles County). Later they owned several other liquor stores including in Northridge.
After graduating from UCLA in 1973, the following year, Phil took off to Europe on a one-way ticket. During his time backpacking around the continent, he met some new friends in Amsterdam. They purchased a VW van and invited him on an epic road trip from the Netherlands to Greece, spending a significant amount of time in Italy and France. Phil remembers this is the first time he was really introduced to wine – enjoying 'gallons' of wine in the back seat as they traversed the continent.
He returned to Los Angeles with little money and no job – so his father offered him a position helping him at their Northridge liquor store. This liquor store was Phil's first introduction to the business side of the wine industry. Initially he helped his father sell a variety of alcohol including very cheap wine. Later he would become the wine buyer for his father's store.
He earned his master's degree in agriculture chemistry from Fresno State – ultimately finishing the degree in Israel in 1983 where he then spent two years producing kosher wines in the Golan Heights. One day while working in the lab he heard an American voice, "hello, hello", came the call. It was Boots Brounstein who was soon followed by her husband Al. It was here he met the Brounstein's for the first time – a couple that would ultimately play an extremely important role in his winemaking career. And Al even offered Phil a job during their conversation, although Phil did not take him seriously. Phil was already familiar with the wines from Diamond Creek Vineyards at that time – as a teacher's assistant while at Fresno State, for one of his classes he was responsible for securing wines for tasting in the class (he had already tried several of the late 1970's Diamond Creek vintages).
After returning to the states, he took a job working for Anderson Valley Vineyards near Albuquerque, New Mexico for a short while in 1985. He then moved to the Napa Valley in 1986 and worked for several years at Napa Creek Winery (no longer in business, on site of what is now Auburn James Winery). He recalls the early vintages of Clos Pegase wines were made there – André Tchelistcheff was their consulting winemaker. He would come by the winery to check on the wines – one time Phil invited him to taste with him but André said, something like, "I need a minute" and went outside to smoke. We've heard several stories over the years about how Andre needed to calibrate his palate first with a cigarette.
While working in the Napa Valley, remembering Al's early offer of a job; Phil would every so often ask Al and Boots for a position at Diamond Creek Vineyards. In 1990 he was finally offered the winemaker position at Diamond Creek Vineyards – and in 1991 he became their winemaker. Over the years, he has since made his mark in the world of wine, often earning top scores for their Cabernet Sauvignon wines. Diamond Creek Vineyards sold to the Champagne house, Louis Roederer in early 2020 (Boots died in mid-summer 2019) – while no longer head winemaker, Phil continues to consult for Diamond Creek Vineyards.
We met Phil many years ago at a tasting and then followed up with Tim Mertz who worked at A Dozen Vintners (before they closed) and who helped Phil with a number of harvests. We were fortunate to be able to taste WaterMark's inaugural 2004 Cabernet Sauvignon with Tim – incidentally, a wine well worth seeking out.
Phil's focus is on fruit from hillside vineyards – and while he is quick to admit that 'big wines can take a lot of oak' – his wines are never dominated by oak. These are concentrated showings but are wines that are deftly balanced with no harsh extremities. Mouth feel is an extremely important component of his wines – he strives for mouth feel first and says, 'everything else will follow suit". The WaterMark wines are approachable in their youth but have all the hallmarks of being able to age for many years.
Phil's wines are all hand crafted – made in a Bordeaux-style. The grapes are harvested by hand, typically in the very early morning, then cold soaked for several days, pressed sweet for the free run juice and then fermented. No pumps are used, punch downs are carefully regulated and are done less often in the later stages of fermentation to help ensure the wines are less tannic. All aging is done in small French oak barrels.
Select Wines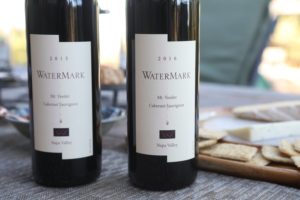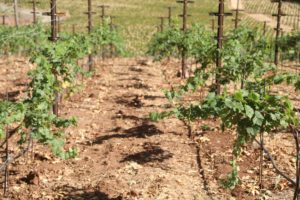 Phil used to own a vineyard at about 2,000 feet on Mt. Veeder – he first met vineyardist Lisa Chu who sold him a piece of land. Lisa currently owns two vineyards on Mt. Veeder, the Saffron Vineyard and Wildcat Vineyard – Phil sources fruit from her Wildcat Vineyard every year for the WaterMark Mt. Veeder Cabernet Sauvignon. The 2014 WaterMark Mt Veeder Cabernet Sauvignon offers some nice aromatic character – one can almost smell the vineyard soils in the bouquet. Some spicy darker notes show including tobacco and dust – fruit aromatics are plum and darker cherry. As the wine opens, shows notes of mocha and espresso. Seamless from start to finish – this wine is very approachable and elegant. The feel of the tannins on the finish are texturally attractive – slightly dusty, defined by their suppleness.
The 2015 WaterMark Mt. Veeder 100% varietal Cabernet Sauvignon is dark ruby in the glass: with aromatics of dark fruit including of ripe plum, blackberry and cassis. Also, a darker cedar box note and brown chocolate, especially as the wine opens further. This is a riper showing on the bouquet compared to the 2014 vintage. The union of sweet fruit and hints of dessert spices makes this a very attractive bouquet. Noticeable is the wine's density; its plush mouth feel is a very important attribute of its character. Offers plenty of depth of flavor but is seamless across the palate with grainy well integrated tannins.
The 2016 WaterMark Mt Veeder Cabernet Sauvignon is dark ruby in color; offers dark fruit on the bouquet along with rose petal, dark olive, tobacco leaf and brown chocolate. Also, sweeter aromatics influences including mocha and espresso. Plenty of aromatic diversity here to satisfy even the most discerning of Napa Cabernet Sauvignon drinkers. Supple upon the entry but quickly gains complexity; shows flavors of blackberry pie, blackberry jam – shows plenty of concentration. Plenty of power and weight – but not heavy in its texture. Finishes with some noticeable grip but without any tannin roughness.
The 2012 Watermark Mt. Veeder is dark ruby in the glass with medium viscosity. Aromatically it reveals notes of blueberries, darker cherries and a dark cedar box note with hints of mushroom. A nice intensity of fruit shows on the mid palate through to the finish. Both oak and grape tannins linger with a touch of toasted oak. The tannins are well integrated and do not dominate. This is a good food wine that over delivers for the price.
The 2004 WaterMark Cabernet Sauvignon is all about the fruit; one immediately notices that upon smelling the aromas for the first time. Aromatically this wine is generous – offering raspberry and spice components including black pepper. The palate continues with raspberry and cherry with additional nuances of chocolate, cloves, cinnamon and subtle notes of tobacco, vanilla and toasted oak to round out the finish. The finish is long. There is a lot packed in this wine, both in fruit and a variety of spice flavors.
The 2014 WaterMark Napa Valley Cabernet Sauvignon is 93% Cabernet Sauvignon, 4.2% Merlot, 2.3% Cabernet Franc, 0.2% Petit Verdot and 0.3% Malbec. Vineyard sources including Mt. Veeder, Diamond Mountain and an elevated site near Pritchard Hill. The wine is dark ruby with riper and sweet aromas of plum and blackberry including aromas of brown chocolate, vanilla and some dust notes. Rounded and supple on the palate with flavors of blackberry, blueberry and boysenberry. The finish is long with firm earthy tannins along with some toasted cedar – a persistent finish. Very good acidity.
Watermark focuses entirely on Cabernet Sauvignon – typically two wines are produced each year but not always, the Mt. Veeder Cabernet Sauvignon and the Napa Valley Cabernet Sauvignon. The first vintage of WaterMark was in 2004; production remains very small – usually only up to around 500 cases each vintage.
—-
Howell Mountain Property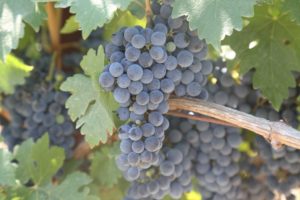 Phil and Diane married in 2011 and Diane encouraged him to find a small vineyard (one of his dreams to own a vineyard). They focused their efforts on hillside locations – looking at a property on Mt. Veeder where the owner had either randomly or thoughtfully left a bottle of WaterMark out for them to see. Then they discovered a forested site at 2100 feet on Howell Mountain – with a house that had not been lived in for years.
Diane walked into the house first – spotted the orange shag carpet and very dated 1970s-esque looking interior. She walked out before Phil even had a chance to see the interior of the home. She said he wouldn't be interested in this dated fixer upper, and it was time to leave, to keep searching. But Phil knew the vineyard neighborhood and walked down a narrow trail to examine some of the soils. He picked up a handful of soil, saw its color, smelled it and was immediately intrigued. His response after this was something like, "that house is not so bad after all!"
The property (Corilan Vineyards) is 14 acres of which 3 are planted (first vines went into the ground in 2020), primarily to Cabernet Sauvignon with a small section of Malbec. The first grapes were harvested in 2021 (a very small yield due to the young age of the vines). This is a vineyard with excellent views looking east over Pope Valley and of the surrounding hills. Nearby neighbors include Lamborn Family and a David Abreu managed vineyard directly to the east of their own site.
And they are bonded to produce a small amount of wine on site.
—
The word WaterMark has long appealed to Phil – the high watermark, the watermark on a check, watermarked labels – the term referring to a standard of quality or excellence. And the label immediately invites physical touch – bringing one in to examine it closely. A watermark in the form of a drop of wine appears to visually 'roll' down the side of the label – one has the reaction to reach out and wipe this drop away.
The wines can be purchased direct via their website or select vintages may be available in several retail outlets locally including the Bounter Hunter and Backroom Wines in the city of Napa, V Wine Cellar in Yountville, Oakville Grocery, ACME Fine Wines in St. Helena or the Calistoga Wine Stop in the town of Calistoga. For more information or to join their mailing list, visit: www.watermarkwine.com