Voces Cellars is owned and operated by Fernando Candelario. His parents immigrated from Michoacán Mexico in 1979, a region of the country that a number of Mexican-American vintners in the Napa Valley are originally from. Sometimes you don't know what path life will lead you on – Fernando certainly was not on a career path to become a winemaker. He came to the valley in 1984 and soon after arriving started school. After a few years he took a job at Robert Mondavi Winery in the cellar where for the next seven years he gained invaluable wine making experience.
His next job took him to Calistoga where he worked for Greg Brown (at that time the owner of T-Vine Cellars). This is where he learned a lot about boutique winemaking – working with Greg and making wine with a number of varietals. He also started making Voces here with his first commercial vintage released in 2002. Today Fernando is the primary winemaker for T-Vine Cellars.
Voces is Spanish for "voices" representing what Fernando feels passionately about – through a collaborative effort of working together and community involvement, dreams are always possible. You do something for yourself, yet at the same time your actions benefit others – always with the community in mind.
Fernando and Voces Wine are one of a select group of charter members for the Napa Valley Mexican-American Vintners Association (NVMAVA). In early 2010, a number of Mexican-Napa vintners were invited down to Morelia Mexico for a wine tasting and the absence of a Mexican-American Vintner association was discussed. Upon returning stateside a number of mostly Napa owned vintners formed this association. Their goals are to promote their own wines, support Mexican Americans in the wine industry and provide a forum for wine education.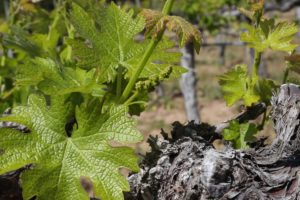 Voces focuses on two wines each year, each 100% varietal – a Cabernet Sauvignon and a Petite Sirah. Fernando wants to best express these varietals and his wines are 100% varietal. Based on the connections and experience he gained working at T-Vine Cellars in Calistoga much of the sources for his grapes are from the Calistoga Appellation. He likes to source and blend the same varietals from both valley floor and hillside vineyards.
Fernando's winemaking style is straight forward – no cold fermentation, fermenting to dryness and then going straight to barrel. He uses a combination of both American and French Oak.
The 2006 Cabernet Sauvignon has an opulent nose. The influence of the American oak shows nice notes of baked cinnamon and other pleasing spices often used during the winter holidays. The mouth feel is fairly soft and rounded. The tannins are medium bodied, dry and slightly dusty but not overly so. The finish is clean with lingering notes of coffee bean.
The 2006 Petite Sirah is dark and inky in the glass – as this varietal should be. As in all his wines the acidity is natural from the vineyard. This wine is certainly about the fruit on the bouquet and the palate. Aromas of luscious ripe dark fruit including black berry and black cherry show and as the wine develops, pleasing notes of chocolate and cinnamon come forward – there is even a hint of sage. The mouth feel is soft and supple upon entry but quickly gains in complexity towards the mid palate with flavors of ripe plum. The finish is anchored by rounded well-managed lingering tannins.
Voces produces just several hundred cases in total annually and is selectively distributed, mostly in California with some distribution in Colorado. Locally you can find the wine at the Wine Stop in Calistoga and Backroom Wines in the city of Napa. visit: www.vocescellars.com