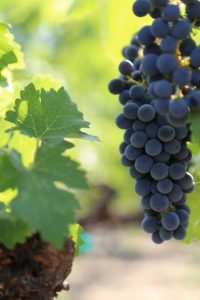 Vinum Cellars is run by two winemakers, Richard Bruno and Chris Condos who met when they were both studying at UC Davis. hey are certainly not the first Napa winery to start after meeting while studying at Davis. Their first vintage was from 1997 with an original focus on Chenin Blanc and Petite Sirah (they have since branched out to produce wines from additional varieties) including Chardonnay, Roussanne, Grenache & Mourvedre among others. All fruit for their wines come from vineyards they have locked up in long term contracts.
Richard started his career in the food and wine world by working at a restaurant as a waiter and bartender. It was there that he was introduced to wine – he attended UC Davis in the mid 1990s and graduated with a degree in Fermentation Science, Viticulure and Enology in 1997. He has made wine for numerous wineries in both central and northern California over the years including as the Director of Winemaking for Don Sebastiani & Sons. Today he focuses on his consulting career having consulted for Niebaum-Coppola and Michael Pozzan Winery – along being one of the winemakers for Naked Wines.
Chris is from a Greek family where wine was a part of his heritage; his grandfathers made wine and his father sold wine. He went to SF State and studied plant ecology and later graduated from UC Davis with a degree in Viticulture and Enology. His first wine job in the Napa Valley was at Pine Ridge in 1995 (where he made Chenin Blanc, a variety he loves working with and still makes today with Vinum Cellars). Chris is also involved in a consulting role for Kathryn Kennedy Winery (San Jose area) and works with his wife Suzanne to oversee their own brand in Sebastopol, Horse & Plow (wines from organic and biodynamically farmed vineyards as well as select ciders).
Many of the Vinum Cellars vineyard sources have remained the same for years. This builds consistency into their wines and has allowed both Chris and Richard to becomes familiar with the nuances of each vineyard. The focus of Vinum Cellars is on varieties not often produced from Napa based wineries – all of their variety sources are from outside of the Napa Valley except for their Napa Valley Cabernet Sauvignon. They source from approximately 10 vineyards in California ranging from Santa Barbara in the south to El Dorado County in the north (Sierra Nevada foothills). This diversity of sources is for a reason. Both Chris and Richard feel that specific teroir best represents particular varieties and the Napa area is not always the best suited region for a number of the varieties that they produce.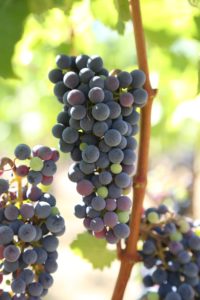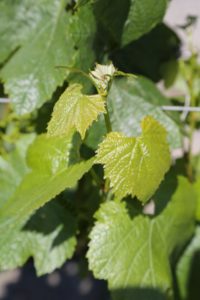 They are open to experimenting with different types of yeast and typically use specific strains of yeast based on the actual variety. Their white wines are aged sur lie which help create bigger mouth feels and adds more complexity to the flavors. They stress skin contact during their fermentations – only open top fermentors are used, punch downs are all conducted by hand and the grapes go through extended maceration before the juice is pressed out. Their focus is on the varietal characteristics; the wines are aged in older French oak barrels.
They have scoured California for the best growing regions for each of their varieties. One of their vineyards in El Dorado County is organically grown by someone who also grows stone fruits (peaches, apricots etc). This farmer ensures his vineyards and crops are carefully managed and it is vineyards such as this one that helps this winery stand out.
The one vineyard they source from in the Napa Valley is located in the far north of the valley near the town of Calistoga. This vineyard supplies the grapes for their delicious Cabernet Sauvignon rosé. This is an affordable easy drinking wine with flavors of raspberry, strawberry, and cherry. It is a soft wine and the finish has hints of red cherry and spices. Their Napa Valley Cabernet Sauvignon is one of the best value to quality wines of this variety from Napa.
They continue to produce their wine at Napa Wine Co, located in the heart of the Napa Valley in Oakville. Total production every year is around 30,000 cases. Their wines are priced extremely reasonable especially considering the fact that they are all hand-made often in fairly low quantities. For many years, the Vinum Wines were available for tasting at what was Napa Wine Co's shared tasting room in Oakville. But as of January 1, 2019 this tasting room stopped representing all vintner members other then their own three brands.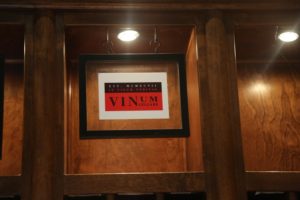 Cellars also operates a keg program – great for restaurants who want to order large volume lots. For more information and or to join their wine club, visit: www.vinumcellars.com
Note: we originally met Chris and Richard at a tasting many years ago. This is one of the very last reviews on this site originally written based on a public tasting. This review has been identified as needing a *major* update.
The Tasting Room at Napa Wine Co (no longer open for tasting these wines)

Horse + Plow