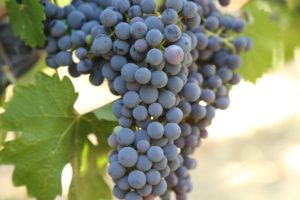 Vinum Cellars was founded by two winemakers, Richard Bruno and Chris Condos who met when they were both studying at UC Davis. This is one of several Napa Valley based wineries we know of based on friendships forged during the rigors of classwork at UC Davis. Their first vintage was from 1997, 1,000 cases of a Chenin Blanc, Roussanne and Viognier blend. Their early focus was on Chenin Blanc and Petite Sirah; they have long since increased and diversified production including Cabernet Sauvignon, Chardonnay, Pinot Noir and Sauvignon Blanc among others. Grapes for their wines come from vineyards they have generally locked up in long term contracts. And in addition to Vinum Cellars, they also produce wines under the following brands: Sierra Del Mar Vineyard (Sauvignon Blanc and Pinot Noir), Spring Street Winery (wines from Paso Robles and other parts of California's central coast), Typsetter (Napa Valley Cabernet Sauvignon) and Sea Pines (wines from organically farmed vineyards in Mendocino County). Chris calls their Sea Pines Cabernet Sauvignon some of the best wine from this variety that he makes.
Richard started his career in the food and wine world by working at a restaurant as a waiter and bartender. It was there that he was introduced to wine – he attended UC Davis in the mid 1990s and graduated with a degree in Fermentation Science, Viticulture and Enology in 1997. He has made wine for numerous wineries in both central and northern California over the years including as the Director of Winemaking for Don Sebastiani & Sons. Today he focuses on his consulting career having consulted for Niebaum-Coppola and Michael Pozzan Winery – along being one of the winemakers for Naked Wines.
Chris is from a Greek family where wine was a part of his heritage; his grandfathers' made wine and his father sold wine. He attended San Francisco State and studied plant ecology; after discovering it was difficult to find a job in this field he traveled to Costa Rica, backpacking through the country at age 23. While there he began to think about perhaps owning an organic vineyard someday. He returned to California enrolled at UC Davis with the intent to work in viticulture but soon found himself gravitating towards winemaking. While at Davis he wanted to make wine with no additional sulfur added, but quickly discovered that even a small amount of sulfur goes a long ways. He left UC Davis after one year and took a job at Pine Ridge in 1995 where he helped setup the wine lab at Archery Summit, their sister winery in the Willamette Valley in Oregon. He also helped make Chenin Blanc, a variety he loves working with and still makes today with Vinum Cellars even continuing to source from the same vineyard in Clarksburg as he worked with while at Pine Ridge.
After college Chris and Richard began their winemaking careers. Both men reconnected in 1997 while Richard was working for Randall Grahm at Bonny Doon Vineyard and Chris at Pine Ridge. Richard contacted Chris in regard to possibly needing some Chenin Blanc for Bonny Doon back when its operations also including distilling.
Many of the Vinum Cellars vineyard sources have remained the same for years. This builds consistency into their wines and has allowed both Chris and Richard to becomes familiar with the nuances of each vineyard. Both men share the winemaking with Richard overseeing primarily their wines from California's central coast and Chris, the wines from Sonoma Coast regions. And its a synergetic partnership; both men's wine styles are fairly similar to each others.
Vinum Cellars produces wines from varieties not often grown or made by Napa Valley based wineries – nearly all of their vineyard sources are from outside of Napa Valley except for the Napa Valley Cabernet Sauvignon and sometimes one-off bottlings. Back in the late 1990s this wasn't as common as it is today. But their reasons at the time were partly a function of being able to find lower prices for non Napa Valley grown grapes and a greater diversity of varieties outside of the county. This trend still continues today, especially with younger Napa Valley based winemakers. Their dry rosé produced in 1999 was well before the current demand for wines of this style. Chris recalls having a very difficult time selling this wine.
Vinum Cellars sources from vineyards in California ranging from Santa Barbara in the south to Mendocino County in the north. This diversity of sources is for a reason. Both Chris and Richard feel that specific terroir best represents particular varieties and Napa Valley is not always the ideally suited region for a number of the varieties that they produce.
Winemaking/Select Wines
They are open to experimenting with different types of yeast and typically use specific strains of yeast known to work well with specific varieties. Their white wines are aged sur lie which help create more texture in the wines and adds additional flavor complexities. They stress skin contact during fermentation – only open top fermentors are used, punch downs are all conducted by hand and the grapes go through extended maceration before the wine is pressed off. Their focus is on the varietal characteristics rather than too much oak; the wines are generally aged in a high percentage of older French oak barrels.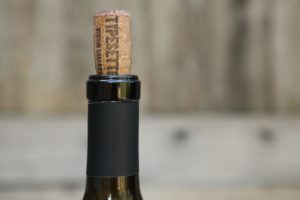 The 2019 Vinum Cellars Typsetter Lincoln Creek Vineyard Napa Valley is located across from Paradigm Winery in Oakville. One doesn't think of the combination of Zinfandel and Oakville and this is one of the rare plantings of Zinfandel within the appellation. This wine is deep ruby in color; upon opening this wine, it immediately shows aromas of nutmeg and clove. Give it time to breathe and its fruit will start displacing some of these baking spice characteristics. It reveals scents of bramble, red plum, a woodsy spice including old cedar box, chocolate and mocha. The palate offers a savory union of red fruits, bright acidity and a thread of darker spices which persist from the entry through to the finish. This bottling sports flavors of red plum, red licorice, raspberry, red cherry and white pepper. This wine tastes like the variety; it's fine grained tannins accompany a savory and bright mostly red-fruited finish. The name typesetter was chosen by Richard to honor his grandfather on his mother's side who worked as lithographer, printer and typesetter in Baltimore.
Longhorn Ridge Vineyard is located in the hills of the Vaca mountain range to the east of the valley floor on the backside of the Atlas Peak Appellation. Vinum Cellars has produced wine from this site since 2006 from its original 8-acre planting (it currently has about 10 acres of vines). Richard became familiar with this site when he was working for Don Sebastiani & Sons, sourcing grapes for their Napa Valley Cabernet Sauvignon from this property. And he now owns the site. Yields here are extremely low, often in the one ton per acre range due to both its lack of soils (weathered granite), elevation and the particular clone of Cabernet Sauvignon planted. Clone 23 Cabernet Sauvignon produces tiny grapes with an extremely high skin to juice ratio. Texturally one can clearly feel this in the wines from this vineyard. The several vintages we have tried are consistent in their character and most certainly define their particular site. Each vintage of this wine is generally aged in 50-60% new French oak barrels depending on the vintage.
The 2018 Vinum Cellars Longhorn Ridge Vineyard Cabernet Sauvignon (Hoffman Block) 100% varietal is deep ruby in the glass with an amaranthine rim; the bouquet is not shy and its dark fruited aromatics are immediately evident and expressive. These include ripe scents of blackberry, boysenberry and blueberry along with notes of chocolate and espresso as the wine evolves in the glass. One would not be incorrect in calling its aromatics voluptuous. The palate offers a lovely freshness to its character; but it is also built on concentrated and intense red and dark fruits including plum, cherry, mulberry, blackberry and dark currant. The youthful, densely packed and chewy tannins show a firm and unyielding drying grip and eventually far outpace the fruit on the extended finish. This wine offers bright and juicy acidity. This wine has lots of life ahead of it with proper cellar aging; it will be interesting to note it's textural changes as it ages.
The 2017 Vinum Cellars Longhorn Ridge Vineyard Cabernet Sauvignon (Hoffman Block) is deep ruby and inky purple in the glass. This wine is the definition of opaque. The bouquet reveals dark and layered aromas of blackberry, boysenberry, dark plum and Pakistani mulberry. This wine is not shy and its prominent fruit dominates lighter complementary aromas from its barrel aging. Chris called its palate concentrated and it is very much so featuring dark rich and intense fruit flavors which mirror the aromatics. But we simply called its fruit expression, generous. The tannins like in the 2018 vintage are densely woven and grippy but perhaps a bit more rounded or softened in their textural feel. Still they exert a long lasting, chewy, firm and memorable grip. This site produces wines that are fresh, savory and very age worthy and this bottling is a great example of this; we tasted 6 years post vintage and its character was like it was recently bottled.
The 2016 Vinum Cellars Napa Valley Longhorn Ridge Vineyard Cabernet Sauvignon (Hoffman Block) is aromatically spicy, inviting and layered with plenty of fruit layers on the bouquet. It offers aromas of ripe plum, blackberry, juniper berry, old cedar box and dried tobacco leaf (this last smell reminds us of walking into a dry storage barn for tobacco leaf at a tobacco farm we visited in Cuba several years ago). Juicy with good acidity, it sports flavors of red cherry, dark currant, a darker spice component and a red fruit tartness on the finish. The gravelly tannins are well defined but not harsh. 100% varietal. 700 cases produced.
The 2019 Vinum Cellars Typesetter Napa Valley Cabernet Sauvignon was sourced from multiple vineyards throughout Napa Valley and is a blend of 94% Cabernet Sauvignon, 2.5% Cabernet Franc, 1.5% Merlot and 1% Petit Verdot. This wine is deep ruby and nearly opaque in the glass; the bouquet offers an attractive union of baking spice aromatics and fruit. This includes clove, cardamom, nutmeg, cinnamon stick, crushed fennel seed, tonka beans, raspberry and red plum. This approachable and enjoyable bottling offers flavors of red plum, cherry, dark raspberry and licorice. The tannins are grainy in texture and linger for some time with a light but persistent drying character, dried herbs and notes of white pepper.
The 2020 Vinum Cellars The Insider Chardonnay Sonoma side of Carneros is deep gold; the aromatics are generous without being oaky or buttery. The bouquet offers scents of Golden Delicious apple, crème Brule, baked apple and citrus blossom. This wine's texture is supple and creamy with flavors of pear, apple, peach, peach, pineapple and stone fruits. This is a balanced bottling which showcases a long fruit-filled finish. The wine was barrel fermented and then aged sur-lies for 16 months. The name The Insider dates back to when they were sourcing grapes from a Paso Robles Vineyard. The owner of that particular vineyard did not want the vineyard name or location disclosed so Chris and Richard created this proprietary name.
Vinum Cellars produces some of the best value to quality wines from Napa Valley and beyond, including their single vineyard Cabernet Sauvignon.
—
They continue to produce their wine at Napa Wine Co, located in the heart of Napa Valley in Oakville. Total production every year is around 20,000 cases. For many years, the Vinum wines were available for tasting at what was Napa Wine Co's shared tasting room in Oakville. But as of January 1, 2019, this tasting room stopped representing all vintner clients and was converted over to a tasting space for Ghost Block Wines.
Vinum-Greenwood Mansion

Vinum Cellars hosts visitors by appointment on weekdays in what is now known as the Vinum-Greenwood Mansion located in the Napa Valley Gateway business park south of the city of Napa. A small tasting room is located on the first floor with the wine shelves built from repurposed wood from the old Napa Wine Co tasting room.
Their offices are also located in this building. Originally located across the highway at the intersection of Highway 12 and Highway 29, this home was eventually moved a few minutes to the west, to this site. Its original site is currently The Doctors Company and the street that encircles this campus is named Greenwood Drive in homage to the original owners.
The mansion is a dramatic contrast compared to the surrounding 'new' buildings of the business park. It has a storied history; originally built in the 1880s by Napa Sea Captain John Quincy Greenwood, the house sits on land formerly owned by General Mariano Vallejo. John's wife Lucinda was unfortunately murdered inside this house, upstairs by two thugs; they shot John several times in the head during one of their several attacks on the couple but remarkably he survived. The murderers were eventually caught. One had the dubious distinction of being the last public hanging held in the state of California (1897). The original noose for the hanging is in the collection at the tiny museum inside the nearby Napa Police Department building. For more details about this murder, reference Murder and Mayhem in the Napa Valley by Todd L. Shulman, founder of the Napa Police Historical Society.
The house remained under Greenwood family ownership for more than 150 years before ultimately it was sold. Part of the original Greenwood Ranch is the site of the Napa County airport.
Greenwood Road/Doctors Park

Greenwood Murder Noose/Napa Police Department Museum

Horse & Plow Winery, Sebastopol Sonoma County
Chris is also involved in a consulting role for Kathryn Kennedy Winery (San Jose area) and works with his wife Suzanne to oversee their own winery (Horse & Plow), with their hospitality location within a few minutes' drive of the center of Sebastopol in neighboring Sonoma County. The inaugural vintage of Horse & Plow was in 2008. Their focus is on wines from organic and biodynamically farmed vineyards as well as a limited number of dry ciders. Besides making the Horse & Plow wines, Chris also makes their ciders. One of his more interesting ciders was with brewer and winemaker Nils Zacherle. Both men created a co-ferment from Arkansas Black apples blended with smaller amounts of beer and Petite Verdot, all of which was then aged in oak foudres.
A visit is a relaxed experience among an inviting garden and orchard setting with picnic tables. Guests are encouraged to bring their own food and enjoy either flights of wines and ciders or by the bottle. While most of their wines are sourced from Sonoma County vineyards, they do produce several Napa Valley wines including from the historic Blockhouse Vineyard in Yountville (named for George Yount's original blockhouse and is also the site of Napa Valley's first ever vineyard, planted by Yount). And seasonally on Sundays live music is available in the afternoons.
The 2020 Horse & Plow, the Gardener Pinot Gris Napa Valley is from the Blockhouse Vineyard. This wine is medium copper color in the glass (the wine spent 20 months in skin contact before it was pressed off to finish fermentation and aging in neutral French oak barrels); it offers light aromatics of raspberry, strawberry and papaya. Its texture is creamy with flavors of red apple, mandarin and other citrus notes. This bottling lingers with bright acidity and a minerality note on the finish along with flavors of cantaloupe. Only two barrels of this wine was produced.
Vinum Cellars also operates a keg program which is ideal for restaurants who want to order large volume lots. For more information, to schedule a visit or to join their wine club, visit: www.vinumcellars.com
The Tasting Room at Napa Wine Co (no longer open for tasting these wines)