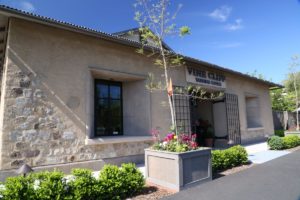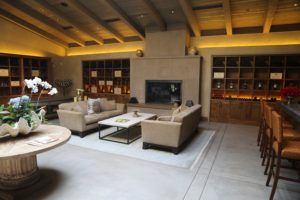 Vine Cliff Winery was originally established in 1871 and operated for nearly 30 years until phylloxera destroyed the vineyards on site. The original wooden multistory winery building no longer exists – one of its tennants for a short time in the 1870s was Terrell Grigsby, who learned how to make wine here and would go on to build T.L. Grigsby-Occidental Winery several miles to the south (what is now the Regusci Winery). Remarkably the Vine Cliff property was not planted to grapevines for 85 years.
Nell & Chuck Sweeney purchased the 100 acre property in 1985. Chuck worked for the parent company at the time of Silverado Country Club and would often visit the Napa Valley and was familiar with the area. He was a visionary in the hotel and hospitality world – and was instrumental in creating the Embassy Suites hotel brand as well as co-founding Crown Sterling Suites. They built a 'summer home' on site and in 1986 planted 16 rows of vines on a slope next to their home.
Today approximately 25 acres are planted on site, spread throughout 14 separate blocks – much of it on steep slopes. Over the years the family purchased several vineyards in Calistoga, on Howell Mountain and in Carneros (some of which they later sold). Today along with their 100-acre Oakville estate property, they own 20 acres on the Napa side of Carneros planted to approximately 12 acres of Chardonnay grapes.
Vine Cliff is located in an enviable vineyard neighborhood – set back from the Silverado Trail in the eastern hills of Napa Valley. These hillsides are highly coveted for producing superior wines – neighbors in the general vicinity include Oakville Ranch and Dalla Valle Vineyards. The hillsides in this eastern part of the valley (the Vaca mountain range) contain dramatically different vegetation then what grows on the other side of the valley in the Mayacamas mountain range. The slopes here are often more open with Chaparral growing rather then the more forested slopes on the other side of the valley.
The Sweeney's have invested smartly into the property over the years – planting Bordeaux varietals that do well in this part of the Napa Valley including Cabernet Sauvignon, Petite Verdot and Malbec. Later they built a production facility (near the original caves) and drilled a 15,000 square foot cave. Highlights of this property (aside from the world class grapes produced here) include the stellar views, a small pond and two quicksilver mines.
All visits to the property are by prior appointment. If the weather permits you may even taste outside in the shade of the nearby trees overlooking the pond and other parts of their property. The caves are nicely laid out with plenty of space so the barrels do not need to be stacked. Production has varied dramatically over the years but currently is around 6,000 cases.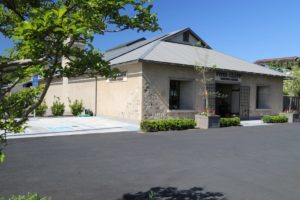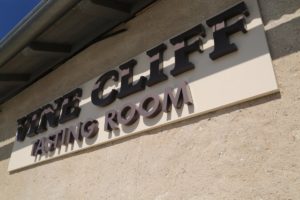 In March of 2014, Vine Cliff opened a tasting room on Highway 29 just south of St. Helena (they own this property). For many years this was the site of the old St. Helena Wine Merchants wine shop. Visitors today will recognize nothing from that old building. Much of that has to Nell's vision for the space along with prominent 'wine country' architect Howard Backen of Backen, Gillam & Kroeger Architects overseeing the design. The tasting room is contemporary and surprisingly spacious. It features a wine-bar, two private indoor tasting rooms, several indoor seating/lounge areas (with heated lamps) as well as two outdoor tasting areas. The tasting room is very centrally located.
In September 2016, Vine Cliff brought on full-time Chef Tom Stafford (fairly rare for a stand alone Napa based tasting room). He has infused their culinary offerings with energy and creativity. Visitors on the weekends can enjoy a variety of pizzas from their wood fired oven along with salads and a cheese and charcuterie offering. Their estate produces a number of seasonal products curated by Tom (sourced from Nell's garden). Check out the "chef's corner" in the tasting room containing a wide variety of Tom's pickled and cured items. Tom is is passionate about pickling – and select products sold range from pickled carrots to peppers to green strawberries.
A number of tasting experiences are offered including an Estate Flight (current releases), the Elevated Flight featuring library wines and a Food & Wine Experience in which chef provides a a number of specially prepared small bites with each wine. Private tastings can also be arranged by advance notice.
Vine Cliff primarily focuses on two varietals, Chardonnay and Cabernet Sauvignon (however from time to time, they will make wines from other varietals). During our initial visit we tasted the 2006 Chardonnay; this is a nice example of what you can do with Carneros grown Chardonnay. Much of this wine is from the highly regarded French Dijon clone. There are pretty aromas of tropical fruit as well fresh stone fruit, with more fruit on the palate including apricot as well as notes of toasted almond and crème Brule.
The 2012 Napa Valley Cabernet Sauvignon shows aromas of red cherry, hints of chocolate and white pepper. Savory and juicy on the palate shows more darker fruits then red fruits including black currant and darker cherry flavors. Dusty somewhat robust tannins anchor a very long finish. This wine should age well for many years.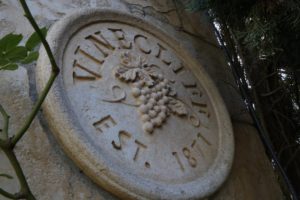 The 2013 Oakville Cabernet Sauvignon shows a pleasing sweetness of fruit on the bouquet along with hints of sage and toasted oak. This wine is big, reflective of the eastern hills in this appellation but also of this particular vintage. The intensity of flavor holds up well against the long lasting tannins but surprisingly well integrated tannins. A very well layered wine.
The 2005 Cabernet Franc is a well-crafted wine of this varietal; it has no vegetative characteristics and is all about the fruit. The story you often hear with Cabernet Franc in the Napa area is that it is rarely made. Well, compared to Cabernet Sauvignon this holds some credence, but we've seen it as its own varietal at numerous Napa wineries .
The 2005 Oakville Cabernet Sauvignon is from the estate and is a very good representation of their hillside terroir and the multiple clones and vineyard blocks that go into making this wine. This is a classic California Cabernet with rich ripe fruit full of berries, a muscular wine if you will yet with restraint. Hints of mocha, chocolate and a exotic smokiness grace the bouquet.
The Private Stock 16 Rows is their premiere Cabernet Sauvignon – it is created by selecting only the finest barrels of wine each year. And this is the only wine that they make that is labeled with the original label that was first used back in the 1870's.
If you enjoy their wines, be sure to join their wine club. The club is small but gives you access to limited production reserve wines. It is a well managed club with members being those who enjoy the wine and want to have access to select Vine Cliff experiences. Private meals can be arranged in their cave or at their tasting room. Several wines are sold exclusively to guests who visit the tasting room or winery.
For more information pr to join one of their wine clubs, visit: www.vinecliff.com
Tasting Room:

Winery/Estate: