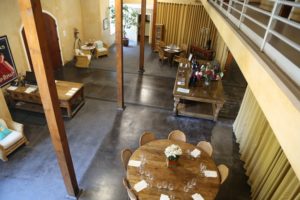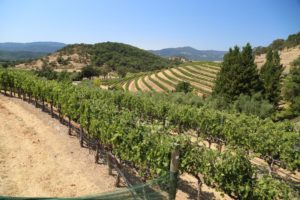 Vine Cliff Winery was originally established in 1871 by George Burrage and N.W. Tucker and was a sizable structure (4 stories, the uppermost three stories were built of wood). Burrage and Tucker purchased the property in 1870 from the George Yount estate (Yount died in 1865). Incidentally one of Yount's vineyards at the time was planted on the site of what is now the nearby Rector Dam (the Rector Reservoir Wildlife Area Trailhead leading off of the Silverado Trail climbs up the hills before plateauing, giving one views looking down on this body of water).
George and Aurelia Burrage were from New England – and when George's chairmaking business was destroyed the family eventually settled in the Napa Valley in the early 1860s with their young family including their son Albert. Albert who became a prominent attorney, made his money working with Standard Oil & Trust and copper mining and would later build the impressive Burrage House at 314 Commonwealth Avenue in Boston and a winter home in Redlands California, the 16,000 square foot Burrage Mansion (both homes still standing). And he would donate funds to build the Burrage Hospital in Boston (1900-1946) for crippled children.
Unfortunately, both George Burrage and Tucker died within a year of each other, George in 1875, and after his death his family moved out of the Napa Valley to San Francisco before eventually moving back to Massachusetts. During their time in the Napa Valley, Aurelia was one of the founders of the Napa County Public Library.
Burrage Cellar, also known as the Burrage & Tucker Cellar operated for almost every year for nearly 30 years, until phylloxera destroyed the vineyards on site. The winery is a short drive into the lower hills of the Vaca mountains from Silverado Trail, only about a 10-minute drive from Yountville. The property has featured a number of owners over the years including in 1880 when it was bought by San Francisco based Colonel John Fry and former Kentucky sheriff (died in 1901), who had done very well in the Nevada silver industry including as president of Crown Point and Belcher mines in the late 1860s prior to his purchase of the property in 1880. He also invested heavily in San Francisco real estate. Later the winery was sold to the California Winery Association; production ceased even before Prohibition – sometime right around 1900.
The original winery building no longer exists – one of its tenants for a short time in the 1870s was G. Pampel and Terrell Grigsby; Grigsby learned how to make wine here and would go on to build T.L. Grigsby-Occidental Winery several miles to the south (what is now Regusci Winery). Once the cellar was vacated, remarkably the property was not planted to grapevines for about 85 years and the winery was also not in operation.
Nell & Charles (Chuck) Sweeney purchased the 100-acre property in 1985 and sold it in 2023. Chuck worked for the parent company at the time of Silverado Country Club and would often visit Napa Valley and was familiar with the area. He was a visionary in the hotel and hospitality world – and was instrumental in creating the Embassy Suites hotel brand (including the local Embassy Suites on California Street built in 1985 in the city of Napa) as well as co-founding Crown Sterling Suites. They built a 'summer home' on site (they had previously owned a homesite in Calistoga) and in 1986 planted 16 rows of vines on a slope next to their home.
NOTE: In late September 2023 it was announced that Vine Cliff Winery was sold to Canadian businessman, entrepreneur, and philanthropist Stephan Crétier. As is very common in Napa Valley, locals hear about pending or completed sales of various properties far in advance of when the news officially 'drops'; we had already been notified of its sale prior.
Stephan founded GardaWorld in 1995; in more than 25 years the company has grown into a formidable and large security provider including providing security guards and armored car services and is the largest cash services provider in North America. The still privately held company is headquartered in Montreal and employs approximately 130,000 people maintaining 425 branch offices in 45 countries. He and his wife Stephanie are also owners of Roy Estate, also in Napa Valley. Stephanie is an actress with a number of credits to her name including in both television and film. In addition to Napa Valley, they divide their time between Montreal and Dubai.
In 2019 the Montreal Museum of Fine Arts opened the Stephan Crétier and Stéphany Maillery Wing for the Arts of One World located on the 4th floor of the Jean-Noël Desmarais Pavilion. The 10 galleries contain more than 1,500 objects representing artists from 6 continents. We will visit this space as time and budget permits and will update our notes here and add photographs.
We will update this review including current release tasting notes once we have more information and has time permits.
Today approximately 25 acres are planted on site, spread throughout 14 separate blocks – much of it on steep slopes. Over the years the family purchased several vineyards in Calistoga, on Howell Mountain and in Carneros (some of which they later sold). Today along with their 100-acre Oakville estate property, they own 20 acres on the Napa side of Carneros planted to approximately 12 acres of Chardonnay grapes.
Vine Cliff is located in an enviable vineyard neighborhood set back from the Silverado Trail in the eastern hills of Napa Valley. These hillsides are highly coveted for producing superior wines; neighbors in the general vicinity include Oakville Ranch and Dalla Valle Vineyards. The hillsides in this eastern part of the valley (the Vaca mountain range) contain dramatically different vegetation then what grows on the other side of the valley in the Mayacamas mountain range. The slopes here are often more open with chaparral growing rather than the more forested slopes on the other side of the valley.
Prior to selling Vine Cliff, the Sweeney's invested smartly into the property over the years including planting Bordeaux varietals that do well in this part of Napa Valley (Cabernet Sauvignon, Petite Verdot and Malbec). Interestingly, a significant amount of their more modern-day plantings, like the original plantings about a century prior, suffered from phyloxxera and had to be pulled out in the 1990s. Later they built a production facility (near the original caves) and drilled a 15,000 square foot cave. Highlights of this property (aside from the world class grapes produced here) include the stellar views, a small pond and two quicksilver mines. Alan Phillips was their founding winemaker; he previously worked at Rutherford Hill and was the founding winemaker at Monticello Vineyards. Prior to the sale of Vine Cliff, Nell Sweeney was the sole proprietress although her son Rob and his wife Ginny helped with the operations.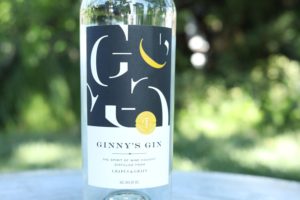 Ginny is also one of four partners in her namesake company, Ginny's Gin, a product created by winemakers from grapes and grain. This gin offers a pleasing herbal note on the bouquet including juniper berries, wild sage and a citrus peel zest; it is creamy across the palate, intensely flavored and shows a slight citrus sweetness that shows up after the warmth of the primary finish. This gin is very enjoyable straight up but as we were tasting we were also thinking about enjoying our next Negroni at Ciccio's in Yountville. The back label is a 'name cloud', creatively displaying the first names of family and friends who are integral to the Ginny's Gin story.
All visits to the property are by prior appointment. If the weather permits, you may even taste outside in the shade of the nearby trees overlooking the pond and other parts of their property. The caves are nicely laid out with plenty of space, so the barrels do not need to be stacked. Production has varied dramatically over the years but currently is around 6,000 cases.
Select Wines
Vine Cliff primarily focuses on two varieties, Chardonnay and Cabernet Sauvignon (however from time to time, they will make wines from other varieties).
The 2012 Vine Cliff Napa Valley Cabernet Sauvignon shows aromas of red cherry, hints of chocolate and white pepper. Savory and juicy on the palate shows more darker fruits then red fruits including black currant and darker cherry flavors. Dusty somewhat robust tannins anchor a very long finish. This wine should age well for many years.
The 2013 Vine Cliff Oakville Cabernet Sauvignon shows a pleasing sweetness of fruit on the bouquet along with hints of sage and toasted oak. This wine is big, reflective of the eastern hills in this appellation but also of this particular vintage. The intensity of flavor holds up well against the long-lasting tannins but surprisingly well integrated tannins. A very well layered wine.
The 2005 Vine Cliff Cabernet Franc is a well-crafted wine of this varietal; it has no vegetative characteristics and is all about the fruit. The story you often hear with Cabernet Franc in the Napa area is that it is rarely made. Well, compared to Cabernet Sauvignon this holds some credence, but we've seen it as its own varietal at numerous Napa wineries.
The 2005 Vine Cliff Oakville Cabernet Sauvignon is from the estate and is a very good representation of their hillside terroir and the multiple clones and vineyard blocks that go into making this wine. This is a classic California Cabernet with rich ripe fruit full of berries, a muscular wine if you will yet with restraint. Hints of mocha, chocolate and a exotic smokiness grace the bouquet.
The Private Stock 16 Rows is their premiere Cabernet Sauvignon – it is created by selecting only the finest barrels of wine each year. And this is the only wine that they make that is labeled with the original label that was first used back in the 1870s.
During our initial visit we tasted the Vine Cliff 2006 Chardonnay; this is a nice example of what you can do with Carneros grown Chardonnay. Much of this wine is from the highly regarded French Dijon clone. This wine features attractive aromas of tropical fruit as well fresh stone fruit, with more fruit on the palate including apricot as well as notes of toasted almond and crème Brule.
St. Helena Tasting Room (closed, but we keep our notes here for historical reference)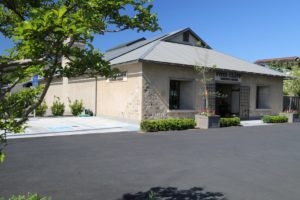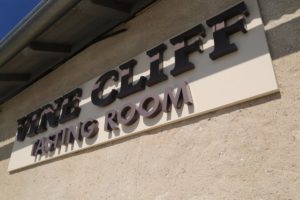 In March of 2014, Vine Cliff opened a tasting room on Highway 29 just south of St. Helena (they own this property). Note: this tasting room closed permanently in late 2020 and has since transitioned into a tasting room for Ink Grade Estate Wines. We keep our notes here for historical purposes. For many years this was the site of the old St. Helena Wine Merchants wine shop. Visitors today will recognize nothing from that old building. Much of that has to Nell's vision for the space along with prominent 'wine country' architect Howard Backen of Backen, Gillam & Kroeger Architects overseeing the design. The tasting room is contemporary and surprisingly spacious. It features a wine-bar, two private indoor tasting rooms, several indoor seating/lounge areas (with heated lamps) as well as two outdoor tasting areas. The tasting room is very centrally located.
In September 2016, Vine Cliff brought on full-time Chef Tom Stafford (fairly rare for a stand-alone Napa based tasting room). He has infused their culinary offerings with energy and creativity. Visitors on the weekends can enjoy a variety of pizzas from their wood fired oven along with salads and a cheese and charcuterie offering. Their estate produces a number of seasonal products curated by Tom (sourced from Nell's garden). Check out the "chef's corner" in the tasting room containing a wide variety of Tom's pickled and cured items. Tom is passionate about pickling – and select products sold range from pickled carrots to peppers to green strawberries.
A number of tasting experiences were offered including an Estate Flight (current releases), the Elevated Flight featuring library wines and a Food & Wine Experience in which chef provides a a number of specially prepared small bites with each wine. Private tastings could also be arranged by advance notice.
If you enjoy their wines, be sure to join their wine club. The club is small but gives you access to limited production reserve wines. It is a well-managed club with members being those who enjoy the wine and want to have access to select Vine Cliff experiences. Private meals can be arranged in their cave or at their tasting room. Several wines are sold exclusively to guests who visit the tasting room or winery.
For more information, to schedule a visit, to purchase wine or to join one of their wine clubs, visit: www.vinecliff.com