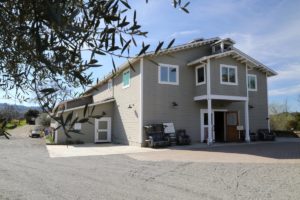 Vincent Arroyo Winery is best reached from the North part of Silverado Trail and is located off of the small Greenwood Ave. Because of its location, it is one of the more northerly wineries in the Napa Valley and is one of only a select few wineries in this part of the valley with a tasting room. Visiting the northern part of the valley is always nice as there are less crowds, less traffic and the wineries are more spread out.
This is also a good winery to stop at if you are on a bicycle – although note a prior appointment is necessary. You drive down a long gravel road through the vineyards to reach the actual winery. This is not a high profile Napa winery with fancy artwork or other "distractions" as it is a functional working winery and your tasting will be among the barrels. The entrance is located right next to a small olive orchard (Vince now produces some commercial olive oil) and several residential homes.
This is a fairly low production winery and often their wines sell out extremely fast, which means when you do a taste, you probably will be barrel sampling. If you want an excellent Petite Sirah, you've come to the right place. This is the wine they are most known for and in which they concentrate their efforts on. In fact they always sell out of their Petite Sirahs before they are even bottled from the barrels! Customers buy "futures" on this wine. They also make a Petite Sirah Port; we tasted this from the barrel and while still a little young, it already had good tannin structure, awesome fruit and was well on its way to becoming a delightful desert wine.
The winery was started by Vincent, a former mechanical engineer from Silicon Valley who was looking for a more "rural" lifestyle. He was attracted to the farming aspect of the business and today still helps manage the vineyards as well as is the head winemaker. When he purchased the property there was much work to be done – prunes still grew on site (yes, Napa used to be full of prune and walnut orchards) and he removed many of the older vines and replanted. Vincent Arroyo has really grown from 23 acres at the time of purchase and just a few hundred cases to over 85 acres today and about 8000 cases. All of their red grapes come from from the estate vineyards. For such a low production winery their prices are very reasonable.
Vincent, the owner and winemaker, purchased land here in 1974 but typically sold the grapes to other winemakers and released his first vintage in 1984. The wines are only sold at the winery; there is no distribution whatsoever other than from the winery or if you are a wine club member. They make one white, a Chardonnay and all the rest are red varietals. Even the "winery dogs" get in on the winemaking action. This is something you have to ask about! They have a variety of oak aging programs with their Bordeaux varietals seeing only French Oak and the Petite Sirah and Zinfandel seeing some American Oak. Some of their wines barrel age up to 24 months.
Also of note are the variety of events held at the winery; a highlight is their "Amigos de Arroyo" in which up to 80 people help with harvest by picking grapes and taking them back to the winery for crush. This is open by lottery system. In addition they hold an annual winemaker dinner, open house every May, and a wonderful barrel sampling event held every February. For more information or to join their wine club, visit: www.vincentarroyo.com