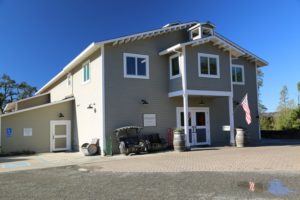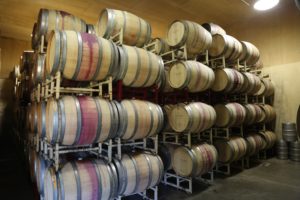 Vincent Arroyo Family Winery is located north of Calistoga off of Silverado Trail on tiny Greenwood Ave. Since the nearby Greenwood Bridge was closed after an earthquake in 2014 – visitors must reach the winery from the Silverado Trail (contrary to what any GPS shows).
The winery was founded by Vincent Arroyo, a former mechanical engineer from Silicon Valley who was looking for a more "rural" lifestyle. He was attracted to the farming aspect of the business and eventually became his own winemaker (without formal training). His first commercial release was from the 1984 vintage. While thumbing through the San Francisco Chronicle in the early 1970's Vincent discovered a property for sale north of Calistoga. He moved here in 1972 (what is called the Greenwood Ranch) and for 10 years sold grapes to the Napa Co-op in St. Helena (what is now the Hall St. Helena property).
When he purchased the property there was much work to be done – prunes still grew on site (orchards of prunes and walnuts used to be plentiful in the Napa Valley) as well as older grapevines and a bunch of relics lying around from previous owners. He removed many of the older vines and prune trees and replanted to various grape varietals; today they continue to selectively pull out the older vines (their older vines are still head pruned while their new vines are all trellised). Vincent Arroyo has grown from 23 acres at the time of Vince's initial purchase to currently 75 acres (of which about 65 are under vine) and just a few hundred cases produced annually to about 8000 cases today. All of their red grapes come from their estate vineyards.
While Vince is no longer actively involved, after retiring from Vincent Arroyo he started another brand called Otra Vez meaning 'another time' in Spanish. These wines are housed in a separate winery across the street from Vincent Arroyo. His daughter Adrian and her husband Matt Moye are now the owners of Vincent Arroyo. Matt and Adrian met in law school at the University of Pacific in Stockton, California. While practicing law, perhaps wine making was not yet in Matt's realm of possible career paths.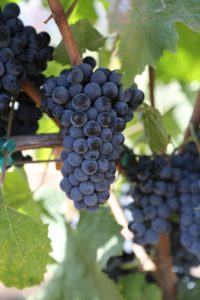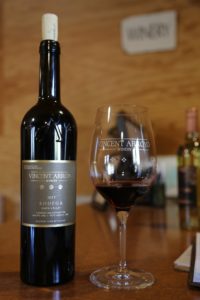 Matt grew up up in Oakdale (near Modesto, California) and actually worked for Gallo Winery while in high school. But it wasn't until much later that Vince convinced Matt to take a year off from his legal job and learn wine making at Vincent Arroyo. Matt wasn't sure wine making was going to ultimately be a career choice, but he was quickly hooked by the art of wine making, the lifestyle and by the beauty of the Napa Valley.
Matt apprenticed under Vince and today is the head winemaker for Vincent Arroyo.
The wines are only sold at the winery or online; they do not focus on retail distribution. Early on, Vincent began noticing guests inquiring about purchasing wines from future vintages that had not yet been bottled. Capitalizing on this demand, the winery began selling 'futures' allowing guests to put a partial payment on wines from future vintages that had not yet been bottled – with the balance to be paid at the time the wines shipped. This is one of the few Napa wineries that have successfully built a wine club around futures.
And their Standing Orders Club is not a rigid wine club where the winery chooses which wines are sent to you – rather membership in this club can be highly customized. You decide which wines you would like shipped each year. And if that is too much trouble, you can certainly leave this decision to the winery.
Select Wines
The focus of their production is nearly entirely on red wines – but they do make one white wine each year – a Chardonnay. They use a variety of different oak for aging the wines; their Bordeaux varietals see only French oak and the Petite Sirah and Zinfandel are aged partly in American oak. Some of their wines are barrel aged up to 24 months.
The 2015 Vincent Arroyo Zinfandel is made in a refreshingly different style then many of California's warm weather contemporary Zinfandels. It is only 13.7% alcohol, and the lower alcohol and higher acidity (often but not always correlated) is noticeable when you taste this wine. Has a pleasing mouth feel and is well-balanced between fruit, alcohol and acidity. Shows darker fruit aromas on the bouquet with hints of chocolate. Lingers with flavors of red cherry and plum. A generous helping of tannins show on the finish. Should be very age worthy.
The 2015 Vincent Arroyo Bodega is a Bordeaux style blend – the name carries additional meaning for Matt and Adrian; they were married in Bodega Bay (neighboring Sonoma County). This wine is a blend of 80% Cabernet Sauvignon and 10% each of Malbec and Petit Verdot. Shows pretty aromas including floral nuances (violets) along with a sweetness of fruit. On the palate reveals flavors of black cherry and blackberry; shows good acidity along with big flavor and long-lasting tannins along with hints of vanilla.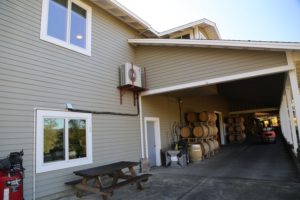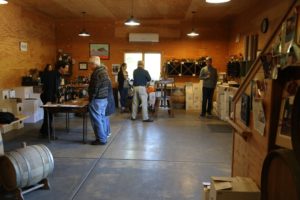 Vincent Arroyo has long been known for Petite Sirah and currently makes several wines from this varietal including their Winemakers Reserve Petite Sirah. They ferment up to 10 different separate blocks of this varietal in any particular vintage – these are aged in oak for a year; then the lots to be used in their reserve wine are identified and blended together and then aged for another two years in new American oak before being bottled.
The 2014 Vincent Arroyo Winemakers Reserve Petite Sirah shows deep and dark fruit driven aromas. Smells inviting. On the palate, the wine delivers an intensity of flavor with dark cherry and blackberry flavors. An earthy note. Mouth filling flavor but not mouth filling tannins – which is not always the case for wines made from this varietal.
They also make a Petite Sirah Port-style wine; we tasted this from the barrel and while still a little young, it already had good tannin structure, intense fruit and was well on its way to becoming a delightful dessert wine. They use high proof neutral flavor spirits to fortify this wine – preferring to keep the focus on the varietal characteristics. The 2015 Vincent Arroyo Petite Sirah (sweet wine) shows a sweet and rich flavor profile (prunes); this wine is very smooth on the palate. Almost with a little dusty nuance and somewhat chewy. Hold this wine for a while if you can!
In special years they make a late harvest Chardonnay (we tried the 2015 vintage), sweet but not overtly so with very flavorful and noticeable rounded and creamy mouth feel. And in 2020, Vincent Arroyo released their first ever sparkling wine, the Vincent Arroyo Family Winery Sparkling Wine Brut. This wine is 100% North Coast made in the traditional méthode champenoise.
Vincent Arroyo also has a long history of making wines named after their own winery dogs – these labels are retired when one of their dogs pass on.
—
Visitors enter the winery by driving down a long gravel road through the vineyards to reach the actual tasting room and winery. As you step out of your vehicle, most likely you will be greeted by one of their Labradors. The winery is located next to a small olive orchard (they also produce a limited quantity of olive oil made from approximately 60 trees growing on site). An outdoor patio is located next to the gravel parking lot – weather permitting, this is a nice place to relax in one of their wooden chairs made of barrel staves with a glass of wine in hand.
Visiting the northern part of the Napa Valley is often relaxing as there are less crowds, less traffic and fewer wineries. The tasting here is a throwback to some extent – relaxed, casual and held in a large room with walls that have never seen a coat of paint. There is no fancy artwork or other "distractions"; it is very much a functional working winery. And the old table where visitor's typically start their tasting is still the original tasting table that Vince used when he began to receive visitors for tastings back in the 1980s.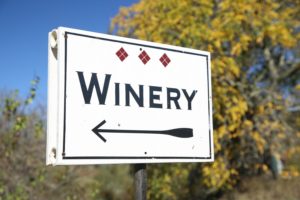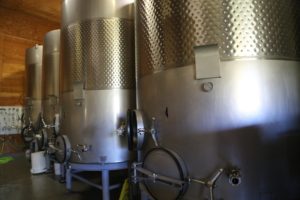 In 2017 Vincent Arroyo was recognized in an article in Travel & Leisure as the top vineyard in the US – based on analytics run by Yelp of wineries across the country. Vincent Arroyo has long prided itself on superior service in a homey setting – certainly a nice feather in the cap to be recognized for their hard work in this regard.
In regard to pricing, it helps they have owned their vineyards for many years and focus on the wines rather than visual eye candy. They have earned a loyal following from customers around the country including Texas (one of their largest markets).
Also of note are the variety of events held at the winery; a highlight is their "Amigos de Arroyo" in which up to 80 people help with harvest by picking grapes and taking them back to the winery for crush. This is open by lottery system. In addition, they hold an annual winemaker dinner, open house every May, and a popular barrel sampling event held every February. For more information or to join their wine club, visit: www.vincentarroyo.com