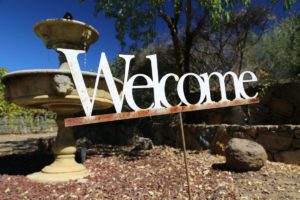 Viader Vineyards & Winery was founded in 1986 (with their first commercial release in 1989); they produce limited truly world class wines. You can tell as soon as you taste their wines that great care has been made in the vineyards and with the wine making. The wines are elegant and refined. The winery is located almost on the tip of what the locals call "Devil's Elbow" an extremely sharp hair pin turn located off of Deer Park Road. Be careful pulling in and out of their main gated entrance although it is of some help that most drivers slow down to a crawl to navigate around this sharp turn.
Viader is located on the lower slopes of Howell Mountain at about 1200 feet. The surrounding land is all hillside with great views of the northern Napa Valley. The owner Delia Viader is truly an International spirit – she was born in Argentina, grew up in Europe and spent significant time in France and then came to the USA and earned her PhD.
She has taken many techniques from the French wine industry and used them in this winery. She speaks 6 languages fluently and has several degrees from prominent universities. When her father asked why she wanted to go into farming with her strong educational background, she told him she would be an educated farmer! Her knowledge and wine making skills are showcased perfectly at this small winery. She does not want to evolve into a large producer as she needs to know and understand all of her wine before it is released to the public. Two of her children are actively involved in the wineries operations; son Alan is the Director of Operations and Winemaking and her daughter Janet is the Director of Marketing and Sales.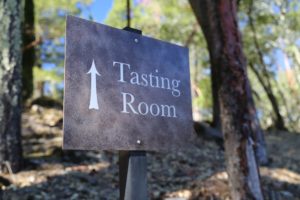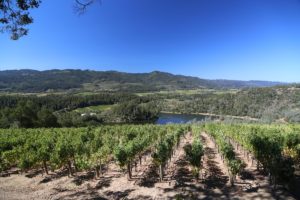 The soil on the slopes is typically only about 8 inches deep and before planting the vines, the rock under the soil was cracked by machines to allow the roots to grow deeper into the ground. Their vineyards are representative of Howell Mountain's very rocky volcanic soils. Unlike most hillside Napa Valley vineyards Viader does not use terracing, rather they plant their grapes in East/West facing rows with the vines flowing straight down the up to 32% grade slopes. This is a vineyard design you would see much more often in parts of hillside European wineries; here it is in line with the natural progression of the sun as it drops down in the west.
A visit here is always private and is for serious wine enthusiasts. Part of your tour will be inside their wine caves which were tunneled out of solid Basalt rock. On slow days the drill only moved merely a foot forward! While inside the caves, note the not often used in Napa concrete "eggshell" tanks. There is a beautiful hospitality center built on the side of a hill which overlooks their vineyards and part of the valley floor below. This is where you will enjoy your sit down tasting of 4-6 of their current releases. Allow at least an hour for a visit here.
Viader's flagship wine is simply called Viader which is a Cabernet Franc & Cabernet Sauvignon blend and unlike most wineries that create this blend who use only a touch of Cabernet Franc, the "Viader" wine showcases both varietals. Viader has one of the nicest Cabernet Francs we have tasted in Napa Valley and is found under their DARE label. They also produce an excellent Tempranillo, and a light yet rich Rose of Cabernet grapes.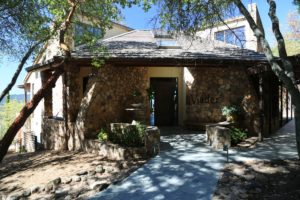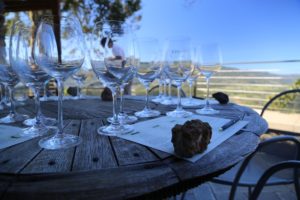 All their vineyards are farmed organically and Biodynamically. You may see other wineries in the valley farming in this manner. Briefly Biodynamically farming involves three things; you build the soil naturally using special natural compost, philosophically farm in which you prune and harvest based on phases of the moon and planets, and control pests and diseases without chemicals (cover crops, use plants that attract beneficial insects).
The well regarded Michel Rolland is their consultant on all blending decisions. He is the world's "master blender", consulting for many wineries in Bordeaux France as well as a number of International wineries. We read somewhere that he tastes between 30,000 and 35,000 different wines each year. Whew! Viader consistently receives high awards from some of the wine industry's most notable critics. Note all the articles about Viader, Dalia and their story that hand on the wall in the tasting room – these are worth reading.
For more information and or to join one of their wine clubs, visit: www.viader.com
Viader Overview with Delia Viadar – by WineSpectator: