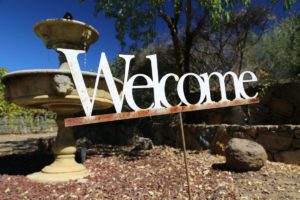 Viader Vineyards & Winery was founded in 1986 (with their first commercial release in 1989); they produce limited truly world class wines. One can tell as soon as you taste their wines that great care has been made in the vineyards and with the wine making. The wines are elegant and refined.
The winery driveway is located almost on the tip of what the locals call "Devil's Elbow" an extremely sharp hair pin turn located off of Deer Park Road. Be careful pulling in and out of their main gated entrance although it is of some help that most drivers slow down to a crawl to navigate around this sharp turn.
Viader is located on slopes around 1,200 feet – several hundred feet below the Howell Mountain Appellation which begins at 1,400 feet. The surrounding land is all hillside with great views of the northern Napa Valley. Founder, Delia Viader is truly an International spirit – she was born in Argentina, moved to France at age 13 – earned her Doctorate in Philosophy from Sorbonne University in Paris, then moved to the United States and studying business and finance at MIT and also furthered her studies at UC Berkeley and UC Davis. She purchased this property with an initial loan from her father, Walter Viader a diplomat for the United Nations.
Delia has taken many techniques from the French wine industry and used them in this winery. She speaks 6 languages fluently. When her father asked why she wanted to go into farming with her strong educational background, she told him she would be an educated farmer. Her knowledge and wine making skills are showcased perfectly at this small winery. She does not want to become a large producer; she needs to oversee all wine produced here before it is released.
One of the Napa Valley's most respected former winemakers Tony Soter was Viader's consulting and founding winemaker. Well regarded Michel Rolland used to be their consultant on all blending decisions. He is the world's "master blender", consulting for many wineries in Bordeaux France as well as a number of International wineries. We read somewhere that he tastes between 30,000 and 35,000 different wines each year. Today Delia's son, Allan Viader is the Director of Operations and Winemaking (he took over the winemaking in 2006 and earned a degree in Viticulture Management from Sonoma State University) and her daughter Janet is the Director of Marketing and Sales.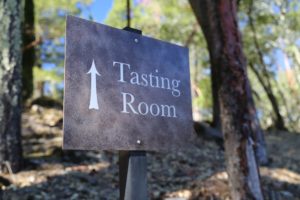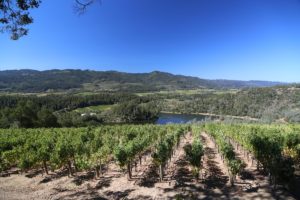 The property is 92 acres of which 27 are planted to vines with the vineyard development overseen by winemaker Ric Forman and David Abreau. The property had not been planted prior to Delia's ownership – although they did find remnants of an old apple orchard on site. The soil on the slopes is shallow, often only 6-12 inches deep; before planting the vines, the rock under the soil was broken by machines to allow the roots to grow deeper into the ground. Their vineyards are representative of Howell Mountain's very rocky volcanic soils and yields are small – often only 2 tons per acre. Unlike a number of Napa Valley's steepest hillside vineyards Viader does not use terracing, rather they plant their grapes in an east/west facing direction with the vines flowing straight down the up to 32% grade slopes. This is a vineyard design you would see much more often in parts of hillside European wineries; here it is in line with the natural progression of the sun as it drops down in the west. Varietals planted here include: Cabernet Sauvignon, Cabernet Franc, Petit Verdot, Malbec and Syrah.
A visit here is always personalized and for serious wine enthusiasts. Part of their tours will be inside the wine cave (slightly more then 16,000 square feet) – these were tunneled out of solid basalt rock. On slow days the drill only moved merely a foot forward. While inside the caves, note the concrete "eggshell" tanks.
A beautiful hospitality center is built on the side of a hill and overlooks their vineyards and part of the valley floor below. This is where guests will enjoy a sit down tasting of 4-6 of their current releases. Allow at least 90 minutes for both the tasting and the visit to one of their vineyard blocks and the cave.
Viader's signature blend is simply called Viader (the first wine they sold commercially); this wine is always a blend of Cabernet Sauvignon and Cabernet Franc and unlike most wineries that create this blend using only a touch of Cabernet Franc, the "Viader" wine showcases both varietals. The 2015 Viader is 69% Cabernet Sauvignon and 31% Cabernet Franc. Offers bright fruit aromatics – fresh and lively in the glass with notes of cedar, brown chocolate and darker spices. This is a ripe bouquet but simultaneously retains an elegance. Flavors of both blueberry and blackberry are woven together on the palate – with long lasting well-integrated slightly dry tannins. Despite an alcohol over 15% shows good acidity – with a mouth watering finish.
Viader has one of the nicest Cabernet Francs we have tasted in Napa Valley and is bottled under their DARE label. Viader also produces an excellent Tempranillo, and a light yet rich in flavor rosé from Cabernet Sauvignon.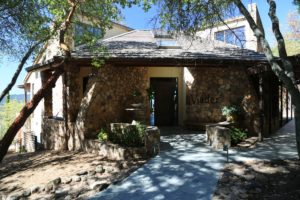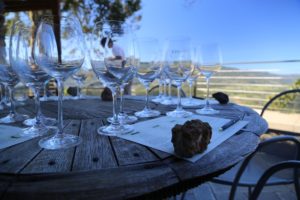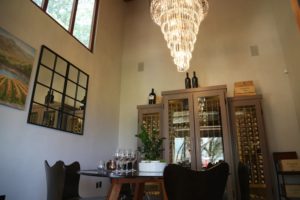 The newest wine to their portfolio (as of our latest update to this review) is the Viader "homenaje" a tribute (homenaje means tribute in Spanish) to Alan's grandfather Water, to his time working one harvest in Mendoza, Argentina (at the acclaimed Achaval-Ferrer Winery) and to Malbec. The 2016 Viader "Homenaje" is the inaugural release of this wine – it is a blend of 50% Malbec and 50% Cabernet Sauvignon – a non-traditional blend, this is a unique Napa Valley offering. Offers a highly aromatic bouquet with a diversity of aromas including blackberry, black licorice, cardamom, hints of sage, a dusty earth nuance and an assortment of darker spices. Shows plenty of muscle across the palate both in depth of flavor and robust gravelly in texture tannins. Darker spices also linger for some time on the finish. Showcases beautiful fruit.
All their vineyards are farmed organically and biodynamically. Briefly biodynamic farming involves three things; building the soil using special natural compost, philosophically farm by pruning and harvesting based on phases of the moon and planets and controlling pests and diseases without chemicals (cover crops, use plants that attract beneficial insects). In 2017 Viader received a Napa Green Winery certification (a program overseen by Napa County recognizing wineries for their efforts on conserving water, energy and reducing waste and in 2018 Viader received a separate certification, Napa Green Land highlighting their focus on sustainable farming and protecting against erosion into the Napa River watershed among other efforts.
Viader consistently receives high awards from some of the wine industry's most notable critics. Note all the articles about Viader, Delia and their story that hang on the wall in the tasting room – these are worth reading.
Total production is around 4,000 cases annually. Often limited selections of library and larger format wines are available. For more information, to schedule a visit and or to join their allocation list, see: www.viader.com
Hospitality/Estate

Vineyards

Cave