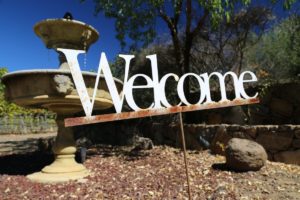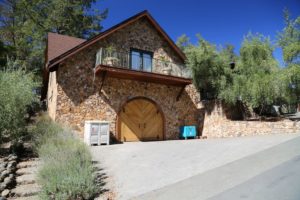 Viader Vineyards & Winery was founded in 1986 (with their first commercial release in 1989); they produce limited truly world class wines. One can tell as soon as you taste their wines that great care has been made in the vineyards and with the wine making. The wines are elegant and refined.
The winery driveway is located almost on the tip of what the locals call "Devil's Elbow" an extremely sharp hair pin turn located off of Deer Park Road. Be careful pulling in and out of their main gated entrance although it is of some help that most drivers slow down to a crawl to navigate around this sharp turn.
Viader is located on slopes around 1,200 feet – several hundred feet below the Howell Mountain Appellation which begins at 1,400 feet. The surrounding land is all hillside with great views of the northern Napa Valley. Founder, Delia Viader is truly an international spirit; she was born in Buenos Aires, Argentina, moved to France at age 13 – earned her Doctorate in Philosophy from Sorbonne University in Paris, then moved to the United States and studying business and finance at MIT and also furthered her studies at UC Berkeley and UC Davis. She speaks 6 languages fluently. She purchased this property with an initial loan from her father, Walter Viader electronics engineer and later as a diplomatic attaché for the United Nations.
When her father asked why she wanted to go into farming with her strong educational background, she told him she would be an educated farmer. Her knowledge and wine making skills are showcased perfectly at this small winery. She does not want to become a large producer; she needs to oversee all wine produced here before it is released. Delia has taken numerous practices from the French wine industry and used them at Viader.
One of Napa Valley's most respected former winemakers Tony Soter was Viader's consulting and founding winemaker. Well regarded Michel Rolland used to be their consultant on all blending decisions. He is the world's "master blender", consulting for many wineries in Bordeaux France as well as a number of international wineries. We read somewhere that he tastes between 30,000 and 35,000 different wines each year. Today Delia's son, Allan Viader is the Director of Operations and Winemaking (he took over the winemaking in 2006 and earned a degree in Viticulture Management from Sonoma State University) and her daughter Janet is the Director of Marketing and Sales.
Alan also runs Intentus, his own small wine brand focusing on small production wines made from both Napa Valley and neighboring Sonoma County. He is a First Responder and was inspired to give back during his time fighting the terrible fire in Paradise California in 2018 which ultimately destroyed much of that town. Proceeds from the sales of Intenus wines are donated to supporting First Responders and related charitable organizations.
The property is 92 acres of which 27 are planted to vines with the vineyard development overseen by winemaker Ric Forman and vineyard manager David Abreau. The property had not been planted prior to Delia's ownership – although they did find remnants of an old apple orchard on site and old tomato stakes. The soil on the slopes is shallow, often only 6-12 inches deep; before planting the vines, the rock under the soil was broken by machines to allow the roots to grow deeper into the ground (included limited use of low impact dynamite). Their vineyards are representative of Howell Mountain's very rocky volcanic soils and yields are small – often only 2 tons per acre.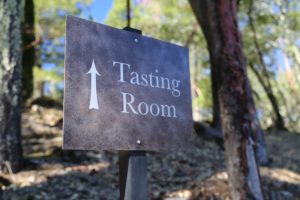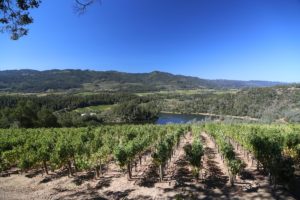 Unlike a number of Napa Valley's steepest hillside vineyards Viader does not use terracing, rather the grapes are planted in an east/west facing direction with the vines flowing straight down the up to 32% grade slopes (or as one of their hosts stated, "the steepest slopes would be like skiing down a double black diamond at a ski resort"). This is a vineyard design you would see much more often in parts of hillside European wineries; here it is in line with the natural progression of the sun as it drops down in the west. Varieties planted here include Cabernet Sauvignon, Cabernet Franc, Petit Verdot, Malbec and Syrah.
Viader may have played a role in the hillside ordinance adopted by Napa County in 1990. In 1989 after heavy rains, part of their hillside eroded down into Bell Canyon Reservoir (the source that supplies water to the city of St. Helena). The ordinance requires strict erosion-control procedures for hillside vineyards and today restricts any new hillside vineyards from being developed on slopes greater then 30%. Existing vineyards on steep slopes can be replanted as long as the correct procedures are followed.
Prior to the construction of their own winery, Viader produced wine for over a decade at Rombauer Vineyards (which was used as a custom crush winery by a number of now prominent vintners in the valley). The first vintages of Viader were from 1987 and 1988 but these were never bottled. The first commercial release of Viader was from the 1989 vintage – merely 1,200 cases which incidentally were initially sold in Europe before the United States.
Viader was one of the ill-fated wineries to lose a bunch of wine in a wine warehouse arson fire in Vallejo in 2005 – in fact they had no wine to sell for over one year due to this fire.
A visit here is always personalized and for serious wine enthusiasts. Part of their tours will be inside the wine cave (slightly more than 16,000 square feet); these were tunneled out of solid basalt rock. Napa Valley wine cave pioneer Alf Burtelson, a general engineering contractor oversaw the drilling of their cave. Alf is well into his 80s now and long since retired although is still living in the northern part of Napa Valley. On slow days the drill only moved merely a foot forward.
A beautiful hospitality center is built on the side of a hill and overlooks their vineyards and part of the valley floor below. This is where guests will enjoy a sit down tasting of 4-6 of their current releases. Allow at least 90 minutes for both the tasting and the visit to one of their vineyard blocks and the cave.
Select Wines
Viader's signature blend is simply called Viader (the first wine they sold commercially); this wine is always a blend of Cabernet Sauvignon and Cabernet Franc and unlike most wineries that create this blend using only a touch of Cabernet Franc, the "Viader" wine showcases both varietals. The 2015 Viader is 69% Cabernet Sauvignon and 31% Cabernet Franc. This wine offers bright and ripe fruit aromatics; it is lively and fresh in the glass with notes of cedar, brown chocolate and darker spices. This is a ripe bouquet but simultaneously retains an elegance. The palate sports flavors of both blueberry and blackberry with long lasting well-integrated slightly dry tannins. Despite an alcohol over 15%, this bottling shows good acidity and features a mouthwatering finish.
Viader has one of the nicest Cabernet Francs we have tasted in Napa Valley and is bottled under their DARE label. Viader also produces an excellent Tempranillo, and a light yet rich in flavor rosé from Cabernet Sauvignon.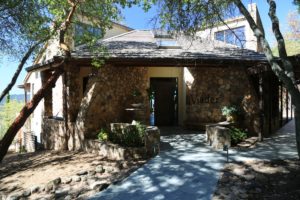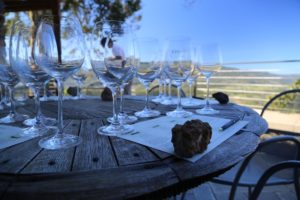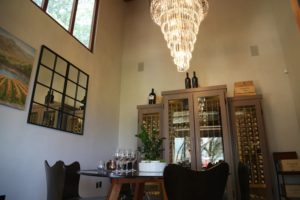 The newest wine to their portfolio is the Viader homenaje (homenaje means tribute in Spanish), a tribute to Alan's grandfather, to Alan's time working one harvest in Mendoza, Argentina at the acclaimed Achaval-Ferrer Winery and to Malbec itself. The 2016 Viader "Homenaje" is the inaugural release of this wine – it is a blend of 50% Malbec and 50% Cabernet Sauvignon – a non-traditional blend, this is a unique Napa Valley offering. Offers a highly aromatic bouquet with a diversity of aromas including blackberry, black licorice, cardamom, hints of sage, a dusty earth nuance and an assortment of darker spices. Shows plenty of muscle across the palate both in depth of flavor and robust and gravelly textured tannins. Darker spices also linger for some time on the finish. Showcases beautiful fruit.
The 2018 Homenaje by Viader is a blend of 61% Malbec and 39% Cabernet Sauvignon. This wine is deep ruby in color and almost opaque in the glass; the ripe and very open-book bouquet offers aromas of blackberry, boysenberry, dark plum, mulberry, dark olive, dark chocolate, mocha, coffee grinds and an additional aroma that is hard to define but perhaps closely resembles a rusting iron spike sitting in the hot sun. This is a richly layered and highly opulent bouquet. The palate echoes the aromatics to some extent with ripe fruit including of blackberry, boysenberry and dark plum including the spiciness tasted from its skin.
The finish lingers with grainy and granulated tannins, a warmth of alcohol, a dark woodsy spice, black pepper and a persistent and broadly distributed dryness. We could see pairing this with an Argentine asado some late Spring afternoon somewhere near Tigre in the Paraná Delta in Argentina.
—
All their vineyards are farmed organically and for about 10 years were farmed using biodynamic principles (from 2001 to 2011). Briefly biodynamic farming involves three things; building the soil using special natural compost, philosophically farm by pruning and harvesting based on phases of the moon and planets and controlling pests and diseases without chemicals (cover crops, use plants that attract beneficial insects). They discontinued farming biodynamically after judging the increased costs were not having the desired results in the vineyard.
In 2017 Viader received a Napa Green Winery certification (a program overseen by Napa County recognizing wineries for their efforts on conserving water, energy and reducing waste and in 2018 Viader received a separate certification, Napa Green Land highlighting their focus on sustainable farming and protecting against erosion into the Napa River watershed among other efforts.
Viader consistently receives high praise from some of the wine industry's most notable critics. Note all the articles about Viader, Delia and their story that hang on the wall in the tasting room – these are worth reading.
Total production is around 4,000 cases annually. Often limited selections of library and larger format wines are available. For more information, to schedule a visit and or to join their allocation list, see: www.viader.com
Hospitality/Estate

Vineyards

Cave