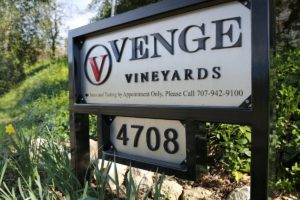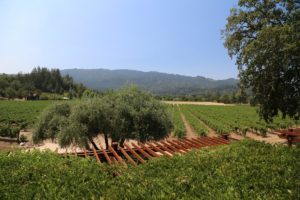 Venge Vineyards is owned by master winemaker Kirk Venge. In case you are familiar with his last name, perhaps it is from his father's accomplishments. Nils is well known in the Napa Valley and beyond for producing the first 100 point rated Cabernet Sauvignon when he worked at Groth Winery from Robert Parker. Besides being the primary owner, Kirk is also Venge's winemaker. The Venge's have roots in the wine industry dating back to the 1950's when Kirk's grandfather established a wine and spirits importing company. Today the Venge family also own and operate Saddleback Cellars in Oakville and Envy near Calistoga. The family vineyards at Saddleback Cellars in the heart of the famed Oakville appellation produce some of the fruit for Venge's own wines. For a throwback tasting to a more rural agricultural feel that Napa wineries used to have, visit Saddleback Cellars.
Some days during our tastings we heard the Venge name dropped at almost every winery we visited; this well-respected family has their hands in an large number of wine related projects within the Napa Valley. Kirk's new vineyard is planted entirely to Cabernet Sauvignon and is situated on a beautiful piece of land located against the edge of the jagged Palisades in the northern part of Napa Valley just south of the town of Calistoga.
The property sits well back from the Silverado Trail accessed via a narrow gated paved road. This is a secluded part of the Napa Valley far removed from the busy "wine strip" along Highway 29 south of St. Helena. A number of prominent vineyards are located in this area and the famed Eisele Vineyard which produces fruit for the cult Araujo Estate, runs right down to one corner of their property. Venge Vineyards has named this location the "Bone Ash Ranch" after the high volcanic material found in the mostly whitish rocky soil.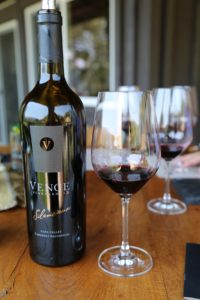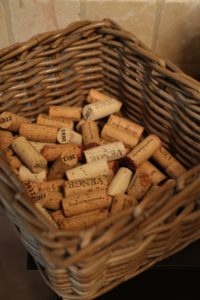 Their wines are always made in small quantities (the total production is under 4000 cases annually) and typically sell out very quickly. For a relatively small winery Venge makes a wide variety of wines. A number of these wines are vineyard designates as Kirk likes to produce small quantities of wines from select vineyards – showcasing that particular vineyards' fruit. Believe it or not, 2007 was the first vintage that Kirk has made a Chardonnay for commercial release under the Venge label. There are two things about this wine – one good and one bad; first it is a beautiful wine and two, the inaugural vintage was produced in such a low quantity that its is mainly available just for the wine club – in other words it is a difficult wine to find.
The 2007 is made entirely from the Dijon Clone in the style of a French Chablis. This wine does not undergo malolactic fermentation, it sees some oak during aging but it is not imparted in the actual flavors. It is quick to win you over with its delightful nose of lemon zest, pineapple and various mineralities. It is a rich yet refreshing Chardonnay with an explosion of citrus, stone fruit (peach), and pineapple flavors. This is a prime Chardonnay to age for a few years and see how its color, character and complexities will continue to develop.
One of our our favorite Venge wines is "Scouts Honor", a unique primarily Zinfandel Blend with smaller percentages of other varietals that vary slightly from year to year – Petite Sirah, Syrah or Charbonno. This wine is their workhorse wine; it is the most produced wine and is made every year. It is named after the Venge's first winery dog, Scout who Nils found at the Napa rescue shelter. Sometimes specific blends hit upon that golden formula where the wine's flavors appeal to a broad array of palates (think The Prisoner, Orin Swift). Scout's Honor also falls into this category. This wine is aged in American Oak (Missouri); the 2005 contains Zinfandel, Petite Sirah and Charbono. The several vintages we have tried have showy bouquets – showcasing a complexity of ripe fruit aromas. The nose on this vintage is no different; it reveals layers of fruit including dark cherry woven with pleasant nuances of cedar aromas. The palate follows with a dusty quality, ripe blackberry and raspberry fruit flavors. This is a wine that can easily be enjoyed by itself; as Kirk says, it is his "Monday through Thursday wine".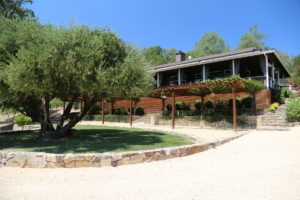 The 2006 Mulhner Steps Vineyard Syrah is a dark inky, chewy, juicy Syrah. The vineyard is located in eastern Napa County (Chiles Valley) and is named "steps" after its terracing – the soils are thin and mostly rocky, perfect conditions for growing rich concentrated fruit. Both Syrah's that Venge makes are great examples of terroir expression; this wine shows a big backbone and mouth feel. The nose is all fruit hinting at what follows on the palate which is an explosion of black fruit flavors. The 2005 Cabernet Sauvignon Family Reserve is their signature wine and is always hand harvested by the Venge Family – aunts, uncles, cousins all descend on the vineyards at Saddleback Cellars to pick the fruit for this wine.
Their philosophy with this wine is to start with the highest quality fruit as possible, micro-sorting several times (removing unusual, sun damaged and bird pecked berries), employing a gentle bladder press and using only the highest quality free run juice and whole berries in the fermentation. Also this wine sees 100% new French Oak during its aging. The result is typically this wine can be bottled unfined and unfiltered for maximum flavor.
The 2005 vintage is dark ruby in color and the nose shows ripe cherry with just a hint of vanilla from the French Oak. The palate is smooth from start to finish with very well integrated tannins. There is a slightly dusty earthy component to the super long finish. It is very fruit forward.
They also make a Late Harvest Zinfandel but only in amounts of several hundred cases and this sells out rather quickly. We are fortunate to have a 2007 bottle of this and will add our tasting notes as time permits.
Venge moves fast when it comes to their wine making – after purchasing the property within a relatively short amount of time they had built their new winery. The winery is not open to the public but can accommodate club members and their guests on an appointment only basis. The previous owners lived on site and their former home has been completely converted into a tasting salon (somewhat similar to the experience at Duckhorn but smaller and with more of a private feel here). Weather permitting guests taste at tables outside on the deck overlooking the Boneash Vineyard.
NOTE: in Spring 2016, Kirk acquired Robert Rue Winery in neighboring Sonoma County's Russian River Valley. He renamed the property to the Croix Estate with the focus being Chardonnay and Pinot Noir. Tastings here are by appointment only.
Venge wines are popular with a number of serious collectors and large format bottles are produced. Their wine club is appropriately titled "In Venge Veritas" – their wines can be found locally at the Culinary Institute in St. Helena and at Cal Mart in Calistoga among a number of other locations. Visit: www.vengevineyards.com