Venge Vineyards is owned by talented winemaker Kirk Venge. Kirk was born in Rutherford, Napa Valley and like his father, winemaker Nils Venge, graduated from the University of California, Davis – in 1998 with a degree in Viticulture and Enology. In addition to winemaking at Venge Vineyards, Kirk is also a highly sought after consulting winemaker working with several premium Napa Valley based producers.
The Venge's roots in the wine industry date back to the 1950s when Kirk's grandfather established Vencom Imports in Los Angeles, a wine and spirits importing company which specialized in Western European wines and spirits. Nils is also an accomplished winemaker – he is well known in the winemaking world for his numerous accolades including producing the first 100 point rated Cabernet Sauvignon awarded by wine writer Robert Parker for the 1985 Groth Vineyards Reserve Cabernet Sauvignon. Nils also owns and operates Saddleback Cellars in Oakville and is a partner in Envy Winery near Calistoga. The family-owned vineyards at Saddleback Cellars produce some of the grapes for Venge Vineyards' own wines.
The winery is located a very short drive south of Calistoga and sits well back from the Silverado Trail accessed by a gated narrow paved road. The property is nestled against the edge of the jagged Palisades (prominent stone outcroppings in this part of the Vaca mountain range). This is a lesser traveled part of Napa Valley, feeling far removed from the busy "wine strip" along Highway 29 south of St. Helena.
Vencom Imports, labels

A number of prominent vineyards are located in the region including the Eisele Vineyard which borders one corner of their property and nearby Canard (one of the two oldest commercially producing vineyards in all of the Napa Valley). The Venge estate vineyard (next to the winery) is planted entirely to Cabernet Sauvignon; Venge Vineyards named their property "Bone Ash Ranch" (12.5 acres) in homage to the significant volcanic ash found in the primarily whitish rocky soils. More recently the Venge's purchased a neighboring three-acre parcel, located to the right of the driveway as one heads towards the winery.
Their wines are always made in small quantities (total production is typically around 5,000 cases annually) with some wines made for the direct-to-consumer market and some for retail distribution. For a relatively small winery Venge produces a wide variety of wines. A number of these wines are vineyard designates; Kirk often works with single vineyards – showcasing the terroir of particular sites.
Select Wines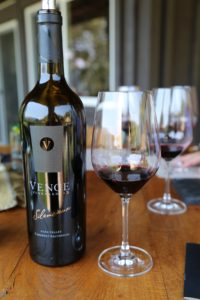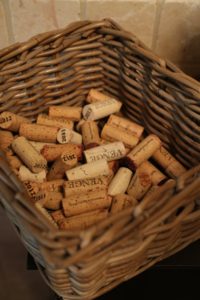 The 2017 Venge Vineyards Family Reserve is dark ruby in color; with notes of dust, tobacco leaf, leather, rose petal and dried herbs. Can almost smell the vineyard site in the aromas – becomes more savory as the wine breathes. Layered aromatics define this big beauty. Robust density of flavor and structure are at the core of the palate – big fruit, big structure and plenty of juicy acidity; earthy, gripping and long-lasting tannins along with a perceptible dustiness show on the finish. For those who enjoy this style of wine, this is a bottling well worth seeking out.
The 2018 Venge Vineyards 100% varietal Syrah Stagecoach Vineyard Block I-4 is dark ruby in color; one can smell the purity of the varietal in the bouquet with aromatics that focus on fruit rather than oak. The aromatics are of dark fruits including ripe plum and blackberry along with blackberry jam. Complementing the fruit are notes of cassis, clove, nutmeg and Graham Cracker. This wine is layered and extremely flavorful. Its hallmark is its texture; featuring densely packed together tannins which show rounded edges rather than any textural coarseness. Lingers with a dustiness, old cedar box and a note of dried tobacco leaf. Very good acidity. Mouthwatering finish. Well layered both on the bouquet and on the palate. It was aged in 100% French oak of which 60% was new. This particular block is located at about 1,700 feet on the rocky slopes of Atlas Peak.
2007 was the first vintage that Kirk made a Chardonnay for commercial release under Venge Vineyards. There are two noteworthy items to mention about this wine – one good and one bad; first it is a beautiful wine and two, the inaugural vintage was produced in such a low quantity that it was primarily available only for wine club members.
The 2007 Venge Vineyards Chardonnay is made entirely from the Dijon Clone in the style of a French Chablis. This wine does not undergo malolactic fermentation, sees some oak during aging but is not imparted in the actual flavors. Immediately intriguing is the delightful nose of lemon zest, pineapple and various mineralities. It is a rich yet refreshing Chardonnay with a generous helping of citrus, stone fruit (peach), and pineapple flavors. This is a prime Chardonnay to age for a few years to see how its color, character and complexities will continue to develop.
One of our favorite Venge wines is "Scouts Honor", a unique primarily Zinfandel blend with smaller percentages of other varietals that vary slightly from year to year including Petite Sirah, Syrah or Charbonno. This wine is their workhorse; made every year, it is their highest produced wine. It is named after the Venge's first winery dog, Scout who Nils found at the Napa County Animal Shelter and Adoption Center. Sometimes specific blends hit upon a golden formula where the wine's characteristics appeal to a broad array of palates – the Prisoner by Orin Swift is a great example, albeit a wine produced in significantly larger quantities. Scout's Honor enjoys an enthusiastic and very strong following from loyal consumers.
The 2005 Venge Vineyards Scout's Honor contains Zinfandel, Petite Sirah and Charbono and was aged in American oak from Missouri. The several vintages we have tried have showy bouquets – showcasing a complexity of ripe fruit aromas. The nose on this vintage is no different; it reveals layers of fruit including dark cherry woven with pleasant nuances of cedar. The palate follows with a dusty quality and flavors of ripe blackberry and raspberry. This is a wine that can easily be enjoyed by itself; as Kirk says, it is his "Monday through Thursday wine".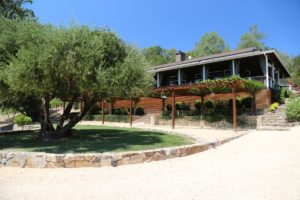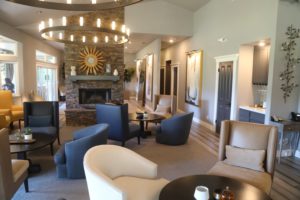 The 2006 Venge Vineyards Mulhner Steps Vineyard Syrah is a dark inky, chewy and juicy wine. The source vineyard is located in eastern Napa County (Chiles Valley) and is named after its step-like terracing – the soils are thin and mostly rocky. Both Syrah's that Venge makes are excellent examples of the expression of terroir; this wine shows density across the palate and a robust backbone. The bouquet is fruit forward hinting at what follows on the palate – layers of ripe mostly black fruit dominated flavors.
The Cabernet Sauvignon Family Reserve is Venge Vineyards' signature wine and is always hand harvested by the Venge family – aunts, uncles, cousins all descend on the vineyards at Saddleback Cellars to pick the grapes for this wine. The philosophy for the Family Reserve is to use only the best grapes possible – micro-sorting several times (removing unusual, sun damaged and bird pecked berries), employing a gentle bladder press, whole-berry fermentation and barrel aging only free run juice post fermentation. This wine is aged entirely in 100% new French oak. This wine is bottled unfined and unfiltered for maximum flavor.
Venge Vineyards also produces a late harvest Zinfandel but usually less than a hundred cases a year; as a result of the low production, this wine sells out rather quickly. The 2019 Venge Vineyards Late Harvest Zinfandel from Oakville is dark ruby; offers aromas of black licorice, boysenberry, cinnamon, cloves, light black pepper notes and hints of brown chocolate. The bouquet is certainly not a ripe, jammy expression of this variety. Richly flavored across the palate, offers notes of blackberry, ripe dark cherry and a lingering dust and dried tobacco leaf. Also smells like grilled duck… no wait, we are grilling duck in the oven. Ignore that last sentence.
Superbly balanced with an ethereal supple texture from start to finish, this wine should be sought out by dessert wine enthusiasts. Its sweetness is certainly prevalent but is not a dominant characteristic. We always dislike opening these wines in their youth as they often show more layers after they have been aged for a while; this one should be aged at least 10 years. There is not a lot of Zinfandel growing in Oakville; the only two other vineyards we know of that have this variety are Paradigm and Michael Pozzan. Only 75 cases were produced.
—
For several years Venge Vineyards produced their wines at the old Rossini Winery in Bell Canyon – a stone building that dates back to 1891 – the Venge's purchased this property in the mid 1990s and completely restored this old 'ghost' winery which had sat vacant from prohibition until their purchase.
In mid 2008 Nils sold that property to vintner William Foley and it is now home to Merus Vineyards. After selling the Rossini property, Kirk acquired their Calistoga property, also in 2008 and along with his wife became the sole proprietors of Venge Vineyards, purchasing the brand from Nils. Moving extremely fast, the winery was completed merely two years after their purchase. In the fall of 2020, the winery survived a very close encounter with flames from the Glass Fire burning right onto the property and almost up to the winery itself.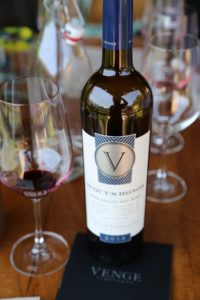 The former home of the previous owners was renovated and partly converted into an intimate tasting salon. While the salon is not open to the public, it can accommodate club members and their guests or select visits from interested parties on an appointment only basis. The winery is permitted to see only 20 guests per day so make reservations well in advance. Weather permitting guests taste at tables outside on the deck overlooking the Bone Ash Vineyard.
Venge wines are popular with wine enthusiasts and serious collectors – their wine club was appropriately titled "In Venge Veritas" but now is called the Wine Guild; it is limited to 1,000 members and as of our latest update to this review, is currently at capacity. We have seen their wines very selectively distributed locally over the years including at the Culinary Institute of America, Bounty Hunter and at CalMart in Calistoga.
Some distribution of the Venge wines is in the market, primarily on the east coast of the United States but also in select Sonoma County restaurants and in Mexico including at Costco. For more information, to join their mailing list or to schedule an appointment, visit: www.vengevineyards.com
Winemaking

Croix Estate
Croix Estate (meaning cross in French) was founded in 2012 by Kirk Venge. Long associated for crafting premium Napa Valley red wines including Cabernet Sauvignon, creating Chardonnay and Pinot Noir was new for Kirk. The inception of Croix Estate began in 2009 when Kirk created some experimental vintages of both Chardonnay and Pinot Noir. While on vacation at Sea Ranch along the coast in Sonoma County Kirk brought these wines with a number of other wines from well-established producers and held a blind tasting. He chose his wines as the least favorite of the lineup critiquing his own wines as over extracted or flabby and being one dimensional. Re-examining his vineyard sources and wine making practices he redoubled his efforts over the next few years produced the first vintage of wine bottled under Croix Estate in 2012 (their first commercial release).
Fast forwards a few years and today Kirk is creating inspired Chardonnay and Pinot Noir wines from some of the most sought after and premium vineyards in Sonoma County. Friend and General Manager Jason Williams has also been an integral component in developing Croix Estate. Kirk wrote the word Croix down on a scrap of paper and left it on Jason's desk one day – both decided it was an appropriate name for the wine. The name has personal meaning for Kirk – signifying his cross over from Napa Valley to Sonoma and also a tribute to his mother Dianna "Candy", who was raised in Santa Rosa.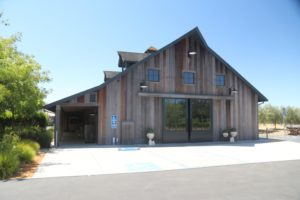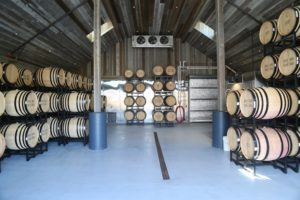 The estate is located about 35 minutes from Venge Vineyards in the Russian River appellation of Sonoma County in the small community of Fulton (about a 10-15 minute drive from downtown Santa Rosa). Since 1904 the property has had two owners, the Muzio family and the Rue's who sold to Kirk in mid 2015. Robert Rue purchased the property in 1973 and for many years sold the fruit to premium producers including Cline and Ravenswood. The first wines bottled under the Robert Rue label were from 2001, later he built a winery and opened a tasting room on site in 2010. Robert Rue died in 2019.
The property is 10 acres of which approximately 8 are planted to old vine Zinfandel with a scattering of other varieties including Petite Sirah, Alicante Bouschet, Carignane and a few vines of the white variety, Palomino. Over the years vines have been replanted due to disease or other factors however the original vines date from 1904. In the 1970s Robert converted approximately 1/2 of the vineyard from head pruned to trellised vines. This remains today and often the two separate section of the vineyards are harvested separately from each other.
After Kirk acquired the property the old winery barn was completely renovated (using reclaimed wood from a barn in Missouri) and while no wine is actually produced on site, the cellar room contains a number of barrels for aging wines and contributes to the ambiance when seated tastings are hosted here. And the old family home which also dates from 1904 was remodeled and now serves as offices and a cozy tasting salon.
Select Wines
Croix 2018 Ruxton Sands Rose' of Pinot Noir, Ruxton Vineyard Russian River Valley. Contrary to how many rosé wines are made, this wine was made from fruit grown specifically for this rosé. Light salmon in color, offers aromatics of strawberry and raspberry. This thoughtfully made wine offers some noticeable weight on the palate – rounded yet complemented nicely with a sharpness of acidity and minerality notes. Drinks very well by itself – we could also see this as being very enjoyable after drinking a number of heavy Napa Cabernet Sauvignon based wines.
Croix 2017 12 Rows Chardonnay, Ritchie Vineyard Russian River Valley was aged in 25% in new French oak and 1 barrel was put through malolactic fermentation. Spent 15 months aging in French oak. Pretty aromatics including dessert spices. Rounded but not heavy on the palate with flavors of pear and melon. Offers a lively finish – with an orange peel zest and some spice.
Croix 2017 Starlings' Roost Chardonnay, Morelli Lane Vineyard Dutton Ranch Russian River Valley – offers layers of aroma including hints of cut grass, tropical nuances – the influence of the oak is more noticeable on the bouquet of this wine then the Ritchie Vineyard offering but does not necessarily translate to the palate. Glides smoothly across the palate with a richness and a weight – rounded it is somewhat oily in its feel. Long lasting flavor including dessert spices, caramel and browned apple.
Croix 2017 Thomas Creek Pinot Noir Thomas Road Vineyard, Dutton Ranch Russian River Valley. Made from Dijon clone 115 – saw 50% new French oak during its aging of 16 months. Two characteristics about this particular Pinot Noir stand out – its bright red fruits and its spices – both of which are immediately noticeable on the bouquet. Red licorice, cranberry, raspberry, rhubarb and white pepper. Darker Asian spices, some cigar smoke and hints of dark chocolate. On the palate, cherry cola, candied apple, raspberry. Very good acidity with a brightness across the palate. A lingering note of espresso.
Croix 2017 Old Manzana Pinot Noir offers a mix of a baking spice sweetness, red licorice and old cedar notes. This wine drinks very well in its youth with a very appealing flavor profile. Slightly creamy in its textural feel this wine is superbly balanced between fruit, acid and structure.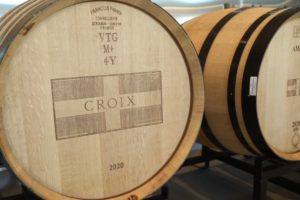 Croix 2017 South Block 6 Pinot Noir Platt Vineyard Russian River Valley is one of their most sought after Pinot Noir wines (also their smallest Pinot Noir production). Dark ruby in the glass, shows appealing aromatics including old cedar, chocolate covered dark cherries and a diversity of subtle baking spices including cinnamon and nutmeg. Intriguing depth on the palate with flavors of dark raspberry and cherry. This is a more robust Pinot Noir then their other two Pinot Noirs but still very much balanced. Lingers with slightly earthy and fine-grained tannins.
Croix 2016 GSM 'La Cinghiale' Russian River is a blend of 59% Syrah, 23% Grenache and 18% Mouvedre sourced from the Kick Ranch in Rincon Valley in Santa Rosa (Fountaingrove sub appellation). Jason created the name of this wine; it means wild boar in Italian. When deciding to move to California to get into the wine business he informed his father of his plans. His dad told him something like, "you will make money in the wine business when pigs fly". And when Jason and his wife were on their wedding in Positano Italy, one of their meals featured wild boar.
Each varietal is fermented and aged separately until the final blending – the resulting wine is dark and inky looking in the glass. Meaty and savory with aromas of ripe blackberry and chocolate. Brooding on the palate, think Jack Nicholson in One Flew Over the Cuckoo's Nest. One needs to let this wine breath – as it does, layers of fruit are revealed. A juicy palate with excellent concentration and acidity. The tannins were still a bit tight at the time of our tasting. This wine has a long life ahead of it.
Croix 2017 '1904' Estate Heritage Vine Zinfandel Croix Estate Vineyard is 95% varietal. This is the only Croix Estate wine that sees 100% American oak during its aging. Fruit forward aromatics are reminiscent of blueberry and blackberry jam. A ripe sweetness of summertime. Briary bouquet. On the palate, a sweetness of ripe fruit continues including blackberry and dark cherry. Plenty of fruit showing but is tempered nicely with generous acidity and a lingering tartness. Also, a hint of dill. Dusty tannins – slightly chalky.
And Croix Estate produced their first estate Sauvignon Blanc in 2020.
The Croix Estate wines are available strictly through an allocation list with members typically visiting the property for tastings (active Venge club members enjoy complimentary tastings). A winery is planned to be built on site; we will update our notes once we have more details. For more information and to schedule a visit, see: www.croixestate.com