Turley Wine Cellars is located just north of St. Helena on Highway 29. This is a private winery not open to the public. The owner, Dr. Larry Turley, was co-founder of Napa's Frog's Leap Winery but when their production became higher than he liked, he decided to start a small winery and Turley Wine Cellars was born.
Today he owns two wineries, the original winery in St. Helena was founded in 1993 and his second winery is located in Templeton. Perhaps the name Turley is familiar – Larry's sister is the famed consulting winemaker Helen Turley; she used to consult for Turley Wine Cellars and has consulted for very high end Napa wineries including two of the cults, Colgin and Bryant Family.
Turley Wine Cellar's tasting room is not located in Napa Valley, rather it is located in Templeton, CA in San Luis Obispo County. We go to great lengths to visit any Napa winery that has a tasting room outside of Napa and as a result, we made the long 5 hour trek south to Templeton in the heart of the Paso Robles wine country on California's central coast. Turley's primary focus is on high quality old vine Zinfandel and they have a very good selection of unique Zinfandel wines available at the tasting room.
The owner Larry and his winemaker have rightly earned the moniker, "Zin Masters". Most of the wines available for tasting are Central Coast wines, however you can request tastes of their Napa wines. The winery is located about 3 miles west of the 101 on Vineyard View Drive; the 101 exit is located about 7 miles south of the town of Paso Robles.
The intimate tasting room is to the left of the parking lot next to the building that houses the huge steel tanks. Turley purchased this existing winery (the historic Pesenti Winery) because of two reasons: this is a very good area for growing Zinfandel and for the very old Zinfandel vineyards that came with the winery. We tried several 2005 Zinfandels including their Juvenile and Dusi vineyard Zins. Both wines are very bright in color with lots of fruit on the palate. These two wines are made from their Central California vineyards.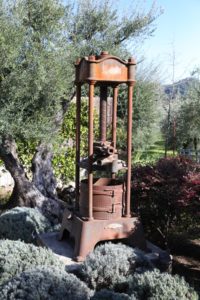 You can also try a Napa Valley Howell Mountain Zinfandel. This is a darker wine that has great depth and structure. It is more jammy than the other two previously mentioned wines and contains hints of pepper in the nose. The finish is long and elegant. Turley's wines characteristically are rich and concentrated with good weight and rather high alcohol levels.
They also make several other varietals including Petite Sirah, a unique white wine blend, and a delicious Charbono from Napa's Tofanelli Vineyard. The wine industry attracts people from all walks of life, even former baseball commissioners. Turley sources Zinfandel fruit from Peter Uberoth's nearby vineyard. Library wines dating back to 13 years old can be purchased at the tasting room. Turley's winemaker is the same for both their St. Helena and Templeton wineries and he in fact commutes between both wineries! This would be a crazy commute in a car; fortunately he is a private pilot.
Turley maintains a very popular mailing list but currently the demand exceeds their production. Once you join this list it will be an impatient wait until space becomes available! Visit: www.turleywinecellars.com
Photos of their winery near Paso Robles