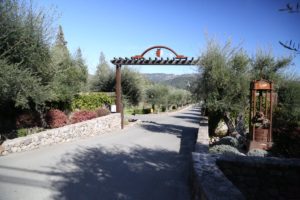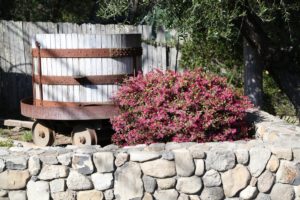 Turley Wine Cellars is located just north of St. Helena on Highway 29. This private production facility is not open to the public. Founder of Turley Cellars, Dr. Larry Turley grew up in Tennesse and Georgia and is a former emergency room physician who worked in Santa Rosa. He was also the co-founder of Frog's Leap Winery along with John Williams and his wife at the time, Julie – and Larry's wife at the time, Jeannine. Larry and John made their first barrel of wine from grapes they sourced from Stag's Leaps Wine Cellars. Several years later they decided to make wine commercially; their first vintage of Frog's Leap was 1981 with a 700-case production of both Sauvignon Blanc and Zinfandel with grapes purchased from Spottswoode Winery in St. Helena. Winemaker Julie Johnson became their first employee in 1984 (later she founded Tres Sabores Winery near St. Helena).
Frog's Leap wine was initially made at what is now the Turley Cellars owned production winery (no tasting room) just north of the town of St. Helena, located next to Mill Creek which flows into the Napa River and slightly north of the historic Bale Grist Mill. Larry owned 5 acres of land at the time which he had purchased in 1974 – the wine was named in honor of a previous business on site (a frog farm, supplying frog legs to various restaurants in San Francisco). Not able to afford the grapes for their first harvest John and Larry sold their motorbikes to finance their initial wine making efforts! This property has since grown to more than 70 acres under Turley's ownership.
Larry sold his interest in Frog's Leap Winery in 1993 but kept the winery and property; that same year, he founded Turley Cellars and produced his first vintage. Today Larry and his wife Suzanne own three wineries and two tasting rooms, the original winery (former Frog's Leap location) in St. Helena, the second winery located in Templeton with an adjoining tasting room (near Paso Robles, in California's central coast) and a winery and tasting room located in the Shenendoah Valley, in Amador County. Larry is also a private pilot, certainly helpful when navigating between both his wineries and collection of vineyard properties throughout parts of California.
Incidentally Suzanne runs Chambers & Chambers Wine Merchants, a prominent importer and distributor of wines to the California and Hawaii markets, based in San Francisco. The company works with select premium wineries in wine regions around the world and currently represent nearly 300 wineries and employs more than 100 people. Suzanne started this company with her father Jack, (a commercial pilot) in 1973 with an initial focus on Burgundy and French wines are still a very important part of their portfolio.
At last count, Turley Cellars produces more then 40 wines from numerous vineyards ranging from Central to Northern California. The focus is on vineyards that are organically farmed and are often planted to old vines. Finding a market for wines from these old vines has actually saved a number of these ancient vineyards from being ripped out over the years.
The focus of their Napa production is on three estate-owned vineyards, two of which are on Howell Mountain – Rattlesnake Ridge and Dragon Vineyard and the 75 acre "home" vineyard (Turley Estate Vineyard) in St. Helena (planted to head-trained Zinfandel, Petite Syrah, Cabernet Sauvignon, Carignane and a tiny bit of Sauvignon Blanc) along with an old grove of olive trees. Interestingly, Larry originally planted his property to 2 acres of Sauvignon Blanc back in 1979. While they produce wines from their Napa owned properties, they also work with select growers and producers in the Napa Valley for additional fruit including Green & Red Vineyards, Casa Nuestra and CHASE Cellars (the historic Hayne Vineyard), among others.
And Larry is not the only one of his family in the wine business; his sister is the famed consulting winemaker Helen Turley. Helen used to consult for Turley Wine Cellars and has consulted for premium Napa wineries including two of Napa's most high-end properties, Colgin Cellars and Bryant Family. Following Helen's departure, Ehren Jordan (Failla Wines) produced the Turley wines followed by Tegan Passalacqua.
Turley's primary focus is on high quality old-vine single vineyard Zinfandel and to a lesser extent, Petite Syrah.
Templeton Tasting Room & Winery
This intimate tasting room is located outside of Templeton and is about a 15-minute drive from the nearest large town of Paso Robles. The property is located in the Willow Creek District about 3 miles west of the 101 on Vineyard View Drive; the 101 exit is located about 7 miles south of the town of Paso Robles. The small tasting room is located to the left of the parking lot next to the building that houses the huge steel tanks. The focus of the tastings are on wines from Paso Robles area vineyards and wines from some of their other California vineyards are also represented.
A fun tasting that is only available at select times throughout the week is the Focused Tasting. This tasting is led by one of their wine educators and looks at how the differences in sites effect wines – and what makes sub appellations unique from one another. This tasting focuses on Turley owned or sourced vineyard sites and is a seated tasting.
Guests may also purchase cheese and charcuterie options within the tasting room – pairing them with the wines or saving these bites to enjoy on their veranda.
Turley purchased this existing winery in 2000 (the historic Pesenti Winery which was bonded in 1934) because of two reasons: this is a very good area for growing Zinfandel and for the old Zinfandel vineyards that came with the winery (planted in the 1920s.
The wine industry attracts people from all walks of life, even former baseball commissioners. Turley sources Zinfandel fruit through a long-term lease from the nearby Ueberroth Vineyard still owned by his family. Ueberroth purchased this property in the 1960s. Turley farms and manages this vineyard. This is the oldest source vineyard in the overall Turley portfolio with vines dating back to 1885. Library wines often dating back 10-12 years can sometimes be purchased at the tasting room.
Amador County Tasting Room
And Turley also owns a tasting room in Plymouth located in the historic Shenandoah Valley in Amador County (first opened in 2013). Incidentally their next-door vintner neighbor is Scott Harvey (another winemaker with plenty of connections to Napa Valley). And within a short drive is Rombauer's Amador County winery and tasting room. The focus of the tasting here is on wines from their Amador County vineyards although based on their overall vineyard collection throughout parts of the state, other Turley wines are also offered.
And when the weather cooperates, guests may picnic on the grounds near the bocce ball court (just outside of the tasting room). They call this area, Pokerville – named after the old gold mining camp located in Plymouth.
Turley's tasting room is surrounded by numerous other vineyards and tasting rooms – all within a very short drive.
Select Wines
Turley's wines characteristically are rich and concentrated with good weight and often higher alcohol levels. On the palate sometimes their wines show a certain opulence or plushness and are often fruit forward ripe expressions of the variety, especially Zinfandel which is the variety they are most known for. And fermentation is conducted using non inoculated yeast (indigenous).
The 2015 Turley Cellars Cedarman Vineyard Zinfandel (Howell Mountain) is a blend from two vineyards, Rattlesnake Ridge (one of which borders one side of Black Sears Vineyard) and Dragon Vineyards (both on Howell Mountain). The Zinfandel is also blended with a small amount of Petite Syrah from Rattlesnake Ridge. Offers a very pretty bouquet, an attractive meld of raspberry, red licorice and rose petals complemented by sweet dessert spices. The mouth feel is soft upon entry showing bright fruit across the palate including raspberry. The spicy finish is long and drawn-out anchored by firm but not gripping tannins.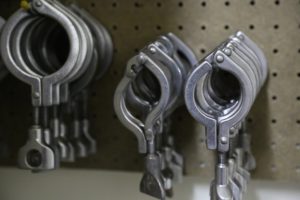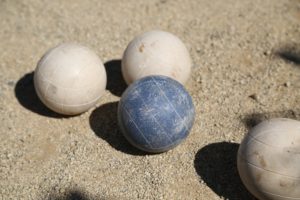 The 2016 Turley Estate Zinfandel (Napa Valley) is from head-pruned dry-farmed vines that were planted in 2006 at Larry's home. Shows darker fruit characteristics initially on the bouquet – mushroom, cedar, tobacco leaf and earthy notes but as it opens reveals ripe aromas which come to the forefront. Shows both red and darker fruits on the palate with a sweet thread of fruit showing from start to finish. Lovely texture – although still a bit tight on the finish as this was a very young wine at the time of our tasting. Slightly dusty tannins. Lists at 15.6% alcohol.
The 2016 Dragon Ridge Cabernet Sauvignon (Howell Mountain) showed a bit tight on the bouquet at the time of our tasting – the wine needed some time to open. Reveals pretty but somewhat subdued aromas of both red and dark fruits on the bouquet – flavors of plum show on the palate. This medium to full bodied wine offers good acidity with earthy tannins that linger for quite some time (showing more on the front of the palate then the back).
Turley Cellars also produces several other varieties including a unique white wine blend, and in years past, a delicious Charbono from the historic Tofanelli Vineyard in Calistoga.
Turley maintains a very popular mailing list but currently the demand exceeds their production (as of our last update the waiting time to receive their first offer once you sign up is between 6 and 12 months). Some wines are only produced for mailing club members or are only available in one of the tasting rooms. For more information, and or to join this list, visit: www.turleywinecellars.com