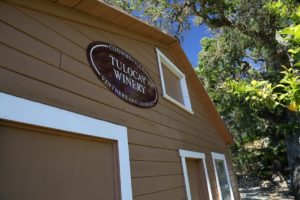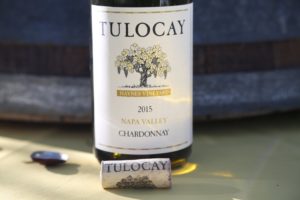 Tulocay Winery is the oldest continuously operating winery in the Coombsville area of Napa (located just north east of the actual town of Napa). Coombsville is the newest one of Napa's 16 sub appellations (approval granted in late 2011) – a region that is characterized by cooler growing conditions then further north in the valley and for featuring a wide diversity of micro-climates – allowing farmers to grow a variety of different types of grapes.
All of the Tulocay wines are from small single vineyards with a focus on Chardonnay, Pinot Noir, Cabernet Sauvignon, Syrah and Zinfandel (and a focus on grapes grown in Coombsville). These are typically 100% varietal wines. An experience at this winery is a step back into time to the mid 1970's when Napa was still relatively unknown on the international stage and all the flash and outside money had not yet entered the Napa Wine industry. This is one of the best values in all of Napa for the quality of wine when compared to the pricing.
After working on the long since defunct Pacific Coast Stock Exchange in San Francisco, founder Bill Cadman found himself in between jobs at age 29. He picked up a Sunset guide to wine country and started browsing the pages. The "wine country" north of San Francisco caught his eye. Bill came to the Napa Valley without any experience in the wine industry, took a job at Charles Krug Winery and began commuting in a 1955 Ford pickup from Sausalito to St. Helena.
Bill quickly picked up wine related knowledge and spent time at Heitz, Clos du Val, (all long time Napa wineries still in existence) and Robert Mondavi Winery where he worked for more then 20 years as a tour guide. He remembers bringing visitors over to personally meet with Mr. Mondavi who would be hanging out at the winery. Mr. Mondavi was always interested in sharing his wealth of knowledge about the valley with visitors.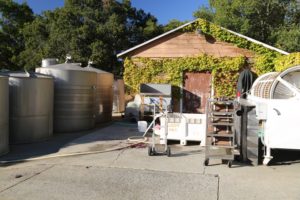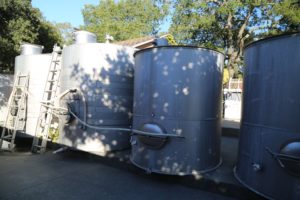 Soon tiring of the commute he moved to the Napa Valley and purchased his home and winery site in 1972. Bill remembers his Napa County winery application form was merely two sides of one piece of paper. He founded Tulocay in 1975 and was the winemaker during the first few years of building the brand in the 1970's. He has since had several consulting winemakers. One day, Bill received a call from his daughter Brie indicating she was going to school at the nearby Napa Valley College to learn more about oenology (after working other non wine related jobs). This was excellent timing as Bill was getting up in years and was no longer able to do the physical work needed in the winery. In 2012 Brie took over wine-making duties and she has made all subsequent vintages (with plenty of input from Bill). Brie is also is the assistant winemaker at another Napa based winery.
Tulocay as Bill will tell you tongue in cheek, means "fine wines at reasonable prices" but in actuality it is an Indian word.
A taste here is very relaxed and weather permitting is outside on a patio shaded by the oaks overlooking the small winery. Bill truly enjoys visiting with people and a tasting with him is a fun, at times humorous and always an educational experience.
For a low production winery Tulocay makes large variety of different types of wines. Bill has been working with the historic (and nearby) Haynes Vineyard since his first vintage in 1975. Haynes Vineyard was first planted around 1966 under the tutelage of Louis M. Martini and André Tchelistcheff. These are certainly among the oldest if not the oldest continuously commercially producing Pinot Noir vines in all of the Napa Valley.
The Tulocay Pinot Noir is not as rich or dense as you might find from some of the Napa Carneros Pinot Noir producers, rather it is more traditionally made – in a Burgundian style. Every year the wine from this varietal tends to be elegant both in aroma and on the palate. Pinot Noir is partly what Tulocay is known for; remarkably after 40 vintages they are still making Pinot Noir from the old vines in the Haynes Vineyard.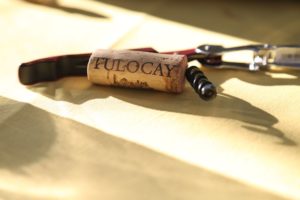 Most of the grapes used in Tulocay's wines come from long term relationships that Bill has established over the years; Tulocay owns no vineyards. Bill makes a lighter styled Cabernet Sauvignon which pairs well with food including the single vineyard Cliff Cabernet Sauvignon (which they produced for several decades). The 2002 has very nice color with a nose containing notes of smokiness and hints of oak. Pleasing fruit shows on the palate – the mouth feel is smooth and the tannins are not gripping. Very balanced.
According to Bill, the Casanova Zinfandel was one of the best wines he made, but the last vintage of this was 2002 and was only available for purchase at the winery. The fruit source for this wine was key as it was from that 'magical' red ground on the eastern slopes of the Oakville Appellation (home to numerous premium wineries including Dalla Valle and Oakville Ranch among others).
Tulocay made a Zinfandel from Amador county grown grapes for a number of years. Starting with the 2013 vintage, they source their Zinfandel from a historical vineyard on Dunaweal Lane in Calistoga from old head pruned vines. They keep the alcohol in moderation (not always easy to do with this varietal especially from vines growing in a warm part of the valley). The wine has good acidity and plenty of fruit both aromatically and on the palate. This is a delicious Zinfandel.
The 2009 Chardonnay was sourced from the Haynes Vineyard. This wine is golden yellow in the glass – this is not a Chardonnay that goes downhill after a few years. It is well made and drinks well after 5 years of age. In the glass it shows vibrant notes of yellow pineapple, red apple and citrus blossom, lemon and just a very subtle hint of white pepper. It is a complex yet elegant bouquet. On the palate it is silky smooth, balanced with a clean lingering finish that shows some mineralities. This is not an oak-driven wine.
The 2015 Napa Valley Chardonnay is visibly golden in the glass – with notes of yellow pineapple, citrus blossom on the bouquet. Somewhat rounded on the palate, the wine shows a pleasing intensity of flavor along with mineralities. Excellent acidity and a clean finish. Drinks very well by itself.
One aspect which differentiates Tulocay from almost all Napa wineries is the wines here are typically 3-4 years older than other wineries' current vintages and at the time of our latest visit, the wines we were tasting were five and six years old – certainly not a bad thing for consumers. Consumers can also take note that these wines are not priced higher despite the additional aging. Even a varietal that is often the highest priced in the valley, Cabernet Sauvignon, is reasonably priced.
Bill's philosophy about wine is refreshing; it should be enjoyed by family and friends, rather than as a social status to show off to others.
Rather then drilling a fancy cave on site, Tulocay's "cave" is a C-Train storage unit, but it does contain a "flying bat" – as Bill says, "to help make this "cave" more authentic". The winery is small but functional for their limited production wines (around 1,000 cases a year). For more information and to join their wine club, visit: www.tulocay.com
Winery

Tulocay Cemetery

Wine with Tony