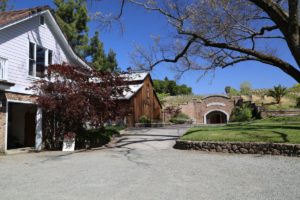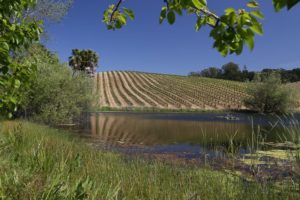 Truchard Vineyards is located in the Carneros district in southern Napa Valley. The vineyards and winery were founded by Tony and Jo Ann Truchard in 1974. They sold grapes exclusively until 1989 when they began making their own wine. They prefer to think of themselves as a "big vineyard with a small winery" – the reasoning behind this is they carefully hand craft small production lots of each of the wines they make – yet sell a number of grapes to other well regarded producers.
The Truchard's are getting up in age but remain very active with the winery and we have often seen them at trade tastings (pouring their own wines rather than hiring other people to do this). Their vineyard is planted with 270 acres of vines (certainly a sizable vineyard for the Carneros region). They selectively pick certain blocks for their own wine making program each year – resulting in only approximately 20% of their total grapes.
The winery is located within a 100+ year old restored barn. A series of wine cave tunnels are located within the hillside directly underneath part of their vineyard. Steps lead up to one of their vineyard rows – a walk down this row will shortly lead one to a picturesque pond surrounded by vines and excellent views of the rolling hills in all directions. The Truchard's live on site and either they, their long-time winemaker or one of their hospitality hosts will typically show you around and conduct the tasting.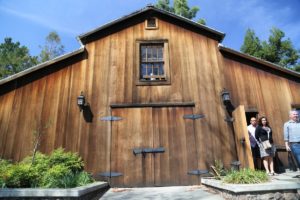 At the time of this review they produce 12 wines – one of which is a Roussanne which you are not going to find at many Napa Valley wineries. This wine is light and crisp and with good acid balance.
They also produce a wonderful Zinfandel with grapes from their own Carneros property. Zinfandel in Carneros? Now there is a statement not often heard of when speaking of this cooler growing Chardonnay and Pinot noir producing region. However Tuchard's Zinfandel vineyard is grown in a small canyon fairly well sheltered from the cool winds that often blow in this area. They have also grown Cabernet Sauvignon successfully on their property for over 30 years! South west facing more protected slopes are helpful in this regard.
Their 2004 Cabernet Sauvignon has been blended with a bit of Cabernet Franc which adds a complexity of flavors and spices to the wine as well as a nice rounded smoothness and structure to the finish. Also look for their Tempranillo and late harvest botrysized Rousanne.
View: www.truchardvineyards.com
NOTE: this review has been identified as needing a major update.
Video by Cellar Angels: