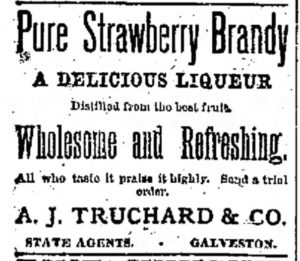 Truchard Vineyards is located in the Carneros District in southern Napa Valley. The vineyards and winery were founded by Tony and Jo Ann Truchard in 1974. They sold grapes exclusively until 1989 when they began making their own wine. They prefer to think of themselves as a "big vineyard with a small winery"; the reasoning behind this is they carefully hand-craft small production lots of each of the wines they make yet sell the majority of their grapes to other well-regarded producers from their 400+ acre vineyard.
Both Tony and Jo Ann are originally from Texas – having grown up only 30 miles from each other. In the late 1800s Tony's grandfather Jean Marie Truchard (along with his brother, Father Anthony Marie Truchard, a Catholic priest) immigrated from a small town outside of Lyon, France to the tiny rural community of Cat Spring, in Austin County Texas (about a 90-minute drive due west of Houston not far from the 10 freeway). Cat Spring is spread out; this is very rural Texas – the community dates back to 1832 when German immigrants settled here. The town was named after a puma that was killed at a local spring. The town's agricultural history is deeply rooted; Cat Spring is home to the state's oldest agricultural society, appropriately named Cat Spring Agricultural Society, founded in 1856. Those interested in reading more about this town, if they can find a copy, can reference The Cat Spring Story, a book published in 1956.
Once the Truchard brothers settled on their land, they soon planted grapes and built a family winery (Truchard Winery) on their 500-acre property. And records show they also sold grapevines through A.J Truchard & Co, wholesale liquor dealers, including through advertisements posted in the Galveston Daily News from the late 1880s through the mid 1890s listing 500,000 cuttings, plus 50,000 rooted vines for sale. In addition to vines, they sold a variety of alcohol products including pure strawberry brandy. Perhaps the wine they were most known for was a white wine made from Herbemont, having received some acclaim at a wine exhibition in Montpellier, France.
In the late 1880s, A.J. Truchard & Co, maintained an office on the ground floor in a three-story brick building at the southwest corner of Strand and what was 22nd Street (now Kempner Street) in Galveston. However, on September 28, 1888, part of this three-story building collapsed, completely filling the A.J. Truchard & Co space with debris. And advertisements also listed a J.M. Truchard office in Alleyton, Texas.
A.M. Truchard wrote a lengthy and fascinating article in the November 25, 1892, issue of the Galveston Daily News detailing grape varieties best suited to southern Texas (Cat Spring and Colorado County). According to the article, around 1884, he imported several thousand grape cuttings from France to south Texas, planted them on their own roots but all eventually succumbed to phylloxera. He later imported 1200 vines from France (75 different varieties), grafted them to American rootstalk and he describes these vines as a "perfect success". In this same article he also references plans his two brothers have to plant some additional 10,000 grapevines that winter in Colorado County. Truchard was optimistic about the future of growing grapes in Texas, writing, "I do not believe that Texas will ever rival France in the production of fine wines, but I am convinced that we can produce wines equal, if not superior to the best made in California."
Other wineries also operated in Cat Spring but when Prohibition came, these wineries including Truchard Winery went out of business and never reopened. With the advent of Prohibition coupled with the challenges of growing grapes in this humid climate, Tony's grandfather made an agricultural pivot – removed the vineyards, converted the winery to a barn and began raising cattle instead.
Remarkably the old winery is still standing on property still owned by the Truchard family. Visiting this building is humbling (we were accompanied by Tony's brother, Francis) – a bit sad to see its current condition – beaten by time and weather it remains, a powerful testament to the family's entrepreneurial spirit. Over the years the old building has been modified slightly with tin siding and roofing added much later to help protect it from the elements. Now, it stores numerous ancient relics and tools from their family history. The iron press used in their wine making operations is still here – lying in the soil just outside of the winery. And the old family house is also still standing, long since been abandoned.
Cat Spring, Texas

Cat Spring Cemetery

Truchard Winery, Cat Spring

In the early 1970's both Tony and Jo Ann would never have suspected the path that life has led them on to present day. During a quick visit with Jo Ann she told us the story of how she slipped on a grape at a Piggly Wiggly store in Texas while pregnant with their son John. She fell and broke her knee and had to have a cast put on her leg. This was just before Tony was set to ship out to South Korea where he was going to be stationed for two years (medical service in the US Army). After her accident, the army changed their plans for the Truchards and sent them to the far northern reaches of California.
They were stationed in a town that almost no one has ever heard (Herlong), the site of the Sierra Army Depot, a ballistic missile base near the town of Susanville in Lassen County. Soon after arriving in Herlong, the army sent them to a meeting at the Presidio in San Francisco. While there, Tony suggested they take a trip to the Napa Valley – they fell in love with the area and decided to buy land. They originally looked at a property in Rutherford selling for $4,000 an acre at the time – but thinking that was too expensive they looked further south and purchased a 20-acre abandoned prune orchard in Carneros for $2,000 an acre.
The Truchard's are getting up in age but remain very active with the winery and we have often seen them at trade tastings (pouring their own wines rather than hiring other people to do this). One of their sons, Anthony Truchard II is now the General Manager. Incidentally, one of Tony's six sibling, Dr. James Truchard, co-founded National Instruments and established the Oskar Fischer Prize, providing monetary incentive to researchers to think outside of the box in order to better understand, research and eventually find a cure or improved treatments for Alzheimer's patients.
And as Jo Ann puts it, their other son John "owes his career in part to the slip on the grape". John has gone on to have an extremely successful career in the Napa Valley founding his own vineyard management company and even more remarkably, founding JAM Cellars and growing it to a prominent and nationally distributed brand in a relatively short amount of time.
Vineyards/Winemaking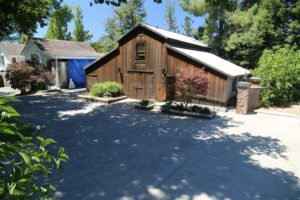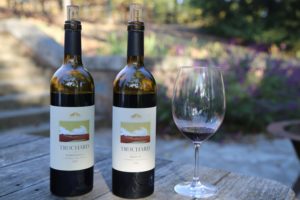 The Truchards are modern day vineyard pioneers in the Carneros region – in the early 1970s Carneros was not known for its grapes rather it was home to a number of sheep and cattle ranching operations (dairy cattle). Several factors long discouraged farmers from growing grapes in this part of Napa – often making generalizations for all Carneros: it's too cold here to ripen grapes, soils are thin and clay and do not retain moisture and the groundwater is salty from the nearby San Pablo Bay.
Truchard Vineyards is the most northeastern located vineyard in all of Carneros – at the base of the southern tip of the Mayacamas mountains. As a result, the property features a diversity of soils and microclimates as well as rolling hillside exposures. Their property is elevated above the lower parts of Carneros. Early on, the Truchard's hired a consultant from Israel to install drip irrigation – simultaneously building several reservoirs to capture rainwater to be used for watering the vines.
In 1974 Tony (with the help of his two boys) planted the vineyard – commuting on Friday evenings from their home near Reno with Jo Ann and their other children in a Chevy Suburban and then driving back on Sunday. They bought a travel trailer and parked it on the property – this is where the family would stay for the weekend (incidentally the Truchard;s still own this trailer, now parked behind their house). Their initial purchase in 1973 has grown significantly; today they own 420 contiguous acres of which 290 acres are planted to vineyards (the Truchard's have accumulated additional pieces of land over the years as neighbors sold). The Truchard's still own their original 20-acres – it is located on the other side of Old Sonoma Road; today their property is divided into 20 separate vineyard blocks.
After becoming well established as growers, they produced their first vintage of wine in 1989 – 101 years after the old winery was built in Cat Spring (they still have some of their original 1989 bottles of Merlot in a wine library housed within the cave). Founding winemaker was Michael Havens, operated Havens Winery until selling it; today he crafts limited production wines for his own tiny brand called Cave Dog.
Truchard currently grow 12 different varieties of grapes – the majority of their fruit is sold to mostly Napa Valley based wineries – as of our last visit, they sell to some 25 producers.
The winery is located within a restored agricultural use barn that dates from the 1880s. An 11,00 square foot wine cave (completed in 1997) is located within the hillside directly underneath part of their vineyard. Unlike other wineries that rent out space to custom crush clients, Truchard uses all of their production space for their own wines.
Select Wines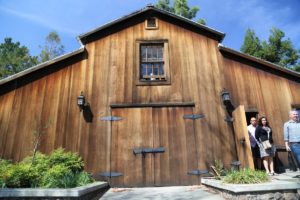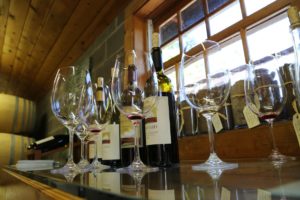 At the time of this review Truchard produces more than 10 different wines focusing on varietal specific wines including some rare varieties for the Napa Valley (Roussanne and Tempranillo). All grapes for their wines are estate grown. The focus of their growing and winemaking efforts are on balanced and reasonably priced wines.
The 2017 Truchard Syrah is a remarkable wine. Dark red with purple edges, this wine is forward with opulent and lively fruit aromatics. The bouquet is more about the fruit rather than the often gamey or savory aromatics that this variety is sometimes known for (depending on site). Shows dark fruit including ripe blackberry and plum complemented nicely with darker spices. As the wine breathes offers additional layers becoming more floral in nature including dried rose petal and violets. This is a wine one doesn't want to stop smelling. The black fruit continues onto the palate which shows great acidity with plenty of depth. Anchored by dusty slightly gravelly tannins – they are integrated nicely. Also lingers with darker spice including hints of white pepper. This is a very expressive cooler weather Syrah from Napa Valley and this vintage in particular from Truchard is well worth seeking out.
The 2013 Truchard Tempranillo initially shows a brooding bouquet with darker fruit aromas. As it breathes a sweetness of fruit shows along with notes of red licorice and brown chocolate and hints of toffee. A very pleasing mouth feel with tannins that are noticeable but not overbearing. Flavors of currant. Good acidity. This is a nice example of a cooler weather Tempranillo versus perhaps a warmer weather wine of this variety where the tannins presumably would be much more robust in nature. Also lower in alcohol. Aged in 60% new American oak.
The 2018 Truchard Roussane (from several acres on their property planted with cuttings from Tablas Creek Winery in Paso Robles) began its fermentation in tank and then was moved to barrel to complete fermentation and aging. The oak program for this wine is generally a 1/3 new French Oak, a 1/3 once used and a 1/3 neutral. The wine is left on its lees (not stirred) and was aged for about 9 months. Very aromatic including aromas of honeysuckle, citrus blossom, pineapple and kumquat. Rounded on the palate shows some minerality notes (graphite) along with flavors of apple, tangerine, gooseberry, mandarin and an orange peel zest especially on the finish. Lovely texture complemented by very good acidity.
Zinfandel in Carneros? Now there is a variety with a Napa appellation that you don't often see used in the same sentence when referring to this cooler growing region mostly associated with Chardonnay and Pinot Noir. However, Tuchard's Zinfandel vineyard is grown in a small canyon fairly well sheltered from the cool winds that often blow in this area. They have also grown Cabernet Sauvignon successfully on their property for over 30 years. Southwest facing more protected slopes are helpful in this regard.
And Truchard's oldest Pinot Noir vines date to 1974. These are some of the oldest Pinot Noir vines in all of Napa Valley; the Pinot Noir in the Haynes Vineyard in Coombsville being slightly older, dating from 1966 or 1967 depending on who you ask although these may have been pulled out after that vineyard changed ownership.
Hospitality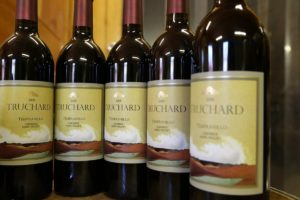 The Truchard's live on site and either they, someone from their tiny winemaking team or one of their hospitality hosts will typically show visitors around and conduct tastings and tours. Tastings begin in a small room next to the winery and are always a highly personalized experience. Guests visit the wine cave and taste in a room towards the back of the cave or if the weather permits, outside at a picnic table.
Steps lead up one of their vineyard rows – a walk down these rows will shortly lead one to a picturesque pond surrounded by vines and excellent views of the rolling vineyard planted hills in all directions.
Total production is around 18,000 cases a year. For more information, to schedule an appointment and or to join one of their wine clubs, visit: www.truchardvineyards.com
NOTE: In 2017 Truchard was granted a permit to to expand their winery operations. Plans eventually call for building a new winery across Old Sonoma Road. Once completed, tastings will be conducted here rather than at their current location. We will keep an eye on any developments as related to this project and will revisit and update this review accordingly.
Vineyards

Cave