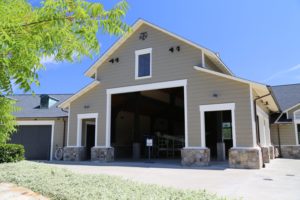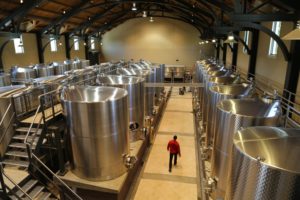 Trinchero Napa Valley (the "ch" is pronounced like a "k" as the owners are Italian, not Spanish or Portuguese) is located on site of the old Folie a Deux Winery, a few minutes drive north of the town of St. Helena. This winery showcases the Trinchero's flagship and premium more limited production wines from their family owned vineyards in the Napa Valley. They own and manage seven primary vineyards in Napa for a total of over 200 acres.
In addition, the family owns another approximately 700 acres from California's Central Coast to north of Napa. The company has grown so they are now one of the largest independently owned family wineries in the USA. It has been an impressive ride – and today there are more than 40 unique wine labels under the Trinchero Family Estates collection (some quite well known including Joel Gott Wines and Newman's Own). Most of the brands that Trinchero Family Estate owns are not open to the public and do not have tasting rooms. They also own several non wine brands which focus on rum, vodka and tequila.
Brothers John and Mario Trinchero came to the Napa Valley in 1947; they invested all their economic resources into purchasing an abandoned winery located just south of, called it Sutter Home Winery and grew the production over time with their first vintage coming in 1948. In the early years the Trinchero's focused on larger production wines. That changed some when some of the second generation took over and they started producing single vineyard wines. It is still very much a family owned and operated business with family members actively working in the company. There is a 5th generation of Trinchero's but as of now, they are much to young to be working in the business.
Trinchero Winery is one of several Trinchero family Napa owned wineries which include the famous Sutter Home brand (original founders of White Zinfandel), and Napa Cellars in Oakville (where the "new" Folie a Deux Winery is housed).
Trinchero Napa Valley has it's origins with their early M. Trinchero Wines (first released in 1995 to honor founder Mario Trinchero) – however the first vintage of the Trinchero Napa Valley wines was from 2007. Winemaker Mario Monticelli has been making the wine since that first vintage.
Over the past several years Trinchero Winery has built a contemporary and elegant hospitality center (nearly 11,000 square feet) and a state of the art winery. And in the spirit of Italian families the Godfather films loop on video screens above the urinals in the men's bathroom. Not sure if this is a feature in the women's bathroom – we did not check.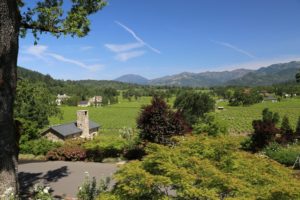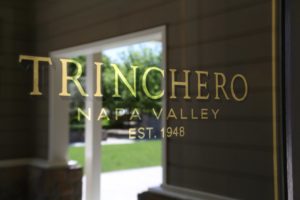 The new winery serviced its first crush and harvest in 2008 which was followed by the hospitality & culinary center that opened in June of 2009. The commercial kitchen on site is mostly used for private events and for club member events.
Their total production is around 12,000 cases each year – of which some of their wines are produced in very small quantities. With that said, they have plenty of space between the winery, the barrel room and the cave. They built the winery large enough to house more tanks then they typically need during harvest. The inside of the tank room is designed to look somewhat like a train station – a nod to history when founders Mario and Maria came to the Napa Valley on a train.
The property is fairly unique in that it is located in the "hourglass" of the Napa Valley where both the Vaca and the Mayacamas Mountain ranges come within about a half mile of each other. Trinchero sits on a slight raise above the valley floor and there are excellent views to the north including Mt. St. Helena (the tallest mountain in the area) as you sit in the patio outside the hospitality center. Twelve acres of Cabernet Sauvignon are planted on site – appropriately named Mario's Vineyard. Not to be outdone, Mario's wife Mary also has a vineyard namesake just north of the winery in Calistoga. Mario's oldest son Bob lives on a nearby knoll and from his home he can easily look across to the winery.
Select Wines
Choose from one of two tasting flights, or if you are feeling adventurous and have a designated driver, go for both! "A Taste of Napa" features a white wine, lighter bodied wines and mostly wines that are distributed in retail outlets. Their Legacy Flight features single vineyard Cabernet Sauvignon wines from their own vineyards (the focus with this tasting and their wines in general is on single varietal wines). The Legacy flight gives one a perspective on how select vineyards can produce completely different wines – both in aroma and flavor.
Most wines made here are only available direct from the winery – and a visit to the tasting room is a good chance to try smaller production wines you will not find in the market place. For a more in depth tasting experience, signup for their Taste of Terroir program. Over the course of 90 minutes or more a wine educator will tour you around the property, discuss the family history and then sit down to taste vineyard designate wines while highlighting the terroir differences between vineyards while you enjoy the wines with a small charcuterie plate. This experience is private for your party and usually limited to 6 guests or less (although they can host larger groups if necessary).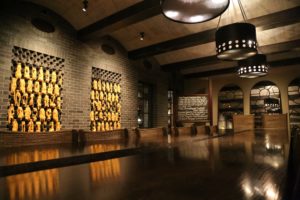 The 2015 Mary's Vineyard Sauvignon Blanc is a young wine at the time of our tasting – but drinks easily without any harsh edges. This wine saw no oak and was fermented and kept in stainless steel until it was bottled. The bouquet is decidedly tropical in nature with notes of honeysuckle, citrus blossom, a hint of apricot – all together creates a very aromatic and appealing profile. The palate is balanced, invigorating and begs another sip. Easy drinking.
Three wines you do not commonly find produced in Napa as 100% varietal are Malbec, Petite Verdot and Petite Sirah. Trinchero produces all three as 100% varietal – these are big wines, built with mountain character and featuring block buster tannins.
The 2012 Cloud's Nest Vineyard 100% varietal Petit Verdot is from their vineyard on the upper slopes of Mt. Veeder. This vineyard is often one of the last if not the last in their vineyard portfolio to pick. It is typically above the fog line and takes plenty of time to ripen. This wine is inky dark in the glass with good viscosity. It shows spice notes on the bouquet including white pepper, and tobacco notes with sweet darker fruit aromas present. On the palate flavors of blackberry tinged with mocha show on the finish. Robust, earthy and gripping tannins leave you wanting to pair this with a well marbled steak.
The 2012 Cloud's Nest Malbec shows sweet fruit aromas including ripe plum tinged with notes of vanilla in the background. Big fruit and big structure. Good acidity. This wine should age for quite some time. Less then 200 cases were made of this wine.
Trinchero Family Estates owns outright or has some ownership connection to a number of wineries or brands based in the Napa Valley or nurturing strong Napa Valley connections. As of our latest update these are: Menage a Trois, Sutter Home, Mason, Ziata, Neyers, Taken, Joel Gott, Pomelo, Napa Cellars, and Folie a Deux.
For more information about one of Napa's (and the nation's) most successful family owned winery businesses and more details about their wines, visit: www.trincheronapavalley.com
Tasting Room

Grounds

Hospitality Center

Winery/Vineyards

TRINCHERO FAMILY ESTATE NON NAPA WINERIES
The following are Trichero Family Estate owned wineries outside of the Napa Valley that we have personally visited.
Terra d'Oro Winery (Montevina) Amador County