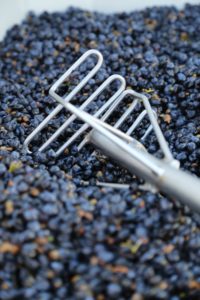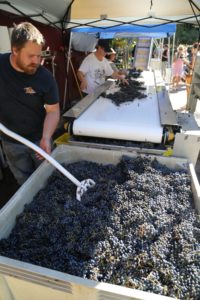 Tres Sabores is a small certified organic winery located 5 minutes from busy Highway 29 (south of St. Helena). Once you are here it feels like a different world; it noticeably quiet with an environment surrounded by vineyards and hillside land with native vegetation. It feels nothing like the crowded atmosphere you will sometimes find along the "wine strip", a section of Highway 29 delineated colloquially by the wineries between the towns of Yountville and St. Helena.
Tres Sabores is owned by Julie Johnson; while she has several employees, she often conducts the walking tours among her vineyards and hosts the tastings. Julie purchased the property in 1987 and in 1991 became Napa's first certified organic winery/vineyard (a 3+ year process that culminates with a CCOF certification). However Julie's first commercial release was from the 1999 vintage. The property is 35 acres, of which 13 are planted to vine – including 10 to Zinfandel (the varietal that Tres Sabores is most known for). The remaining vineyard acreage is planted to Cabernet Sauvignon, Petit Verdot and Petite Sirah with the original vines on site planted in 1971. The property is in the Rutherford appellation. Tres Sabores also purchases fruit from other select vineyards.
In 1981 Julie along with John Williams, and partners Larry Turley, founded Frog's Leap Winery. And in 1990 along with vintner Michaela Rodeno (see Villa Ragazzi Wines) founded Women for WineSense, a now National organization with select chapters across the country devoted to furthering education, creating networking opportunities for those in the wine industry and also select chapters contributing scholarships to women to further their education.
Tres Sabores translates to "three flavors" in Spanish, a name Julie chose to represent the terroir (site characteristics), the artisan influence (winemaker) and the varietal (type of grape).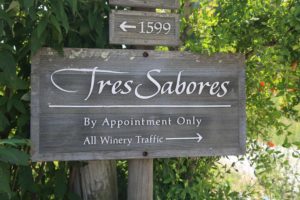 We enjoyed the 2005 Rutherford Zinfandel as we walked through the Zinfandel rows of grapes while Julie explained the natural farming techniques that she uses on the property. She was one of the earliest of the modern day vintners in the Napa Valley to use organic farming practices. The 2005 Zinfandel is a delicious vintage with ripe Zinfandel aromas followed by spicy white and black pepper notes generously framed by plenty of fruit. The Tres Sabores 2005 Rutherford Perspective Cabernet Sauvignon is also delicious and a fine representation her property. Tantalizing fruit flavors are represented in this wine along with a very smooth silky mouth feel.
Weather permitting you will taste outside under the olive groves where there are great views of all the grape rows spread out before you. And a visit here is not only about the wine but also about the garden which provides seasonal produce includes fruits and vegetables. And perhaps you will make a few friends – Julie owns several Golden Retrievers who based on our several visits to the property, always enjoy meeting guests.
In past years, she also made a "Fire-Roasted" Zinfandel Marinade which has an interesting story behind it. At the time she stored 2000 cases of wine in a Vallejo warehouse which was destroyed by arson in 2005. For a small producer, 2000 cases is a significant amount of wine to lose. Most vintners would have merely cut their losses and moved on or even gone out of business – but not Julie.
Her "Porque No?" Marinade (which means Why Not, in Spanish) is a "have lemons, make lemonade story!", as she used the wine that was destroyed in the fire as a key ingredient in her marinade (it is quite tasty by the way!). In the years following this devastating fire, we saw stacks of these available just inside the Oakville Grocery in Oakville as well as in other boutique shops around the valley.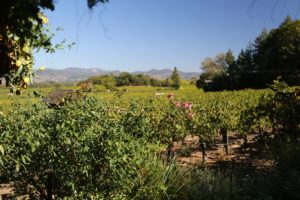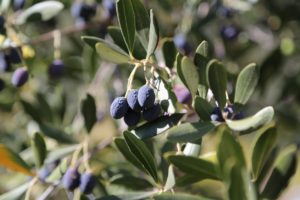 The Porque No wine is a very unique blend, affordably priced and a good every day value to quality drinking wine.
In addition to wine, Julie also makes olive oil from the 40+ olive trees that grow on the property. And visitors to the property will certainly notice some of the over 200 pomegranate trees growing here.
Total production each year is about 4,000 cases. For more information and or to join their wine club, visit: www.tressabores.com
NOTE: this review has been identified as needing a **major** update. It has been years since we first met with Julie during the early years of when we were just beginning the Napa Wine Project.
Winemaking

Property