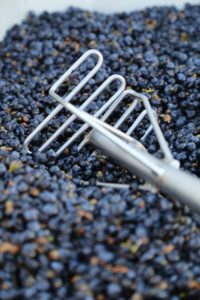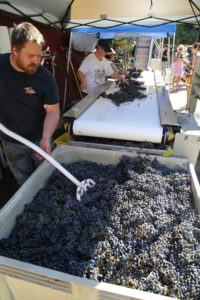 Tres Sabores is a small certified organic winery located 5 minutes from busy Highway 29 (south of St. Helena). Once you pull onto their gravel driveway and arrive on the property, it feels like a different world; it is noticeably quiet – a corner of Napa tucked away against the edge of the Mayacamas mountains surrounded by vineyards and native vegetation growing on the nearby hillsides. A visit here feels nothing like the crowded atmosphere one often finds along the "wine strip", a section of Highway 29 delineated colloquially by the wineries between the towns of Yountville and St. Helena.
Tres Sabores is owned by Julie Johnson; while she has several employees, she sometimes conducts walking tours among her vineyards and occasionally helps host the tastings. Tastings during the busy summer and fall months are often hosted simultaneously with several groups.
Julie purchased the property in 1987 and in 1991 became one of Napa Valley's first certified organic winery/vineyards – a 3+ year process that culminates with a CCOF certification. According to the Frog's Leap website, they received their own CCOF in 1989. Helena View Johnston in Calistoga received their certification in 1992. However, Julie's first commercial release was from the 1999 vintage; fruit from this vineyard went into prior vintages of a Frog's Leap Zinfandel. The property is 35 acres, of which 13 are planted to vine including 10 to Zinfandel (the variety that Tres Sabores is most known for). The remaining vineyard acreage is planted to Cabernet Sauvignon, Petit Verdot and Petite Sirah with the original vines on site planted in 1971 (still on AXR-1 rootstock, but as of now not yet infected with phylloxera). The vines are dry farmed. The property is in the Rutherford appellation and shares a property line with Inglenook Vineyards. Tres Sabores also purchases fruit from other select vineyards.
Julie first visited Napa Valley in the 1960s as a child – returning in the 1970s to explore the region further and by 1980 had moved to the valley. Her previous career was as a public health nurse. In 1981 Julie along with John Williams, and partners Larry Turley, founded Frog's Leap Winery. And in 1990 along with vintner Michaela Rodeno (see our review of Villa Ragazzi Wines) founded Women for WineSense, a now national organization with select chapters across the country devoted to furthering education, creating networking opportunities for those in the wine industry and also select chapters contributing scholarships to women to further their education.
Tres Sabores translates to "three flavors" in Spanish, a name Julie chose to represent the terroir (site characteristics), the artisan influence (winemaker) and the variety (type of grape). And it also refers to the three well-respected consulting winemakers (Rudy Zuidema, Ken Bernards and Karen Culler) that Julie initially hired to make three separate Zinfandel based wines from her vineyard.
The initial wines made by these winemakers were labeled with three separate designs that Julie was inspired by after seeing their shapes on pottery during a visit to a pre-Columbian museum just outside of Quito in Ecuador (in 1998). When she returned to Napa Valley, she had one of her friends create three bowls using these ancient designs (now displayed inside the house next to their barrel room).
Today Julie shares the winemaking duties with her son Rory, who also makes his own wine here, Calder Cellars. And Julie's other son, Kylor sometimes produces cider here bottled under the brand Far Cider, produced with apples grown in Northern California. They are fermented and aged in red wine barrels; each batch is usually only one or two barrels. Easy drinking, we enjoy these most deeply chilled after hot days.
Select Wines
The 2021 Tres Sabores Thinking Cap White Wine is medium gold in the glass; the bouquet offers aromas of juniper berry, pine branch, an aroma which reminded us of a feeling, that of a freshness one experiences when walking through a forest near Lake Tahoe immediately following a summer thunderstorm, kumquat, citronella, grapefruit, celery stalk and lemon zest. Zippy across the palate due to its bright and refreshing acidity, this bottling offers flavors of lemon/lime, green apple and a grassiness. Its texture is supple and rounded. This very unique California appellation wine includes several white varieties in the blend including Albariño. Tre Sabores also bottles a Thinking Cap red wine.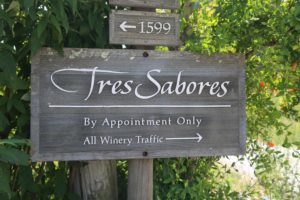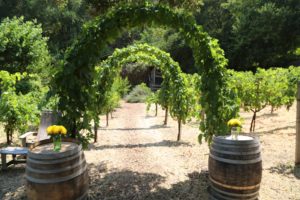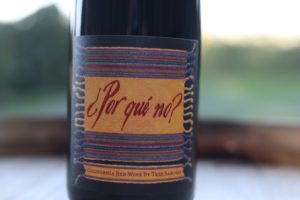 What has to be one of Napa Valley's most eclectic labels is the label for the Tres Sabores rosé, Ingrid & Julia; it is a colorful image modeled after tie-dye duct tape! Yes, there is such a product. And this wine is named after two rose bushes growing on the property planted in tribute to Ingrid Bergman & Julia Child. The 2017 vintage is a blend of Petite Sirah (25% from a Calistoga vineyard) and Zinfandel (75% estate) made from an earlier pick prior to their primary harvest. Noticeably orangish salmon in color shows aromas of citrus (namely grapefruit), raspberry and mineral nuances. This wine shows a pleasing texture on the palate which is rounded with some weight but balanced nicely by its refreshing acidity. Some of the mineral notes on the bouquet also show on the palate. This bottling would most likely pair well with a number of spicy Thai dishes.
The 2015 Tres Sabores Estate Zinfandel (sections of the vineyard are often harvested multiple times) is aged with a careful and judicious use of oak, so that the oak characteristics do not dominate the varietal characteristics. The wine is savory on the palate – initially showing a darker spice element including black pepper and a smokiness along with cocoa powder and cedar box. As the wine breathes the fruit begins to dominate including aromas of raspberry. It is certainly not a jammy fruit forward wine as is often the case with California wines made from this variety. It is very balanced on the palate with excellent acidity and well-integrated finer grained tannins.
During our first visit to the property, we enjoyed the 2005 Tres Sabores Estate Zinfandel as we walked through the Zinfandel rows of grapes while Julie explained the natural farming techniques that she uses on the property. She was one of the earliest of the modern-day vintners in Napa Valley to implement organic farming practices. Julie only harvests sections of the vineyard that are fully ripe and some years differences in harvesting the Zinfandel alone can differ up to 3 weeks. The 2005 Zinfandel is a delicious vintage with ripe Zinfandel aromas followed by spicy white and black pepper notes generously framed by plenty of fruit.
The Tres Sabores 2005 Rutherford Perspective Cabernet Sauvignon is also delicious and a fine representation of her property. Appealing aromatics lead to delicious flavors anchored by a very silky-smooth mouth feel. The label draws one's eye quickly to the bottle; it is based off of lithograph that Julie purchased while in London.
For a short while, Julie also made a "Fire-Roasted" Zinfandel Marinade. The Tres Sabores ¿Porque No? Marinade (which means Why Not, in Spanish) is a "have lemons, make lemonade story". In 2005, Julie stored 2000 cases of wine in a Vallejo warehouse which was destroyed by arson that same year. For a small producer, 2000 cases is a significant amount of wine to lose. Most vintners would have merely cut their losses and moved on or even gone out of business – but not Julie. The marinade was a result of creatively producing a useful product out of destroyed wine. In the years following this devastating fire, we saw stacks of these available just inside the Oakville Grocery in Oakville as well as in other boutique shops around the valley. An intriguing book about this fire is, Tangled Vines: Greed, Murder, Obsession, and an Arsonist in the Vineyards of Californiaby Frances Dinkelspiel.
Porque No is a very unique blend, affordably priced and a good everyday value to quality drinking wine. Julie calls this her "party in a bottle" wine. The blend changes each year, but Zinfandel, Petite Sirah and Cabernet Sauvignon are the dominant varieties with sometimes a tiny percentage of Petit Verdot added.
The 2020 Tres Sabores ¿Porque No? is a blend of 49% Petite Sirah, 39% Zinfandel, 11% Cabernet Sauvignon and 1% Petit Verdot. This wine is dark ruby in the glass with purplish tinges on the rim and is nearly opaque; the invigorating bouquet features ripe and dark fruits including blackberry and boysenberry complemented by plenty of secondary aromatics including mocha, espresso, Graham cracker, milk chocolate and other baking spices. Fruity, juicy, and dark across the palate, this wine offers flavors of dark plum, black cherries and crushed peppercorn. The dark tannins are light silty in texture and continue to persist accompanied by plenty of fruit. And while this wine is a blend of varieties it is also a blend of regions including grapes from Rutherford, Sierra Foothills and Mendocino County.
—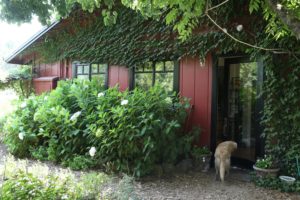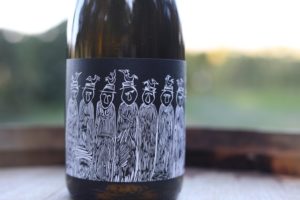 In addition to wine, Julie also makes olive oil from the 40+ olive trees that grow on the property. Visitors to the property will certainly notice some of the over 200 pomegranate trees growing here (10 different varieties). And in a very unique offering for a Napa Valley based winery, Tres Sabores produces a tasty pomegranate vinaigrette (for sale at the winery).
Weather permitting guests will taste outside either under the olive grove (some of the older olive trees in all of Napa Valley) featuring inspirational views of the nearby vineyards or in another location next to the 'vineyard house'. Julie's husband John refers to the grove of 7 olive trees as sisters who spread their arms around those who sit at the tables in their shade. And perhaps one will make a few new friends; Julie owns several Golden Retrievers who based on our several visits to the property, always enjoy meeting guests.
Tours also bring visitors to the 'back' of the property including a stop in front of the Wedding Tree (dates from around 1660) and is where Julie and John were married. And a visit here is not only about the wine but also about the garden which provides seasonal produce includes fruits and vegetables. They both maintain an extensive garden using compost from grape pomace and visitors will walk among the raised vegetable beds and take a peek into the cages where a number of their farm animals are housed including sheep and guinea fowl. And if around lunch time and you would like to eat here, let Tres Sabores know at the time of your reservation so they can plan accordingly.
Tres Sabores is kid and pet friendly. Julie even created a scavenger hunt for children – focusing on natural elements found on the property.
Over the years Julie has hosted a number of fun events at the winery including outdoor movie nights and her popular annual Paella and Pomegranate party held in mid-October. This event features fun, food, wine, music and tastings of the various pomegranates growing on the property. This event features a sit-down buffet style dinner followed by dessert and dancing. And one of the of the most enjoyable parts of the evening: the smashing of a pomegranate piñata and the ensuing scramble to gather all the goodies inside after it has been broken into pieces.
Total production each year is about 4,000 cases. The wines are sold direct to consumer but are also distributed to fine wine shops and retail outlets. For more information, to schedule an appointment or to join the appropriately named Sabor wine club (some of the wines produced are only available to club members), visit: www.tressabores.com
Vineyards

Winemaking

Property

Farm Animals/Gardens