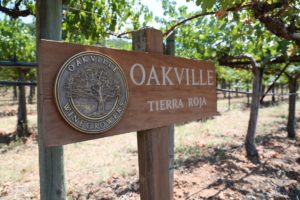 Tierra Roja Vineyard – Every so often on this project we come across a gem – this is one of those wines. Linda Neal is the owner and has a background in Agriculture. She initially came to the Napa Valley during a study in Botrytis control. That led to additional work within the vineyards and by the time she retired she had over 20 years experience running a formidable vineyard management company within the Napa Valley for high end wineries. As she says "the wine industry gets in your blood and it becomes a life long passion". Today she retains a 4 acre piece of land in the heart of the Oakville Appellation.
Everything about her involvement has to do with the land and the vineyard and the name, "Tierra Roja" is a dead giveaway to this. Meaning, "red soil" in Spanish this describes her vineyard perfectly. When exposed, this brilliant red soil can be seen from a long ways away. We recently had a chance to visit and walk the extremely steep terraced slopes of her property. From the upper part of the hillside vineyard there are excellent views overlooking the entire central Napa Valley (click on our photos to see this). There are various Cabernet Clones planted, the types of clones combined with the steep very rocky soils produces extremely small berries.
Attention to detail in the vineyard is key here and Linda is continuously managing all aspects of the vines year round. Over the years with her long history of working in the vineyards Linda has picked up many of the state of the art vineyard management practices that she now employs on her own vineyard. Pulling leaves to provide just the right amount of exposure during the ripening season is key. Each vine is individually managed based on its vigor and other factors. Timing is everything in vineyard management, especially with dropping fruit during the ripening window.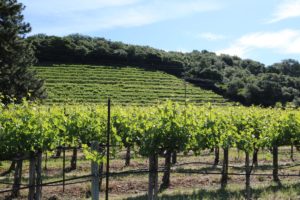 Only the "best" fruit is allowed to fully ripen. The vineyard ripens at about the same time and they can selectively pick specific vineyard blocks, doing all their harvesting on the same day. This vineyard tends to be among the earliest ripening of the Cabernet Sauvignon vineyards in the Oakville appellation. With nearby vineyards that include Screaming Eagle, Showket, Rudd and Dalla Valle it is no wonder that another nearby vintner has coined the term "Magic Hill" for this unique Eastern hillside part of Oakville! Linda purchased this property in 1987 and planted it to vines in 1989.
Tierra Roja actually made wine for 3 years in private wanting to perfect their style as well as deciding which vineyard blocks to use. Note the plow that is featured on the label. It is a testament to how the property used to be farmed as well as a tie in to FFA (Future Farmer's of America) which Linda was a part of and still supports in a variety of ways. Today rather than using a horse and plow, cover crops are used in between the rows and the entire vineyard is managed by hand. The 2004 Cabernet Sauvignon was their first vintage, which we had the privilege of trying. All fruit for this wine is from Linda's vineyard, it is 100% varietal and only 160 cases of this wine were produced (all sold out – but look for future vintages via their online mailing list).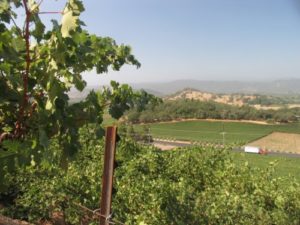 This is a special wine that has the "it" factor. It is a wine that is easily on par with any of the best Napa Cabernet's that we have sampled on this project; the "it factor" has that special richness combined with elegance that is not often found but when you do, it is a special treat. The 2004 is a deep dark ruby red wine which is seamless on the palate. By this we mean it is rich, but elegant with great balance. The nose has seductive aromas of very ripe fruit including blackberry interwoven with a cedar box of spices and nuances of a beautiful earthiness that is representative of this particular terroir. The broad expressive flavors of fruit are immediately felt on the palate and you may even pick up some mineral notes towards the finish that lingers leaving you only wanting more!
Based on the small acreage and the fact that Tierra Roja does sell some of its fruit to other vintners, their production will always be extremely small. The best chance to enjoy their wines is to join the mailing list and note that their release date is usually in September. Several high end restaurants in the Napa Valley also carry the wine. Sometimes Linda puts on private vineyard clinics in which she discusses Viticulture and how vines are managed. During these clinics you get to actually tie, prune, sucker and or thin some of the vines. Tierra Roja also supports a variety of non profits with their large format bottle charity program – including Vine Village. Visit: www.tierraroja.com