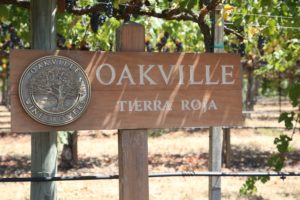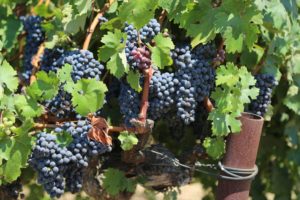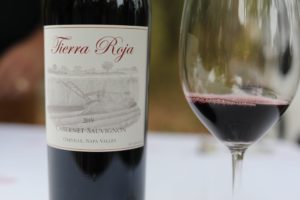 Tierra Roja Vineyard. Every so often on our journeys through Napa Valley we discover a gem; Tierra Roja is one of those gems both for the exceptional vineyard site, the quality of wines and the warmth, hospitality and generosity of owner and founder, Linda Neal.
Linda discovered her interest in agriculture early in life; while growing up in Southern California she became involved with Future Farmers of America (FFA) in high school (an organization she continues to support today). She came to Napa Valley in 1983 while working for the French based chemical and pharmaceutical company, Rhône-Poulenc. Her early work in the valley was a study in botrytis cinerea control, a type of fungus that grows on grapes under certain conditions (humidity). This study led to additional vineyard related work and by the time she "retired" she had over 20 years' experience running M&L Vineyard Management within Napa Valley, overseeing various vineyards for premium wineries. As she told us, "The wine industry gets in your blood, and it becomes a lifelong passion."
Today she manages a 4-acre piece of land in the heart of the Oakville Appellation. The property had several owners over the decades including August and Martha Liebig in the 1950s and 1960s. August was a sales representative for Baker Roofing & Supply Company – we've come across mentions of his business in various Napa Register advertisements using his home address as his business address. And he also advertised hay and straw baling services. In 1987 Linda purchased this property from Doug Wight (also a vineyard manager); he had planted vines on the lower section of the property. Linda planted the hillside to vines in 1989. When Linda bought the site there were still remnants of original vines planted by one of the previous owners (the Denatale family) from the 1920s.
Everything about Linda's involvement with Tierra Roja is tied to her land; in Spanish, "Tierra Roja" means "red soil"; this describes her terroir perfectly. When exposed, this brilliant red soil can be seen from a long distance away. We have walked the extremely steep and terraced slopes of her property. From the upper part of the hillside vineyard there are excellent views overlooking the entire central Napa Valley. Various Cabernet Sauvignon Clones are planted, the types of clones combined with the steep extremely rocky soils produces very small grapes.
Attention to detail in the vineyard is key and Linda continuously manages all aspects of the vines year-round. Over the years with her long history of working with grapevines, Linda has learned many of the state-of-the-art vineyard management practices that she now employs on her own vineyard. Pulling leaves to provide just the right amount of exposure in the weeks leading up to harvest is an integral part of her vineyard management. Each vine is individually managed based on its vigor and other factors. Timing is everything in vineyard management, especially with dropping fruit during post veraison.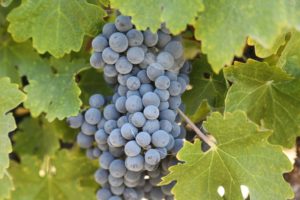 Only the "best" fruit is allowed to fully ripen. The entire vineyard ripens roughly about the same time and the grapes are generally all harvested on a single day. This vineyard tends to be among the earliest ripening of the Cabernet Sauvignon vineyards in the Oakville appellation. With nearby vineyards that include Screaming Eagle, Tench, Rudd and Dalla Valle it is no wonder that another nearby vintner has coined the term "Magic Hill" for this unique eastern hillside part of Oakville.
Tierra Roja produced wine for 3 vintages in the early 2000s but never released them, determined to perfect their winemaking style as well as deciding which vineyard blocks to use. Winemaker David DeSante was Tierra Roja's founding winemaker; in 2015 Jeff Ames (his own label Rudius and longtime winemaker for TOR Wines) took over the wine making duties which he held until 2020. Benoit Touquette became Tierra Roja's winemaker in 2021.
Note the plow that is featured on the label. It is a testament to how the property used to be farmed as well as a tie in to FFA (Future Farmers of America). Today rather than using a horse and plow, cover crops are planted in between the rows and the entire vineyard is managed by hand. The 2004 Cabernet Sauvignon was their first vintage, which we had the privilege of trying. Tierra Roja produces a single wine each year, always from Linda's vineyard and it is always 100% varietal. Only 160 aces of this inaugural vintage were produced (and was already sold out at the time of our first visit with Linda).
The Tierra Roja single-vineyard Cabernet Sauvignon is a special wine that has the "it" factor. It is a wine that is easily on par with any of the best Napa Valley Cabernet Sauvignons that we have sampled to date on this project; we define the "it factor" as having a special richness combined with elegance and balance. And it all goes back to the site.
Select Wines
The 2019 Tierra Roja Cabernet Sauvignon is dark ruby in color; the aromatics are focused on the fruit rather than secondary aromatics from the barrel aging. This wine offers scents of blackberry, bramble, cassis, a very subtle hint of green pepper spice, old cedar box and clove. The generosity of fruit continues onto the palate with layered flavors of blackberry and dark plum among other dark fruit notes. The tannins are surprisingly resolved and approachable for such a young wine. Touquette, who did not make this particular vintage but crafted numerous other 2019 bottlings, compared the tightness of the 2019 vintage to the 2013 vintage. In our opinion the 2019 vintage has 'come around' faster in its youth than the 2013 vintage and this wine is already seamless in its youth (tasted 3 years post vintage date).
Due to issues with smoke from the LMU Complex and the Glass Fire, Tierra Roja did not produce a 2020 vintage.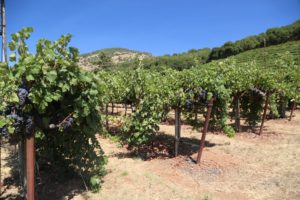 The 2015 Tierra Roja Cabernet Sauvignon is dark crimson in the glass. The wine offers a pretty nose with both floral and fruit aromas including dried rose petals and ripe blackberry. This bottling shows plenty of depth on the bouquet as it opens, revealing a lively core of fruit aromatics. It also offers aromas of old cedar box and darker spices at times including crushed black pepper. This is a somewhat savory showing. Opulent and young on the palate, this wine features a pleasing textural density on the finish without any structural harshness. The tannins are slightly earthy and somewhat chewy. It still shows young, as expected only 3 years after the vintage date. The finish lingers with notes of mocha.
The growing season in 2011 in Napa Valley was more challenging than normal years due to colder conditions in Spring and rain even into early June. Those attending the Napa Valley Wine Auction that year in the first week of June certainly remember the unusual rain that weekend. And then later in the year during harvest, colder conditions prevailed with both rain and fog, especially persisting on the valley floor. Some might call this year the, "winemaker's vintage", but in reality, site played an important role into the quality of wines produced in 2011. Hillside sites and those especially in the mountains east of the valley floor generally fared better than the lower elevation sites in the southern part of the valley.
The 2011 Tierra Roja Cabernet Sauvignon (tasted 12 years post vintage) is medium to deep ruby in color; the bouquet is immediately indicative of this vintage offering scents of damp earth, mushroom, forest floor and notes of dried herbs. The fruit takes a back seat to these aromatics but give it time, it will start showing. This is a lighter styled Cabernet Sauvignon with the palate offering bright red-fruited flavors including of cherry and currant. One can still feel the freshness with its bright acidity and savory and higher toned red flavored finish. The tannins show more on the front of the palate than the back, are finer-grained and linger with some notes of old cedar and lightly ground pepper.
The 2004 Tierra Roja Cabernet Sauvignon is a deep dark ruby color in the glass; it is seamless on the palate. By this we mean it is rich, but elegant with superb balance. The nose has seductive aromas of ripe fruit including blackberry interwoven with a cedar box of spices and nuances of an earthiness which is representative of this particular terroir. The broad and expressive flavors of fruit are immediately noticed with some lingering mineral notes on the finish. This wine begs another sip.
—
Based on the small acreage and the fact that Tierra Roja does sell some of its fruit to other vintners, their production will always be extremely small (usually around 250 cases a year). The best opportunity to acquire wine is to join the mailing list; mailing list members will receive notification every summer for Linda's annual September release party (for her current vintage). This party has been held in Las Vegas or often at the historic Bale Grist Mill located just north of St. Helena. At this party, guests enjoy both the current release of Tierra Roja as well as select Tierra Roja library bottlings and special older bottlings from Linda's personal collection. A raffle item is also available, usually a large format bottle of Tierra Roja. And guests leave with a packet of ground polenta or other grain that was milled on site.
In late 2018 Linda joined the Peace Corps and served in Morocco, through early 2020. In anticipation of her time abroad, in 2018 she sold her other winery Mellowood Vineyard (located in El Dorado County, east of Sacramento). When she left, we told her that this time would go by in an absolute blink of an eye. Course it went by even quicker since all Peace Corps personnel were evacuated back to the United States in early 2020. She is back in Napa Valley focusing her efforts on her vineyard and the Tierra Roja wine.
A number of premium restaurants in Napa Valley also carry the wine. Sometimes Linda puts on private vineyard clinics in which she discusses viticulture and how vines are managed. During these clinics guests learn how to tie, prune, sucker and or thin some of the vines. Tierra Roja also supports a variety of non-profits with her large format bottle charity program, including Vine Village.
For more information and to join their mailing list, visit: www.tierraroja.com
Tierra Roja Vineyard