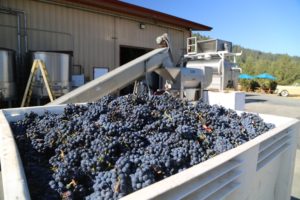 Three Clicks Wines is made by winemaker Bruce Devlin and his wife Danielle both of whom met at UC Davis (in a viticulture class) when they were studying viticulture and oenology. There are a select number of husband wife winemakers in the Napa area; Bruce runs the wine making operations at Ballentine Vineyards (where he has been working since 1999) and Danielle was head winemaker at St. Clement (which when she was working there was conveniently located across the street from Ballentine Vineyards). Today Danielle is making her mark in the Napa Valley as winemaker at Cade Winery. As with a number of younger winemakers in the Napa Valley, both have loads of international wine experience ranging from Europe, to Australia to South Africa.
Bruce was born in San Jose, California and like many winemakers these days has a strong resume of International wine making experience including in Germany, South Africa and South Australia. More locally he has worked with with Carole Meredith and Steve Lagier with their vineyard and and Geyser Peak in neighboring Sonoma County.
After 10 years of working for other wineries he and Danielle decided to branch out and form their own label; this is a story we've heard from a number of winemakers who eventually get the itch to make their own wine.
The name Three Clicks has an interesting story relating to wine. In 1933 journalist and humorist Henry Allen Smith claimed he was the first one to take a sip of alcohol legally after having a telegraph operator send out a 3-click warning revealing that prohibition had been repealed. However others have also made this obscure claim to fame. Henry would go on to have a best selling career with hundreds of thousands of books sold in the 1940s and 1950s. He was a prolific writer and also contributed to numerous magazines of the time. Later he detailed his first sip of alcohol following prohibition in his book Life in a Putty Knife Factory.
While not owning the vineyards for their wines – they source from premium vineyards with an eye towards micro climate, soils and the types of varietals, rootstocks and clones that are planted on site.
As of the time of this review they focus on small production wines from varietals they both enjoy including the two wines they started Three Clicks with – Sauvignon Blanc and Petite Sirah. Each wine is typically produced in small amounts, around 125 cases. They are one of the smaller producers in Napa. Three Clicks sources from selected Northern California vineyards (mostly the Napa Valley) based on terroir, micro climate and types of clones and varietals available.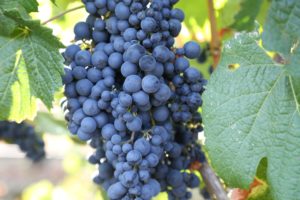 Their first commercial vintage was in 2006. We tried this vintage of Sauvignon Blanc served chilled and at this colder temperature nice aromas dominate including pineapple and peeled lychee fruit, with nice flavors of lemon and lemon grass characteristics on the palate. This wine is crisp in flavor and well balanced with a nice finish. It saw stainless tanks and neutral oak for a short time.
We tried the two components that will form the final blend for the 2007 Petite Sirah. These come from two individual Calistoga vineyards each of which bring individual characteristics to the wine. The wine from the Citron Vineyard is inky dark in color, is full bodied with a more viscous palate and the Branham vineyard produces wine which is very fruit forward, with a structured tannin backbone. Combine them and you have a wine that can stand up to some aging but can certainly be consumed at the time of purchase.
It is not often we discover a Napa based producer that does not make a Cabernet Sauvignon – in certain cases we have talked to winemakers who make Napa Cabernet Sauvignon all day and all they want to drink or make is something other then Cabernet! Three Clicks also produces a Malbec and Grenache from the Napa valley and a Grenache Blanc from neighboring Sonoma County.
Bruce and Danielle have come up with a clever motto to describe the screw cap enclosures used on both wines. These enclosures ensure no cork taint and they describe their use as "giving tradition a new twist". Perfect! You can find their wine locally at ACME Wine Shop in St. Helena and in very select markets in California, New York and Washington DC.
Bruce is also a photography enthusiast and some of his color photography (vineyard and winery visuals) are for sale inside the Ballentine tasting room.
And in 2018 Three Clicks released their first ever wines in a can, from the 2017 vintage, a Napa Valley Sauvignon Blanc – sold as a 12 pack.
For more information and to join their wine club, visit: www.threeclickswines.com