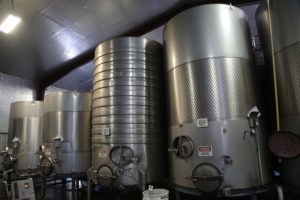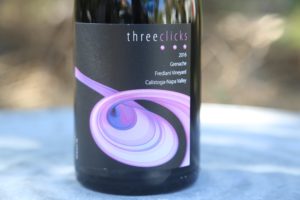 Three Clicks Wines are made by winemaker Bruce Devlin and his wife Danielle Cyrot, both of whom met at UC Davis (in a viticulture class) when they were studying viticulture and oenology. There are a select number of husband wife winemakers in the Napa Valley; Bruce runs the wine making operations at Ballentine Vineyards (where he has been working since 1999) and Danielle was head winemaker at St. Clement (which when she was working there was conveniently located across the street from Ballentine Vineyards). Today Danielle is making her mark in the Napa Valley as winemaker at Cade Winery. As with a number of winemakers of their generation working in the Napa Valley, both have loads of international wine experience ranging from Europe to Australia to South Africa.
Bruce was born in San Jose, California; in addition to his time overseas, he has also worked for a number of wineries and brands locally. While he was still at UC Davis, he worked part time with Carole Meredith and Steve Lagier (Lagier Meredith Vineyard) helping with their winemaking – focusing on Syrah from their remote vineyard high on Mt. Veeder. Bruce also spent some time at Geyser Peak in neighboring Sonoma County right after he graduated from UC Davis.
After 10 years of working for other wineries he and Danielle decided to create their own wine brand; this is a story we've heard from a number of winemakers who eventually decide to produce their own wine (most of these brands are very limited production sold to a loyal group of wine enthusiasts who often either personally know the winemaker or were referred by friends). The premium 'insider knowledge brands', as we call them.
The name Three Clicks has an interesting story relating to wine. In 1933 journalist and humorist H. (Henry) Allen Smith got word that Prohibition was going to be repealed. He invited his friend, journalist Benjamin De Casseres to the Waldorf Hotel in New York City and told Benjamin he should be the first one to legally drink once the repeal came through from Utah via telegraph.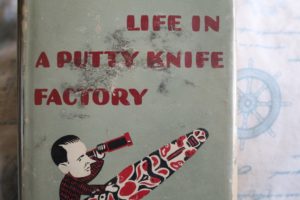 However, as soon as the third click on the telegraph came through, Smith quickly took a drink slightly before De Casseres took his own drink. As a result, Smith claimed he was the first one to take a sip of alcohol legally despite others having also made this obscure claim to fame.
Smith enjoyed a successful career starting in the 1940s with his first big bestseller, Low Man on a Totem Pole with hundreds of thousands of books sold in the 1940s and 1950s. He was a prolific writer and also contributed to numerous magazines of the time. He detailed his first sip of alcohol following Prohibition in his book Life in a Putty Knife Factory from pages 67 through 71 (published in 1943).
While not owning vineyards for their wines – Three Clicks sources from generally small family-owned vineyards located from the center to the north part of the Napa Valley.
Select Wines
Three Clicks focuses on small production wines from varieties they both enjoy drinking including their two inaugural wines – Sauvignon Blanc and Petite Sirah. Each wine is typically produced in small amounts, often less then 150 cases. This is one of the smaller producers in the Napa Valley. Three Clicks sources from select Northern California vineyards (mostly the Napa Valley) based on terroir, microclimates and types of clones and varieties.
Their first commercial vintage was from 2006. We tried this vintage of Sauvignon Blanc served quite chilled – even at this colder temperature pretty aromas dominated including pineapple and peeled lychee fruit, with flavors of lemon and lemon grass characteristics on the palate. This wine is crisp and well balanced with a clean finish. It was in stainless tanks and neutral oak for only a short time before being bottled.
The 2018 Three Clicks Sauvignon Blanc (120 cases produced) is pale yellow in the glass with a graceful bouquet dominated by citrus aromatics including a lemon/lime zest and kumquat – aromas that are representative of this variety – not the overly ripe tropical aromas that one can find from Sauvignon Blancs made in a riper richer style. There are initial notes of mineralities on the palate along with flavors of green apple, grapefruit and kiwi. This wine features a zing to the finish – not a tartness but rather a brightness. Mouthwatering and very refreshing. For this wine, Bruce sourced from small family-owned vineyards from St. Helena up to Calistoga.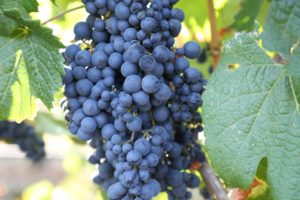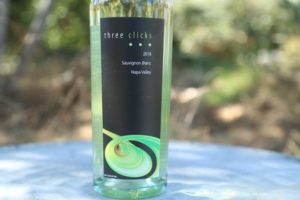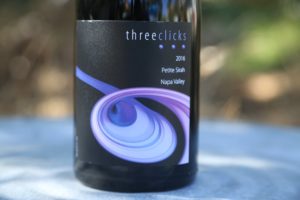 The 2018 Three Clicks Grenache is from the historic Frediani Vineyard located along the Silverado Trail just south of the town of Calistoga. These vines are head-pruned and dry farmed. Pale to medium purple in the glass, the bouquet is savory with aromas of bacon fat, white pepper, raspberry and hints of brown dessert spices including cardamom and nutmeg. Also vanilla. Highly appealing is the wine's lovely balance – not heavy yet certainly not light in either structure or flavor. On the palate shows bright cherry, raspberry and strawberry along with old cedar box notes; lingers with a firm grip of tannins and juicy acidity. A pleasure to drink – we wish there was more Grenache in the Napa Valley 🙂
The 2016 Three Clicks Napa Valley Petite Sirah is sourced from three family-owned vineyards in Calistoga including the Frediani Vineyard. This wine is deep purple in the glass – a variety that produces notoriously darker colored wines. Meaty and gamey with brooding aromatics including plum and ripe juicy blackberry along with black chocolate and mocha. Built around an intense core of dark fruit including blackberry, boysenberry and plum – also shows plenty of darker spice notes including cracked peppercorn. Anchored by earthy tannins – with a firm and memorable grip that continues to persist for quite some time. Drink with some steak – or what might be a very unusual combination – we enjoyed this wine with some Yountville grown beets (this pairing, perhaps helped in part by all the oil we drizzled on them).
During our first visit with Bruce, we tried the two components that eventually formed the final blend for the 2007 Three Clicks Petite Sirah. These were from two individual Calistoga vineyards each of which brings unique characteristics to the wine. The wine from the Citron Vineyard is inky dark in color, full bodied with a denser palate and the Branham Vineyard produces wine which is very fruit forward but with a structured tannic backbone. Blending these two components creates a wine that is very age-worthy but also approachable in its youth.
It is not often we discover a Napa Valley based brand who does not make a Cabernet Sauvignon – in certain cases we have talked to winemakers who specialize in crafting Napa Valley Cabernet Sauvignon – and all they want to drink at the end of the day is something other than this variety! Three Clicks also produces a Malbec and Grenache from the Napa Valley and a Grenache Blanc from neighboring Sonoma County.
Frediani Vineyard

—
Bruce and Danielle created a clever motto to describe the screw cap enclosures used on their wines. These enclosures ensure no cork taint – they describe their use as "giving tradition a new twist". Makes sense. One can find their wine locally, sometimes at ACME Wine Shop in St. Helena and in very select markets in California, New York and Washington DC.
Bruce is also a photography enthusiast and some of his color photography (vineyard and winery visuals) may be for sale inside the Ballentine Winery tasting room.
And in 2018 Three Clicks released their first ever wines in a can, from the 2017 vintage, a Napa Valley Sauvignon Blanc – sold as a 12 pack.
For more information, to purchase wine and or to join their wine club, visit: www.threeclickswines.com