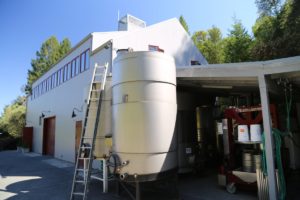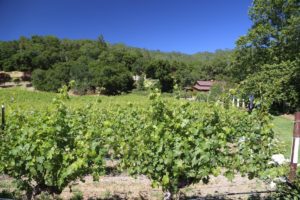 The Terraces Wine is one of the best values in all of Napa Valley, both with the price of their wines and their wonderful educational and affordable hillside tour. A winery like this is why it really pays to do your homework ahead of time and hit some of the smaller more personalized wineries. Our first visit to the property a number of years ago was at the last minute (this winery is owned by Timm & Sharon Crull) and Sharon was gracious enough to give us a tour and a tasting in the midst of her hectic schedule.
Timm graduated from the University of California, Berkeley in engineering and economics, worked for 10 years at IBM, founded Watermark Press, a graphic arts business in San Francisco and discovered his love of food and wine while living in Berkely. He became a home winemaker and is now the winemaker for The Terraces. Sharon grew up in Los Angeles, also graduated from UC Berkely, then from Hastings Law School and practiced law for a number of years.
Both Timm and Sharon absolutely love what they are doing and it shows with the TLC they give to their property and to their wines. You must reserve a tour ahead of time as they are not open to the general public. Tours are usually available on Thursday through Sunday. A locked gate is at the base of their driveway off of the east side of Silverado Trail and you will be paged in or given the gate code at the time of your appointment.
Note the colorful cows that are "grazing" on the vineyard hillsides along this part of the Silverado Trail. These are certainly been conversation pieces for many visitors to the valley who drive past these vineyards. Timm purchased one of the cows from the Kansas City Painted Cow Parade a number of years ago (supporting charity) and then they decided why not stop with one cow – so they purchased another one.
The Terraces comprise 110 rolling hillside acres which is mostly planted in vineyards of which the majority of the grapes are sold to other Napa wineries. However, the Crull's make about 1200 cases of wine from what they consider to be from the best vineyards on the property. 1200 cases is not a lot and typically demand far outpaces their supply. This location is on the site of a 125+ year old quarry – this stone was used in many older buildings in the nearby town of St. Helena including for use in the prominent Culinary Institute of America at Greystone building just north of St. Helena.
An "old" stone winery dating from 1885 is located on site which unfortunately burned down many years ago. This building was also-built with rock quarried from the hillsides on site. You will stop here during the tour. The four stone walls have been home to a number of memorable parties over the years.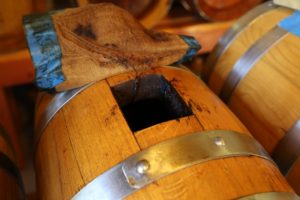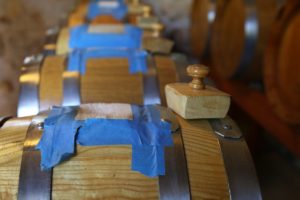 Typically their winemaker, hospitality host or sometimes Timm or Sharon will drive you around in a 4wd "mule" cart; this vehicle is great for attacking the steep slopes of the property. If you are on a tour with Timm its a great experience as he will explain in depth a lot of the viticulture that goes into making great wine. He will actually take you out in the vineyards for individualized tours. It is not often you find this type of individualized vineyard and property in Napa. There are excellent views of the valley and looking over to the western Mayacamas mountains from their upper most vineyards.
They produce a number of barrels of balsamic vinegar in a wooden building that you will drive by on your tour of the property. Nearby is the vinegar aging stone house, called the Acetaia. This stone house dates from the 1850's and was originally a root cellar. They produce Balsamic vinegar each year; their oldest vintage at the time of our latest update to this review has already aged for 21+ years. The vinegar is aged in special wood barrels imported from Italy which includes a many types of wood – ash, oak, cedar, cherry, mulberry etc. This "set" of barrels is referred to as a "batterie".
There is a proper way for tasting vinegar – put your hand out flat, palm down, raise your thumb and they will squirt a bit of the excellent tasting vinegar on the back of your hand which you will then lick off. It is very interesting to note the dramatic differences in flavor that the type of oak makes – for example the vinegar in the Cherry wood has a noticeable sweetness – combined with the flavor makes for a memorable tasting experience!
There are several Napa based businesses making Balsamic vinegar but of the 950+ Napa wineries/producers we have reviewed to date, this is the first and only winery we have visited making this style of vinegar. The Crull's hope to release small bottles of the vineyard in the coming years (perhaps when it reaches 25 years old) – starting by allocating it to their wine club members.
As they say in Italy and as Sharon indicated "we make it for our grandchildren" – as this type of Balsamic Vinegar becomes "exceptional" after a minimum of 25 years of aging! Some of the premium Balsamic vinegar in Italy have been aged at least 75 years.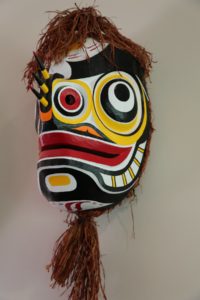 The Terraces released their first vintage of wine in 1985. Tasting is above the winery in a modern tastefully decorated room – which feels like walking into someone's home.
Numerous fruit trees are planted on the property including a number of apple trees. They use the apples to make apple cider – for many years producing hard cider for their own enjoyment. More recently they plan on producing a cider for their wine club members. Bee hives are also kept on site.
Timm and Sharon are both "burners" meaning they are avid Burning Man enthusiasts and books and other decorations relating to this annual event held in the deserts of Nevada (north of Reno) are on display.
They are one of the few Napa wineries to make a Chenin Blanc albeit it is sourced from Clarksburg (non Napa Valley). They produce a very nice Zinfandel and Cabernet Sauvignon from the property. They also make a Tempranillo, Petite Sirah and a wine that has a bit of a cult like following, their Cabernet Franc. Sometimes they produce a late harvest wine from several of the red varietals on the property. They don't make this style of wine every year; the current release is a 2010 vintage. This wine is very low in residual sugar – approximately 3% so those who don't necessarily enjoy the sweeter dessert wines may want to give this one a try.
Their Zinfandel clones actually trace back to grapes planted on the property in the 1800's. Their Cabernet clones are from two premium area wineries, Caymus and Grace Family Vineyards. Their wines were originally made at Caymus until they were able to open their own modern winery on site in 1991. All pricing is quite reasonably for small hand crafted wine – especially by Napa standards.
They have two small guesthouses on site reserved for customers and wine club members located towards the lower part of the property. It is set right next to the vines – a stay here feels like you are in the middle of the country – and to some extent you are – however this is located only minutes from the town of St. Helena. Inquire about pricing and availability. For a private stay in the Napa Valley – this location is hard to beat. Visit: www.terraceswine.com
And a focus on their balsamic vinegar: