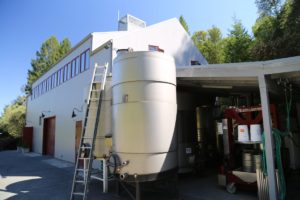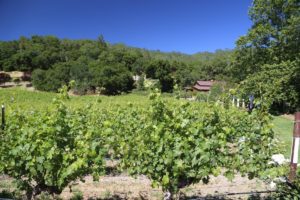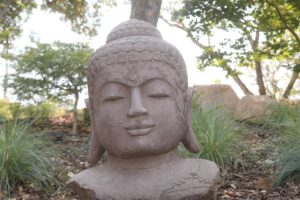 The Terraces Wine is one of the best values in all of Napa Valley, both with the price of their wines and their wonderful educational and affordable hillside tour. A winery like this is why it really pays to do your homework ahead of time and hit some of the smaller more personalized wineries. Our first visit to the property a number of years ago was at the last minute (this winery is owned by Timm & Sharon Crull), and Sharon was gracious enough to give us a tour and a tasting in the midst of her hectic schedule.
Although the property has been planted to grapes since 1881, the first vintage of the Terraces wine was in 1985, a Zinfandel by the founder of the Terraces Winery, Wayne Hogue (died in 2013 at 89). Hogue (an investment consultant from San Francisco) purchased 22 acres of land in 1974 from the previous owners, the Werle family who had owned this property since 1920. An existing old Zinfandel vineyard produced grapes which were sold to Caymus Winery in the early 1980s. Charlie Wagner, owner of Caymus at the time encouraged Wayne to produce his own wine so he did with the 1985 vintage of Zinfandel, and it was at Caymus winery where Hogue made the first commercial wines bottled under the Terraces label.
In 1991 he built The Terraces Winery on site. And in 1993 Timm and Sharon purchased the adjacent Quarry Hill Vineyard and through a partnership with Beringer Winery began replanting the vineyards (the grapes were sold to Beringer for some time) and in 2001 purchased The Terraces Winery and property – creating two contiguous properties.
Timm was born in Cincinnati and moved several times in his youth – the family followed his father Timm F (Sr) as his career ascended at Carnation (eventually serving as president of the company) and later as president and chief executive of Nestle USA Inc. Timm graduated from the University of California, Berkeley in engineering and economics, worked for 10 years at IBM, founded Watermark Press, a graphic arts business in San Francisco and discovered his love of food and wine while living in Berkeley. He became a home winemaker, later took enology classes at Napa Valley College and is now the winemaker for The Terraces. He is very hands-on focused, and guests often see him around the property tinkering with machines or involved in his metal and wood working hobbies. Sharon grew up in Los Angeles, also graduated from UC Berkeley, then from Hastings Law School and practiced law for a number of years.
Both Timm and Sharon absolutely love what they are doing, and it shows with the TLC they give to their property and to their wines.
Note the colorful cows that are "grazing" on the vineyard hillsides along this part of the Silverado Trail. These have certainly been conversation pieces for many visitors to the valley who drive past their vineyards. Timm purchased one of the cows from the Kansas City Painted Cow Parade a number of years ago (supporting charity) and then they decided why not stop with one cow – so they purchased another one.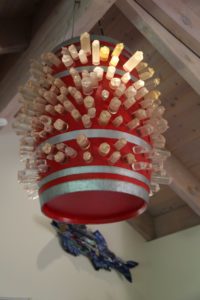 The Terraces property encompasses 110 rolling hillside acres, much of which is planted to vineyards – the majority of the grapes are sold to several other Napa wineries, as of our latest update to this review, Nickel & Nickel and Frank Family. However, the Crull's make about 4,000 cases of wine from what they consider to be from the best vineyards on the property (and from other vineyards outside of the Napa Valley). 4,000 cases are not a lot in the world of wine and typically demand far outpaces their supply. This location is on the site of a 125+ year old quarry – this stone was used in many older buildings in the nearby town of St. Helena including for use in the prominent Culinary Institute of America at Greystone building just north of St. Helena.
Charles Scheggia (a native of Switzerland, died 1910) originally planted grapes here in the early 1880s. In 1881 he formed a partnership with two other men, Alphonso Milion and Giacomo Andreazzi. Charles built a stone winery in 1885 which unfortunately burned down the year after he built it (if there is one constant throughout all of Napa Valley's viticulture history – it is fire, both naturally occurring as well as man-made. This winery was also built with rock quarried from the hillsides on site. Visitors will stop here during the tour. The four remaining stone walls have been home to a number of memorable parties over the years with BBQ and a tiny wooden dance stage located within the 4 stone walls.
One must reserve a tour ahead of time as they are not open to the general public. Tours are available seven days a week. A locked gate is at the base of their driveway off of the east side of Silverado Trail and visitors will be paged in or given the gate code at the time of your appointment.
Typically, their assistant winemaker, hospitality host or sometimes Timm or Sharon will drive you around in a 4wd "mule" cart; this vehicle is well-suited for attacking the steep slopes of the property. If you are on a tour with Timm it's a great experience as he will explain in depth a lot of the viticulture that goes into making excellent wine. He will actually take you out in the vineyards for individualized tours. It is not often you find this type of individualized vineyard and property in Napa. The upper part of the property including the higher vineyard blocks feature picturesque views of the valley looking over to the western Mayacamas mountains.
The Terraces released their first vintage of wine in 1985. Tasting is above the winery in a modern tastefully decorated room – which feels like walking into someone's home. The collection of interior art is somewhat eclectic including a beautiful milk carton piece created by Angwin based (Howell Mountain), NBC Pottery.
Numerous fruit trees are planted on the property including a number of persimmon, pear, peach and apple trees. They use the apples to make apple cider – for many years producing hard cider for their own enjoyment. More recently began producing a hard sparkling apple cider for their wine club members (bottled up in Lake County to the north – only about 100 cases were produced during their inaugural release). Beehives are also kept on site and native grasses have been introduced.
Timm and Sharon are both "burners" meaning they are avid Burning Man enthusiasts and books and other decorations relating to this annual event held in the deserts of Nevada (north of Reno) are on display in the tasting room.
Balsamic Vinegar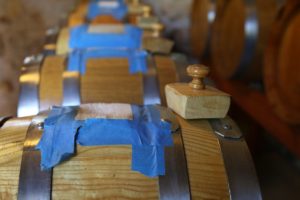 While visiting Oak Barrel Winecraft in Berkeley (a home wine makers and brewery supply store, which incidentally is still in business and offers an excellent selection of supplies), Timm spotted some small wood barrels. Learning about their use for making balsamic vinegar inspired Timm to produce his own. The Terraces produce a number of barrels of Balsamic style vinegar each year in a wooden building that guests usually drive by on a tour of the property. Nearby is the vinegar aging stone house, called the Acetaia. This stone house dates from the 1850s and was originally a root cellar. The original stone steps lead into the cellar are very well worn from decades of use. Their oldest vintage at the time of our latest update to this review has already aged for 25+ years.
The original 'mother' culture came directly from Modena through a connection that Timm and Sharon made when visiting that part of Italy. The vinegar is aged in special wood barrels imported from Italy which includes at least six types of wood – ash, oak, cedar, cherry, mulberry etc. – some of the barrels are even composed of two types of wood – differing between the staves and the heads. This "set" of barrels is referred to as a "batterie". One of the two batteries here was moved during the August 2014 earthquake – fortunately landing against one of the walls rather than tipping over. The smaller barrels house the older Balsamic Vinegars.
There is a proper way for tasting vinegar – put your hand out flat, palm down, raise your thumb and they will squirt a bit of the excellent tasting vinegar on the back of your hand which you will then lick off. It is very interesting to note the dramatic differences in flavor that the type of oak makes – for example the vinegar in the cherry wood has a noticeable sweetness – combined with the flavor makes for a memorable tasting experience!
For the first time in 2021 The Terraces bottled a very limited number of 150ml 24/25-year-old Balsamic vinegar from their oldest lots, allocated to their wine club members. The long thin necked bottles contain three numbers, 299 representing the moon cycles over the 2+ decades needed to age the vinegar, 29 representing the pounds of grapes needed to make one bottle, and 9 representing 9 small barrels solera style needed to produce a single bottle of vinegar. The gold stripes on the bottles are silkscreened from 24 karat gold.
The three tall colorful ceramic 'totem' poles that are located directly outside of the Acetaia were built by hand by Timm's mom in 2017 at age 86 years old at the time.
Oak Barrel Winecraft, Berkeley

Acetaia

There are several Napa based businesses making Balsamic style vinegar but of more than 1,100 Napa Valley based wineries or producers we have visited with and reviewed to date, this was the first and only winery we have visited making this style of vinegar (Editor's note: Round Pond Winery also makes a Balsamic style vinegar, but they started about 10 years after the Terraces program).
Everything in the world of wine making moves slowly, but making Balsamic vinegar is an entirely different level as far as patience and aging required. As they say in Italy and as Sharon indicated "we make it for our grandchildren" (this is a generational product) – as this type of Balsamic vinegar becomes "exceptional" after a minimum of 25 years of aging! And the diminishing volume over time is rather remarkable starting with something like 16 gallons, yet after 10 years it will be whittled down to merely a gallon. Some of the premium Balsamic vinegars in Italy have been aged at least 75 years – the oldest producer in Modena is Giuseppe Giusti dating back to 1605.
Select Wines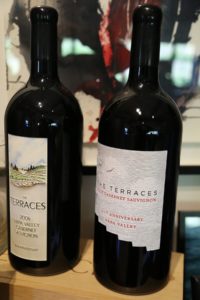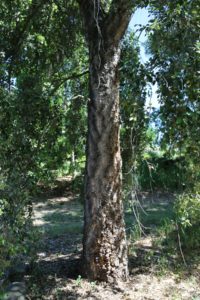 They are one of the few Napa wineries to make a Chenin Blanc albeit it is sourced from Clarksburg (non-Napa Valley). They produce a very nice Zinfandel and Cabernet Sauvignon from the property. They also make a Tempranillo, Petite Sirah and a wine that has a bit of a cult like following, their Cabernet Franc. Sometimes they produce a late harvest wine from several of the red varietals on the property. They don't make this style of wine every year. This wine is very low in residual sugar – approximately 3% so those who don't necessarily enjoy sweeter dessert wines may want to give this one a try.
The Zinfandel clones are originally from vines planted on the property in the late 1800s and the oldest Zinfandel currently growing on property was planted in 1974. Their Cabernet Sauvignon clones are from two premium area wineries, Caymus and Grace Family Vineyards. All pricing on the Terraces wines are quite reasonable for these small hand-crafted wines – especially by Napa Valley standards.
The 2018 The Terraces Napa Valley Chardonnay is deep gold in color; offers ripe aromatics of baked apple, apricot, and peach. Also notes of pineapple and vanilla. We don't smell any butter aromas that often one associates with California Chardonnay. Rounded and velvety across the palate, the wine is almost a little saline in its textural feel. This is an intensely flavored wine of this variety showing flavors of hazelnut, green apple and not overly ripe pear. Plenty of acidity, especially showing on the finish. Has its own character both on the bouquet and the palate, different from many of Napa Valley's contemporary produced Chardonnays. Did not go through any secondary fermentation.
The 2019 Terraces Sparkling Apple Cider (although the vintage date is not listed on the label) is medium gold in color; smells like freshly squeezed apples with notes of citrus blossom, yeast and some mineralities. This cider is bright, lively and aromatic. Flavorful, creamy and dry across the palate. It is 8% alcohol by volume; 182 cases were produced, entirely from some 30 varieties of apples growing on the property. Was aged for 3 months in neutral French oak barrels. Serve chilled for best results.
The 2018 The Terraces Zinfandel Napa Valley is deep ruby in color; this blend of 87.9% Zinfandel and 12.2% Petite Sirah offers an aromatic core of plum and blackberry generously wrapped with secondary aromas of clove, black pepper, cardamom, espresso and cedar. Also shows a meaty/savory note, almost iron like. The aromatics are layered and very intriguing. Features flavors of black licorice, berry fruits, toasted cedar, crushed pepper and dried tobacco leaf on the palate. The wine is balanced; shows mouthwatering acidity and darker yet well integrated tannins. Shows some savory notes on the finish. Aged for 6 months in oak barrels including some barrels which are a hybrid between both French and American oak (IE American oak heads and French oak staves).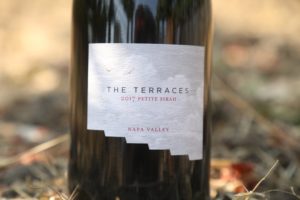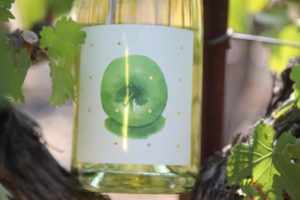 The 2017 The Terraces Cabernet Sauvignon Quarry Vineyard Rutherford (100% varietal) is medium purple in color; the bouquet immediately offers forward and ripe blackberry aromatics along with Santa Rosa plum – the intense fruit aromatics are complemented very nicely by some darker spice aromatics including some gamey notes. The aromatics are also a little bit floral (violets). Richly endowed across the palate, offers primary flavors of blackberry, boysenberry and black currant along with hints of mocha, light toasted cedar and dried tobacco leaf lingering on the very supple finish. The tannins are finely dispersed – there is no big muscle on this wine. This is an easy drinking Napa Valley Cabernet Sauvignon yet is loaded with plenty of depth and complexity.
The 2017 The Terraces Petite Sirah Napa Valley is deep purple in the glass; shows powerful aromatics of both fruit and dessert spices. Forward and center are aromas of ripe plum and blackberry along with aromas of brown chocolate, mocha and espresso. Offers meaty and savory aromatics including notes of bacon fat and iron. There is plenty of depth in this beauty on the palate, expressive with both its flavor profile and its gravely, earthy/dusty long-lasting tannins of a medium grip. Lingers with notes of dried herbs, pepper, toasted cedar and mouthwatering fruit. This is a big but balanced bottling.
—
Two small guesthouses are on site reserved for customers and wine club members located towards the lower part of the property. Both are located directly next to the vines – a stay here feels like you are in the middle of the country – and to some extent you are – however this is located only minutes from the town of St. Helena. The guesthouse closest to the main driveway features several rooms and can comfortably house three couples. Bookings are generally not made more than 6 months in advance of desired dates. Inquire about pricing and availability. For a private stay in the Napa Valley – this location is hard to beat. For more information, to join their wine club or to reserve an appointment, visit: www.terraceswine.com
Vineyards

Original Winery

Winery/Tasting Room

Bottle shots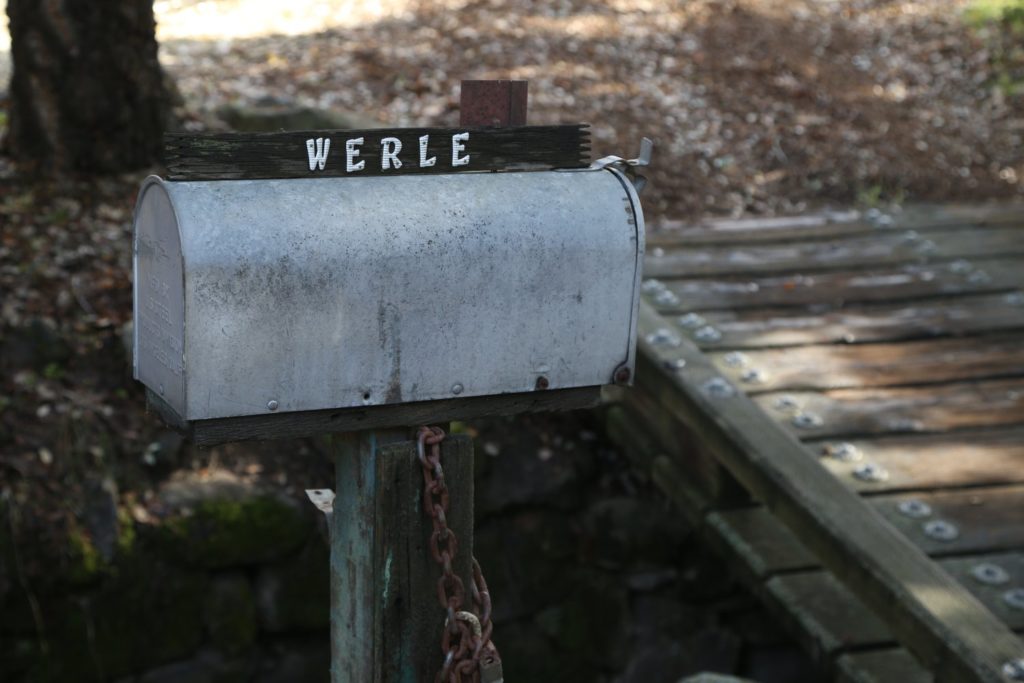 And a focus on their balsamic vinegar: