Teachworth is a private exclusive wine estate located in the hills of the Diamond Mountain District. It was run by Joan Teachworth (she died far to young in 2017); she and her husband Walter (also deceased) relocated to the Napa area to enjoy a slower lifestyle and merely drink the world famous wines from this region. However as a number of those who have relocated to Napa in the past, what we call the "Napa allure" kicked in and they soon decided to try and make similar high quality wines to what they had been enjoying from nearby wineries. Joan told us she enjoyed fine wine since the 1970's. At that time they refined their palates by drinking renowned French producers Chateau Lafite Rothschild and Chateau Latour. Of course back then, they were spending under $10/bottle for these wines.
Today Joan and Walter's son Chris is involved in continuing his parent's dream.
This is one of the smallest producers in the Napa area as their typical annual production is a little over 100 cases. Three wines are made – one each from their two vineyards and a final estate blend from both vineyards. Two distinctly separate organically grown vineyards with specific soil and sun conditions on the property make their final 100% Cabernet Sauvignon. These distinct vineyards, despite being located so close to each other produce different styled wines. These two vineyards are called Rattlesnake Hill and Manzanita Ridge. Both steep hillside vineyards total almost an acre so the availability of high quality hillside fruit is very limited.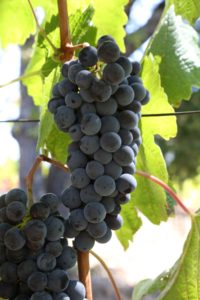 During one recent year they produced merely one barrel of wine due to a mass infestation of wild turkeys which devastated their almost ripe crop. The estate has some of the best views in the valley and is exquisitely landscaped with azaleas and rhododendrons, six waterfalls cascading down past the steep lengthy driveway and a beautiful reflecting pond surrounded by tall palm trees. The entrance to their very small cave even has waterfalls running creating a nice ambiance under the surrounding oak trees. Each of their two vineyards are fermented and aged separately until the final blend which occurs just before bottling.
We tried a vintage directly from the barrel; the Manzanita Ridge has a stronger nose of the two wines with a lot of depth in the fruit flavors. The Rattlesnake Hill was already well layered and completely fills the mouth with nice hints of blackberry and subtle chocolate overtones. Despite being very young wines of course, they both are already showing nuances of how they will be tasting in several years.
Teachworth has the luxury to age their wines in New French Oak for 30 months and then another year or two in the bottle before releasing them commercially. As a result, their wines have really been properly aged before even being released to the consumer. Their wines are sometimes found in higher end wine shops in the Napa Valley.
For more information and to join their mailing list, visit: www.teachworthcabs.com
NOTE: this review has been identified as needing a *major* update.