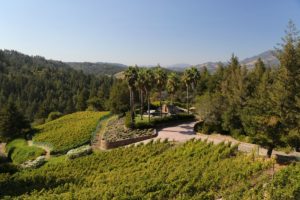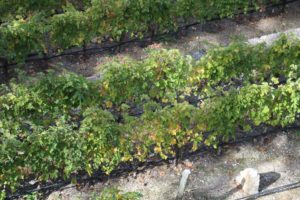 Teachworth is a private exclusive wine estate located in the hills of the Diamond Mountain District. It was founded by Joan Teachworth (she died far too young in 2017); she and her husband Walter (also deceased) were originally from Galveston, Texas. With the intent to enjoy a slower lifestyle and be closer to the wines they enjoyed drinking as well as raise a young family, they moved to Napa Valley in 1991. Their immediate attraction to the property was its remoteness and beautiful vistas.
However, as a number of those who have relocated to Napa in the past, what we call the "Napa allure" kicked in and they soon decided to produce premium wines, similar in quality to the wines they had been enjoying for years from nearby wineries. They purchased 80 acres of rugged undeveloped land on the slopes of Diamond Mountain; despite its perceived remoteness the property is only a few minutes' drive from the town of Calistoga. A primary mine shaft and several ventilation shafts were built into the hillsides on parts of their property in the 1870s; these are remnants of the Kellett Mine a small cinnabar (quicksilver) and opal mining operation first discovered in 1875. The drainage below the mine is referred to as the Kellett Mine Creek Drainage. In our research about this mine, we came across an article in the Napa Weekly Journal dated May 21, 1885, indicating a lawsuit filed by nearby neighbor Jacob Schram (namesake for Schramsberg) against Samuel Kellett for Kellett letting his sheep wander onto Schram's property and causing extreme vineyard damage. Incidentally, Kellett owned additional lands in the valley and was also a grape grower in Calistoga with vines planted on the valley floor.
The Teachworths built their home high on the slopes and developed the property including planting 2 acres of vineyards in 1997, entirely to Cabernet Sauvignon ranging in elevation from 700 to 850 feet. The property borders Checkerboard Vineyards to the south and Seaver Vineyards is not far away.
Walter designed and built the small winery on the property with a very focused intent: produce limited production wines from estate grown only fruit and implement an extended aging program (up to three years in barrel and another 1-2 years in bottle before releasing). The first vintage of Teachworth was from 2000.
Joan was born and raised in Nebraska and for some twenty plus years divided her time between Galveston and her Napa property. She told us she was first introduced to fine wine in the 1970s, a time when she and Walter refined their palates by drinking renowned French producers Château Lafite Rothschild and Château Latour. Of course, back then, they were spending under $10/bottle for these wines.
Walter was born in Houston and began his real estate business in 1962 in Galveston by designing and building an apartment complex; he later built or purchased other real estate. Today their son Christopher manages the family business and lives in Galveston while their daughter Laura is an interior designer who lives in Hawaii.
Historically this was one of the smallest producers in Napa Valley as their annual production was usually a little over 100 cases. Three wines were made in the early years: one each from their two vineyards and a final estate blend from both vineyards. Two distinctly separate organically grown vineyards with specific soil and sun conditions on the property comprise their final 100% Cabernet Sauvignon. These distinct vineyards, despite being located so close to each other produced different styled wines; one was called Rattlesnake Hill and the other Manzanita Ridge. Both steep hillside vineyards total almost two acres, so the availability of premium grapes is very limited.
2013 was the last year three wines were produced from the estate; moving forward production focuses on a single estate blend of their two vineyards as well as a Cabernet Sauvignon from Howell Mountain and a Pinot Noir. Total production is still small, although it has now grown to around 600 cases per year.
There have been numerous challenges from nature over the decades. Merely one barrel of wine was produced in one early vintage due to a mass infestation of wild turkeys which devastated their almost ripe crop. Another year raccoons got into their vineyard and enjoyed much of fruit. Today they have to net their vineyards to keep the animals out.
In 2020 the Glass Fire burned through the Teachworth property, significantly burning the primarily Douglas fir forested slopes and various chaparral and unfortunately destroying the primary residence. Fortunately, the winery was not damaged, and a small guest house also survived. In 2022 three additional vineyard blocks were prepared for vineyards, one about 3 acres, another 1.5 acres and a tiny less than an acre block next to the guest house. Rootstock for these vines was planted in Spring 2023. With parts of these new sites showing a deeper root penetration zone, certain blocks within the vineyard may eventually be dry farmed.
Teachworth produced wines in 2020 as they harvested the day the Glass Fire started, before Napa Valley filled with smoke. It was an extremely challenging harvest, having to operate the winery off of a generator and protecting the fermenting wines in tank from smoke during pump-overs.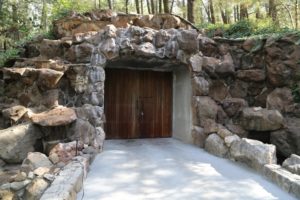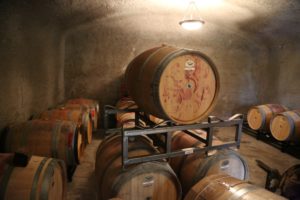 The estate has some of the best views in Napa Valley and is exquisitely landscaped with azaleas and rhododendrons; during Walt and Joan's ownership, six waterfalls would cascade down past the steep lengthy driveway. A beautiful reflecting pool is surrounded by tall palm trees located on the lower slopes of the property. The entrance to the very small cave used to also feature waterfalls which always created a nice ambiance under the surrounding trees.
The micro winery on site contains a small barrel room, a semi-outdoor 'tank' room and very limited space within the cave for aging wine (one of the smallest winery caves in the valley). Grapes from each of their vineyard blocks are fermented and aged separately until the final blend which occurs just before bottling. Wine maker, Phil Steinschriber was their founding consulting winemaker (noted for his long-time work as vineyard manager and winemaker at Diamond Creek Vineyards). Winemaker Taylor Berkley Boydstun (originally from Illinois) was hired in early 2018 and finished the wines from the 2017 vintage. His first full vintage at Teachworth was in 2018. He was first introduced to Teachworth by a former tasting room manager at Larkmead who knew the Teachworths (Taylor worked at Larkmead's tasting salon in 2011).
Select Wines
During one of our earliest visits, we tried a vintage directly from the barrel; the Manzanita Ridge showcases a more opulent nose of the two wines with plenty of depth on the palate. Rattlesnake Hill was already well layered with flavors of blackberry and subtle chocolate overtones. Despite being very young wines of course, they both were already showing nuances of how they will be tasting in several years. And the Teachworth estate wines are noted for showing a certain savory quality which tends to be consistent from vintage to vintage.
In 2017 Teachworth harvested their grapes in early October, merely two days before the devastating Tubbs Fire started (burned from Calistoga to Santa Rosa, causing significant damage and destruction in its path including burning nearly 6,000 structures in Santa Rosa). The 2017 Teachworth Cabernet Sauvignon (founder's vintage) is dark ruby in the glass; the bouquet offers layers of aromatics including old cedar box, a baseball mitt after use on a hot summer day, dark plums, black mulberries, and deeper in the nose, mocha, espresso and dark chocolate. The palate is intensely flavored and rich featuring flavors of dark plum, blackberry, blueberry and dark chocolate. The moderate grip of tannins shows as dusty with a light dryness; they are rounded in their textural feel. A burst of brightness from the lively acidity continues onto the finish along with a note of dried tobacco. This wine is very well balanced and unlike many of Napa Valley's contemporary higher alcohol Cabernet Sauvignons, is only 13.5% alcohol.
The 2013 Teachworth Estate Blend is dark crimson in the glass with an appealing bouquet featuring plenty of aromatic layering. Shows notes of milk chocolate, tobacco leaf, cassis, a sweetness of fruit and as the wine breathes a dessert spice influence is revealed including cinnamon and toffee notes. Very well balanced on the palate, this wine offers both red and darker fruits along with very well slightly dusty integrated tannins and a lingering note of darker spices on the finish including dried tobacco leaf and pepper.
The 2013 Teachworth Manzanita Hill Cabernet Sauvignon has held up well and was drinking very nicely during our tasting (9 years post vintage date) with at least a few more years of life in it. It is dark ruby in color with a slight brickish tint to the rim in the glass. It has developed a number of tertiary aromas while aging in bottle including baking spice and Graham cracker. It is very balanced across the palate with a slightly savory finish showing dark pepper and dried tobacco leaf along with dusty but rounded tannins.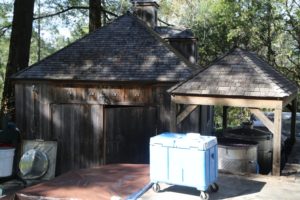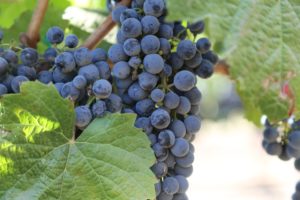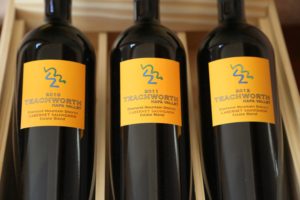 While historically never known as a Pinot Noir producer (and still not), in 2016 Teachworth produced their first Pinot Noir because this is a variety that Chris enjoys drinking. The grapes for this wine are sourced from multiple clones which originated from cuttings taken from old Robert Mondavi grown Pinot Noir by vintner Bob McKenzie. The vines producing these grapes are growing in McKenzie Mueller Winery's Oak Knoll Vineyard.
The 2019 Teachworth Pinot Noir (produced from clones 666, 777 and 828) was fermented about 40% whole cluster and spent 18 months in oak barrels. This wine is pale to medium ruby in color; it offers more earth and spice characteristics on the bouquet than a more fruit forward wine from this variety. The bouquet initially shows aromas of forest floor, mushroom, truffle oil, dried herbs and as it evolves in the glass offers more fruit aromatics including of cherry cola. There are also notes of baking spices including a hint of Graham Cracker. This wine is soft and supple across the palate with flavors of licorice, red cherry, red plum and some light darker spices that linger. Finishes bright with a very light influence of tannins.
In years past, Teachworth would age their wines in New French oak for 30+ months and then another year or two in the bottle before releasing them commercially. As a result, their current releases were often 5 and 6 years old – wines that saw extended aging before being released to the consumer. Their winemaker has since dialed back the amount of time for oak aging and the wines are released slightly younger than in years past which may contribute to potentially a longer aging window.
—
Visits are for serious wine enthusiasts; tastings are often with Taylor and offer an unscripted look at a small hillside Napa Valley winery operation. Taylor also produces his own brand, T. Berkley Wines with a focus on Chenin Blanc (from Redwood Valley in Mendocino County) and Cabernet Franc. His first vintage was in 2016 and production is currently around 1,000 cases per year, primarily from non-Napa Valley vineyards. These wines are also tasted along with several of the Teachworth wines, including always an older Teachworth vintage.
And for a very short while in 2023, T. Berkley was one of three wineries represented at Outland Wines in downtown Napa. This space has since transitioned to another tasting room and the T. Berkley wines are no longer available for tastings here.
After a few years of age, the T. Berkley Chenin Blanc wines change fairly dramatically both on the bouquet and the palate and come out of a more 'closed phase'. Taylor has noticed they develop a sheep's wool lanolin character. And we also noticed a difference in richness on an older vintage (tasted 5 years post vintage) versus the current release bottling.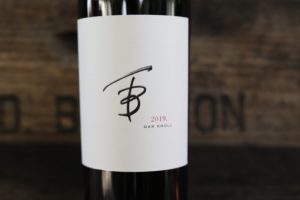 The 2019 T. Berkley Wines Napa Valley Cabernet Franc is from the McKenzie-Mueller owned vineyard in the Oak Knoll District. The oldest Cabernet Franc vines were planted on the property in 1978 and Taylor only sources from these vines. This wine is dark ruby and purplish in color; the bouquet offers aromas of lavender, violets, old cedar box, white pepper and sage along with some brambly fruit influence including blackberry. The fruit shows more on the bouquet as the wine continues to breathe. This wine is very approachable in its youth; it offers flavors of red plum and blackberry with supple and rounded chalk-like tannins. Its texture is a highly appealing characteristic. The finish lingers with both red and darker fruit flavors accompanied by mouthwatering acidity and a note of dried tobacco.
—
Note the specific yellow color of the Teachworth label; Walter used to enjoy drinking Cutty Sark Whiskey and this is the same shade of yellow on their bottles. Their wines used to be selectively available in higher end wine shops in Napa Valley but now their wines are entirely sold direct to consumer. Select older vintages are often available for purchase through their website. For more information, to schedule a visit or to join their mailing list, or one of three allocation membership offerings (3, 6 or 12 bottles shipped once a year upon release), visit: www.teachworthcabs.com