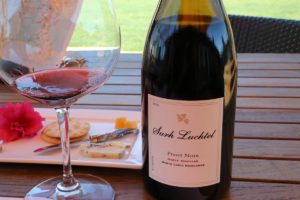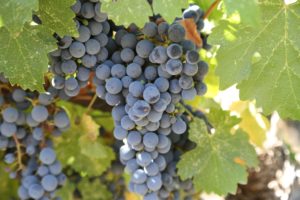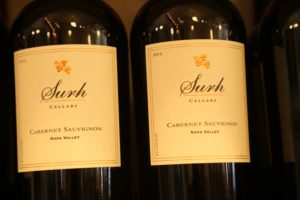 Surh Cellars was founded by Don Surh and Gary Luchtel whose original winery name was a combination of their last names (more recently changed to Surh Cellars). Gary is no longer involved with Surh Cellars. They were college roommates in Oakland in the 1970's which is where they first discovered they each had a strong passion for wine. They both experimented with home wine making for a number of years until releasing their first commercial vintage in 1999.
As Don told us, 17 years gives one time to make a lot of mistakes! Well any mistakes they made during their original winemaking days have now been corrected! At the height of their production they were making ten different wines totaling about 5000 cases. Today they produce about 3000 cases. They currently source grapes from a number of vineyards through both the Napa Valley and neighboring Sonoma County. Their Pinot Noir comes from Sonoma County while their Cabernet Sauvignon comes from the Napa Valley. Over the years, they have developed close relationships with their growers – always sourcing from vineyards that are carefully micro-managed.
All wines are very much hand crafted at a state of the art winery in Napa's Oak Knoll district (a short drive north of the city of Napa). Don't expect huge volumes from this producer, that is not the type of winery they are. Each wine is created in quantities of no more than several hundred cases. Some of their bigger red wines (i.e., the hillside grown Cabernet Sauvignon) receive extended maceration – even up to 50 days. This adds additional color and flavor to the wine and is probably part of the reason their Cabernet Sauvignon wines have such robust mouth feels.
While they have made various wines over the years, their focus has always been on Pinot Noir and Cabernet Sauvignon.
We caught up with Don at a wine tasting event in Pasadena and later made a follow up visit in the Napa Valley.
Select Wines
Their 2006 Sur Cellars Gary's Vineyard Pinot Noir is from the Santa Lucia highlands of Monterey County. This is a very full bodied Pinot Noir full of fruit flavors including cherry and raspberry with an exotic finish that contains lots of nice spice components. The owners of Gary's Vineyard in the Santa Lucia Highlands (Monterey County) is Gary Franscioni – when he met Gary Luchtel he was excited to sell his fruit to another Gary – so that the name on the label would doubly make sense!
The 2006 Surh Cellars Zinfandel is delicious, full bodied and has very concentrated fruit flavors. It is an earthy wine with great flavors of blackberry, raspberry and chocolate notes on the palate with again a nice spicy finish. The 2004 Surh Syrah is a big wine with well structured tannins which do add a certain grip to the wine but do not overwhelm the wonderful fruit flavors.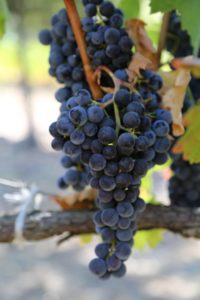 The 2004 Surh Cellars Napa Valley Cabernet Sauvignon is a combination of Howell Mountain and Atlas Peak hillside grown fruit. A touch of Cabernet Franc and Merlot help soften the mid palate. This particular wine did not see as much time on the skins as compared to some of their Cabernet's but still has very concentrated flavors with structured firm tannins.
The 2009 Surh Cellars Cabernet Sauvignon is from the well-regarded Sacrashe Vineyard in the rocky hills of Rutherford (near Auberge du Soleil Resort and owned by Craig and Kathryn Hall of Hall Wines). This wine was aged in both new and neutral French Oak. A neat sage or herb component shows on the bouquet – with notes of red currant and red cherry on the palate. This is a good food wine. Dusty tannins linger for quite some time. For a wine that is already more than six years old at the time of our tasting, it still shows plenty of youth on the palate. This will be a long lived wine if you have the patience to age it.
It is recommended to let their Cabernet Sauvignon's breathe before drinking as only then do the aromas and flavors really open up. Surh Cellars has very good distribution within California as well as select other states. Their wines are really food friendly and you can find representation at a number of restaurants in states where they have distribution.
—
Locally in the Napa area you can find their wine at several wine shops including ACME Fine Wines in St. Helena and the Oakville Grocery. In addition, they have a mailing list. For more information visit: www.surhcellars.com
NOTE: this review has been identified as needing a **major** update.