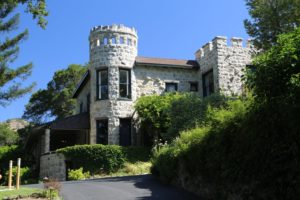 Stags' Leap Winery (apostrophe after the s) is a very historical winery with an extremely colorful history (originally established in 1893) located off of the Silverado Trail on a shared road by residences and wineries alike. For many years there was no winery sign on the Silverado Trail and people would drive by and never know about this winery (today there is a small blue and white sign indicating where to turn off of the Silverado Trail). This winery is often confused with nearby Stag's Leap Wine Cellars and it took us more than 2 years to really get a handle on the different winery names and their locations. Both wineries every day refer misplaced customers to each other's wineries.
The winery was revived in 1970 by Napa vintner and character Carl Doumani who moved to Napa from Southern California. Over the years he restored a property that had fallen on hard times and established their flagship wine at the time as Petite Sirah (today they make a number of red and white wines both from the estate and from other area vineyards). In 1997 Carl sold Stags' Leap Winery; today it is a part of Treasury Wine Estates based in Australia. Treasury Wine Estates manages a large International wine portfolio including several other premium Napa wineries.
The winery received its name from a native American legend about a Stag jumping to safety from a cliff during a hunt.
This is truly one of Napa's grand historic estates – and it doesn't always get the recognition as compared to some of Napa's other similar properties. Perhaps this is because it is hidden from view, they are not open to the public by walk-in, and they are fairly restricted as to the amount of daily visitor's they can host on the property.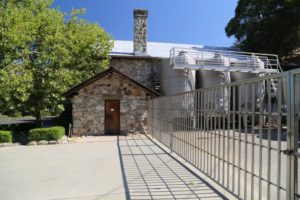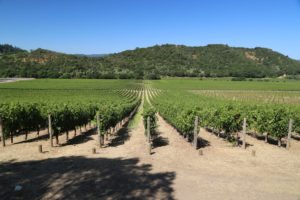 The wineries' original credo is "Ne Cede Malis", Latin for "Never give in to misfortune" and these words are inscribed into the beautiful stained glass window next to one of the rooms. Their original Ne Cede Malis vineyard block was planted in 1929; these are the old head pruned vines located next to (north side) of their long driveway. Grapes have been grown continuously on the estate since it's founding. The property is 240 acres of which 90 acres are planted to vines.
Tastings are conducted inside the very historic ivy covered Manor House (construction on this house was completed in 1891). Note that tastings need to be reserved well in advance, often up to 2 months prior notice is necessary especially during the busy summer and harvest months. This grey-stone building with its signature ivy draped rock "turret" has been well photographed – appearing in wine guides, the TV show Falcon's Crest (also filmed at Napa's Spring Mountain Winery), the movies Pollyana and Dying Young staring Julia Roberts. A Moon Garden was created for when Falcon's Crest was filmed here – using a number of plants that produce white flowers. This garden is still maintained and is located next to the Manor House. Some of the best times to visit the estate are in May and June when many of the flowers are in full bloom.
Parts of the manor house, the winery, the pool structures and other buildings on the property were damaged (moderate to severe) by the Napa earthquake in 2014 including the 'turret'. Significant restoration of parts of the Manor House occurred in the months following the earthquake with the damage fully fixed by late 2016. And if nature's events weren't enough with the earthquake – the fires that burned in Napa county in October 2017 came right onto the property and caused some minor damage.
The architect of this building also designed the famous Culinary Institute in the nearby town of St. Helena. Stags' Leap Winery was founded by Horace Chase of Chase-Manhattan Fame. After Chase sold, the winery served a variety of roles and at certain points in its history it was used by the US navy, hotel, post office (a framed envelope with the Stags' Leap post office stamp is on site) and a speakeasy – where they made wine in the basement during prohibition (accessed by a secret trapdoor which still exists on site). One of their Stag's Leap District neighbors told us that as a child in the 1960's he and friends would play on the property and go inside the manor house.
Two caves are located on the property – one is the small historic cave and the other is a modern 27,000 square foot cave that was drilled in 2004.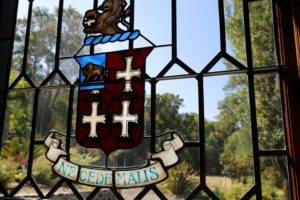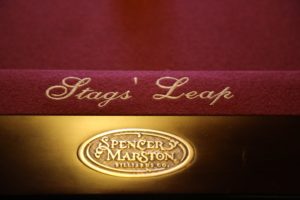 Tastings are an extremely informative and educational experience (focusing on the diverse and storied history of this particular property) as your guide covers much of the estate's fascinating history and its role in the Napa Valley. Prior to the Estate Tour and Tasting you will walk through the parts of the house including a visit to the speakeasy located downstairs and the wrap around porch (their wine club is named after this). You will also stroll among the well landscaped gardens (look for the cork tree), grounds and make a quick stop in one of their vineyard blocks.
Typically you will taste 5-6 wines including some lighter styled wines initially – progressing towards their heavier reds. Their Black Label wines are estate grown while their White Label wines are from grapes grown elsewhere. Stags' Leap Winery's main source of distribution are at restaurants nationwide.
They continue to be well known for their Petite Sirah and theirs is a beautiful wine for pairing with food. The Ne Cede Malis Estate Petite Sirah is an extremely rare wine indeed. While this wine is dominated by Petite Sirah it is a blend of up to some 15 other varietals including both whites and reds. These are vines growing in the block that dates from 1929 – grapes blended in this wine include Malbec, Mourvèdre, Carignan, several varieties of Muscat and Cinsault among others. Both the red and white grapes are co-fermented. If their winemaker finds a vine that isn't producing grapes to the quality that he expects – a tag is wrapped around the trunk, if the particular vine is still weak the next year, it is wrapped with another color tag. And by third year if isn't producing to their expectations, it will be removed.
The 2013 Ne Cede Malis Estate Petite Sirah is 85% Petite Sirah with the remainder being a mix of the 15 other varietals. It is fairly dark in the glass – quite purple in color. It shows inviting fruit aromas including of black licorice and blackberry – these deep dark fruit and floral aromas are seductive to the smell. A kiss of cedar spice also shows on the bouquet. It is a dense and rich wine on the palate featuring somewhat chewy tannins that persist for some time. Should have plenty of life ahead of it.
The 2013 "The Leap" Cabernet Sauvignon reveals a smoky almost cigar like quality to the bouquet complemented by plenty of fruit – namely blackberry and plum. Savory on the palate it shows good acidity. Packs plenty of flavors – this wine is big but well balanced between fruit, acidity and structure. The tannins are noticeable, persistent but very well integrated within the wine. There is nothing out of balance with this particular wine.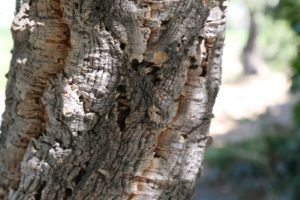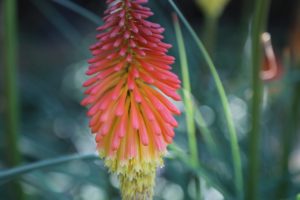 Both Stags' Leap Winery and their 'neighbor' Stag's Leap Wine Cellars are often confused for each other and it can drive the hospitality folks at each winery to drink at times. In fact, both wineries went to court in 1986 over the name "Stag's Leap" and after many years of litigation, the California Supreme Court ultimately decided to award Stag's Leap Wine Cellars the apostrophe *before* the S and Stags' Leap Winery the apostrophe *after* the s! And to further complicate things, note that Stags Leap District has no apostrophe.
Visitor's to the property can choose from several experiences – the most popular visit is the 90 minute Estate Tour and Tasting. Seasonal private estate experiences are also offered including the Ne Cede Malis Vineyard Tour (using their fancy golf cart to get around) visiting a variety of their vineyard blocks, the Heritage Library Tasting (taste older wines) and the Winemaker's Apothecary Garden Tasting (outdoors).
And if no one is using the upstairs private tasting room, archive room, and lounge for wine club members – guests on the general tours (after the tour) often can walk up the old stairs to take a peek these modern looking spaces.
There is much more to this winery and it's fascinating history then the highlights we've touched upon here. For more information and or to join their wine club, visit: www.stagsleap.com
The Manor House

Estate Grounds