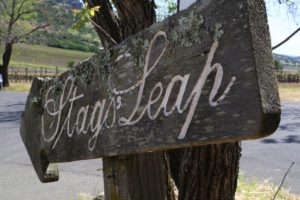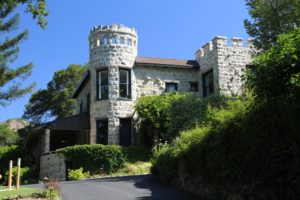 Stags' Leap Winery (apostrophe after the s) is a very historical winery with an extremely colorful history (originally established in 1893 with the first vintage) located off of the Silverado Trail on a shared road by residences and wineries alike. For many years there was no winery sign on the Silverado Trail and people would drive by and never know about this winery (today there is a small blue and white sign indicating where to turn off of the Silverado Trail). This winery is often confused with nearby Stag's Leap Wine Cellars, and it took us more than 5 years to really get a handle on the different winery names and their locations. Both wineries often refer misplaced customers to each other's wineries.
The property was purchased in 1970 by Napa vintner and character Carl Doumani (Lebanese heritage) and his wife Joanne. They eventually moved to Napa Valley from Southern California – Carl is of the same family that was involved in casinos including at one point in the 1970s, brothers Edward and Fred Doumani owned the Tropicana Resort and Hotel in Las Vegas. And with another Napa Valley connection, Edward and Fred Doumani financed $30 million into the film, The Cotton Club, directed by Napa Valley winery owner, Francis Ford Coppola. Prior to his wine ventures in Napa Valley, Carl was a successful real estate developer based in Santa Monica and owner/co-owner of several restaurants including two Mexican restaurants of the same name, the original El Toril in Westwood at 1077 Broxton Ave and the newer El Toril at 365 N. La Cienega in West Hollywood (both long since closed).
For 30 years until closing permanently in 2018, Carl's daughter Lissa Doumani and her husband Hiro Sone operated Terra Restaurant in St. Helena.
No wine was produced on site from 1908 until 1972 but grapes were sold from the property). Over the years Carl restored a property that had fallen on hard times – his original intent was to open a small inn and restaurant, but he was never able to get county approval (despite the property having already functioned as an inn and restaurant during earlier times). He established their flagship wine at the time as Petite Sirah (today they make a number of red and white wines both from the estate and from other area vineyards). In 1997 Carl sold Stags' Leap Winery and pivoted nearby to start Quixote Winery which he also later sold – he was also involved with the founding of Benton-Lane Winery in Oregon's Willamette Valley with former Napa Valley vintner, Steve Girard. And along with Justin Meyer of Silver Oak, Carl founded GONADS, a male only gathering of a very limited number of vintners – an acronym for Gastronomic Order of the Nonsensical and Dissipatory Society.
Today Stags' Leap Winery is a part of Treasury Wine Estates based in Melbourne, Australia. Treasury Wine Estates manages a large international wine portfolio including a collection other premium and primarily historically significant Napa Valley wineries.
The winery received its name from a native American legend about a Stag jumping to safety from a cliff during a hunt.
This is truly one of Napa's grand historic estates – and it doesn't always get the recognition as compared to some of Napa's other similar properties. Perhaps this is because it is hidden from view, they are not open to the public by walk-in, and they are fairly restricted as to the amount of daily visitor's they can host on the property.
The wineries' original credo is "Ne Cede Malis", Latin for "Never give in to misfortune" and these words are inscribed into the beautiful stained-glass window next to one of the rooms. Their original Ne Cede Malis vineyard block was planted in 1929; these are the old head pruned vines located next to (north side) of their long driveway. Grapes have been grown continuously on the estate since prior to its founding. The first grapes were planted on site in 1872 by T.L. Grigsby, founder of the nearby Occidental Winery (now the Regusci Winery).
Today the property is 240 acres of which 90 acres are planted to vines – with much of the property on the steep rocky slopes of the Palisades. Most of the vineyards are on the valley floor directly in front of and west of the winery although a small block of Cabernet Sauvignon is planted on the slopes behind the winery.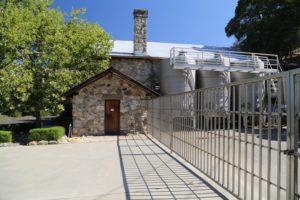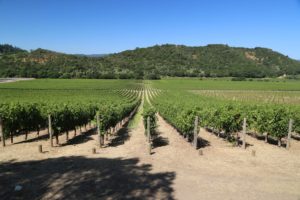 This grey-stone building with its signature ivy draped rock "turret" has been well photographed – appearing in wine guides, the TV show Falcon's Crest (also filmed at Napa's Spring Mountain Winery), the movies Pollyana, The Earth is Mine, and Dying Young starring Julia Roberts. A Moon Garden was created for when Falcon's Crest was filmed here – using a number of plants that produce white flowers. This garden is still maintained and is located next to the Manor House. Some of the best times to visit the estate are in May and June when many of the flowers are in full bloom.
Parts of the manor house, the winery, the pool structures and other buildings on the property were damaged (moderate to severe) by the Napa earthquake in 2014 including the 'turret'. Significant restoration of parts of the Manor House occurred in the months following the earthquake with the damage fully fixed by late 2016. And if nature's events weren't enough with the earthquake – the fires that burned in Napa County in October 2017 came right onto the property and burned to the ground two of the historic cottages behind the manor house.
Stags' Leap Winery was founded by the hi-so and power couple, Horace Blanchard Chase (not to be confused with his son of the same name who died in plane crash in 1928 in Florida) of the Chase-Manhattan family and his wife Mary "Minnie" Mizner, daughter of two-time California Senator Lansing Mizner and sister to Addison Mizner a prominent resort architect who made his mark in Florida in the 1920s. Several of his obituaries have stated that Lansing actually passed away in the manor on the property at age 68 in 1893.
The introduction to the property, came through one of the prior owners, Horace's uncle William Wallace Thompson.
A Napa Valley based love story – Horace and Minnie first met at the old Soda Springs Resort (long since abandoned and now on private property off of Soda Canyon Road) and along with help from Horace's uncle or father purchased 700 acres in 1886 (in 1888 approximately 1/2 ownership was transferred to Horace and Minnie). Besides his ownership of the Stags' Leap Winery property, Chase was also invested in silver mines in Mexico and was a member of two still operating clubs, the Bohemian Club, a private men's club and the University Club, both based in San Francisco.
It was the Chase's that developed the property including the manor (same stonemason worked on this as who worked on the impressive Greystone Cellars building in St. Helena – rock was quarried from a hillside slightly east of the manor) the winery (which burned at some point leaving only the stone walls), drilled the first and original cave into the side of the hillside, green house, cabins, swimming pool, clay tennis court and other amenities. As early as 1906 in the San Francisco Examiner, this property was already being referred to as, "a famous vineyard".
But with losses mounting in Horace's Mexican silver mining investments, the family fell into financial difficulties and in 1909 they defaulted on the property. They moved to Burlingame and the property was eventually acquired in 1913 by prominent banker Frederick (Clarence) and his wife Frances (Swett) Grange. Clarence was married at least 5 times; one of his wives died during their marriage and he had a short-lived marriage to Oza Waldrop, an actress. He and Frances were socialites previously living in San Francisco who wanted to have a country estate to both live and entertain guests (later they would let select private and community organizations use the property for events).
They continued to oversee the vineyards on site, a dairy was started in 1916 and when Prohibition came in 1919 Clarence installed a very expensive grape dryer ($40,000) and rented its service out to various growers who would bring their grapes onto the property. In mid-October 1925 a fire in the dehydrator caused major damage and threatened the manor but fortunately was soon put out.
Frances was active in the San Francisco women's suffrage movement. She wrote several articles championing women's rights including the well worth reading piece about the need for women to vote in the August 30, 1911, issue of the San Francisco Call. The 19th Amendment allowing women the right to vote didn't actually occur until 9 years after she wrote this piece. And according to her obituary in the San Francisco Examiner, she also wrote books on some of her favorite topics including horticulture and ornithology. Incidentally, Frances's father helped work with famed composer John Phillip Sousa on some of his compositions.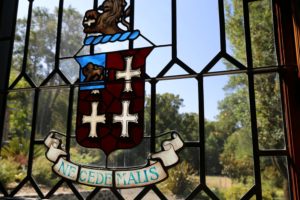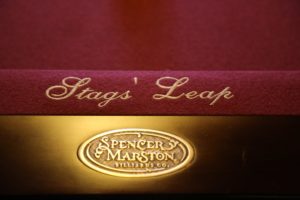 Like most properties in Napa Valley with plenty of history, this one is also not without its own tragedies. One of Clarence's daughters from a previous marriage, Maud Lewis, a writer in Los Angeles died during childbirth in 1917. A few years later, Clarence suffered a severe accident involving a horse and later died in 1923 at age 63 at the old Hotel Somerton in San Francisco (440 Geary Street – the same building is still there). In 1954, one of their two children, Fred killed himself at age 50 on the property after suffering from a long and painful illness.
The age difference between the couple was fairly pronounced – about 23 years; at the time of Clarence's death, Frances was only 41 years old. Rather than sell the property as sometimes widows do with the death of a spouse, she took over the operations herself. She oversaw the vineyards (but never produced any wine commercially) and turned the old property into a resort called Stags' Leap Manor functioning as an inn and restaurant (later helped run by her son Fred). She also added a speakeasy during Prohibition used for making wine during the dry years (accessed by a secret trapdoor which still exists on site). The manor also functioned as a post office beginning in the 1920s through the mid 1940s; visitors to the manor will see a framed envelope containing a Stags' Leap post office stamp indicating its origin as Stags Leap, CA. This space in the manor simultaneously functioned as a bar.
And during World War II Frances allowed the United States Navy to use part of the property for quarters for its officers stationed at Mare Island.
When Frances died at age 70 in 1952 the 544-acre property was sold for $150,000 to H.W. Anderson President at the time of Los Angeles based Armex Construction Company (Los Angeles based). Subsequent owners eventually boarded up the building and basically abandoned parts of the property. One of their Stags Leap District neighbors told us that as a child in the 1960s he and friends would play on the property and sneak inside the manor house. The property remained in a state of abandonment until Carl Doumani and his wife at the time, Joanne purchased the site in 1970. Joanne was instrumental in helping restore both the manor, the gardens and the fruit orchards (today incudes a variety of citrus and we have even seen a health avocado with fruit during our visits). During their initial ownership, the Doumani's removed the third floor of the manor (which was not part of the original home).
The property has seen a number of winemakers over the years – in the early days of the Doumani ownership, Lee Stewart of Chateau Souverain provided consultation and the early direction for their winemaking style.
Two caves are located on the property – one is a small historic cave and the other is a modern 25,000 square foot cave that was drilled in 2004. The first part of the approximately 150-foot-long historic cave is partially covered with gunite but the remainder of the cave features natural rock that was chiseled by hand (water seeps through the rock during the rainy season).
Of historical note, this was the first wine cave built into the Vaca mountain range within Napa Valley having been completed in time for the 1893 harvest and was overseen by Horace Chase. This is also one of the oldest caves in Napa Valley along with the caves at Beringer Winery, Del Dotto Napa, Schramsberg and Storybook Mountain among potentially a few others.
Select Wines/Winemaking
Stags Leap Winery produces a number of very aromatic, balanced and acid driven fresh white wines; these absolutely should not be overlooked in favor of their red wines.
The 2020 Stags' Leap Winery Sauvignon Blanc Napa Valley is medium gold in color; the bouquet offers plenty of tropical intrigue including of a sweetness of mango, pineapple and papaya. It also shows honeysuckle, vanilla and as the wine breathes more, offers aromas of citrus blossom. Simply put, this wine smells delicious; one will not smell any green characteristics that this variety is often known for from cooler growing climates. The texture is rounded yet complemented at the same time by a refreshing acidity. This not a linear Sauvignon Blanc, rather it has plenty of depth and richness of flavor but also balance. Lingers with a bright lemon zest (not tart), passion fruit and some melon notes. Beautifully done.
The 2020 Stags' Leap Winery Viognier Napa Valley is medium gold in the glass; this wine offers pretty aromatics including plenty of floral suggestions, i.e., star jasmine and honeysuckle. The bouquet also shows ripe apricot, Asian pear, yellow pineapple and white peach. The palate offers a light rounded supple texture from start to finish. The acid shines brightly but not to brightly. This wine offers flavors of mandarin, lemon drop candy and a rich, flavor filled long lasting finish. We don't always see much Viognier from Napa Valley – this balanced bottling is well worth seeking out. It was sourced from vineyards in Carneros and Oak Knoll, did not go through malolactic fermentation and was aged in 100% neutral French oak barrels for 5 months.
The 2019 Stags' Leap Winery Chardonnay Napa Valley is deep gold in color; the bouquet offers aromas of butter, vanilla, caramel, crème Brule, lychee, banana and melon. There is plenty of aromatic depth in this wine. The palate carries no extra 'flab' that wines of this variety made in a California style (oaky, buttery) often exhibit. Supple across the palate, this wine offers flavors of melon, apple, mango and lingers with citrus, vanilla spice, hints of oak and other baking spice notes. Shows medium/medium plus acidity.
The winery continues to be well known for their Petite Sirah. The Ne Cede Malis Estate Petite Sirah is an extremely rare wine indeed. While this wine is dominated by Petite Sirah it is a blend of up to some 15 other varieties including both whites and reds. These are vines growing in the block that dates from 1929; grapes blended in this wine include Malbec, Mourvèdre, Carignan, several varieties of Muscat and Cinsault among others. Both the red and white grapes are co-fermented. If their winemaker finds a vine that isn't producing grapes to the quality that he expects – a tag is wrapped around the trunk, if the particular vine is still weak the next year, it is wrapped with another color tag. And by third year if isn't producing to their expectations, it will be removed.
The 2019 Stags' Leap Winery Ne Cede Malis Estate Petite Sirah is deep ruby and purplish in the glass; the bouquet is sweetly fruited and ripe with aromas of dark licorice, dark plum, ripe blackberry including blackberry jam and boysenberry. There are also notes of sweet baking spices. This wine offers flavors of plum, currant and dark pepper, especially noticeable on the finish. This wine offers dense, chalky and dusty granular tannins which continue to persist on the long and bright finish. This wine was aged for 15 months in 100% American oak barrels of which 33% was new oak.
The 2013 Stags' Leap Winery Ne Cede Malis Estate Petite Sirah is 85% Petite Sirah with the remainder being a mix of the 15 other varieties. It is fairly dark in the glass and noticeably purple in color. It shows inviting fruit aromas including of black licorice and blackberry – these deep dark fruits and floral aromas are seductive to the smell. A kiss of cedar spice also lingers on the bouquet. This is a dense and rich wine on the palate featuring somewhat chewy tannins that persist for some time. It should have plenty of life ahead of it.
The 2019 Stags' Leap Winery Limited Edition Reserve Napa Valley Cabernet Sauvignon is a blend of 88% Cabernet Sauvignon, 7% Malbec, 3% Petit Verdot and 2% Cabernet Franc. This wine is is deep ruby in color; the nose offers aromas of cherry, blackberry, raspberry, baking spices, a hint of mocha and dried rose petals. It shows extremely youthful and lively four years post vintage date at the time of our tasting. The palate reveals flavors of blackberry and plums anchored by a juicy and robust finish with long lasting broadly distributed tannins. Their textural feel is a moderate but integrated grip. This wine delivers plenty of flavor and has lots of life ahead of it with the proper cellar aging.
The 2013 Stags' Leap Winery "The Leap" Cabernet Sauvignon reveals a smoky almost cigar like quality to the bouquet complemented by plenty of fruit – namely blackberry and plum. Savory on the palate it shows good acidity. Packs plenty of flavors; this wine is big but well balanced between fruit, acidity and structure. The tannins are noticeable, persistent but very well integrated within the wine. There is nothing out of balance with this particular wine.
Hospitality
Tastings are highly informative, are held inside the manor house (or outside on the porch) and are an educational experience (focusing on the diverse and storied history of this particular property) as your guide covers much of the estate's fascinating history and its role in Napa Valley. Note that tastings need to be reserved well in advance, often up to 2 months prior notice is necessary especially during the busy summer and harvest months. Prior to the Estate Tour and Tasting visitors will tour parts of the house including a visit to the speakeasy located downstairs and the wrap around porch (their wine club is named after this). You will also stroll among the well landscaped gardens (look for the cork tree), grounds and make a quick stop in one of their vineyard blocks.
Typically, you will taste 5-6 wines including some lighter styled wines initially and then progressing towards their heavier reds. The Black Label wines are exclusively estate grown, the Grey Label wines are club member exclusive, and the White Label wines are from non-estate grown grapes. Besides direct to consumer, Stags' Leap Winery's primary source of distribution are at restaurants nationwide.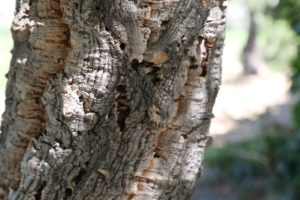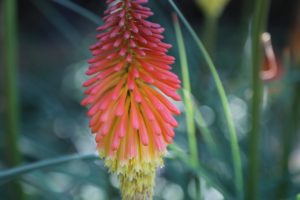 Both Stags' Leap Winery and their 'neighbor' Stag's Leap Wine Cellars are often confused for each other and it can drive the hospitality folks at each winery to drink at times. In fact, both wineries went to court in 1986 over the name "Stag's Leap" and after many years of litigation, the California Supreme Court ultimately decided to award Stag's Leap Wine Cellars the apostrophe *before* the S and Stags' Leap Winery the apostrophe *after* the s! And to further complicate things, note that Stags Leap District has no apostrophe.
Visitors to the property can choose from several experiences – the most popular visit is the 90 minutes Estate Tour and Tasting. Seasonal private estate experiences are also offered including the Ne Cede Malis Vineyard Tour (using their fancy golf cart to get around) visiting a variety of their vineyard blocks, the Heritage Library Tasting (taste older wines, as of our latest update to this review, vintages available for tasting date back to the early to mid 1980s) and the Winemaker's Apothecary Garden Tasting (outdoors).
And if no one is using the upstairs private tasting room, archive room, and lounge for wine club members – guests on the general tours (after the tour) often can walk up the old stairs to take a peek these modern looking spaces. Worth a special visit upstairs is the Archive Room, with documents and photographs highlighting the rich heritage of both the property and the manor house.
Treasury Wine Estates
Treasury Wine Estates is currently the 4th largest wine company on the planet. Treasury was formerly the wine division of the Australian based Foster's Group and was founded in 2011 – although its roots can be traced back to the mid 1990s when Foster's began to build out their wine division. Treasury Wine Estates owns or manages some 22,000+ acres of vineyards in Australia and New Zealand and nearly 10,000 acres of vineyards in the USA (mostly in Napa Valley, Sonoma County and California's central coast).
As of our latest update to this review they are the largest controlling entity of vineyards in Napa Valley through mostly leased land. They own several of Napa Valley's most iconic, historical and storied producers including the following other five wineries: Beaulieu Vineyard, Beringer, Etude, Frank Family and Sterling. In addition, they own Napa Valley brands Acacia and Hewitt. And of the other brands under their ownership, Penfolds in the Barossa Valley, Australia is arguably the most famous.
Headquartered in Melbourne, Australia the company also maintains offices in Napa, Oakland, London, Shanghai and Singapore. In 2019 the company moved its headquarters to one of the uppermost floors in one of Melbourne's most iconic buildings, the T&G Building located on Collins Street a few minutes' walk from the Flinders Street Railway Station.
The T&G building, named after the T&G Mutual Life Assurance Society was built in 1928 and features a gorgeous atrium like setting and high-end retail shops on the ground floor as well as 10 floors of office space. This was one of Melbourne's first large scale office buildings. Despite being one of Melbourne's prominent and historical buildings, Treasury Wine Estates keeps a very low profile and has no signage.
—
There is much more to this winery and its fascinating history than the highlights we've touched upon here. For more information and or to join their wine club, visit: www.stagsleap.com
The Manor House

Estate Grounds