St. Supéry Estate Vineyards & Winery was one of Napa's larger family owned wineries (they sold to Chanel Inc. in late 2015); they are located on east side of Highway 29, neighbors to Peju Winery. This property is in the heart of the "wine strip" along Highway 29 between Oakville and St. Helena – a part of Napa Valley that houses some of the larger and more established wineries. Visitors will drive down the long tree-lined driveway to reach their tree-shaded parking lot.
St. Supéry makes an abundance of well regarded red and white wines including Cabernet Sauvignon, Merlot, Chardonnay, Sauvignon Blanc, Semillon, and an excellent Moscato dessert wine. The bulk of their production is sourced from their 1,500+ acre Dollarhide Ranch in Pope Valley (east of the Napa Valley floor). This ranch is planted to nearly 500 acres of grapevines (unusual for a Napa winery, the majority of their vineyards are planted to Sauvignon Blanc with lesser amounts of Cabernet Sauvignon and other varietals) among about 1,000 acres of natural habitat. The ranch also is planted to over 1,200 fruit trees. Fruit is harvested for use in food and wine pairings at the winery, turned into preserves which are then sold at the winery and are also provided to select local restaurants for various uses.
Their Rutherford estate property is small by comparison – 'only' 56 acres which include 35 acres of vines (surrounding the winery and hospitality center). Visitors to the estate will notice a mostly edible landscaping garden in front of the winery. This was created by landscape artist Topher Delaney (known for her gardens in the San Francisco Bay Area and beyond). The fruit trees growing here are a nod to the extensive collection of fruit trees growing out at Dollarhide Ranch. The trees are trellised as Espalier (where the trees are trained to grow flat along trellis wires).
The winery was founded by the Skalli Family. Robert Skalli's family wine making heritage stretches back to the 1920's when his grandfather began making wine in Algeria eventually amassing thousands of acres of vineyards in Algeria. Robert purchased the Dollarhide Ranch in 1982 followed by the Rutherford Estate three years later. The winery opened in 1989.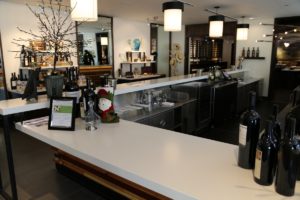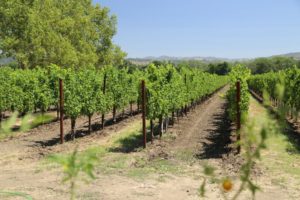 St. Supéry produces three different labels: 1. Single Vineyard Varietals (varietal specific wines from either of their vineyards), 2. Virtú and Élu wines – these are estate blended wines (a white and a red) and 3. Napa Valley Estate Collection – these wines are varietal specific but can be a blend of grapes from either estate vineyard).
A large tasting bar is to your right as you enter the main entrance. Another room nearby also features a smaller tasting bar. To your left are stairs leading up to another tasting room featuring a long tasting bar. A wine museum used to be located here but this has since been converted over to upscale seating and tasting areas with not only the bar but also plenty of sit down tasting options. A highlight of the upstairs is also their art museum which features rotating works of art. From this second floor you can also peek into several of their wine making rooms. The upstairs tasting room overlooks the Barrel and Fermentation room so you look out through large windows at hundreds of barrels of wine and tanks. Rotating exhibits (1-3 months) of paintings line the walls.
A number of tables and chairs are located outside (covered) for a more personalized sit down experience.
A pathway outside the winery leads to a trellis exhibit with signage indicating the types of varietals growing and types of trellising used. Different trellising is used depending on sun exposure. This tiny demonstration vineyard containing multiple varietals is also a good place to learn about the study of Ampelography (how to identify grape varietals through physical characteristics – most commonly using the leaf shape).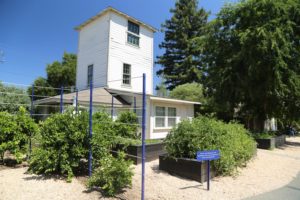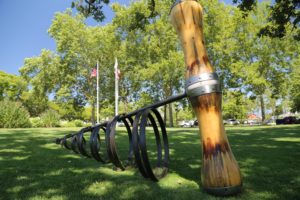 If you visit after veraison occurs (changing of the grape skin color), you are welcome to try small samples of the grapes growing here. The tartness comes from the tannins found in the skins. Also chew the seeds, if they are nutty these grapes are in the "window of ripeness" and if they are still green you know these grapes have a ways to go before their harvest date.
St. Supéry offers a wide variety of unique and educational experiences available to the general public – all are available via appointment only. Some of these include wines that are paired with produce from the ranch and the estate, a sensory tasting that focuses on the five primary red Bordeaux varietals, an Ampelography Master Class with a noted viticulturist, a Cabernet Sauvignon focused tasting, and a sensory class that explores the nuances of various wine aromas. These events are all listed on their website and tickets can be purchased online in advance.
For a short while, St. Supéry was offering a private off-road vineyard tour of the Dollarhide Ranch – with views of not only the premium vineyards but also of a number of lakes on the property, heirloom fruit orchards and an olive grove. The visit at the time included a tasting of the Dollarhide Vineyard wines which were paired with fresh produce from their gardens. Then you were driven back to St. Supéry for a special lunch paired with more of their estate wines. We will update this if this experience is once again offered. In the meantime, all experiences now offered are only provided at their estate property in Rutherford.
Note: In September 2017, St. Supéry opened a tasting salon at 408 N. Rodeo Drive in Beverly Hills. This 'popup' salon initially was going to be open for only one year between September 2017 and September 2018 but it has become a permanent tasting salon. It is located directly next door to the existing Chanel store (in the former Lladro store location). The most convenient parking is in a garage almost across the street from the tasting salon.
For more information about their wines or experiences offered, visit: www.stsupery.com
This review has been identified as needing a major update. Such stated update will occur before the end of 2019.
Rutherford Estate, Grounds

Rutherford Estate, Hospitality Center

Beverly Hills Pop Up Salon

More Beverly Hills tasting salon photos coming soon