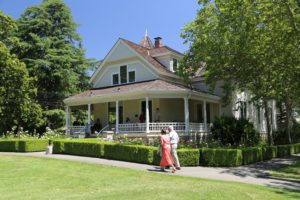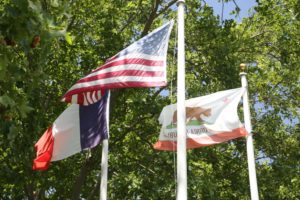 St. Supéry Estate Vineyards & Winery was founded by the Skalli Family. Robert Skalli's wine making heritage stretches back to the 1920s when his grandfather began making wine in Algeria eventually amassing thousands of acres of vineyards, ultimately owning some 600,000 acres in that country. Robert purchased the Dollarhide Ranch in Napa's Pope Valley in 1982 followed by the Rutherford Estate three years later. The winery opened in 1989.
The history of this Rutherford property goes back much further with several of its previous owners having strong connections to the wine industry. In 1881 brothers Louis and Joseph Atkinson purchased some 153 acres in Rutherford including the site of the current winery and estate. Louis and Joseph ran a very successful shirt business based in both San Francisco (their office on 301 California Street is now home to a high-rise multi story office complex) and in Philadelphia.
The brothers planted the first vines on the property and also began construction on the Atkinson House, the Queen Anne Victorian that dates from 1882 (and is on the National Register of Historic Places). Incidentally, the giant oak tree that grows near the house is estimated to be over 220 years old. After Louis died, Joseph continued to plant vines on the property and in 1895 formed a partnership with California State Senator Seneca Ewer and built Ewer & Atkinson Winery (now Beaulieu Vineyards) – also in Rutherford.
After phylloxera destroyed many of the vineyards in the Napa Valley in the 1890s (including Joseph's vines) he fell on hard times and had to foreclose on the property. Edward St. Supéry (for whom the winery is named), a French winemaker purchased the estate. Edward also had close ties to another winery in the valley – his sister, Mrs. (Adele) Jean V. Chaix was a partner in the Brun & Chaix Winery on Howell Mountain (formerly Chateau Woltner, Ladera and today CADE 13th Vineyard owned by the PlumpJack Group) and also Nouveau Médoc Winery in Oakville (now site of the Napa Wine Co).
In late 2015 the Skalli family sold both their Rutherford estate and the much larger Dollarhide Ranch to Chanel Inc. The family used to own and operate Les vins skalli, a winery & vineyards located in the Languedoc part of southern France but sold that to the Boisset family in 2011 (Jean Charles Boisset).
Chanel was founded by Coco Chanel in Paris in 1909 when she opened a retail hat making shop. Today the company is co-owned by French businessmen and brothers, Alain & Gérard Wertheimer (whose grandfather was an early investor in the company). St. Supéry was not Chanel's first winery acquisition, the company originally purchased Margaux Château Rauzan-Ségla in 1994 and in 1996 Château Canon. Today in Bordeaux, Chanel owns the following three wineries: Château Berliquet, Château Canon and Château Rauzan-Ségla.
St. Supéry is located on east side of Highway 29, neighbors to the south of Peju Winery. The winery is located along the sometimes called "wine strip", a section of the Napa Valley between Yountville and St. Helena along Highway 29 featuring a number of prominent and iconic Napa Valley wineries. Visitors drive down the long tree-lined driveway to reach the sizable parking lot located on the left side at the end of the driveway.
Estate Vineyards
The bulk of their wine production is sourced from the 1,500+ acre Dollarhide Ranch in Pope Valley (east of the Napa Valley floor, not open to the public). The ranch is named after A.J. Dollarhide (died 1894, a part of one of Napa Valley's pioneer families) and used to be planted to grain. A Napa Register article dated July 22, 1887, references A.J. Dollarhide having an exceptional grain crop that year and having to purchase more grain sacks than anticipated.
Today this huge and very scenic ranch is planted to nearly 500 acres of grapevines (in what is unusual for a Napa Valley winery, the majority of their vineyards are planted to Sauvignon Blanc with lesser amounts of Cabernet Sauvignon and other varieties) among about 1,000 acres of natural habitat. The ranch also is planted to over 1,200 fruit trees including many lining the ranch's primary dirt access road. The ranch's elevation ranges from 600 to 1500 feet with the grapes growing up to about 1,100 feet. Seven small lakes on site provide the water needed for the vines.
Fruit is harvested for use in food and wine pairings at the winery, turned into preserves which are then sold at the winery and are also provided to select local restaurants for various uses.
Their Rutherford estate property is small by comparison – 'only' 56 acres which include 35 acres of vines (surrounding the winery and hospitality center). Visitors to the estate will notice a mostly edible landscaping garden in front of the winery. This was created by landscape artist Topher Delaney (known for her gardens in the San Francisco Bay Area and beyond). The fruit trees growing here are a nod to the extensive collection of fruit trees growing out at Dollarhide Ranch. The trees are trellised as Espalier (where the trees are trained to grow flat along trellis wires). |
As of our latest update to this review, St. Supery owns 1,600 acres of which 575 acres are planted to grapes.
Select Wines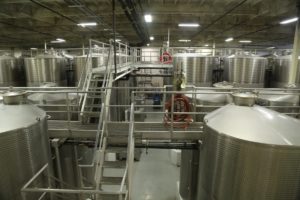 St. Supéry makes a number of well regarded red and white wines including Cabernet Sauvignon, Merlot, Chardonnay, Sauvignon Blanc, Sémillon, and an excellent Moscato dessert wine. In more recent years, the winery also produced their Andrew Jackson Dollarhide craft brandy made from Muscat Canelli grapes. Each bottle is numbered.
All of their wines are estate – they do not purchase any grapes. And some of their more limited production wines are only available at the winery and are not distributed.
St. Supéry produces three different labels: Single Vineyard Varieties (varietal specific wines from either of their vineyards), Virtú and Élu – these are estate blended wines (a white and a red) and the Napa Valley Estate Collection – these wines are varietal specific but can be a blend of grapes from either of their two estate vineyards. They tend to hold their wines back before release – often an extra year or two. And for several years in the 1990s St. Supéry produced kosher wines under the name Mt. Madrona and later Mt. Maroma.
St. Supéry has built a reputation on producing balanced Sauvignon Blanc and this is one of their most produced wines. The 2017 St. Supéry Dollarhide Estate Vineyard Sauvignon Blanc was aged in 100% French oak for 5 months of which 17% was new. Immediately reveals pretty aromatics including tropical floral notes (honeysuckle) and citrus blossom. A sweetness of fruit focusing on citrus flavors along with kiwi and apple – nothing is too tart or out of balance on the palate; it is clean from start to finish. It is rfreshing and very easy to keep drinking.
The Malbec that grows in the higher elevations of the Dollarhide Vineyard tends to be more fruit forward and often has grippier tannins than Malbec grown in the lower elevations. The 2015 St. Supéry Dollarhide Estate Vineyard Malbec offers a fruit forward bouquet showing aromas of ripe plum, currant, blackberry and more subtle notes of cedar box. While there is plenty of flavor, a refreshing lightness shows across the palate anchored by clean and well-integrated tannins on the finish. Lingers with notes of mocha and tobacco.
The 2015 St. Supéry Rutherford Estate Cabernet Franc is a pretty showing – offering a characteristic bouquet that this variety is often known for – not green but showing some herbal qualities including aromas of jalapeno, spices, and cigar smoke. Elegant in its aromatic presentation. Medium bodied with mouthwatering acidity but not tart on the palate. The drying tannins are somewhat chalky but are not coarse in their textural feel.
The 2015 St. Supéry Rutherford Estate Vineyard Cabernet Sauvignon was about 50% barrel fermented. Dark ruby in the glass, shows plenty of fruit up front including notes of ripe black cherry, plum along with toasted cedar. Generously layered without being heavy on the palate – this wine over delivers for the price point.
Hospitality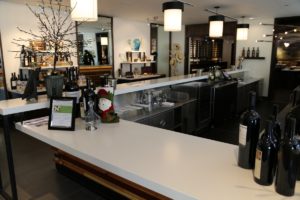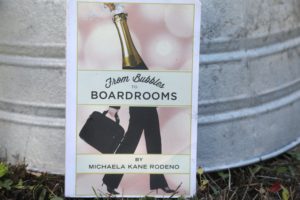 A sizable tasting bar is located on the ground floor – directly to the right of where guests enter the hospitality center. Another adjoining room features a smaller tasting bar. To the left of the entrance are stairs leading up to another tasting room with a lengthy tasting bar.
A wine museum used to be located on the second floor, but this has since been converted over to upscale seating and tasting areas with not only the bar but also plenty of sit-down tasting options. The aroma/sensory centerpiece that used to be popular with visitors (and is still asked for from time to time by old timers) was donated to the Napa Valley College enology program.
A highlight of the second floor is the tiny art museum which features rotating works of art (usually the art is changed every one to three months). From here, visitors can peek into several of their wine making rooms including the Barrel and Fermentation rooms. Looking through large windows one sees numerous barrels of wine and large tanks.
A number of tables and chairs are located outside (covered) for a more personalized sit-down experience.
A pathway outside the winery leads to a trellis exhibit with signage indicating the types of varieties growing and types of trellising used. Different trellising is used depending on sun exposure. This tiny demonstration vineyard containing multiple varieties is also a good place to learn about the study of Ampelography (how to identify grape varieties through physical characteristics – most commonly using the leaf shape).
For those who visit after veraison occurs (changing of the grape skin color), you are welcome to try small samples from these grape vines. Chew the seeds, if they are nutty these grapes are in the "window of ripeness" and if they are still greenish, they need more time ripening on the vine before being harvested.
St. Supéry offers a wide variety of unique and educational experiences to the general public – all are available via appointment only. Some of these include wines that are paired with produce from the ranch and the estate, a sensory tasting that focuses on the five primary red Bordeaux varieties, an Ampelography Master Class, a Cabernet Sauvignon focused tasting, and a sensory class that explores the nuances of various wine aromas.
For a short while, St. Supéry was offering a private off-road vineyard tour of the Dollarhide Ranch – with views of not only the premium vineyards but also of a number of lakes on the property, heirloom fruit orchards and an olive grove. The visit at the time included a tasting of the Dollarhide Vineyard wines which were paired with fresh produce from their gardens. Then guests were driven back to St. Supéry for a special lunch paired with more of their estate wines. We will update this if this experience is once again offered. In the meantime, all experiences now offered are only provided at their estate property in Rutherford.
Ampelography Master Class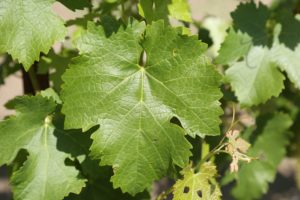 Ampelography focuses on the identification and classification of grapevines using the leaves of the plants to determine their variety. The godfather of the study of Ampelography, Frenchman Pierre Galet (born 1921 and as of 2019 is still living) published Précis d'ampélographie pratique in French, in 1952.
In 1979, noted viticulturist and student of Galet's, Virginia based Lucie Morton translated his book into English and updated the title to, A Practical Ampelography and trained several of the staff at St. Supéry to offer a basic class in Ampelography.
With countless numbers of grape varieties, fortunately this class focuses only on 5 varieties – the most common red Bordeaux varieties in the Napa Valley and the ones growing in St. Supéry's vineyard – Cabernet Sauvignon, Cabernet Franc, Merlot, Petite Verdot and Malbec.
While there are numerous identification points of reference on a grape leaf, this class highlights five primary aspects including the shape (perhaps the most important initial characteristic) – either shield or lobed, what type of 'teeth' does the leaf have, the petiolar sinus (the shape and size of where the leaf connects to the petiole/'stem'), the dimension of the leaf and any unique features.
After a quick demonstration of what to look for, 'students' are sent out into the small demonstration vineyard with the task to locate leaves from specific varieties. The leaves are then brought back to the winery and identified while enjoying current release wines and small cheese plates. With larger groups this can easily turn into a fun competition.
Napa Green
St. Supéry is certified Napa Green for both the winery and the vineyards. This is a certification program operated by the Napa County Department of Public Works and the California Green Business Program overseeing water conservation and reduced energy and waste within Napa based County wineries.
Bluebird boxes (home to bluebirds which eat insects that cause vine disease) are located among the vineyards as are owl boxes (providing a home for the owls to help keep the rodent population in check). And the winery composts the Pomace, a byproduct from winemaking which contains seeds and skins.
The winery limits its water use as much as possible, uses recycled bottles for the wine and receives 80% of its energy needs from solar panels on site.
The Pop Up Salon, Beverly Hills
In September 2017, St. Supéry opened a tasting salon at 408 N. Rodeo Drive in Beverly Hills directly next to the existing Chanel store (in the former Lladro store location). This 'popup' salon initially was going to be open for only one year between September 2017 and September 2018 but ultimately it was open until June 2, 2019 when it finally closed.
For more information about their wines, experiences offered, or to join one of their wine clubs, visit: www.stsupery.com
Rutherford Estate, Grounds

Atkinson House

Rutherford Estate, Hospitality Center

Rutherford Estate Vineyards

Dollarhide Ranch

Beverly Hills Pop Up Salon (Note: this closed on June 2, 2019)

CHANEL FRENCH OWNED PROPERTIES
Château Berliquet

Château Canon

Château Rauzan-Ségla