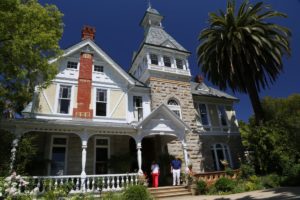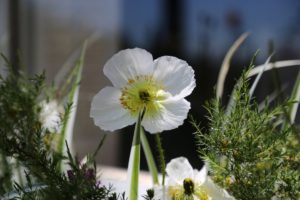 Spring Mountain Vineyard is arguably one of the more photogenic wineries in all of Napa Valley. The winery is located just outside of the St. Helena town limits – off of the narrow windy Spring Mountain Road connecting St. Helena to the city of Santa Rosa to the west. The original winery on this property (La Perla Winery) dates from 1873. Several other historical buildings all from the late 1800's include an old barn with a vintage horse drawn carriage & miscellaneous winery equipment.
Swiss banker, film producer, investor in Encyclopædia Britannica and Spring Mountain Vineyard owner Jacqui (Jacob) Safra purchased and combined three historical wineries (four adjoining vineyard sites) in 1996 – La Perla, Chevalier, Miravalle and Streblow, totaling 845 acres of which 225 is planted to vine. This site is one of the Napa Valley's more historical sites – topping out at 1,600 feet is one of the oldest wineries in the Napa Valley, La Perla dates from 1870 and is where the first Cabernet Sauvignon vines were planted in what is now the Spring Mountain District. Dropping in elevation to 1200 feet is the Beringer brothers's original vineyard site, planted in 1882. Dropping a bit further to 1000 feet is Chateau Chevalier – with its vineyard site first planted in 1891. And at 400 feet is the historic Miravelle (where visitors to the property are hosted).
Spring Mountain's property lies just west of Beringer Winery and extends from near the valley floor at 400 feet to the top of the nearby mountain range at 1600 feet. The elevation range from 400 to 1600 feet offers a wide diversity of soil types and growing conditions including the inherent differences in micro climates based on the elevation differences from the near valley floor property to the upper most steep hillsides. The vineyards are farmed extremely sustainable using cover crops, no herbicides or pesticides, using organic compounds to protect against mildew and protecting and nurturing beneficial insects.
It should also be noted that the vast majority of their vineyards are planted on steep or terraced slopes. The vineyards are sub-divided into small blocks based on each block's unique fruit characteristics or soil types. These blocks are kept separate during fermentation and the subsequent aging and it is only during the blending trials will the wine from the various blocks be blended together.
Along with a full time winemaker, Spring Mountain Vineyard also employs several wine consultants from both Bordeaux and Burgundy. These consultants make the trip over to the winery several times a year.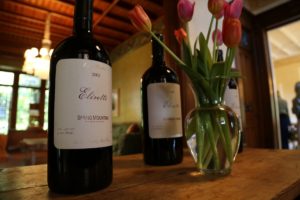 Guests can opt to reserve a tasting only, but we highly recommend the combined tour and tasting which takes about 90 minutes. This is one of the nicer tours and tastings in the valley but be sure to book well ahead of your tour date, as these experiences generally fill up weeks in advance.
The grounds are beautiful – featuring a wide variety of Mediterranean shrubs and trees; numerous olive trees are also planted on the grounds. In complete contrast to the Mediterranean foliage is their sub-tropical garden containing palms and bananas; it is remarkable these plants do so well in Northern California. Also look for the Norfolk Pines growing outdoors; since this is a sub tropical tree, you rarely find it growing outside in this part of the state.
The tour briefly visits the wine cave; guests will notice that the original cave is dwarfed in size when compared to their much expanded modern cave. However, it is worth seeing from a historical perspective as this was hand cut with pick axes by Chinese workers in 1885 (one of a very select few wine caves in the Napa Valley that date from the 1800s). What used to take years to tunnel out a rather short cave using hand tools – is today a much quicker process using modern cave drilling machines. The "new" cave is about 20,000 square feet.
Mr. Safra spends much of his time in Europe; a few rooms in his private residence are included on the tour if he is not actually staying on site. His "carriage" house is a real gem; it underwent a major renovation and shows very nicely now. The entire property was closed to the public for almost 10 years during these renovations. No expense was spared in this house. You will taste in a beautifully furnished room; the chandelier that sits above your head used to be in one of Rupert Murdoch's homes (later purchased by Mr. Safra). A number of sports players and other celebrities have also toured this property over the years.
Spring Mountain Vineyard concentrates on red wines (although they do make an estate Sauvignon Blanc). Some Pinot Noir is also grown on site which is extremely rare in this "hotter" part of the valley, but they have found a cool spot on their property for this. Only several other Spring Mountain wineries actually grow Pinot Noir and all in small amounts.
Spring Mountain Vineyard produce excellent Syrah and Cabernet Sauvignon. One of their Cabernet Sauvignon blocks is over 60 years old – along with a few vines at Scarecrow, the Monastery Block in Robert Mondavi's To Kalon Vineyard and the MacDonald Vineyard, these are among the oldest Cabernet Sauvignon vineyards in all of Napa County.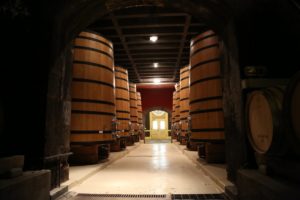 The wine that they are most known for is the Elivette Reserve, a Cabernet Sauvignon based wine which is blended with small amounts of various Bordeaux varieties; the varieties and blend percentages change from year to year. The 2004 Spring Mountain Vineyard Elivette Reserve is a very aromatic wine both with fruit and its floral characteristics. Dark fruit is at the core of the palate with structured firm tannins anchoring a long finish. This Bordeaux styled wine has excellent natural acidity, fruit and structure to age for many years.
Spring Mountain Vineyard's prices are quite reasonable based on the fairly small quantities of wine actually made each year. What is also fairly unique among Napa wineries is they have select older vintages available for purchase – both onsite and online (discounts are given for club members).
Also note that Spring Mountain Vineyards was one of only several Napa wineries to appear in the TV Show, Falcon's Crest. Another bit of trivia you may not know: this winery was featured in the 1976 Paris Tasting – their 1973 Chardonnay took 4th place.
For more information, to join one of their wine clubs or simply spend time browsing their extremely informational rich website including what contains probably the best Enology section of any Napa winery website, visit: www.springmountainvineyard.com
Grounds

Interior

Winery/Cave