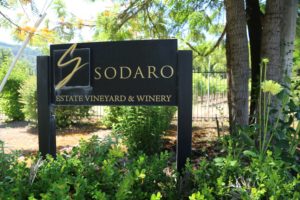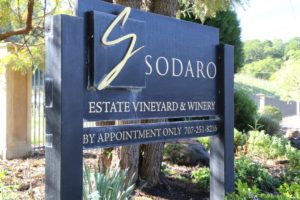 Sodaro Estate Winery is owned by Don and Felicity Sodaro, long time Southern California residents who have a passion for wine. Don has been involved with the hospitality industry for many years having found Sixpence Inns of America and served as CEO of Hanford Hotels Inc. His family's wine heritage begins in Sicily, Italy in the 1880's where Don's direct descendant Giuseppe Sodaro was a wine barrel maker. Eventually Giuseppe came to the USA after enduring a terrible drought which destroyed vineyards and effectively his career in Italy. Today, 3 generations later, the Sodaro's have revived this wine related history. They purchased land in 1998, planted vineyards and produced their first commercial vintage in 2003, merely three years after the grapes were planted.
This part of the Napa Valley is the Coombsville/Tulocay region just east of the town of Napa. This region tends to be cooler and receive a bit more fog than up valley although when we visited the temperature was unusually hot, hovering around 105 degrees! In our opinion, out of all of Napa, this region looks the most like parts of Tuscany or other hillside Italian wine growing regions. From the overlook next to the terra cotta clay vessels you look down on rows and rows of rolling hillside vineyards; from here you could easily be in Europe.
Weather permitting, wine tasting from this overlook is the quintessential personalized private Napa wine tasting experience. From here you will also see an old stone winery on the opposite hillside. The Sodaro's actually used this facility for their first crush before their cave was finished. Weather permitting, you can take a walk through the terraced hillside vineyards and then end your tour with a sit down tasting either outside on the terrace or inside one of the ends of the cave. Soils on the hillside property are either dusty white ancient marine deposits or volcanic in nature – perfect for growing wine grapes.
It is rare to find a winery in which all the wines fit our palate like a glove. Such is the case with Sodaro's wines; their wines kept getting better with each new wine that we tried! Combine excellent terroir with a longtime husband wife winemaking team who combined have over 60 years experience in the Napa Valley, and what you have is a recipe for success. In our experience of tasting throughout Napa its hard to find a high end wine that is available at reasonable prices. Sodaro certainly qualifies as boutique limited production high end wine and their quality to price ratio is among the best values in Napa Valley. Their wines are separated into two labels; Felicity named after Don's wife and their higher end Sodaro reserve wines which source from the best vineyard blocks. All wines use fruit exclusively from the property – no grapes are purchased or sold.
We started our tasting with their first ever release, the 2003 Felicity Cabernet Sauvignon, a 5 Bordeaux varietal blend made with 3rd year grapes. As with all their wines, this one has a rich rounded mouth feel, the tannins are extremely well balanced and the palate is full of concentrated ripe fruit. Their wines are meant to be consumed now and all the ones we tried are full of life in the bottle and are well structured so that they will only continue to improve over the next few years should you decide to age them. The 2004 Cabernet Franc is a crowd pleaser. It is 100% varietal. This wine is a beautiful ruby color with elegant fruit aromas and hints of chocolate that carry to the palate including plum and raspberry. The finish is clean with soft tannins.
The 2004 Felicity Cabernet Sauvignon Bordeaux blend (no Merlot) is a rich wine layered in aromas and flavors. Initially black cherry with notes of chocolate are found on the nose followed by blackberry with hints of black olives. The pleasant spices and smokiness in the finish linger well after you swallow. This wine has an extremely long finish. Pair it with dark chocolate and you will have a good match! Total production as of press time is about 1200 cases. Their wines have fairly good distribution in Orange and LA counties – their wine club is built with the customer in mind. You are the one who chooses which wines to receive. Visit: www.sodarowines.com