Sodaro Estate Winery was owned by Don and Felicity (Deedee) Sodaro, long time Southern California residents who both are passionate about wine. Don has been involved with the hospitality industry for many years having founded Santa Ana based Sixpence Inns of America (which sold to Motel 6 in 1988) and served as CEO of Hanford Hotels Inc. His family's wine heritage begins in Sicily, Italy in the 1880s where Don's direct descendant Giuseppe Sodaro was a wine barrel maker. Eventually Giuseppe came to the USA after enduring a terrible drought which destroyed vineyards and effectively his career in Italy. Three generations later, Don has revived his family's wine heritage. Don and Deedee purchased land in 1998, planted vineyards and produced their first commercial vintage in 2003, merely several years after the grapes were planted.
NOTE: Don and Felicity sold Sodaro Estate in April 2022; the winery is now home to Bydand Wines. This review has been identified as needing a **major** update. In the meantime, the property continues to host visitors for tastings by appointment.
This part of Napa Valley is called Coombsville, one of 16 sub appellations within Napa Valley; it is located mere minutes east of the town of Napa. This region tends to be cooler and receives a bit more fog than up valley although during one of our visits the temperature was unusually warm – hovering around 105 degrees. In our opinion, out of all of Napa, this region looks the most like parts of Tuscany or other hillside Italian wine growing regions. A special small terrace located near the entrance to the cave offers exceptional views overlooking rows and rows of rolling hillside vineyards; from here you could easily be in parts of rural Europe.
Weather permitting, wine tasting from this overlook is the quintessential personalized private Napa wine tasting experience. From here you will also see an old stone winery through the trees on the opposite hillside. The Sodaro's actually used this facility for their first crush before their cave was finished. Weather permitting, guests can take a walk-through part of their vineyard and then end the tour with a sit down tasting either outside on the terrace or inside the cave.
The property is approximately 30 acres of which 9 acres are planted to a variety of red grapes including Cabernet Sauvignon, Merlot, Malbec and Petite Verdot. The vineyards wrap around several sides of the property including along the main driveway leading up to the property. For a relatively small vineyard, there is a surprising number of exposures with vines facing all directions. The vineyard topography is both hillside and on flat ground. Their hillside vines are planted on volcanic compressed ash rock called tufa. If you pick up a dry piece of tufa from their property it will generally be quite light and chalky. Other soils on site are from ancient marine and alluvial deposits.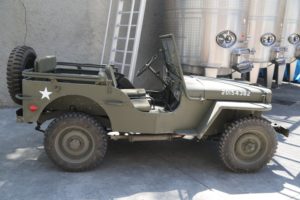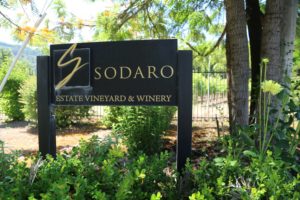 All wines use fruit exclusively from the property – while they do sell some of their grapes each years to other area producers. Founding winemakers Dawnine and Bill Dyer made the wines from 1998 through 2013.
It is rare to find a winery in which all the wines fit our palate like a glove. Such is the case with Sodaro's wines; their wines keep getting better with each new wine that we tried. In our experience of tasting throughout Napa it's hard-to-find premium wines available at reasonable prices. Sodaro Estate is certainly a boutique producer and for this level of wine and commitment to excellence, the quality to price ratio is among the better values in Napa Valley.
Select Wines
During our first visit to the property many years ago, we tried their first ever release, the 2003 Felicity Cabernet Sauvignon, a five Bordeaux varietal blend made with 3rd year grapes (the first grapes harvested from the property for a commercial release). This wine shows a fairly supple palate with a rounded mouth feel – the tannins are extremely well-balanced lingering softly on the smooth finish. Their wines are meant to be consumed now yet are well structured so that they will only continue to improve over the next few years should you decide to age them.
The 2004 Sodaro Felicity Cabernet Sauvignon Bordeaux blend (no Merlot) is a rich wine layered in aromas and flavors. Initially black cherry with notes of chocolate are found on the nose followed by blackberry with hints of black olives. The pleasant spices and smokiness on the finish linger well after you swallow. This wine has an extremely long finish. Pair it with dark chocolate and you will have an ideal match.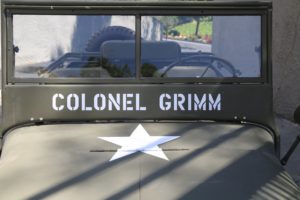 The 2013 Sodaro Felicity shows dark in the glass with equally dark fruit aromas on the bouquet including notes of blackberry and plum. It is an elegant offering aromatically. The palate is surprisingly supple across its length (especially considering the 2013 vintage produced some fairly masculine wines in the valley) – yet is rich in flavor (both red and darker fruits). The tannins are immediately noticeable, not for their grip but for how pleasing they are in their youth – fine grained and slightly chalky.
Sodaro Estate used to make very small lots of single varietal wines. The 2004 Cabernet Franc is a beautiful ruby color in the glass with elegant fruit aromas and hints of chocolate that carry to the palate along with flavors of plum and raspberry. The finish is clean with soft tannins.
The 2013 Sodaro Estate Cabernet Sauvignon offers a bouquet that is slightly savory including very subtle hints of white pepper, cherries, black currant and floral notes as the wine breathes. The palate is already well-balanced for still being a young wine – plus the fact this is generally considered a robust vintage in the Napa Valley. Shows a red core of fruit – mostly red cherry with excellent acidity. Mouthwatering. Long lasting tannins and a bit of tartness show on the finish. An excellent food wine and should be quite age worthy.
For more than three decades Don has been friends with Dr. Jim Doti, a Professor and President Emeritus of Chapman University in Southern California. Both men enjoy fine wine. In honor of their friendship, Sodaro Estate has produced several vintages of the Doti – Sodaro Estate Cabernet Sauvignon – with a portion of the sales of this wine donated to the Chapman Scholarship Fund.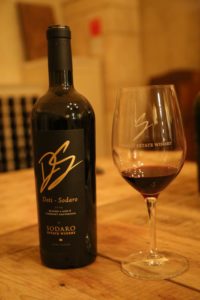 The 2009 Sodaro Estate Doti Estate Cabernet Sauvignon shows an intriguing character both on the bouquet and the palate. Initially there are notes of saddle leather and black cherry, as it continues to open it reveals coffee grinds and burnt toffee along with hints of black licorice. Similar notes on the bouquet also show on the palate – more dark fruit flavors rather than red. The tannins presumably have softened over time and feel grainier than gritty and are well-integrated on the finish.
Current releases tend to be a bit older than most winery releases – the wines age in oak for up to 2 years and then in bottle for another one to two years before being released. A number of older vintages are also available for purchase (not always the case at small wineries). A rosé of Cabernet Sauvignon was made in 2018 for the first time but not released. The first commercial release of this wine was from the 2019 vintage.
—
Total production as of our latest update is around 500 cases. Their wines have fairly good distribution in Orange and Los Angeles counties – their wine club is built with the customer in mind; you choose which wines to receive.
While Don and Deedee's home base is in Southern California, they are often here as well and may stop by to say hi during a tasting. For more information and to schedule an appointment, visit: www.sodarowines.com