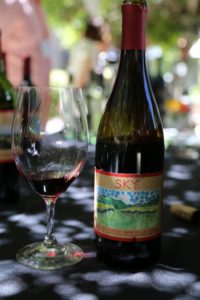 Sky Vineyards is located at about 2100 feet high in the Mayacamas mountain range near the Sonoma County line. It is one of the highest vineyards in all of Napa county. The owner, Lore Olds has lived here since 1972 and his first commercial vintage was in 1979 making this winery the second oldest winery in this area behind nearby Mayacamas Winery. In fact, the owner of Sky Vineyards used to be an assistant winemaker at Mayacamas.
This is one of the most remote winery's that we have visited in Napa County although via airline miles its really not that far from the towns of Napa and Sonoma. It takes about 45 minutes to reach the winery from the Napa Valley floor, all along very narrow and windy roads. The final paved road is quite narrow and usually only accommodates one car in any one direction. The last mile plus is on a semi 4-wheel drive road with the last push into the winery on a complete 4whd road.
Sky very seldom sees visitors and are only open part of the year by appointment only. As a result, a visit here is only for the most hard core of wine drinkers who are seeking small lot hand crafted Zinfandels and Syrahs, which are the two wines that production is focused on. The location is like taking a step back in time as there are no nearby visible neighbors, the winery is surrounded by native vegetation and it is oh so quiet on the property. It is these factors that made this one of our most refreshing Napa county winery visits.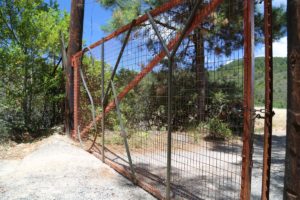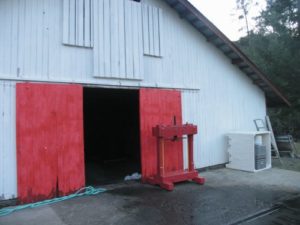 Lore manages 14 planted acres nearly by himself. This is quite a task as most wineries have vineyard management companies with crews of people. During harvest he does have help from family and friends. All wines made here are from grapes grown exclusively on the property. Sustainable farming is practiced including using permanent cover crops and the use of organic fertilizers. The vineyards are also dry farmed. Due to the elevation they receive some serious frosts in the winter and can also have snow.
We visited in mid November during a remarkable warm spell. Fortunately the rattlesnakes were still in hibernation as there are rattlesnake dens nearby the winery and sometimes they even come slithering through the house. Fermentation was still occurring in a couple of bins, and Lore was doing punch downs with a functional home-made wooden device he made himself modified from part of a wine barrel. Everything is done by hand here and you have a unique situation where the owner is the winemaker as well as the vineyard manager.
We tried their 2002 Zinfandel. This is a delicious wine, with nice Zinfandel aromas with a core of sweet fruit on the bouquet and notes of raspberries on the palate. Sky's Zinfandels have a very good track record of aging remarkably well and they certainly have the history to prove this. Lore is an artist and one very unique feature of this winery, is he designs a new label by hand for every single vintage. You may be able to find their wines locally at the Oakville Grocery in Oakville or Enoteca in Calistoga or online. For more information, visit: www.skyvineyards.com
NOTE: This review has been identified as needing a *major* update. We will revisit as time permits.