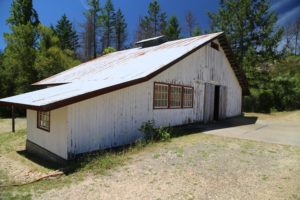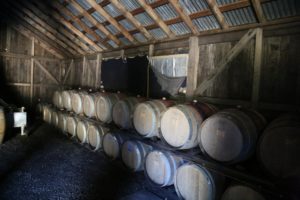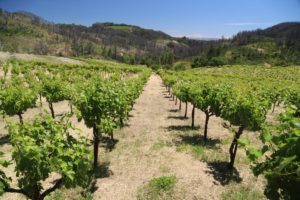 Sky Vineyards is located at about 2100 feet high in the Mayacamas mountain range near the Sonoma County line. It is one of the higher vineyards in all of Napa County. Founder, Lore Olds has lived here since 1972. His first commercial vintage was in 1979 making this winery the second oldest winery in this area behind nearby Mayacamas Winery. We maintain a list of Napa Valley based wineries who were in business in 1979 or prior who are still in business today; it is a fairly short list containing some 70 or so wineries – today there are approximately 500 physical wineries in Napa Valley alone plus hundreds more individual brands based in Napa.
Lore grew up in Berkeley; his parents Walter and Betty moved to the Bay Area in 1950. His mother Betty was on the city council for 16 years, a very active member of the community, she finally retired at age 88. The Betty Olds Path is named after her in the Berkeley Hills – this short, steep but determined path connects Sterling Ave to Whittaker Ave. The lower part of the path contains several over-hanging delicious wild plum trees – ripe at the end of June into July. Just reaching the path is quite challenging – one needs to navigate a seemingly never-ending series of right and left turns on narrow and steep roads.
Betty Olds Path, Berkeley

Lore made his first wine in 1969 in New Mexico. He moved back to California and took various jobs including at a commune in Sonoma County, for a short while at Beaulieu Vineyards and in 1979 began as an assistant winemaker to Bob Travers, the owner of Mayacamas Winery at that time. Lore remembers all the times he spent cleaning out the old concrete tanks with a high-pressure cleaner (one of the only wineries in the valley to have built in concrete fermentation vats rather than standalone concrete tanks). Interestingly, Mayacamas Winery is located less than a mile as the crow flies from Sky Vineyards (and their uppermost vineyard can easily be seen from Sky's property) but in reality, is a 45–50-minute drive due to no public connecting roads (although we have read old books that referenced a jeep road to Sky Vineyards from Lokoya Road).
Sky Vineyards is one of the most remote vineyard and winery properties in all of Napa County although via airline miles the site is really not that far from either the city of Sonoma or the city of Napa. However, it takes about 40 minutes to reach the winery from Highway 29 on the Napa Valley floor, all along very narrow and windy roads including the extremely narrow Cavedale Road which usually only accommodates one car in any one direction. The last mile plus is on very rough road; the last push into the winery used to be on a complete 4wd road (but this part of the dirt road has since been improved).
Sky very seldom sees visitors and is only open part of the year by appointment only. As a result, a visit here is only for the most serious wine drinkers who are seeking small lot hand-crafted Zinfandel and Syrah, currently the only two varietals growing on the property as of our last visit. This part of the Napa Valley is like taking a step back in time as there are no nearby visible neighbors, the winery is surrounded by native vegetation and is far removed from busy highways such as Highway 12 in neighboring Sonoma County or Highway 29 in Napa Valley.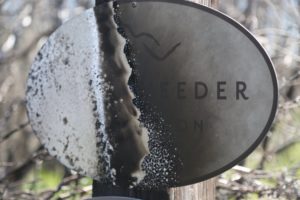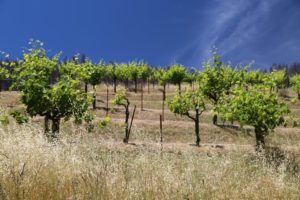 Approximately 12-14 acres grow on the property – all hillside blocks with numerous exposures. The vineyard was first planted in 1973 to Zinfandel, Cabernet Sauvignon and Chardonnay but over time the varieties and percentages of what is grown on site have changed significantly. All wines made are from grapes grown exclusively on the property. Sustainable farming is practiced including using permanent cover crops and the use of organic fertilizers. After the young vines are established, the vineyards are also dry farmed (which is fairly rare on hillsides – more common on the valley floor where the water table is closer to the surface). The number of rocks in parts of their vineyards is rather remarkable. In the early days, Lore remembers planting some young vines by using a long solid steel bar to break up and pry in between the rocks just to create enough space to insert the rootstock.
Due to the elevation, frost is quite common in the winter and early spring months and often receives a dusting of snow. Lore recalls in the 1970s and early 1980s receiving much more snow then today – he remembers one time 44 inches of snow fell and much of Cavedale Road was shut down for about 10 days.
Our first visit with Lore many years ago was in mid-November during a remarkable warm spell. Fortunately, the rattlesnakes were still in hibernation as there are rattlesnake dens nearby the winery and sometimes, they even came slithering through Lore's old house. After the sun went down, it became very cold; we sat in the dark in Lore's old house for an hour bantering back and forth. But before the solitude of the darkness descended, we checked out the remaining fermentation still occurring in a couple of bins. Lore was doing punch downs with a functional home-made wooden device he made himself modified from part of a wine barrel.
Lore is the winemaker as well as the vineyard manager. One of Napa's long time vineyard experts and master grafter, Salvador Preciado has helped out Lore for decades. And Lore's nephew Jesse Apgar helps out where needed on the property and Lore's daughter Skyla is involved on the sales and marketing side. His other daughter, Mayacamas was the head of viticulture at Newton Vineyard for almost three years before becoming the General Manager of Gloria Ferrer in neighboring Sonoma County.
The cellar feels very old school, faded with several shades of multiple paint jobs spanning a number of decades on the exterior and dark on the inside – built by Lore and his father Walter (an architect who at one point was at student through a fellowship at Frank Lloyd Wright's Taleisin workshop Fellowship in Wisconsin and Arizona) from redwood reclaimed from piers 68 and 69 in San Francisco.
The winemaking mimics the old feeling of the cellar. Everything is done by hand here; after harvesting the grapes from the dry-farmed vineyard, they are soon fermented in open top one ton plastic bins (no cold soaking) and after they are finished fermentation, are pressed off using an old hand crank apple press (no extended maceration here). The wines are aged in neutral French oak barrels. Even the bottling is done by hand – bottled without being fined or filtered.
Here at Sky, the vineyard speaks loudly.
This is one of the Napa Valley's most unique and special sites – due to its remoteness, this down to earth family starting with Lore, who has spent more than 40 years of his life up here, the property is basically off the grid with only some solar and a single generator powering their electrical needs and no city water line. The vineyard is not easy to reach. There is also a mystique here; both of the site and with Lore.
Select Wines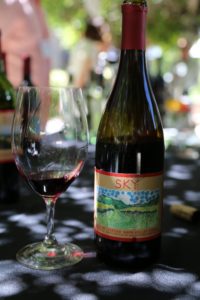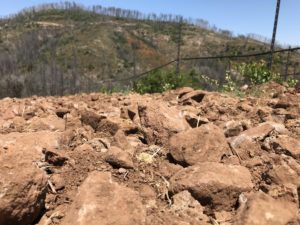 The 2016 Sky Vineyards Mt. Veeder Napa Valley Zinfandel is 100% varietal with an alcohol clocking in at a 1970s-esque 13.1%. The bouquet is clean, unadulterated and slightly spicy (darker spices including white pepper). The aromas are about the characteristic of this varietal without any dominant influence of oak. Bright fruit, plum and red licorice. Not made in a ripe style that is often associated with this varietal. The wine is resolute and restrained on the palate, reflecting its lower alcohol and higher acidity. Flavors of red cherry, currant and cranberry – medium bodied and very balanced, the wine lingers with a mouthwatering finish. Quite age worthy.
The 2002 Sky Vineyards Mt. Veeder Napa Valley Zinfandel is a delicious food-friendly wine offering a core of sweet fruit on the bouquet and notes of raspberries and red cherries on the palate. We also re-tasted this wine exactly 20 years post vintage. It is medium to dark ruby in color; age continues to be very kind to this wine. It offers beautiful aromas of dried blackberry and dried figs, cranberry, leather, tobacco spice, mocha and other darker baking spices. This bottling still shows plenty of fruit on the palate, including of raspberry, red currants, red plums and cranberry. The tannins offer a light, slightly dry and lingering textural touch. The freshness of fruit accompanied by its zippy and mouthwatering acidity has carried this wine well – and despite some light tertiary characteristics, it still shows quite youthful and certainly still has plenty of life ahead of it.
The 2014 Sky Vineyards Syrah is dark in the glass – deep purple with an elegant yet riper showing on the bouquet. Engaging aromatics of dark plum and blackberry along with dusty leather, a hint of old cedar box as the wine opens further and a subtle note of dark spice including pepper. Becomes more savory over time. But the bouquet is mostly about the fruit. Has the Sky style or 'skyness' if you will with its bright acidity, tartness and focus on the fruit rather than oak. Not heavy, not meaty but a leaner showing of this varietal. Lighter in texture, it finishes cleanly without any heavy tannins. Lingers with a red berry/currant tartness and a lingering lift of acidity.
Sky Vineyards also produces a rosé from an approximately 50/50 blend of Zinfandel and Syrah, a wine Lore calls the 'Halfn' – and a non-estate Riesling.
The Sky Vineyard Zinfandels have a very good track record of aging remarkably well and they certainly have the history to prove this. And we have personally enjoyed how well their wines go the distance on more than one occasion.
—
The October 2017 fires hit Sky Vineyards hard – burning Lore's home to the ground, destroying all of their library wines dating back decades, destroying some 20% of the vineyards by his own estimate and leaving a swath of destruction through and around the property including burning nearly all the surrounding tall non-native knobcone pine trees. The one building that was not burned was the cellar, however the flames came right to the back of the building, singed part of the wood and left heavy smoke in the winery.
Lore is an artist and has designed all the labels by hand including a scene of when the property was covered with a dusting of snow and a bucolic vista looking west including of the famed Louis Martini Monte Rosso Vineyard in neighboring Sonoma County. The wines are sometimes found locally at the Oakville Grocery in Oakville or Calistoga Wine Stop in Calistoga. Total production varies each year, usually between 800 and 1,000 cases. For more information, to purchase wine or to join their mailing list, visit: www.skyvineyards.com