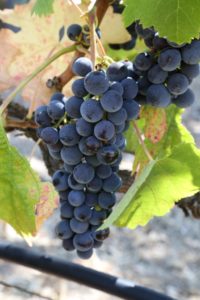 Sjoeblom Winery is unique in the Napa Valley as they only produce sparkling wine. As of the time of this review, there are only four primary wineries in the Napa area who focus on sparkling wines. Sjoeblom is among just a handful of other wineries based in Napa producing sparkling wines (they currently produce approximately 2500 cases a year).
The key to being a small boutique winery is sometimes flexibility and innovation; Sjoeblom is certainly able to implement these factors in its wine making. They produce a Chauvignon – which is a Blanc de Noir meaning it is a white wine pressed from "black" grapes. In this case, they use 100% Cabernet Sauvignon which for sparkling wine is unheard of in the valley! Remarkably their Chauvignon Reserve is aged 15 years.
In Napa, Cabernet Sauvignon grapes are known as the 'king' of the wine grape varietals and are used to make still wine. Over the years we hae discovered one producer making a late harvest wine from Cabernet Sauvignon, several making a Rosé from this varietal but only Sjoeblom makes a sparkling wine from Cabernet. Since their original vintage they have sourced the fruit from a single vineyard near St. Helena. Only free run juice is used (the highest quality juice) and the skin and seeds are removed almost immediately so that the tannins in these components do not affect the wine during the fermentation and aging.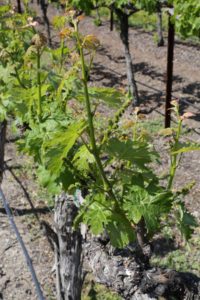 Sjoeblom's wine is made in the traditional French style (méthode traditionnelle). The bottles of Sparkling wine need to be turned during their final processing so they are placed at an angle and the sediment from the yeast slowly moves down to the opening of the bottle so it can be removed. Many "bubbly" wineries have automated this process with machines rather than " hand riddlers". Not Sjoeblom, they turn each bottle by hand once a day during this final processing stage.
Founder and winemaker Mike Sjoeblom is originally from Sweden, has no formal wine making training but while he was living in Belgium fell in love with sparkling wine. During several trips to the states he visited Napa wineries and increased his knowledge about wine making. After making some home wine which turned out very well he decided to sell commercially.
As it turns out, making sparkling wine from the Cabernet Sauvignon grape was an ingenious idea! We tried the 2001 Chauvignon. This crisp sparkling wine shows a rose pink hue in the glass with very subtle aromas on the nose. It has about 1% residual sugar so it is not a complete Brut, or dry sparkling wine. The flavors are delicious on the palate with notes of strawberries, kiwi and even a little bit of raspberry. This wine is unique enough that even non sparkling wine drinkers may enjoy it. Sjoeblom has minimal distribution and the best way to secure their wine is via the website.
Visitor to the valley may request an appointment – their bubbles and caviar pairs caviar with truly a unique wine. Visit: www.sjoeblom.com
NOTE: this review has been identified as needing a major update.