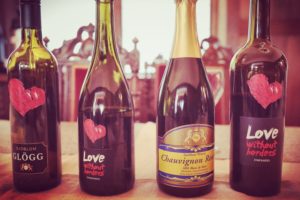 Sjöblom Winery. In a wine region that has become known for exceptional Cabernet Sauvignon, it is refreshing to discover a producer that takes wine making in a different direction then the majority of the valley's producers. Innovative and with an engaging personality, founder and winemaker Mikael (Mike) Sjöblom is not afraid to create wines in styles not generally associated with the Napa Valley. Along with some very unusual offerings – his more traditional wines are crafted to be very balanced in their youth, approachable, and food friendly focused on the fruit rather than stylistic or oak aging influences.
Mike is originally from Sweden, has no formal education in wine making but while he was living in Belgium would often visit Champagne and fell in love with sparkling wine. He also visited Bordeaux numerous times and when posing the possibility of producing a sparkling wine from Cabernet Sauvignon was met with baffled and incredulous looks from winemakers. During several trips to the states, he visited Napa Valley based wineries, met winemakers and learned more about winemaking. He began to make home wine; later he left a career in Information Technology (biometric fingerprint recognition systems), moved to Napa Valley in 1999 and founded Sjöblom Winery in 2000.
Mike is also an engineer; after experiencing the devastating effects of the Napa earthquake in 2014 and escaping from his home he asked himself if there was any way to automatically access if a structure is still sound post-earthquake. He spent the next eight years helping develop the wall mounted Seismocon Monitoring Unit. This device is connected to eight sensors located within a building/house and after an earthquake it sends out a notification via text or email if the building has been structurally compromised. Mike calls the device a ""digital lifejacket".
There are only four primary wineries in Napa Valley focusing on sparkling wines, Domain Carneros, Domain Chandon, Mumm Napa Valley and Schramsberg – three of whose roots are directly tied into Champagne France. Initially Sjöblom Winery was one of only several smaller wineries in Napa Valley producing a sparkling wine using the methode champenoise, the traditional method of producing Champagne in Champagne, France but presently numerous smaller producers craft at least one sparkling wine in this manner. Sjöblom currently produces approximately 2500 cases a year.
In Napa Valley, Cabernet Sauvignon is known as the 'king' of the wine grape varieties and is used almost exclusively to make still wine. Over the years we have discovered one producer who made a late harvest wine from Cabernet Sauvignon (Van Der Heyden Vineyards, no longer open), several making rosé wines from this variety but only Sjöblom produces a sparkling wine from Cabernet Sauvignon. Since the original vintage Mike has sourced the fruit from a single vineyard near St. Helena. Only free run juice is used (the highest quality juice) and the skin and seeds are removed almost immediately so that the tannins in these components do not affect the wine during the fermentation and aging.
Bottles of sparkling wine need to be turned during their final processing so they are placed at an angle and the sediment from the yeast slowly moves down to the opening of the bottle so it can eventually be removed (disgorging). Many sparkling producers have automated this process with machines called gyropalette rather than " hand riddlers". Not Sjöblom, Mike turns each bottle by hand once a day during this final stage.
Select Wines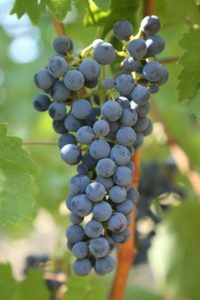 The Chauvignon Reserve is a Blanc de Noir – a white wine pressed from "black" grapes. Remarkably Mike uses 100% Cabernet Sauvignon – the only producer in the Napa Valley making a sparkling wine from this variety and is the first wine Mike produced for Sjoeblom.
We tried the 2001 Chauvignon Reserve about 8 years after vintage. This crisp sparkling wine is a pinkish hue in the glass. It has about 1% residual sugar, so it is not a complete Brut, or dry sparkling wine – the tiny bit of sugar gives the palate a certain type of lift or freshness. The flavors are delicious with notes of strawberries, kiwi and even a little bit of raspberry. This wine is unique enough that even non sparkling wine drinkers may enjoy it. We tried this wine again 18 years after vintage – bright and lively on the bouquet with fresh fruit aromas including primarily strawberry – still very fruity – on the palate, this wine is refreshing and crisp with a bit of almond nuttiness on the palate that perhaps has developed over the years. Highly recommend both for its flavor profile, balance but also for being such a limited production one-of-a-kind wine.
And this wine has been served at a number of functions over the years including in 2018 at the American Swedish Historical Museum in Philadelphia as part of celebrations honoring 200 years of Swedish and United States diplomatic relations. And in 2016 Sjöblom was featured on the Swedish television channel SVT1.
Mike also produces several still wines under his Love Without Borders label. Not a political statement but catchy nonetheless, the name refers to sourcing a diversity of grape varieties outside of Napa Valley, but also with fruit from Napa Valley crossing county borders. And what has become popular with this label are the short 3-line love poems printed on each cork – the poem differs depending on the specific wine. Mike accepts original love poems from his customers – sometimes printing them on the corks.
The 2015 Sjöblom Winery Love Without Borders Chardonnay was made with fruit from Napa, Sonoma and Mendocino counties The wine features bright fruit aromatics, slightly floral with aromas of citrus blossom and mandarin. A little bit creamy on the palate – it is neither heavy nor buttery. This wine is lighter in texture but with a noticeable intensity of fruit from start to finish. A very balanced food friendly wine.
The 2013 Sjöblom Winery Love Without Borders Zinfandel includes 12% Petite Sirah and 3% Cabernet Sauvignon with fruit sources form the Napa Valley, Sonoma County and Lodi. Shows some darker spice on the bouquet complemented nicely with aromas of raspberry, blackberry and old cedar box with a hint of dry tobacco leaf. No residual sugar, but a sweetness of fruit shows on the palate with flavors of raspberry, red licorice and red cherry. Not jammy or ripe but nicely balanced across the palate with very fine tannins seamlessly woven into the finish. At 15% alcohol and considering the variety – one might think this wine would show a little heat from the alcohol, often showing on the finish, but in reality, there is none of this.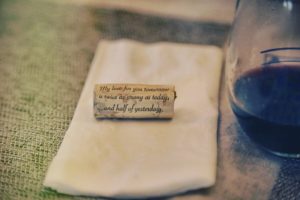 And equally as unique as the sparkling wine, Mike produces a premium glögg – a Scandinavian spiced wine (also known as mulled wine). The word glögg is derived from the verb "glödga" – meaning to heat something. Mike's first vintage was 2016 – using Syrah grapes. He created his spice blend in Sweden from spices grown in that country. This glögg is infused with 16 different non-GMO spices. The 2016 Sjöblom Glögg is 13% alcohol. Immediate aromas are cinnamon, cloves, cardamon and berry fruits and currants. Rounded on the plate. With a little tartness, not to sweet and plenty of flavor, this wine is simply fun to drink and goes down very quickly. Traditionally this wine is served with raisins and almonds. Some add vodka or honey. Serve either hot (Mike recommends 140 degrees Fahrenheit) or chilled. And for lovers of this drink, Mike hosts and annual glögg party in the city of Napa every December.
And in 2022 Sjöblom produced their first snaps. Akvavit (always produced in Denmark) is a distilled spirit with a minimum of 37.5% alcohol produced from grain or potatoes and then flavored with a variety of herbs. It is typically consumed with meals during select holidays in Scandinavia including Christmas and midsummer celebrations – and is usually enjoyed in a shot glass.
—
Mike ships a good majority of his wine to Sweden where some is sold in government owned liquor stores called Systembolaget. He also sells in the US domestic market – primarily through the website. Visitors to the valley may request a private tasting with Mike – an extremely unique offering is the Bubbles & Caviar experience, pairing exceptionally high-quality caviar with select roe paired with the Sjöblom sparkling Cabernet Sauvignon. Mike runs a number of websites built around his various brands (Glögg Club, Dream Winery, Chateaux Vadeaux) – for more information, to schedule a visit, to join the wine club or to purchase wine, see: www.sjoeblom.com