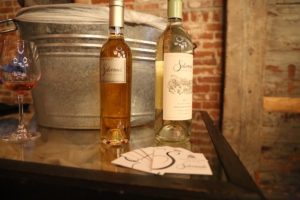 Silverado Vineyards (founded in 1981) as you would guess is appropriately located off of Silverado Trail (on the west side) just south of the Yountville Cross Road. They are located in the renowned Stags Leap wine growing district. Grapes come from their acreage on site as well as 6 additional area vineyards (350 acres total) including a very historical ghost winery property (one of the last remaining un-restored ghost wineries in Napa County). Their Stag's Leap location used to be part of a much larger block owned by the Sees Family, of See's Candy Fame. This winery is perched right on top of a hill and affords one some of the best views you will find of the Southern Napa Valley.
A portion of their vineyards are farmed orginically – and a high percentage of their vineyard are certified Napa Green (a voluntary program within the county of Napa that focuses on and identifies wineries that utilize environmentally sound farming practices). Half of their property has been donated into the Napa Land Trust (where it is to remain forever as is, no development) and some of the winery operations are poewred by solar panels.
Parking is to the side of a long driveway on top of the hill surrounded by olive trees and trellises. This is a Mediterranean style estate. As you walk up the stone steps to the main winery glance to your left – here you will have excellent views of Napa Valley. The tasting room offers two main tastings; the Estate and Premier tasting. The Premier tasting includes some of their higher end wines including some only sold directly at the winery. The staff is very knowledgeable and they are quite willing to answer your wine related questions.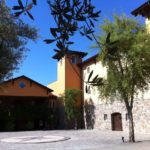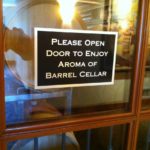 Their 2005 Zinfandel has a very bright classical Zinfandel nose (sweet aromas of raspberry and cherry) with concentrated fruit flavors. Their reserve wines are produced in very limited quantities including their 2002 Cabernet Sauvignon which as of press time has only been made 12 times in the last 26 years, as the fruit quality has to be extremely high to make "the cut". This wine has some weight and will age very well. One winemaker has been with them for many years which is often rare in today's winemaking world where winemakers often move around between wineries. Olive trees dating from the early 1880's grow on one of their nearby properties and they produce a gold medal winning light bodied olive oil available for purchase in their tasting room.
This is a classy winery set in a beautiful location. It is family owned, run by Ron and Diane Miller. Diane was the only daughter of Walt Disney (she died in early 2014) and Ron used to be CEO of Disney Productions as well as a former football player for the former Los Angeles Rams. There is at least one other Napa Valley winery owner with a strong Disney connection. Check out our review of Frank Family Winery.
Several specific tours and tastings are offered including their Saddleblock Vineyard Tasting which includes an educational walk through part of their Stag's Leap vineyard.
They maintain an electric vehicle charging station on site. Visit their website for more info: www.silveradovineyards.com
Video by Cellar Angels: