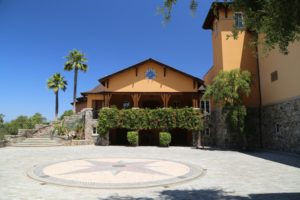 Silverado Vineyards (no affiliation with the nearby Silverado Resort & Spa) was founded by Ron Miller and his wife Diane Disney (Diane passed away in 2013 and Ron in early 2019). In early 2022 we heard that Silverado Vineyards was for sale; the property, winery and brand sold in mid 2022 to Foley Wine Estates (see our notes at the bottom of this review for more details). Diane first came to Napa Valley with her mother, Lillian Disney in 1975 and visited several vineyards that were for sale. In 1976 and again in 1978 Lillian purchased two separate sizable parcels of land from both Harry See (of the See's Candies family) and Harry's niece. After the purchases, the parcels were combined to form one contiguous property. From a viticulture point of view, this vineyard also produced what is now referred to as the See clone of Cabernet Sauvignon.
One of See's parcels came with a California ranch style house and is where Lillian lived for many years (she died in 1997 at the age of 98). Visitors to the winery can spot their family home among the trees from the patio outside of the tasting room.
Diane was the only daughter of Walt Disney; she was instrumental in developing and opening The Walt Disney Family Museum in San Francisco and a strong supporter of the Disney Concert Hall in Los Angeles. Ron played quarterback briefly for the Los Angeles Rams before Walt Disney hired him to work at The Walt Disney Studio. Ron played a prominent role during his time at Disney having founded the Touchstone Pictures label and The Disney Channel.
Grapes were already planted at the time of Lillian's purchase including Chardonnay and Gewurztraminer among other varietals. For several years the family sold these grapes to local vintners including Mike Grgich and Warren Winiarski. After trying some of the finished wines from her grapes, Lillian told Diane and Ron that they should be making their own wine.
Harry See had plans for a winery prior to selling to the Disney's. He even had identified the potential winery site on top of a prominent knoll on the property. Ron and Diane chose this same site for their winery; in 1980 they hired architect Richard Keith who soon hired winemaker Jack Stuart (Jack would remain with Silverado Vineyards as winemaker and then General Manager until he retired in 2004 – later he would make wine at Benessere Vineyards and is where we first met him many years ago). Their first vintage was 1981 and because the winery was not yet completed, and this first vintage was made at nearby Shafer Vineyards – a vintage that Doug Shafer refers to as the "Shaferado" wines.
A few years after the winery was built, Jack was speaking with a vintner who owned another winery in the valley. This vintner was excited because his new tasting room was becoming quite successful – hosting numerous visitors and significantly helping to increase his sales. One must note that there were still relatively few wineries in the Napa Valley in the early 1980's and even fewer with tasting rooms. Jack was inspired by this conversation, approached the Disney's about opening a tasting room. They did so, a tiny tasting room that is now used for staff offices. Eventually they built a much larger tasting room which opened in 2000 (the current tasting room).
Hospitality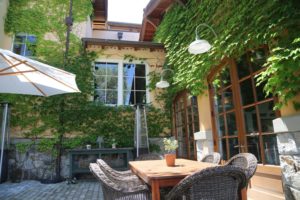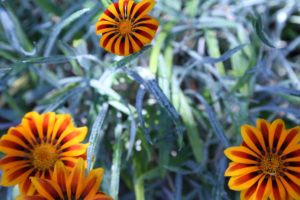 Parking is to the side of a long driveway on top of a hill surrounded by olive trees (these trees were transplanted from their Soda Ranch property). Other items to note as you pull in the parking lot – three cork trees are planted here (look at the intriguing bark), the compass embedded in the pull around area used to be a grass patch which kept getting run over by drivers (Diane wanted to put in a fountain here but wasn't able to get approval by the county) and the circular stained glass window above the entrance – look closely, this window contains 14 images of wine bottles all intertwined together.
As visitors walk up the stone steps to the main winery glance to your left – you will have excellent views of Napa Valley. As you walk through the hallway prior to entering the tasting room look for the French Ratatouille poster hanging on the wall with Remy holding a glass of wine. Always a favorite with visitors, Diane personally hung this on the wall many years ago. As of our latest update to this review, the tasting room offers two primary tastings: Taste of Silverado and the Premier tasting. The Premier tasting includes some of their higher end wines including some only sold directly at the winery. The staff are very knowledgeable, and they are happy to answer your wine related questions.
In addition to seeing visitors by walk-in, Silverado Vineyards offers a variety of more intimate and personalized tastings. One of their more memorable experiences is the Saddleblock Vineyard Tasting – always private for your party, this up to 2-hour experience includes a drive and short walk throughout parts of their property, an overview of their history, vineyards and farming practices. This visit culminates with a tasting hidden among the trees with excellent views overlooking the Napa Valley from the knoll just west of the winery. Suited for 2 to 4 people, this experience is held seasonally between May and October.
Some of the best views from the Stags Leap District are from their outdoor terrace – looking north, the views are grand with both vineyard and hillside land anchored by the tallest mountain in the area far to the north – Mt. St. Helena. And while looking north don't forget to look down at the cobblestones embedded in the floor of the courtyard – they have an interesting story. They were originally hand-carved in Belgium – loaded onto a ship as ballast and once they reached New York City were embedded into streets (replacing original dirt streets).
Diane was a strong patron of the arts and a collector of art. Casual visitors to the tasting room perhaps wouldn't be aware of the nearby art on display – this includes an intriguing collection of original, colorful and at times whimsical Belle Epoch Posters (printed in the late 1890s through the early 1910's) by Leonetto Cappiello. A fine gallery of Plein Air originals is also on display upstairs along with several other genres of paintings. The Silverado Experience walks visitors through part of the art gallery culminating with a tasting outdoors (weather permitting) on their terrace.
And Ron and Diane's granddaughter Charlotte Diane Goff is an accomplished artist with interests in drawing, painting, textiles and animation. She is a graduate of the California College of the Arts with an MFA in Fine Art. Several of her pieces are displayed in the tasting room.
Vineyards
Except for a few times throughout their history, Silverado Vineyards produces wines almost entirely from estate grapes. The exceptions were for their first few vintages (before their vineyards matured) and during the 1990s when a major replant occurred due to phylloxera.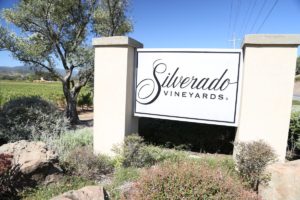 Grapes come from vineyards on site as well as 6 additional area vineyards, all in Napa except for one in the Sonoma side of Carneros. The winery property which employees sometimes refer to as the Disney (home) Vineyard encompasses 170 acres. Total acreage under ownership is around 780 with about 400 acres planted to vines. This includes the historical Soda Creek Ranch which until 2017 housed one of Napa Valley's last remaining un-restored 'ghost' wineries near the old Soda Springs Resort. The Borrero stone and redwood winery built in 1888 by Felix Borrero (he was already growing grapes here prior to the winery), also the builder of the Borerro building in downtown Napa which dates from 1877. Unfortunately, this old winery was destroyed in the terrible fires of October 2017.
In 2021, the family renamed the Soda Ranch property to the Borreo Ranch in honor of Felix Borrero; the property is also home to some 400 olive trees dating from the early 1880s. The olives from these trees produce a gold medal winning light-bodied olive oil available for purchase in their tasting room (when not sold out due to its limited production). And a number of unique for Napa Valley varieties are also planted on site.
In 2021, Silverado Vineyards released another brand of wines called BORREO initially featuring several wines including a Zinfandel and a Sangiovese. The beautiful drawing, used on all the labels was designed by Annabelle Rey Miller, Walt Disney's great-granddaughter. An extremely unique wine bottled under Borreo is Kerner, a variety created in 1929 by crossing the red grape Trollinger with Riesling. In 1969 it began to be cultivated for commercial use. Today it grows in various parts of Germany including the Mosel wine region. According to the California Department of Food and Agriculture Statistics review from 2014-2015 (the latest report we could find that still shows the specific amounts of lesser planted varieties) there are only 7.6 acres of Kerner planted in the entire state. We know of only one other Napa Valley producer who has made this wine; Localism Wines produces a Kerner from Lodi.
From the limited exposure we have had to this variety, it tends to produce wines that are high in acid, bright and fresh across the palate, perhaps somewhat similar to a Sauvignon Blanc from a cooler weather site. And this wine came about when winemaker Jon Emmerich was dining at Redwood in Yountville and tried a beautiful Kerner from Italy. Today Silverado Vineyards grows about an acre of this variety on a cooler part of the property.
All their wines are made from their own vineyards with one exception – a 6-acre parcel of land that Ron leased near his home just south of Yountville from St. Joan of Arc catholic church (see our photographs below). This block produces Sémillon which they blend in with their Sauvignon Blanc. And each year up until he died, Ron gave the church 12 cases of the finished wine.
A portion of their vineyards are farmed organically, and a high percentage of their vineyards are certified Napa Green (a voluntary program within the county of Napa that focuses on and identifies wineries that utilize environmentally sound farming practices). A significant percentage of their land holdings have been donated to the Napa Land Trust (where it is to remain forever as is, no development) and some of the winery operations are powered by solar panels.
Employees tend to stay at Silverado for many years including their wine making team. Current winemaker Jon Emmerich overlapped with founding winemaker Jack Stuart for 8 years; Jon has been winemaker since Jack retired. While they produce Cabernet Sauvignon every year, their Limited Reserve wines are produced only when that year's fruit quality is exceptional. Based on previous production history, this wine is only made once out of every two+ years. And it is called Limited for a particular reason; Diane Disney was never satisfied hearing the name Reserve with its accompanying ambiguous meaning and thought the word limited would be a much better descriptor of this particular bottling.
Select Wines
The 2016 Silverado Vineyards Carneros Chardonnay (Vineburg Vineyard) was aged in both oak (some new) and stainless steel. This wine did not go through malolactic fermentation. It is straw color in the glass. This wine smells like springtime with aromas of citrus blossom, lemon zest, honeysuckle and hints of popcorn. Fairly light and refreshing shows flavors of lychee, stone fruits and pear. Rounded and slightly crisp at the same time, the wine is balanced and refreshing.
The 2014 Silverado Vineyards Merlot Mt. George Vineyard offers a complex and layered bouquet, initially very floral with aromas of dried rose petal, desert spices, and nuances of sage. There is sweetness of red fruit lingering throughout the bouquet – almost raspberry like. Hints of chocolate as the wine opens. More red fruit shows then dark fruit on the palate with a lingering tartness of red cherry and cranberry. Very good acidity – very lively on the palate. Refreshing. Tannins are smooth.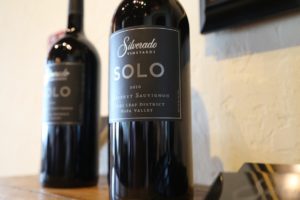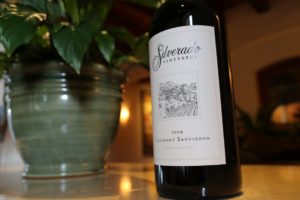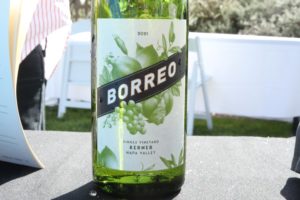 The 2013 Silverado Vineyards GEO Cabernet Sauvignon Coombsville is fairly dark in the glass; it shows an initial herb nuance (sage) on the bouquet along with pepper and cedar – as the wine opens more fruit comes forward including aromas of dusty blackberry and boysenberry. Smells elegant. Rich but not over ripe shows plenty of density on the palate featuring mostly red fruit flavors. Flavors of red cherry linger along with bright acidity and plenty of tannins to satisfy most steak lovers.
The SOLO Cabernet Sauvignon is always 100% varietal and is always sourced from their vineyards in the Stags Leap District. The 2013 Silverado Vineyards SOLO Cabernet Sauvignon initially offers a smoky elegance but as the wine breathes the bouquet is entirely about the fruit with lovely aromas of black cherry and darker plum. Big on the palate – both flavor and dense tannin grip feature prominently on a super long finish. Again, as a hallmark of their wines, this bottling shows excellent acidity.
Interestingly the 2011 vintage of the SOLO (cooler year) which we also tried was only 13.3% alcohol (one of the lower alcohol wines we have tried from contemporary Napa Valley).
Foley Wine Estates
In mid 2022 Foley Wine Estates purchased Silverado Vineyards. In Napa Valley, Foley Wine Estates also owns Foley Johnson, Merus Estate and Kuleto Estate. Previously, Foley Wine Estates operated Foley Food & Wine Society tasting room, which was located at the Vista Collina Resort, just south of the city of Napa (but closed in 2021).
Chairman, CEO, President and namesake for his company, Bill Foley II graduated from West Point in 1967 and later earned his law degree from the University of Washington in 1974. Foley has a background that reads like someone who has lived 2 lives; he is a graduate of West Point, has served in the Air Force and has both his MBA and law degrees. He has been Chairman of CKE (controls Carl's Junior) where he helped turned that franchise around in part by appealing to younger generations. Currently he serves as Chairman of two Fortune 500 companies including Fidelity National Information Services, a major title company that is one of the largest in the nation. Also of note is his golfing ability; he was voted among the Top 20 Executive Golfers in Golfer's Digest Magazine.
Long since invested in a diversity of businesses – wine is only one of his passions. He is also owner and founder of the Las Vegas Golden Knights National Hockey team. And in 2018 the team shocked the world of hockey fans by making it all the way to the Stanley Cup Finals in their first year.
Bill has enjoyed fine Cabernet Sauvignon for many years and his foray into the wine industry started in 1996 with the acquisition of Lincourt Vineyards in the Santa Ynez Valley (Santa Barbara County). He soon purchased several other wineries in the Central Coast region and over the years has branched out to other parts of California and the state of Washington.
—
The winery maintains an electric vehicle charging station on site. Current production varies dramatically based on vintage but typically runs between 65,000 and 90,000 cases annually and is permitted to make up to 140,000 cases each year. For more information or to join one of their wine clubs, visit: www.silveradovineyards.com
Hospitality Interior

Hospitality Exterior

Winery

St. Joan of Arc, Catholic Church Yountville

The Walt Disney Family Museum, San Francisco

The Disney Concert Hall, Los Angeles