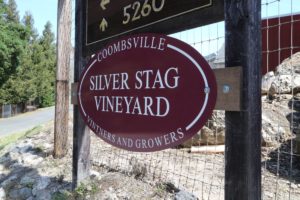 Silver Stag Winery's vineyard is located in the Coombsville district just North and East of the town of Napa. The name of this winery comes from a large Stag that would frequently be seen near the owner's home (Harry & Ellen Parsley) and when the light was right this animal looked slightly silver in color. Their property is located above the valley floor and sits several miles in from the moderating presence of the San Pablo Bay. As a result of the cooler climate they harvest later then up valley and this results in a much longer hang time.
Silver Stag is a small winery as far as Napa wineries are concerned with just under 5 acres planted. Three varietals are represented including the majority Cabernet Sauvignon, some Cabernet Franc and a few rows of Petit Verdot. They also purchase fruit from their neighbors who grow Cabernet Sauvignon on the same rootstock and clone as in their home vineyard. With a vineyard this small they can really micro-manage the way it is run and they often pick several times during harvest rather than picking the entire vineyard at one time.
Harry and Ellen have spent more than 40 years working in the wine industry. Harry was originally a wine buyer and then served as president of Buena Vista Winery (California's oldest winery). Silver Stag's focus is on high quality low production Cabernet Sauvignon (typically 2000 cases maximum per year). They also make a dry Rosé of Cabernet Sauvignon (about 100 cases annually).
Their Cabernet Sauvignon is allowed to age a bit longer than most wineries and their current vintage will often be 4 to 5 years old before it is released. Three characteristics influence their wine making, 1. the wine should have unique qualities based on its location (soil, weather etc), 2. it is approachable and drinkable early and 3. it is ageable.
We tried the 2002 vintage. This is a delicious Coombsville grown Cabernet that shows the high quality that is the result of a well managed vineyard and attention to detail in the winery. The nose has hints of herbs and spicy pepper with stronger overtones of blueberry aromas. The palate is rich in fruit and there is just the barest trace of cedar on the long finish; the tannins are very well managed.
Harry is also one of the main tasters for MyWinesDirect.com and a very neat feature of their website is the short popup video clips which focus on tasting notes for each wine. www.silverstagwinery.com
NOTE: this review has been identified as needing a major update.