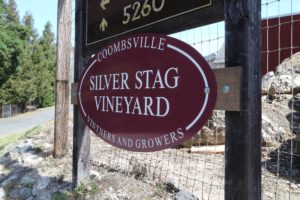 Silver Stag Winery's vineyard is located in the Coombsville district just north and east of the town of Napa. The name of this winery comes from a large Stag that would frequently be seen near the owner's home (Harry & Ellen Parsley – Harry died in late 2022) and when the light was right this animal looked slightly silver in color. Their property is located above the valley floor and sits several miles in from the moderating presence of the San Pablo Bay. As a result of the cooler climate, they harvest later then up valley, and this results in a much longer hang time.
They purchased this property in 1996 and made their first wine in 2001.
Silver Stag is a small winery as far as Napa wineries are concerned, with just under 5 acres planted of the 7 total acres. Three varietals are represented including the majority Cabernet Sauvignon, some Cabernet Franc and a few rows of Petit Verdot. They also purchase fruit from their neighbors who grow Cabernet Sauvignon on the same rootstock and clone as in their home vineyard. With a vineyard this small they can really micro-manage the way it is run, and they often pick several times during harvest rather than picking the entire vineyard at one time.
Harry (who we first met with) and Ellen spent more than 50 years working in the beverage industry; Harry's first job was working in the grocery business and became a store director at age 21. He was involved in many facets of the wine industry throughout his long career; early in his career he was a wine buyer and then much later served as president of Buena Vista Winery (California's oldest winery) well before this iconic winery was acquired by its current owner, Jean Charles Boisset. During his relatively short amount of time at Buena Vista he helped more than triple their sales.
Harry was also a partner in SparrowHawk, a producer of affordable and quality made wines from select vineyards primarily in Napa and Sonoma County with a small dabbling down in Santa Barbara. SparrowHawk is a much larger producer than Silver Stag – as of our latest update to this review they are producing more then 30,000 cases annually.
Coombsville
Initially the region was proposed to be called Tulocay but this was ultimately denied by the TTB, the Alcohol and Tobacco Tax and Trade Bureau. Long time vintner Tom Farella then wrote the proposal to create this sub-AVA under the Coombsville name and the region gained it's AVA status in late 2011.
The region is primarily east of the city of Napa. Coombsville is characterized as a moderate to cooler growing climate compared to up valley due to its proximity to the flat region and entry to the nearby San Pablo Bay with its cooling morning and afternoon breezes and often fog influence. The region is generally composed of short rolling hills with a diversity of microclimates even within this small region. It tends to be slightly warmer in vineyards that are located towards the edge of the southern part of the Vaca mountain range.
Producers in this AVA tend to be small, and family owned – none of the wineries located here are open to the public by walk-in. A small vineyard located in this AVA produces what is typically Napa's most expensive bottle of wine under the Ghosthorse label. Coombsville originally was thought to be too cold to grow Cabernet Sauvignon. Vineyards have proved this thinking wrong and this variety is certainly sought after by a number of premium producers who are looking to make an elegant wine with good varietal characteristics. Most of the Cabernet Sauvignon in this AVA is grown close to the edges of the hills where the microclimates are slightly warmer than other parts of the region.
While they have made other wines over the years, unlike most wineries, even small producers who often make several wines, Silver Stag is singularly focused on high quality low production Cabernet Sauvignon. During exceptional years, they also produce a very limited Reserve Cabernet Sauvignon. Well under the radar, they have been quietly producing excellent wines for more than 20 years, from this hidden away corner of Coombsville.
Select Wines/Winemaking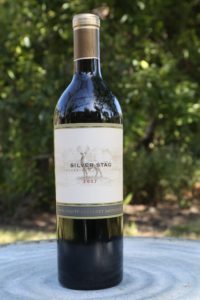 For their earlier bottlings, they allowed their Cabernet Sauvignon to age a bit longer than most wineries and as a result, their current vintage was often 4 to 5 years old before it was released. However, this aging time has been shortened over the years. Three characteristics influence their wine making, the wine should have unique qualities based on its location (soil, weather etc.), it is approachable and drinkable early in its life and it must also be age worthy.
The Silver Stag 2017 Cabernet Sauvignon is dark ruby in color. Takes some time to open up and when it does is very generous with its aromatics. Initially offers meaty and savory characteristics on the bouquet – with darker fruit including blackberry and plum. Let it breathe, the bouquet evolves into an appealing union of both fruit and dessert spices. Richly structured on the palate, showing primarily dark fruits. There is a noticeable density in structure but without a heavy grip. Tightly woven in its youth, like the bouquet, the palate also takes some time to open. This is an impressive showing, and clearly displays both the power and finesse of Coombsville in the bottle.
The Silver Stag 2003 Cabernet Sauvignon (tasted 19 years post vintage) is deep ruby with some brickish color on the rim of the wine in the glass; this bottling still shows plenty of fruit but has tertiary aromatics including of cooked blackberry, dried cherry, fig newton and prune. Other dessert like aromatics also show including of Graham cracker, leather sitting in warm sunshine, nutmeg, mocha, brown chocolate and old cedar wood. The palate offers mouthwatering high acidity accompanied by primarily red fruit flavors including of cranberry, currant, red plum and tart red cherry along with dried herbs and cracked peppercorn. The tannins are noticeable and display a dusty and gravelly texture along with a dark astringency. Their grip is still long lasting and persistent on the finish.
During our visit with Harry, we tried 2002 Silver Stag Cabernet Sauvignon. This is a delicious Coombsville grown Cabernet Sauvignon that reflects the premium quality of a well-managed vineyard and attention to detail in the winery. The bouquet hints of herbs and spicy pepper with stronger overtones of blueberry aromas. The palate is rich and layered with fruit with just the barest trace of cedar on the long finish; the tannins are very well managed.
—
Harry was also one of the main tasters for MyWinesDirect.com and a very neat feature of their website is the short popup video clips which focus on tasting notes for each wine. Total production in a typical year is around 2,000 cases. For more information,to order wines (including library wines for most years dating back to their first vintages, or to join their mailing list, visit: www.silverstagwinery.com
NOTE: this review has been identified as needing a major update.