Silver Oak Cellars focuses on producing premium Cabernet Sauvignon; they were founded in 1972. The winery is located in the heart of Oakville off of Oakville Cross Road. Their divided driveway is one of the longest winery driveways in Napa – a good sized parking lot is within a very short walk of the tasting room.
Unlike most area wineries that open at 10am, Silver Oak opens at 9am which can make this winery an ideal first stop especially if you are serious about getting an early start to your wine tasting day in the 9 o'clock AM hour! Note the sometimes unusual number of license plate frames in the parking lot that say, "Life is a Cabernet". The frames are available for sale online and in the gift shop here and this saying is their motto as Cabernet Sauvignon is the only varietal they produce wine from.
The winery was founded by the late Justin Meyer (a former wine maker at the historic Christian Brothers Winery) and Ray Twomey Duncan (you might recognize Ray's middle name as the name of another winery in Napa – Twomey Cellars). Twomey is their sister winery. From early on, both Justin and Ray decided to concentrate on one varietal rather than a number of different wines and in doing so decided to focus all their efforts into producing a superior wine of the highest quality. Today Ray and his family own and operate the winery.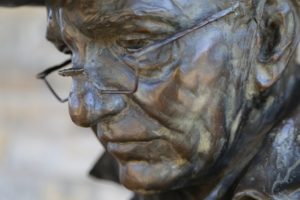 A horrendous fire in 2006 in a nearby dumpster destroyed most of what was their main building at the time. The current winery and hospitality center was built from the ground up; it is massive yet elegant. The Napa earthquake of 2014 destroyed a number of irreplaceable bottles in their hospitality center that dropped on the floor and broke.
Limestone, an integral part of the building was taken from an old flour mill in little Coffeyville, Kansas and transported out to Napa. Not sure how this connection was originally made, but it is a fine look for the main hospitality center. For a quintessential view of Napa vineyards stand just inside the main tasting room and look out through the arches. On a clear day this is a spectacular view. Fortunately their signature wooden water tower was not damaged and it was moved to an appropriate spot near the main winery which you will walk by on your way to the tasting room.
A highlight of the tasting room is their nearby library room. It actually contains at least one vintage from every year dating back to their founding year of 1972. Elegant and classy are two words that easily describe this glass enclosed room. Also of note is the hand carved wood paneling directly behind the tasting room. It was commissioned by a Russian born American artist. The tasting counter is lined with welded iron; the counter is small and can fill up quickly at times.
Silver Oak has an extensive aging process in place for their wines before they even reach the consumer. Not only do they age the wines up to 30 months in the barrels, but then they age them further up to 18 months in the bottle! Not all wineries have the luxury of this aging process but to the consumer this is a great thing as their Cabernets are really smooth as the tannins have been refined by the time they are sold to the public…and you know their wines have been stored properly during the aging.
They also have vineyards in Alexander Valley in neighboring Sonoma County where they get much of the fruit for their Alexander Valley Cabernet. It was this vineyard that in fact produced the first grapes for their initial vintage in 1972. They would truck the fruit over to their winery in Oakville.
We have tried a number of their wines from different years; the latest being a 2003 Napa Valley Cabernet Sauvignon (about 30,000 cases produced) and their 2004 Alexander Valley (about 60,000 cases produced).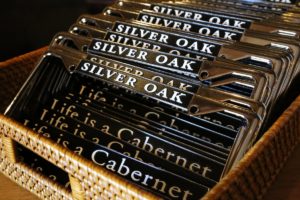 The Alexander Valley wine is very approachable at a younger age, while the Napa Valley Cabernet is more full bodied and complex. The bouquets are totally different between the two wines; the Napa Cabernet is more spicy with nuances of cedar, while the Alexander Valley Cabernet is dominated by plum, floral notes and some nuances of blackberry.
Tired of high alcohol wines? Both the latest vintages we tasted came in under 14% with the 2004 Alexander Valley coming in at merely 13%; it is somewhat difficult to find any area Cabernet at that alcohol these days.
All their Cabernets have great ageability and it is no different with these vintages. Each wine displays their own characteristics but they both are very well balanced, with long finishes and lots of fruit up front with a mouth feel that is quite soft. One glass is included with each tasting and unlike some wineries, a previously wrapped clean glass is given to you after your taste, rather than the spotty, wine stained glass used during your actual tasting. Silver Oak always has older releases available for purchase in large format bottles.
During our latest visit we saw wine dating back to the early 1980's – course you have to have at least an extra grand floating around in your pocket to pick up one of these older vintages! Tours are offered on an appointment only basis. Lastly, Silver Oak has one of the most spirited online photo galleries of any Napa Winery – the release parties are always well attended. Visit: www.silveroak.com
NOTE: by early 2018, their new Alexander Valley winery will be open to the public – with a new winery, barrel room and a hospitality center. This estate is 113 acres of which 70 are planted to Cabernet Sauvignon. We will visit this estate on a clear day in mid to late Spring 2018 and will update photos here.
Silver Oak, Oakville

Silver Oak, Alexander Valley
Photos coming, oh so soon!