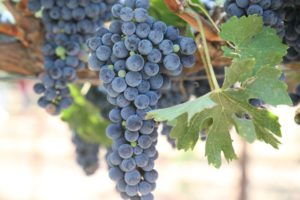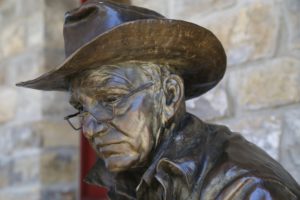 Silver Oak Cellars was founded in 1972; their remarkable success story begins with two men, co-founders Justin Meyer and Raymond (Ray) Twomey Duncan (both deceased). Ray was born in South Bend Indiana to parents Walter Sr (a World War I veteran) and Velma Twomey Duncan; he was raised in La Salle, Illinois (population today around 9,500 residents) and graduated in 1952 from Notre Dame University in South Bend.
The Duncan family have deep roots in La Salle, Illinois, tracing their heritage in the region back to Nicholas Duncan (1816-1879), a stone-cutter and a contractor, originally from Ireland who came here in the early 1840s to work on building parts of what would become the 96 mile long Illinois and Michigan Canal (I&M Canal), connecting La Salle and the Illinois River on its western end with Chicago and Lake Michigan on the north eastern end. Duncan's heritage was not an anomaly among those who worked on the canal; a significant amount of the workforce were immigrants from Ireland many of whom previously worked on building Erie Canal.
This remarkable feat of engineering was constructed by hand from 1836 through 1848; it was excavated to a width of 60 feet and was 6 feet deep. Rocks were stacked along the banks to prevent erosion and a series of 17 locks were built along its length to compensate for the 140-foot difference in elevation between the two ends of the canal. While primarily domestically funded, towards the end of its construction money was used from investors in England and France.
Abraham Lincoln was an early supporter of the construction of the canal. The I&M played a prominent role in the growth and development of Chicago and established the city as the central transportation hub in the country, prior to the development of railroads. Due to the cold winters the canal was typically closed from November through April when its waters would freeze. And in some regard, it also played a role in the migration west to California during the Gold Rush – numerous individuals living in and or around the vicinity of this canal used it for a short part of their journey westward. The canal operated for 85 years from 1848 until 1933.
While no longer navigable parts of the canal still do exist including a short section in La Salle which has been restored; The Volunteer, an 1848 replica canal boat provides rides along this short section. Only Lock 14 has been restored in La Salle and visitors to La Salle can also stop into the Lock 16 Visitor Center for more canal information, located at the corner of Joliet and 1st Street in downtown La Salle.
Starting in the 1850s La Salle and vicinity saw a proliferation of coal mines and was the site for the country's first zinc smelter operating as Matthiessen and Hegeler Zinc Works (it eventually grew to be the largest such operation in the U.S.). La Salle also used to be known for its abundance of saloons, especially during certain periods in its history including the 1940s and 1950s; like other canal towns of that era, in addition to the bars it was known for its gambling and brothels and bar-room fights. At one point records show there were 75 places to drink alcohol (one for every 8 houses in town)! Today it is a charming town, the center is easily walkable with numerous small boutique shops and some restaurants.
La Salle, Illinois

I&M Canal, La Salle Illinois

Nicholas was also a Justice of the Peace and was on the board of trustees which led to the founding of the city in 1852 and was involved in the founding of Union Coal Works. According to his obituary published in the November 22, 1879, issue of the Ottawa Free Trader, he also served as mayor of La Salle in 1858. The same obituary indicated that his funeral procession was more than a mile long and was "one of the most imposing ever witnessed in La Salle".
Prominent Duncan family members have been involved in various companies over the years including La Salle State Bank (currently home of Herbolsheimer, Duncan Eiten, and Hintz law firm) which was organized by Nicholas's son, Nicholas Wiseman Duncan in 1894 along with several others including Vincent Duncan and John Edwards Tracy, the father of Hollywood actor Spencer Tracy. The current building for La Salle State Bank sits on site of what was the original much smaller two-story bank building.
Other Duncan owned or involved companies include Marquette Cement (co-founded in 1898 by Nicholas Wiseman Duncan) and Walter Sr's own company he founded in 1913, Duncan Insurance Co and later his multi-state oil and gas business.
St. Vincent's Cemetery, located about a 10 minutes' drive west of downtown La Salle is the final home to numerous Duncan family members including Nicholas Duncan and Velma Marie Twomey Duncan, the namesake for Twomey Cellars. Velma and her husband Walter's graves are located in the far northeast corner of this rectangular shaped cemetery.
St. Vincent's Cemetery, Velma Marie Twomey Duncan gravesite

Ray was a long time Colorado resident who founded Duncan Oil Inc in Durango in 1958, now headquartered in Denver (at one point maintained an office in Calgary) while still operating a number of leases in select states. The family business, Duncan Oil Properties, Inc. originated in the Illinois Basin in southern Illinois and capitalized on an oil boom there in the 1940s. Ray worked for his father for several years in the 1950s. Ray's brother Walter's family still operates Duncan Oil Properties, Inc., based in Oklahoma City.
Ray was very active in the Colorado ski world – in 1966 he founded Purgatory Ski Resort on Durango Mountain and later in his life was inducted into the Colorado Ski and Snowboard Hall of Fame and the Rocky Mountain Oil & Gas Hall of Fame.
While at Notre Dame studying for his eventual degree in Philosophy, remarkably Ray met another future Napa Valley vintner, Jack Novak (who founded Spottswoode Winery in St. Helena with his wife Mary). Both Jack and Ray became friends – in 1969 the Novaks invited Ray to Napa and Sonoma (Ray's first visit to the area). Ray spotted a report put out by Bank of America that forecast a significant increase in the average wine consumption of the American consumer which at the time was around 2 bottles per person per year. Intrigued by this as well as the region, Ray purchased his first land in Sonoma County's Alexander Valley in 1970 in partnership with Jack Novak (100 acres called Los Amigos Vineyard located next to Highway 128 about 2 miles north of Jimtown). At the time, this property only had a few acres of producing Cabernet Sauvignon vines.
Monk and vintner, Justin Meyer (his birth name was Raymond but he later changed it – being a fortuitous decision which would ultimately help lessen confusion in regard to the two owners) was well-known in the wine making circles at that time. Born and raised in Bakersfield, he was later known by friends as 'spitfire'; he joined the brotherhood right out of high school, eventually apprenticing under Brother Timothy at Greystone Cellars beginning in 1964 (what is now the Culinary Institute of America's building in St. Helena). At one point he oversaw approximately 3,000 acres of vines and the production of some 50+ wines.
Much later he was the president of the American Vineyard Foundation, a non-profit organization viticulture and enology research organization founded by winemaker Zelma Long. Justin was also the founder of the still active Napa Valley based men's only social group composed, mostly of vintners called the Gastronomic Order of the Nonsensical and Dissipatory (GONADS) – with a maximum of only 12 members. And in 1989, he wrote an easy-to-understand book on wine called, Plain Talk about Fine Wine with the forward written by Robert Mondavi. Justin is an inductee in the Culinary Institute of America's Vintner Hall of Fame.
In 2022 the first ever Justin Meyer Fellowship was announced, awarding $50,000 every year for three years for a chosen PhD candidate at UC Davis.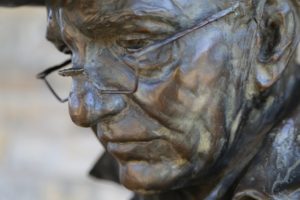 Justin met his wife Bonny (she would become an integral part of Silver Oak's success) at a dinner party hosted by viticulture professor Dr. Harold Olmo while studying wine making at the University of California at Davis. He graduated from UC Davis with a Bachelor of Science degree in viticulture & enology and a Master of Science degree in horticulture. In 1972, after 15 years, he left Christian Brothers and also married Bonny that same year. Ray heard that Justin had recently left the Christian Brothers. He offered to finance the purchase of the dairy property in Oakville and create a partnership in which both men would have equal ownership and Justin would oversee the wine making.
Justin initially said no to the offer but then the next morning called Ray at 6am where Ray was staying at the El Bonita Motel (incidentally, this motel is still operating) in St. Helena. He said wanted to meet for breakfast as he had changed his mind on the offer.
In 1972 Ray was told about a 258-acre property (part of the Keig family Oakville Dairy farm – they used to in part sell milk to Stornetta) for sale in Oakville containing an old cattle barn and some Zinfandel vines. He purchased this land – today this is the current home of Silver Oak, although most of the original land has since been sold off. Justin was drawn to the property for several reasons including the fact there was a home north of Oakville Cross Road that he could immediately move into and leave what Bonny called the small "shack" located opposite what is now Franciscan Winery on land that was owned at the time by Bernard Skoda. And the old milk storage barn looked and felt like a wine cellar with its thick concrete walls and drains already built into the floor.
In July 1972 Justin began to prepare a remarkable amount of former dairy cattle land to plant to new vineyards (500 acres) – including the huge parcel south of Oakville Cross Road (next to the current winery) and a smaller but still 100+ acre parcel on the north side of Oakville Cross Road. This involved like today, laying out row orientation, irrigation pipes and frost protection systems. We drove much of the exterior of both properties with Bonny – seeing the scope of these properties puts in perspective the significant amount of work needed to actually develop a vineyard of this size.
Bonny recalls in those early days even the valley floor land was ripped and like fumigating, a chemical was put into the soils and then covered with plastic for some time (the idea being to kill anything that might harm the vines). How far premium viticulture has come since those early days. The first vines for Silver Oak were planted in the spring of 1973 – using both bench grafts and with some rootstock later field budded.
And it was in the middle of preparing the site for planting that Bonny and Justin took their honeymoon in September of 1972 – to Electra Lake in Colorado just off of Highway 550 at a cabin that Ray owned at the time. Bonny wistfully remembers fishing for trout, the brilliant colors of the aspen and even an early snowfall.
During this time, a sizable reservoir was also excavated, located slightly to the west of the existing winery. Bonny recalls she and Justin sailing their sailboat in this pond and later hearing through the grapevine – about how odd it looked to be driving down Oakville Cross Road and seeing a mast moving among the vineyards.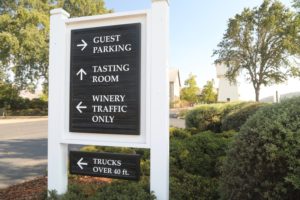 Justin had produced numerous wines at Christian Brothers; it was his idea to simplify things at Silver Oak and produce just one wine. His idea was that Cabernet Sauvignon would eventually become synonymous with Napa Valley. The first vintage of Silver Oak was in 1972 and through the 1974 vintage, was actually made at Christian Brothers Winery (in exchange for Zinfandel grapes growing on the Silver Oak property located north of Oakville Cross Road) and then later barreled and bottled in the old Keig dairy barn. The Keig barn needed some upgrades to better serve as a winemaking facility, so they added insulation and air conditioning.
The American oak barrels used to age their first wine were purchased from Beaulieu Vineyard (from winemaker Dick Peterson). Only 1,100 cases were made that year. Interestingly enough, the first seven vintages were not grown in Napa Valley – it was fruit from the Los Amigos Vineyard in Alexander Valley in neighboring Sonoma County and from 1972-1974 and then again in 1976 was labeled "North Coast". From 1972 until 1978 the wines were bottled in Rutherford. And starting in 1994 the wines were no longer 100% varietal Cabernet Sauvignon. The first Silver Oak Alexander Valley labeled bottle was in 1975. Justin liked the softness of the Cabernet Sauvignon from Alexander Valley and thought it would be better complemented by American oak rather than French oak. Napa Valley first appeared on their label with the 1979 vintage. And while Silver Oak is certainly synonymous with using American oak to age their wines, for some of those early vintages, Justin experimented with barrels from other coopers and used some French oak.
The first grapes harvested commercially for Silver Oak's wine from the 1972 planting was in 1975. Justin would always pick fruit from the best blocks from Silver Oak's vineyards and produce up to 30% more wine then was actually bottled under Silver Oak. Anything that did not make the final cut was usually sold on the bulk market. Quality was and always has been of the utmost importance.
And they were on the far forefront in the fact that right from the get-go, their focus was on premium Cabernet Sauvignon – the variety that has become most synonymous with Napa Valley.
Colorado Connections
Ray Duncan was an integral part of Colorado's more recent heritage through his entrepreneurial vision and charitable works primarily involving education and arts. He was well respected in the business world and a community leader. Some of his contributions or businesses in Colorado were/are the following:
– Diamond Tail Ranch headquarters is located in northern Colorado about 11 miles south of the Wyoming state line – about an hour and 10-minute drive from Laramie. This is a gorgeous part of the state – a mix of high desert sage and forest with rolling hills framed by at times by snow covered peaks in the background and the fast-moving, cold-water Laramie River which flows through both Wyoming and Colorado including on parts of this ranch. Captivating, especially on a clear day, the vistas are expansive.
The Duncan's purchased Diamond Tale in 1979 – the ranch totals nearly 38,000 contiguous acres – equivalent to some 59 square miles. A number of other private ranches are located nearby. The Duncan's have raised cattle on the ranch since their purchase and introduced buffalo in 1986. The meat is sold to and marketed under Henderson, Colorado based Rocky Mountain Natural Meats. While the ranch is private, access is given to parts of the Laramie River to a select few members of their fishing club (annual dues apply). Limited hunting opportunities are also offered.
As of our latest update to this review, Diamond Tale Ranch is for sale for nearly 45 million dollars.
– Purgatory Ski Resort is located along one of the most incredible picturesque drives in all of the United States, often referred to as The Million Dollar Highway (perhaps referring to the extensive gold riches that were mined in the area or more simply, the million-dollar views). The most scenic parts of this drive are from from roughly Durango to Ouray along Highway 550 (the resort is merely 35 minutes from Durango). Visitors coming to the area in the warmer months should take a few extra days to explore this part of the state – including its snow-covered high mountains, alpine lodges, hot springs, lakes, mining heritage, waterfalls, and numerous hiking opportunities.
Ray (a ski enthusiast) and his family moved to Durango in 1958 helping his father Walter Sr. explore other oil and gas opportunities (eventually moving to Denver in 1967) and it was during his time living in this part of the state that he founded Purgatory Resort (taking the name of the already nearby Purgatory Creek). The resort opened in late 1965. The base elevation is 8,793 feet up to the summit elevation of 10,822 feet with 1,600+ skiable acres. The lodge offers plenty of rooms – within easy walking distance of Purgatory's central gathering place, the Village Plaza of Purgatory.
And during the warmer months, parts of the resort are open to mountain bikers. And in addition to seasonal skiing and mountain biking, Purgatory offers the Inferno Mountain Coaster, a handbrake controlled roller coaster that is 4,000 feet long. These are absolutely thrilling rides – we first experienced a similar mountain coaster during a Napa Valley focused trip to Vietnam at the Datanla Alpine Coaster near Dalat. These rides are great fun for most ages – even one of our Napa Valley vintner friends who was nearing 80 years old at the time thoroughly enjoyed the experience.
While we have visited Purgatory in the summer, we have not yet visited Purgatory in the winter for skiing, but we hope to do so in the next few years. Carving down the black diamond rated Ray's Ridge carrying a bottle of Silver Oak will be a unique & memorable Napa Valley nirvana moment. Other wine or family related runs at the resort include Zinfandel, Vincent's Run (named for Ray's older brother), Joan's Jubilee (named for Ray's first wife Joan) and Sally's Run (in honor of Ray's second wife Sally).
– And Ray was also a strong supporter of the Crow Canyon Archaeological Center near Cortez (about an hour drive from Purgatory Resort), the Kent Denver School (the Duncan Center), the Denver Art Museum (the Duncan Pavilion on the first floor inside the Martin Building near downtown Denver), one of the founders of the private gated Castle Pines Golf Club, just south of Denver, he was instrumental in the founding of Music in the Mountains, an annual classical music event held in and around Durango and he used to be a partner in the still open, Claggett/Rey Gallery in Vail.
Notre Dame, South Bend, Indiana Heritage
Notre Dame University has educated a number of Duncan family members. This school's storied history dates back to its founding in 1842 and has also graduated numerous notable alumni including Condoleezza Rice (former Secretary of State) and several prominent former San Francisco 49ers – Edward J. DeBartolo Jr (DeBartolo Hall on campus is named in his honor), Joe Montana and Carmen Policy of Napa Valley's Casa Piena Winery, among a handful of other Napa Valley winery owner alumni.
Two prominent buildings on campus are named in honor of Ray and his family, Duncan Hall and the 400,000 square foot Duncan Student Center. Duncan Hall is 68,000+ square feet; it opened in 2008 across from the golf course and houses men's dormitories and a small but impressive chapel. A prominent photograph of Ray and his wife Sally greets anyone who walks in through the main entrance on the first floor along with a nearby recreational room. Remarkably this dormitory is located directly across a large grass field from another Napa Valley winery family named dormitory, Fisher Dormitory (reference Fisher Vineyards, Calistoga).
One of the most impressive student centers we have ever seen on any campus is Duncan Student Center (or called for short, the Dunc) – prominently housed next to the iconic Notre Dame Stadium (dating from 1930), with of course a statue of Lou Holtz prominently greeting visitors outside of the stadium. This sizable student center opened in 2018 and features 9 floors containing meeting rooms, a graduate student lounge, three restaurants/cafes and the Smith Recreational Sports Center including a magnificent climbing wall. Its interior open space invites social interactions with numerous seated areas for students to hang out and socialize or study. Its size visually dominates this part of campus.
And the official hotel on the campus, the Morris Inn features wines at times in its restaurant, Rohr's (for 50 years previously was Sorin's), from alumni owned wineries including Silver Oak and or Twomey Cellars. Rohr's is open to both students and faculty of Notre Dame as well as the general public.
Duncan Hall, Notre Dame University Indiana

Duncan Student Center, Notre Dame University Indiana

Morris Inn, Rohr' Restaurant Notre Dame University Indiana

Label Creation & Design
Initially Ray had an artist create an image of the silo which stood next to the old dairy building. But one can only get so creative with a cylindrical object. Bonny is an amateur photographer and had taken photographs of numerous water towers (historically called pump houses) in Napa Valley. However, the one water tower she initially and most closely modeled the Silver Oak water tower after is located exactly 0.4 of a mile to the west on Oakville Cross Road from the Silver Oak driveway entrance – on the south side of Oakville Cross Road at a private residence.
The oak tree that appears on the label was modeled after multiple oak trees growing on part of their original Oakville property. Bonny sent photographs of water towers and an oak tree to a designer who had never visited Napa Valley before with the instructions to add some vines to the label and create a few designs.
The original pen and ink drawing of the Silver Oak's label, hand-drawn by artist John Ferrell, hangs in David's office upstairs above the tasting room.
The original name of the winery was to have been called Duncan-Meyer but didn't quite sound right or look appealing on the label. Bonny and Justin liked the word Silverado and even thought about calling the winery something like Silverado Vineyards (but the winery with this name had already been established by the Disney family). They thought some more, and Bonny suggested 'silver' from Silverado (an homage to the nearby Silverado Trail) and 'oak' based on the prominent trees in Oakville she had photographed. And of course, the hamlet of Oakville was nearby. They presented the name to Ray but he initially wasn't too keen on its sound.
When looking at bottles on a rack of both Silver Oak Alexander Valley and Napa Valley Cabernet Sauvignon, one can easily tell their origin. The foil on the Alexander Valley bottling is silver while the foil on the Napa Valley bottling is black.
—
The 1972 vintage was sold for $6 a bottle, an unheard-of price in those days as many of the valley's wines were in the $3/bottle range or less. Perhaps on pricing alone, one could make the argument this was one of Napa's first 'cult' wines – developing a cult like following for sure, but without the pinnacle type feeling of exclusivity that many of the so-called cult wineries cultivate today, rather more 'luxury-like accessibility'. Silver Oak's wines are an accessible luxury product.
Due to an oversupply of fruit in the valley, low prices and needing to find a home for these grapes, in August of 1975 Ray and Justin purchased the bankrupt Franciscan Winery and made both Silver Oak and the Franciscan wines there for a number of years. Bonny recalls Justin purchased some Charbono from Inglenook Vineyards and produces wines from that variety here for several years. David Duncan, Ray's son and President and CEO of Silver Oak remembers that with the purchase, his father and Justin acquired over 12,000 cases of wine still stacked in the winery. They had the bright idea to liquidate this wine as cheaply as possible. They sold each bottle for $1 which quickly attracted the attention of various restaurateurs from the San Francisco Bay Area who drove up with trucks ready to purchase $12 cases of wine. David jokingly refers to this 'fire' sale as the wine industry's "first one buck chuck".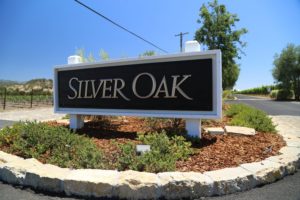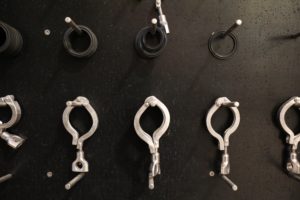 By 1980 Silver Oak sold the Franciscan property and their accompanying Napa valley vineyards (holding on to the site of what is the present day Silver Oak Winery) but continued to make the Silver Oak wines at Franciscan for several years. Ray let the property north of Oakville Cross Road be taken over by Connecticut Mutual who eventually sold it to Jerry Jensen, a prominent San Francisco Bay Area news anchor at the time who built a geodesic dome on site. Eventually Dennis and Judy Groth purchased this property and demolished the dome; the property is now home in part, to Groth Winery.
Justin and Bonny along with architect Ray Rector designed the first Silver Oak Winery; it was built in the early 1980s and opened in 1982 just in time for that year's harvest. Justin and Bonny had used the same architect on their own house and Bonny recalls borrowing some elements from the interior of her house to use inside the Silver Oak winery building. And she and Justin visited a number of wineries for additional design elements – the exterior was loosely modeled after Greystone Cellars in St. Helena. The iconic water tower was not yet standing; based on numerous requests from visitors asking for the whereabouts of the water tower, several years later they built one from scratch next to the winery.
After Franciscan was sold in 1980, Justin remained as a consultant for two more years. Franciscan operated until October 30th, 2017 when it closed permanently. Today the property is the home to The Prisoner Winery; guests who visited Franciscan Winery will no longer recognize the buildings' current profile. From 1980 until 1982 Bonny was managing and overseeing much of the day-to-day details of operating Silver Oak from an office upstairs in what is now the V Marketplace shopping center in Yountville. During this time, she was also working to increase Silver Oak's early distribution and exposure at a variety of retail outlets.
Until the winery was built, she remembers, "barrels of Silver Oak were aging in barns all over the valley" and that it was a huge relief to finally have their own winery after 10 years. And for some time, a racquetball court was on the property – a favorite space for Justin to relax (he grew up playing sports including quarterback, center in basketball and was a pitcher in baseball).
By this time the wines started receiving critical acclaim from wine writers such as Robert Parker and gratifying publicity such as winning a gold medal for their 1974 Napa Valley Cabernet Sauvignon at the California State Fair Commercial Wine Competition in Sacramento (perhaps the equivalent at the time of earning a 100-point score from Robert Parker). More accolades followed; wine editor for the Los Angeles Times, Robert Balzar awarded the 1974 vintage his Wine of the Year. And celebrities started taking notice – the Duncan's spotted acclaimed photographer Greg Gorman profiled in an issue of American Photo Magazine – highlighting his other passion, wine. He posed holding a bottle of 1982 Silver Oak and a larger format bottle of 1982 Chateau Petrus (the Petrus being a gift from Julio Iglesias after a photo shoot). Somehow Silver Oak spotted the feature and invited Greg to visit the winery. Years later Greg would begin GKG Cellars, based in Napa Valley. Numerous celebrities have visited over the years – like anyone else, drawn to the winery's iconic status, premium wines and fun atmosphere.
Silver Oak is one of only 95 wineries from around the world included in the list of coveted global top luxury wine players – as highlighted in the book, Luxury Wine Marketing (2019) by Peter Yeung and MW Liz Thach. And Yeung and Thach also mention Silver Oak involving several case studies. In short, Silver Oak has become an important lexicon for wine enthusiasts around the country and beyond.
Meyer Family Cellars, Yorkville, Mendocino County
With both health problems creeping into his life and the Duncan's looking to expand the operations, increase production and raise pricing (a different direction then what Bonny and Justin wanted), they sold their percentage of Silver Oak in 2001. Justin died at age 63 the following year – his family continues to run the small Meyer Family Cellars located in California's Yorkville Highlands of Mendocino County directly next to Highway 128 (about a 2-hour drive north of Silver Oak Winery in Oakville).
Bonny attributes finding the Meyer Family Cellars property to her son Matt. She and Justin never forced their children into following their wine footsteps, but rather left career choices up to their children. One day Matt approached his parents while still in high school and said he was interested in winemaking. He worked in several wineries over the years including Argyle in Oregon's Willamette Valley and also in Australia. He earned his Master's in Viticulture in 2002 from the University of California, Davis.
Wanting to explore beyond Napa Valley (he felt the valley was becoming too crowded) he was instrumental in locating the home for Meyer Family Cellars which was previously another winery in bankruptcy at the time of their purchase in 1999. The family opened the winery and tasting room in 2003. Matt and his wife Karen oversee the vineyard and winemaking operations.
Incidentally, walking into the Meyer Family Cellars tasting room is a bit like walking back through memory lane when Justin was still involved with Silver Oak – photographs from the 1970s in front of Franciscan Winery and other old Napa Valley locations as well as articles about Justin's time at Silver Oak hang on the wall.
And continuing their long connection with Oakville, Meyer Family Cellars produces Bonny's Vineyard Oakville Cabernet Sauvignon from the original 4-acre block from their family vineyard (available only for their wine club members) or sometimes through tastings at their tasting room. In 2011 Bonny acquired a neighboring parcel expanding the footprint of Bonny's Vineyard to 20 acres of which about 18 are planted to vine. Silver Oak produced a very limited production and popular Bonny's Vineyard designate wine from 1979 through 1991.
Justin had a custom-built sign for Bonny's Vineyard – loosely modeled after a National Forest sign in which arriving visitors are greeted with, "you are entering Bonny's Vineyard" and departing visitors see, "you are leaving Bonny's Vineyard". A much newer Bonny's Vineyard sign is loated on the north side of her property.
And their acclaimed port-style wine. After the sale of Christian Brothers in 1986, Justin's friend Joseph Ciatti, of the prominent Ciatti Company, a wine brokerage firm informed Justin that some 3,000 gallons of Christian Brothers 1987 produced port-style Touriga Nacional was available for sale. After Cabernet Sauvignon, Port was one of Justin's favorite beverages and he especially enjoyed drinking it over card games while he was still working at the Christian Brothers. He purchased this wine, and it became the base for their delicious Solera (non-vintage) Meyer Family Port (usually only bottled every 5 years). This was the first wine produced and bottled under Meyer Family Cellars; it was actually produced at Silver Oak for several years and was even sold in the Silver Oak tasting room.
In the spirit of Silver Oak's heritage and in honor of Justin, Meyer Family Cellars also produces an Oakville Cabernet Sauvignon called Spitfire that is entirely aged in American oak. Justin earned this named from a friend after he threw a drunk person out of a bar years ago for offending other patrons. Every year from the same vineyard, they also produce the same Cabernet Sauvignon called Fluffies Billows, but this wine is aged entirely in French oak.
And Justin and Bonny's other son, Bordeaux based Chad (passed in late 2022) was co-founder and CEO of Soutirage a wine retailer catering to serious wine enthusiasts and collectors. Soutirage offered a variety of premium services including access to premium wines, offering cellar advice, wine storage and hosting select wine related experiences around the world.
Since the sale of Silver Oak, in addition to being a partner in Meyer Family Cellars, Bonny oversees Meyer Family Enterprises, an investment company that selectively invests in companies focusing on environmental, economic, and social issues (dedicated to improving both the planet and society). These are issues extremely close to her heart. Her early involvement in this was through the nonprofit, Rockefeller Philanthropy Advisors who invited her to attend a Global Philanthropy Forum held at Stanford University which was attended by notables such as Bill Clinton and Bill Gates. The issues discussed were far reaching and so was the monetary amounts needed. Feeling a bit overwhelmed and asking herself what she could do, she realized her impact would be greatest felt through more targeted smaller investments – impact investing or regenerative investing as she calls it. Today the focus of her efforts are on environmental issues, in particular supporting the works of Rocky Mountain Institute (RMI).
"If money is only your goal, that will get you into trouble – instead focus on people and the planet." ~ Bonny Meyer
In May 2020, Bonny released a memoir she wrote titled, Perfectly Paired: The Love Affair behind Silver Oak Cellars – an in depth behind the scenes look at building Silver Oak, but even more so – a powerful and profound love story about her years with Justin, including relationship insights and the extreme pain and grief of coping with his loss with her love at its rawest and most intimate form following his death.
—
David grew up in Colorado but would often visit Napa Valley with his father. While studying for his MBA at the University of Denver in the mid 1990s, David worked on a project which outlined a financial plan for Silver Oak. However, he didn't become directly involved with the winery until later. Prior to his career in wine, he was working as a 'landman' in the family oil and gas industry, helping negotiate contracts and securing drilling rights. He remembers sitting in his office in 2002 when his father walked in and announced their General Manager, Dave Cofran (died 2022) was thinking about retiring. Ray then said, "I have figured out the perfect person to run the winery", David responded with "who" and his father said "you". As David says today, without any remorse, "we crumpled up the next 35 years of our lives and moved out to California later that year" – not an easy decision as his wife Kary was the Assistant Chief of Medicine at the University of Denver.
The growth and direction of the company over 45+ years has been no less than on an amazing trajectory. Justin would often say "we have yet to make our best bottle of wine" – with the vision and ongoing commitment to their vineyards, winemaking and consumers, this "ethereal ever moving goal" as David says – is always out of reach but one that incrementally they strive to improve on with every single vintage.
Today the winery is owned by David and his three brothers Mike, Kevin (an avid mountain climber) and Tim, who is actively involved on the sales side of the operations – having joined Silver Oak in 1986.
The Fire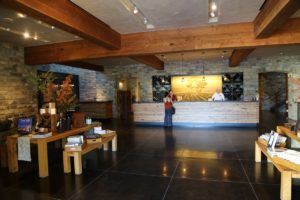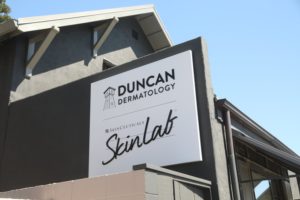 David was at his favorite gym in St. Helena at 6:20 in the morning on February 2, 2006 when he received a call from his wife Kary (founder of St. Helena based Duncan Dermatology). The only words he heard before he quickly hung up the phone was "the winery is on fire". He raced out of the gym and just so happened to be behind a firetruck that was also speeding to Silver Oak. This was a big deal in the valley and totally unexpected; according to David over 50 firefighters were on scene battling the blaze which continued to smolder and burn for several days after.
The blaze began in a dumpster slightly north of the winery – a strong wind was blowing from the north and quickly burned several buildings on the property and spread throughout the winery and also damaged other buildings on site. The winery building was not completely destroyed (suffered heat and smoke damage) but was later demolished to make way for the new winery.
In hindsight David says the fire was one of the better things to happen to Silver Oak but at the time it was understandably devastating to all the winery employees and ownership. They quickly convened at Ray's home; David recalls some of the employees in tears and their CFO Rickie Piña asking everyone, "what are we going to do now?" David quickly said something like, "why, we are going to rebuild the winery", immediately cutting through the despair of the moment. What do you do after hearing this? Open a bottle of Silver Oak of course, which is what they did to help lighten the mood.
And for the 2007 vintage only, all the Silver Oak Cabernet Sauvignon was produced at their winery at the time in Sonoma County.
The Rebuild
The rebuild provided an opportunity to start from scratch both with the winery and the hospitality center. Because Silver Oak's property is located near the Napa River and the land is prone to flooding, soil was brought in from cave tailings from another winery and raised approximately six feet above the level of the surrounding vineyards. The winery and hospitality center were designed by San Francisco based Taylor Lombardo Architects.
Their contractor connected the Duncan's with an old flour mill located in tiny Coffeyville, Kansas. This 100+ year old building containing locally quarried limestone was already slated to be torn down. Arrangements were made to use this stone in the new winery and some 550 tons were ultimately hauled on rail cars to Napa and then transported to the winery site. While some stones remained stacked up after the building was removed, these are now gone and all that is remains on the footprint of this building is now a metal storage shed (see photograph below). The flour mill is still active, today called Bartlett Milling; those who walk near the property will quickly smell the aromas of the milled flour.
Visitors to Coffeyville will want to stop in the quaint old historic part of town and also explore the Dalton Defenders Museum – honoring those who stood up for the town (including those who lost their lives) when the Dalton Gang attempted to simultaneously rob two banks. And also highlighting early Coffeyville history and some of its most prominent citizens.
They were able to salvage two stain glass windows from the fire which had been created by Napa Valley based artist Diane Peterson (the mother of well-known winemaker Heidi Peterson). During the rebuild the Duncans decided to add two more windows and commissioned her again – all four windows representing each season are part of the main winery building.
Flour Mill Site

Coffeyville

And in getting to know David, one quickly realizes music is an important part of his life. He began playing guitar in college, keeps one in his office and plays in a band with other Napa vintners, called the Silverado Pickups. This band has performed at select charity events, Bottle Rock Napa Valley and opened for some well-known performers including Tim McGraw. The band's first single, a catchy tune titled Wine Country Cowboy was also featured in the IMAX film, Napa Valley Dream. And being a fan of the Eagles, David astutely recognized Coffeyville, Kansas as the site of where the The Dalton Gang met their demise (referenced in the Eagles 1973 album, Desperado).
Fortunately, the signature wooden water tower was not damaged in the fire, and it was moved to next to the entrance of the hospitality center. Visitors walk by this on their way from the parking lot to the tasting room.
LEED Certified Platinum
LEED refers to Leadership in Energy and Environmental Design and has become the standard system for green building ratings in the world. David is extremely proud of their LEED Certified Platinum status and rightly so. Their Oakville winery earned this extremely coveted designation in 2016 and in doing so became the world's first commercial production winery to gain LEED Platinum status. LEED offers several qualification categories; Silver Oak qualified for the LEED certification of Existing Buildings, Operations & Maintenance. The winery must follow stringent guidelines which led to making select changes on the property including replacing lawn with outdoor turf – saving significant water usage each year. Nearly 1500 solar cellars are located on site, providing about 50% of the wineries' overall energy needs.
And during the construction of Silver Oak Alexander Valley, they carefully worked with LEED seeking and obtaining LEED Platinum status, (a collaborative effort) but for a different category – AP Building Design + Construction.
The LEED Platinum certification plaque is located directly to the right of the entrance to the tasting room at Silver Oak Napa Valley.
And incidentally the first winery to achieve LEED Platinum status was the much smaller teaching winery at the University of California, Davis.
Visiting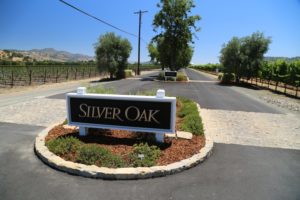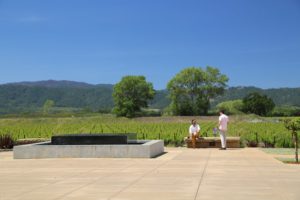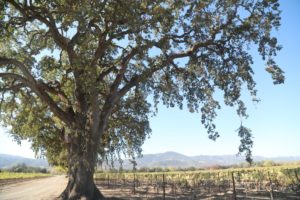 The winery is located in the heart of Oakville off of Oakville Cross Road. Their divided driveway is one of the longest winery driveways in Napa Valley leading to a decent sized parking lot next to vineyards (which incidentally has decent Wi-Fi coverage). And for die hard Silver Oak enthusiasts, here is a piece of Napa Valley trivia for you: there are exactly eight oak trees planted from the where the driveway starts at Oakville Cross Road and where it ends at the stop sign.
If you are being driven by a tour guide or arrive using a ride sharing service, it is common practice to pull into the roundabout and be dropped curbside – from here it is a short walk to the tasting room.
For a quintessential view of Napa vineyards stand just inside the tasting room and look out through the arches. On a clear day this is a spectacular view especially during the early morning or around sunset time.
Unlike most area wineries that open at 10am, Silver Oak opens at 9am which can make this winery an ideal first stop especially if you are serious about getting an early start to your day of wine tasting. Note the sometimes-unusual number of license plate frames in the parking depicting the following phrase: "Life is a Cabernet". The frames are available for sale online and in the gift shop. This saying has become the winery's motto and is well used on social media as: #LifeIsACabernet. And their gift shop is better stocked with more useful items than most Napa Valley wineries including culinary, books, and decent apparel (all branded with Silver Oak's logo).
A highlight of the hospitality center is the Glass House Library. This contains at least one vintage from every year dating back to their founding year of 1972 (makes a souvenir perfect Instagram ready photo spot) with its elegant and classy feel. Also of note is the hand carved wood paneling directly behind the tasting room. It was created by master wood carver Russian born now American Boris Khechoyan. The tasting counter is lined with welded iron; the counter is small and can fill up quickly at times.
The 'history room' is located around the corner from the main tasting room. The original winery doors appropriately open into this room, a rich walk back in time with walls lined with photographs, stories, articles and even their original winery bond (only the 4th in Napa Valley after Robert Mondavi opened his namesake winery in 1966 – long considered to be the benchmark of modern wineries in the valley). Visitors to this room are often attracted to the photograph of the full rainbow magnificently stretching over the winery. David took this photo the day before demolition was to begin – post fire damage. This was in the early days of digital photography; David remembers he shot this photo with a 2.2-megapixel camera that did not have a panorama feature). With the help of a photographer friend's son – three separate images were stitched together.
And if one looks closely at the door handle of these original doors one will see the wood directly behind the handle is worn away – from thousands of people over the years entering the winery. And if you look a bit closer at the bottom of the left door you will see a perfectly round but very charred piece of wood. During the fire in 2006, gas powered exhaust fans were setup in what was left of the original winery – keeping the interior well ventilated. One of the fans had vibrated around so that its exhaust pipe was directly against the front door – David noticed it had started to burn into the door and quickly re-positioned the fan.
One glass is included with each tasting and unlike some wineries, a previously wrapped complimentary clean glass is provided after your taste, rather than the spotty, wine-stained glass used during your actual tasting. Silver Oak always has older releases available for purchase – many in large format bottles. And if Timeless is served, it is in a Timeless glass, making it easy to distinguish from other Silver Oak vintages.
General tastings are by appointment (although if the tasting room is not busy, last-minute appointments can be made). Tours are offered on an appointment only basis as are food and wine pairings and the vertical tasting of select library wines. Reservations are suggested for busy harvest months such as September and October and especially for weekends.
Release Day
We have driven into the winery or past the driveway at times with cars filling the parking lot and spilling out onto Oakville Cross Road. These are release day events and are in part what has transcended Silver Oak from a winery to a cultural institution for some. It takes a significant amount of personal to help host the Silver Oak Release Days including several California Highway Patrol officers stationed near the entrance to the driveway, helping direct traffic. It is recommended to use a ride sharing service to arrive; guests who drive can either park in a limited number of self-parking spots off of the main driveway, on the sides of Money Road (catching shuttles at the end of the Silver Oak driveway) or use a provided valet service.
These events are extremely popular but were not always this way. In the early days when Silver Oak would release their wines, a handful of people would show up for the parties, according to David mostly restaurant owners or employees wanting to purchase large format bottles. He remembers in the early years that approximately 50 people would show up – increasing dramatically during the subsequent years. One of their earliest release days was held in 1985.
David recalls one year walking into the winery in the morning and finding someone already there – with plans to spend the night on the property in anticipation of being at the release party the next day. And for these first events, Silver Oak experienced perhaps what is most reminiscent of early iPhone release mania – people camping out over night to be the first in line to try the new wines. Their release parties are more controlled these days – no one is allowed to camp out overnight on the property – but they are still sizable with often over 2,000 people attending. This event has become so popular that several other wineries even plan their own events to coincide with Silver Oak's release day.
Tickets are available online typically several weeks in advance of the event and interested parties should book their tickets as soon as they go online, as these sell out remarkably quickly. We were told by staff that Silver Oak typically opens about a pallet of wine (56 cases or about 1,900 pounds) for a typical release day event. In addition to the featured release wine (either the Oakville or Alexander Valley Cabernet Sauvignon), wines from Twomey and Timeless are usually also available for tasting.
A main tent serves as a gathering point including housing a live band, and guests are free to walk around the grounds in front of the winery where a variety of food tents are located, serving locally made small bites. Another highlight, especially enjoyed by romantic couples, is the photo station, where guests pose with large format bottles in front of a professional photographer. Photos are quickly printed and are available for guests to take with them as a personal souvenir from the party.
And milestone parties are hosted for special anniversary years including their 45th anniversary party (which we drove by but did not attend); this was clearly epic with cars parked up and down Oakville Cross Road. In 2022 Silver Oak hosted a mega party in celebration of their historic 50th anniversary. One of the unique highlights of this particular party was a live creation of an image of the iconic Silver Oak water tower, oak tree and vineyards using nothing but old corks with various degrees of shading on the end of each cork to create this one-of-a-kind artwork. Curated by an artist at the event, guests were able to add corks to the piece. It now hangs in the Silver Oak history room.
Also noteworthy is well known wine-focused and prolific artist Thomas Arvid has attended Silver Oak's release parties for 20+ years; he paints live on site in a dedicated room surrounded by works of his art for sale – all showcasing works relating to Silver Oak. Several of his salespeople are on hand to answer questions. For the first time in their history, in 2020 Silver Oak did not hold a live release party at the Oakville Winery, rather it was held virtually. In 2021 their release days were separated into two parties, one held in the morning and one in the afternoon.
These events are a great time for friends and family to get together, meet the Silver Oak family and enjoy the latest wine offerings along with live music and plenty of food. The release of Silver Oak's Alexander Cabernet Sauvignon is always the first Saturday in August and the release of their Oakville Cabernet Sauvignon is always the first Saturday in February.
And one day prior to every release day staff meets to taste through not only Silver Oak's wines but also other wines from Twomey and Ovid.
Bottle Stories
Over the years Silver Oak wines have often played prominent roles during special occasions in the lives of their customers. Allowing people to share stories from the emotional attachments created from memories of enjoying Silver Oak wines, Silver Oak encourages people to submit via photographs or videos to what they call "bottle stories".
This resonated with their customers and with the increase of social media, countless stories have already been submitted.
Some of the more memorable stories include a woman who would drink Silver Oak wines with her father – his untimely passing inspired her to get a prominent tattoo on her arm of the iconic Silver Oak water tower and tree. Another loyal follower faithfully flew out from Nebraska to every release party for several decades and at his 50th party in a row, Silver Oak presented him with a massive 12-liter bottle of their wine. And Silver Oak offers a variety of both limited-production pre-etched and customized etched bottles, most commonly purchased by fans for special occasions.
Vineyards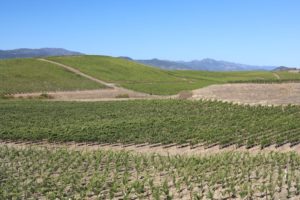 Visitors to the winery and property view thousands of grapevines in all directions. The views are quintessentially wine country-esqe – but in an ironic twist (considering Oakville is the heart of Cabernet Sauvignon country in Napa Valley and this is the variety that Silver Oak built its reputation on), the soils surrounding the winery are not necessarily conducive to growing Cabernet Sauvignon. Some of the vines one sees looking west from their tasting room and adjacent to parts of the driveway are actually Sauvignon Blanc. And compared to when Silver Oak owned hundreds of acres in this part of Oakville, surrounding the winery, today they own the land directly around the winery and a relatively small section of nearby vineyards.
Silver Oak continues to expand their estate portfolio – in the process slowly changing their vineyard model from sourcing much of their fruit to one of owning many of their own vineyards. As of our most recent update, they own more than 15 distinctive vineyard sites and manage approximately 575 vineyard acres concentrated in Napa Valley and the Alexander Valley in neighboring Sonoma County. The Duncan family also owns vineyards in other parts of the state as well as in Oregon. And for vineyards they do not own, they work very closely with growers with many of these sites having been farmed by the same families for multiple generations including one in St. Helena, Navone Family Vineyard (also producers of their own brand of wines) and Rahn Estate on Howell Mountain.
The most prominent vineyard site for the Silver Oak Napa Valley Cabernet Sauvignon and the backbone for this iconic wine since 1999 is the 150-acre Soda Canyon Ranch on the lower flanks of Soda Canyon Road (just north of the city of Napa). This property is planted to 113 acres – the majority of which is Cabernet Sauvignon but is also planted to four other Bordeaux red varieties including Merlot (which is the source for the Twomey Merlot and the Timeless wine), Cabernet Franc, Petit Verdot and Malbec. This picturesque property is remarkably well-hidden despite being a short drive in from Silverado Trail. Soda Canyon Ranch is only about a 15-minute drive from Silver Oak. The property is divided into 6 unique micro vineyards (The Peak, The Evening Slopes, Rocky Blocks, Transition Zone, Little Pomerol and Hardpan Alley) primarily based on soil types, elevation and exposures. These are in turn divided into 36 different blocks. Several blocks are extremely rocky, and parts of the vineyard feature very shallow topsoils with a hardpan layer sometimes less than a foot below the surface.
The Duncan family purchased this property in 1999; parts of the property had already been planted in the mid 1990s. It was previously used for dairy cattle and an old barn dating from possibly the 1920s or 1930s (based on the dates they have seen etched into the concrete) still stands on the property. After the family acquired the vineyard significant effort went into expanding the vineyard footprint. Nearby neighbors include William Hill, Broken Rock Vineyard and Roy Estate. This part of Napa Valley is not within any sub appellation although we have heard this region referred to by several vintners as the Silverado Bench, due to its elevation above the valley floor and roughly paralleling the Silverado Trail. From the section of Soda Canyon Ranch known as 'the peak' (the highest point on the ranch) one has excellent views overlooking the southern part of Napa Valley. One does not need to be very high above the valley floor for picturesque panoramic views.
And over the years, some of the greatest levels of improvement in quality have taken place in their vineyards. One axiom we have learned while working in Napa Valley is that each site is different and often farmed for its specific terroir distinctions. Winemaker Nate Weiss calls this "precision farming". Silver Oak farms for each site's expression – taking into account the importance of soil health, water usage, temperature differences and various exposures among many other vineyard related nuances. And this type of farming is open to using various types of technology to provide additional data as needed.

One has an even greater respect for the Silver Oak wines once learning about the incredible amount of work, love, passion, obsession and multitude of details that go into managing premium vineyards. One has to stay hungry to stay relevant and Silver Oak has been able to do that across all aspects of their business including with their vineyards, constantly striving to better improve the quality of wines produced from the vines. Water conservation and vine health are two very important aspects of their vineyard management practices.
Silver Oak uses a number of useful technologies to supplement their knowledge of their vineyards and to make informed decisions on best practices. It is remarkable to think how technology has evolved over the past few decades with sensors and applications which weren't even in existence that many years ago. Product venders install and or maintain specific devices as needed within vine rows. The viticulture team has found spore traps to be helpful, collecting various spores such as powdery mildew and Eutypa. They often see an increase in spores blowing in from other properties on windy days. Using this data has been beneficial as yet another tool to decide when to sulphur or mitigate using other sprays and in some cases saving them from unnecessary work and having less impact on the soils from fewer tractor runs.
Other very helpful devices installed among the vines include a Tule produced Evapotranspiration sensor which provides real-time data in regards to how much water a specific section of a vineyard is using at any particular time, sensors measuring providing general data about how many stomata are open or closed at one time on a grape leaf (respiration), sap flow sensors (an electrode attaches to the trunk of the vine), measuring the amount of water movement in particular vines, leaf temperature sensors and soil probes providing information about how much moisture is in the soil at any particular time.
Fires in 2017 damaged vines primarily located on the fringes of the property but also burned further into the vineyards. Part of the reason for this was more organic material growing among the vineyard rows (dried cover crops). Looking for a solution to effectively manage part of the cover crop, especially around the vine trunks, they discovered an Italian made semi-customized device hooked up to a tractor with a sensor and a plastic 'whip' which spins at a high velocity, effectively 'mowing' the cover crop right around the vines but not damaging the actual vine trunks. It is a versatile machine and handles different row spacing.
In addition, small parts of Soda Canyon Ranch are used as vineyard test sites, rather than testing only a few rows or vines, sections of blocks are used for specific experiments, sometimes on blocks that are due to be replanted. One such experiment involves removing leaves and lateral shoot growth pre-bloom in what will be the eventual fruiting zone to determine differences in fruit set and other variances. Another block we visited alternated between cane and cordon pruning every four rows, in part identifying differences in resulting yields. Other experimental blocks are stressed by water reductions.
Replants give their viticulture team additional opportunities to fine tune specific rootstalks (more drought tolerant), specific clones or varieties to parts of the vineyard. And with global warming, adjustments have been made in vine height and types and widths of trellising.
In order to continue to learn about individual parts of the vineyard, every year wines they refer to as 'grower lots' are produced. These are generally two case lots produced from individual blocks and even from experimental sections within the vineyard. Every year the winemaking team produces approximately 45 of these micro lots from Soda Canyon Ranch. And the viticulture and cellar teams taste through them after one year and then again after 5 years (to mimic the amount of time before the Silver Oak Cabernet Sauvignon is released) and to give them an idea of which blocks are best performing, and in addition, fine tune their own palates.
Their viticulture teams get together regularly, walking the vineyard and sharing information regarding the other Silver Oak and Twomey vineyard sites. These are open minded get togethers rooted in a sharing of ideas and suggestions.
There are already a number of mature oak trees dotting the property, but more young oak trees continue to be planted. Roads accessing the vineyard blocks are not gravel nor paved, they simply run over existing soils.
—
Another Napa Valley vineyard under Silver Oak ownership is located at about 1500 feet on Atlas Peak; this is the rugged and rocky Jump Rock Vineyard located past a gate in what is called Soda Ranch. This vineyard is planted to Cabernet Sauvignon and is named for a favorite family swimming hole in Colorado. And in early 2023 Silver Oak purchased the State Ranch Vineyard in nearby Yountville, a site with 29 acres of vines, planted all to red varieties including the majority Cabernet Sauvignon.
Rather than contract with a vineyard management company, Silver Oak employs their own in-house vineyard management team and has done so since their first vineyard acquisition. Their vineyards are sustainably farmed, and several are certified Fish Friendly – a certification provided by the California Land Stewardship Institute; a non-profit organization located in Napa. The vineyards utilize bird boxes which attract blue birds, who then in turn eat harmful insects such as the blue-green sharpshooter (the cause of Pierces Disease in which xylem flow is blocked usually killing the vines within several years). One Napa Valley vintner we met with had actually trained his vines to grow two trunks, so if one trunk was infected with Pierce's Disease, he could cut that one off, leaving the healthy trunk.
Winemaking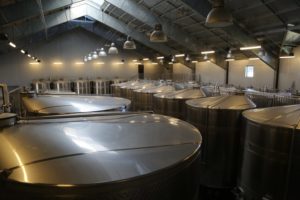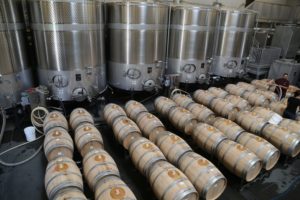 From the beginning Justin's wine making was very focused, highlighting Cabernet Sauvignon and using American oak for the aging (rather than French oak). The use of American oak is an extremely important component to the Silver Oak wine – contributing to its texture (creamy notes), flavors (vanilla) and tannin profile (softer tannins). One has to realize that Napa Valley was not known for Cabernet Sauvignon in these years – for decades other varietals dominated vineyard plantings (called mixed blacks). In fact, Silver Oak was only the second winery in all of Napa Valley behind Diamond Creek Winery to focus exclusively on Cabernet Sauvignon.
Silver Oak has employed only three winemakers in their history – founding winemaker Justin Meyer, followed by Daniel Baron (worked in the cellar at Château Pétrus and later was instrumental in the early operations at Dominus Winery) and currently Nate Weiss who joined Silver Oak in 2014. Nate is a Napa native who was formerly winemaker at Antica Napa Valley (now called Antinori Napa Valley) and whose father Michael was winemaker at nearby Groth Vineyards for many years.
The winery was designed with functionality, aesthetics and flexibility in mind. All three characteristics are extremely important but having the flexibility to adapt to changes in technology over time is is critical. Case in point; over a span of several years, a pump was installed on each tank. Rather then having to physically move pumps between tanks, during harvest each tank's pumpover can be controlled remotely by one person. This was especially important during the October fires of 2017 when some employees were not able to be on site. And this saves significant time during harvest – allowing employees to focus on other wine making activities.
Or down the line having the flexibility to adapt to having an optical sorter large enough to handle the size of their sorting operations or even eventually being able to handle grapes that were mechanically harvested.
The winery contains two vintages at any one time spread out among four sizable barrel rooms. The rooms were well designed to maximize space and – each row of barrels when removed for racking perfectly fits in an adjacent room.
The wines are fermented in stainless steel tanks ranging in size from 7 to 25 tons. All wines are then blended prior to being barreled; this is a very important part of their winemaking, often with 50+ different glasses lined up during each blending session. Typically, this begins in December and lasts for several months. Once in barrel Silver Oak has an extensive aging process in place for their wines before they even reach the consumer. Not only do they age the wines up to 30 months in the barrels, but then they age them further up to 2 years in the bottle. This is rare – for most wineries, economic reasons usually dictate much earlier releases.
Not all wineries have the luxury of this extensive aging process; this certainly favors the consumer as their wines are generally more approachable upon release.
Silver Oak owns their own bottling line – providing the flexibility to bottle on their own schedule. And with a label that is silk screened they don't need a label machine. And they own a carbon dioxide heat pump for sanitizing water using carbon dioxide from the air – using CO₂ as both the heating and cooling agent. Advantages include increased efficiency and less power used.
In 1994 winemaker Daniel Baron made a switch in wine making – up until this point the wines were 100% varietal Cabernet Sauvignon – starting with that vintage the wines were then blended and have been so every vintage since (however, always dominated by Cabernet Sauvignon).
To realize the value in every bottle of Silver Oak wine, it helps to reflect on the remarkable amount of time it takes to produce these wines. It takes 3-4 years for a newly planted grapevine to produce fruit – approximately two years in barrel and another two more years in bottle before the wines are released. In summary – 8 years from vine to bottle from a new vineyard planting. Also take into account their oak barrels are made from trees 80-100 years old with several years for the wood to season before a barrel is finally constructed.
And if one was to summarize their wine making philosophy it would be as Nate says, "freshness over power" – preferring to pick earlier rather then later – opting for a liveliness in the wines rather than more linearly driven higher alcohol wines.
The Oak Cooperage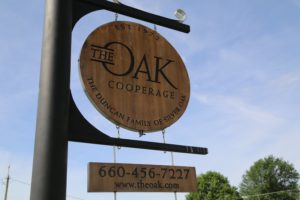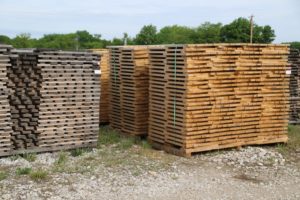 Silver Oak exclusively ages their wines in American oak; this is fairly unique among Napa wineries where French oak is most commonly used. In 2000 Silver Oak took 50% ownership in A&K Cooperage based in tiny Higbee Missouri buying out 25% ownership from the Meyer Family (with the caveat that the Meyer's could continue to get access to oak barrels). And taking the control of their oak program to another level, in 2015 they acquired full ownership from the original founding family, the Kirbys and changed the name to The Oak Cooperage. We have visited select wineries internationally that own their own cooperages, but never one connected to a Napa Valley based winery. In fact, they are the first North American winery to entirely own their own cooperage.
Higbee, population less then 600 people is located in very rural north central Missouri. One has to make a special effort to go here – the town is not located on any tourist route or major highway. Small but spread out this very tight knit community features one gas station, a post office continuously operating since 1873 and a small man-made lake created to service the steam trains that used to run through here. In early 2018 a major windstorm blew down the tallest building in town – an old brick three story beauty. Our visit was several months after this unfortunate disaster.
The Oak Cooperage is located on the edge of town – like Silver Oak it was founded in 1972. The cooperage also suffered its own fire; the main building burned down in 1977.
Creating a wine barrel is a lesson in patience and is a fascinating process. The typical age of the trees (white oak) are 80 to 100 years old before they are harvested – at which point only a certain height of the tree's trunk is actually usable for barrels. And one acre of land typically produces only about 1 barrel's worth of oak each year. Silver Oak owns some 300 acres of land in this part of Missouri growing mainly white oak (the type of oak used for making their wine barrels). In addition to using trees from their own land, Silver Oak also buys white oak from other forests in the state.
After the trees are harvested from central and northern Missouri, the trunks are cut into wood staves which are then stacked on top of each other outdoors at The Cooperage. The staves are left to 'season' in the elements usually for 24 months but sometimes up to 36 months. One can observe how long the staves have been outside by the color of the wood – becoming more weathered the longer they are exposed to the elements. While focusing their efforts on barrels for Silver Oak and other wineries, The Oak Cooperage also makes oak barrels for the whiskey and bourbon industries. Some of the used Silver Oak Cabernet Sauvignon barrels are even used (among other barrels) to make Consecration, an American Wild Ale by Russian River Brewing Company and also a Silver Oak Cabernet Sauvignon Pomace Beer. Interestingly, one of the co-founders of Russian River Brewing Company, Natalie Cilurzo used to work in the Silver Oak tasting room back in the late 1990s while also working at other wineries.
While the number of steps needed to create a barrel is significant – the amount of time required to build a single barrel is remarkably quick; Master Cooper Daniel Orton who began working here in 2002 estimates it takes only 2 hours to create a finished barrel beginning with the raw staves. Holding the title of Master Cooper is a rare job description – there are less then 50 such coopers in the United States.
The quality is in the details – every stave is cut to a thickness of 15/16th of an inch – and exactly 32 staves are used to make each barrel – despite the differentiating widths of each stave. It is the job of the Master Cooper to arrange the staves, so they fit perfectly – initially lining up each stave at the base of the barrel.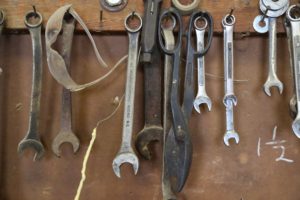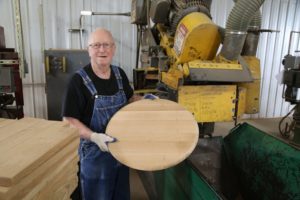 Sometimes old school still works best – layers from dried cattail stalks (grown in the marshes of New York state) are inserted in between each piece of wood used to make the heads of the barrels. Once the rough shape has been determined, these are fed into a machine which cuts out the exact size of the barrel head. One of the most important steps is when the barrels are placed over open fire pits (heat bending) followed by toasting (the Silver Oak barrels are medium to light toasted). And it is at this stage that the barrels smell pretty – this toasted oak can smell like freshly baked bread and vanilla.
Metal hoops are then placed on the barrel (The Cooperage makes their own hoops in-house). Before the heads are adhered to the barrel the edges of the heads are covered in a wax like material and then coated with a putty made from wood powder, flour and water. The barrels are hot water tested for leakage, then sanded and the existing bung hole is quickly heated and shaped with a special metal rod. Finally The Cooperage's logo is branded on top of one of the heads, the barrels are wrapped in plastic and held in their warehouse until they are shipped across the country.
It is rather remarkable that this small cooperage, located so far from Napa Valley plays such a prominent role in the making of their wines. And like Justin Meyer's well-known phrase about not yet having made their best bottle of wine, those at The Cooperage will readily tell you that they have yet to make their best wine barrel.
Higbee, MO

Silver Oak's White Oak Forest, MO

The Oak Cooperage, MO

Select Wines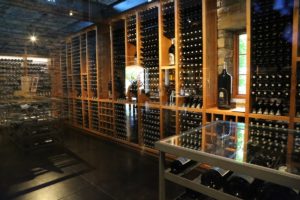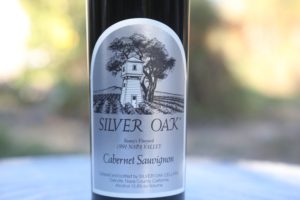 Over the years since we were first introduced to their wines, the alcohol percentages have crept up slightly but are still far less than many Napa Valley wines being produced today. Recent vintages have been in the upper 13% range or low 14%. The wines tend to be approachable in their youth but are also very age worthy (we have personally experienced this in a number of older vintages over the years).
The wines between Napa Valley and Alexander Valley differ in large part because of the differences in vineyard sites (the wine for the Napa Valley Cabernet Sauvignon is primarily from hillside/mountain sites) but also because of blending decisions by the winemaking team. The Napa Valley Cabernet Sauvignon, while always at least 75% varietal has a lower percentage of Cabernet Sauvignon in the wine as compared to the Alexander Valley Cabernet Sauvignon. And the Napa Valley Cabernet Sauvignon spends 5 more months in bottle as compared to the Alexander Valley bottling.
In addition to the current releases being poured at the tasting room of both the Napa Valley Cabernet Sauvignon and the Alexander Valley Cabernet Sauvignon, visitors also have the opportunity to sample at least one older vintage.
Napa Valley Cabernet Sauvignon
The 2018 Silver Oak Napa Valley Cabernet Sauvignon is a blend of 76% Cabernet Sauvignon, 15.2% Merlot, 5.1% Cabernet Franc, 3.2% Petit Verdot, and 0.5% Malbec. It is dark ruby in color; the bouquet was a little closed at the time of our tasting and needed some time to fully open. When it does open further, it shows notes of red cherry and a hint of dried herbs. The oak in this bottling is present more on the palate rather than the bouquet. This wine offers flavors of red cherry, strawberry and red currant along with some toasted oak and cedar notes. Its textural grip still shows somewhat youthful with tightly woven but finer-grained tannins persisting for quite some time on the slightly dry finish. We also noted its juicy and mouthwatering acidity. This wine clearly has plenty of life ahead of it (we tasted it several weeks after it was released).
The 2017 Silver Oak Napa Valley Cabernet Sauvignon is 80.8% Cabernet Sauvignon, 14.6% Merlot, 2.9% Petit Verdot, 1% Cabernet Franc and 0.7% Malbec. This wine is dark ruby in color; the bouquet offers aromas of cherry, plum, and red licorice with some blackberry notes deeper in the aromatics. Also shows some briary and savory notes with old cedar, dried herbs and a subtle note of dark baking spices. This wine features flavors of red cherry, currant, pomegranate and other higher toned red fruits. It is balanced right out of the gate with a light gravelly texture which is well integrated into the finish. Lingers with a red fruit brightness along with notes of dust, dried rock and dried tobacco leaf. Like the 2017 Silver Oak Alexander Valley Cabernet Sauvignon, this wine has great acidity.
The 2016 Silver Oak Napa Valley Cabernet Sauvignon is 78.9% Cabernet Sauvignon, 15% Merlot, 3.5% Cabernet Franc, 2.3% Petit Verdot and 0.3% Malbec. This wine is dark ruby in color with some darker spice notes showing on the bouquet including of black pepper, old cedar box and hints of tobacco leaf. This wine also shows some notes of dark chocolate deeper into the aromatics. The palate is well-layered with mouthwatering flavors of red cherry, notes of toasted cedar and hints of pepper, especially on the finish. The texture is a pleasing component of this wine, with long-lasting tannins that feel slightly gravely and chalky.
The 2013 Silver Oak Napa Valley Cabernet Sauvignon (79% Cabernet Sauvignon, 15% Merlot, 3% Cabernet Franc and 3% Petit Verdot) shows bright fruit aromatics offering more black than red fruits. There is a gravelly nuance to the bouquet with hints of cigar smoke. This is a big wine that is well layered on the palate – mouth filling flavors include blackberry and black cherry. Fairly robust chewy tannins anchor a long finish. Very good acidity. This wine needs some age and will be a welcome addition to your cellar if you have the patience to age it.
The 2007 Silver Oak Napa Valley Cabernet Sauvignon is a blend of 90% Cabernet Sauvignon, 6% Merlot, 1% Cabernet Franc and 3% Petit Verdot; this wine is aging very nicely (we tried this 14 years post vintage date). The wine is medium to dark ruby in color. Slightly brickish red on the rim of the glass with some noticeable bottle bouquet from its aging; reveal notes of raspberry, old leather, cedar box and cacao powder on the bouquet. The palate shows a simultaneous freshness yet also its age. Balanced across the palate with a berry fruit brightness. The fine-grained tannins are well-integrated.
The 2006 Silver Oak Napa Valley Cabernet Sauvignon (tasted 12 years after vintage) is composed of 81% Cabernet Sauvignon, 11% Merlot, 5% Cabernet Franc and 3% Petit Verdot. Smells like the wine has had some age but doesn't necessary taste as old as its vintage date. Shows a tiny amount of browning on its edges but still is mostly ruby in color. On the bouquet offers pretty aromatics, a sweetness of fruit including red cherry and floral qualities including notes of violets, subtle hints of mocha and a dusty nuance. Holding up extremely well on the palate, still shows lively fruit framed by excellent acidity. The tannins are polished but noticeable – lingering softly. This is a very balanced food friendly wine that still has life ahead of it.
The Silver Oak 1991 Bonny's Vineyard Napa Valley Cabernet Sauvignon (tasted 30 years post vintage date) is the color of older bricks (brownish lighter orangish/red hues); the bouquet shows aromas of raspberry jam and fig with hints of dried herbs and tobacco leaf deeper in the aromatics. A little vegetal on the nose without being green. Also some darker dessert spices that are coaxed out as the wine opens – including cardamom. The sweetness of the aromatics are pronounced in a nice union of both fruit and tertiary aromas including caramel. The fruit still shows on the palate but without a lot of structure – rather there is a lightness of texture flowing across the palate with a fine kiss of tender tannins on the finish. Clean from start to the end with plenty of brightness still evident, especially noticeable on the finish. Lingers with red fruits including cherry, cranberry and currant along with tobacco smoke. Mouth watering.
Alexander Valley Cabernet Sauvignon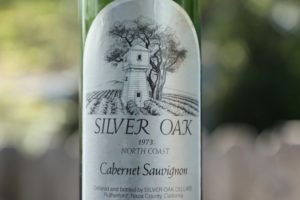 The 2017 Silver Oak Alexander Valley Cabernet Sauvignon is 95.5% Cabernet Sauvignon, 3.6% Merlot, 0.5% Cabernet Franc, 0.3% Petit Verdot and 0.1% Malbec. The wine is medium ruby color; the bouquet initially shows hints of shishito and jalapeno peppers along with higher toned red fruit aromatics including red cherry and currant. Opens up to more fruit as the wine continues to breathe in the glass. Displays a freshness of continuing red fruits on the palate along with a bright acidity. The tannins are slightly gravelly with a dusty and dry textural feel. There are also some darker spice notes that linger including white pepper. Very approachable in its youth, food friendly and also built to age.
The 2014 Silver Oak Alexander Valley Cabernet Sauvignon (tasted 7 years post vintage) is 97.7% Cabernet Sauvignon, 1.3% Merlot,0.5% Petit Verdot, 0.3% Malbec and 0.2% Cabernet Franc. This wine offers aromas of petrichor (the smell of dry earth right after the first rains), tobacco smoke and some darker spices. The aromatics are elegant but takes some time to tease out the fruit which include notes of red cherry and black raspberry. Of the Silver Oak Alexander Valley Cabernet Sauvignons tasted to date, this one is the most herbaceous (although we have yet to try the 2011 vintage). Offers very bright fruit on the palate including red cherry, currant and cranberry. There is also a rhubarb and a rose stem like quality. The tartness of fruit combined with the slightly astringent tannins begs for this wine to be paired with some protein. This bottling has loads of life ahead of it.
The 2013 Silver Oak Alexander Valley Cabernet Sauvignon (95% Cabernet Sauvignon, 2% Merlot, 2% Cabernet Franc and 1% Malbec) reveals gravelly dusty notes on the bouquet with cigar smoke and red licorice and an herbal type influence – perhaps a hint of sage. Shows mostly red fruit on the palate including raspberry, currant and red cherry. Noticeable mouth watering acidity leaves one salivating on the finish. The tannins are well integrated, rounded and not harsh. In comparison, most of the 2013 Napa Valley Cabernet Sauvignon wines we have tried from this robust vintage have needed more time in the bottle. This wine is very approachable young.
The 2012 Silver Oak Alexander Valley Cabernet Sauvignon is 98% Cabernet Sauvignon and 2% Merlot. One can smell some bottle age on the bouquet including notes of sweaty leather and a hint of dried tobacco leaf along with black cherry, cassis and ripe plum aromatics. Offers a mix of both red and darker berry fruit flavors across the palate anchored by dusty well-defined tannins. Lingers with red fruit flavors including red cherry. This wine is aging very nicely (we tasted it 9 years post vintage date).
The 2007 Silver Oak Alexander Valley Cabernet Sauvignon (100% varietal), tasted 14 years post vintage shows some browning on the rim in the glass. Features aromas of dried plums, blackberry pie, raspberry and red licorice. Give it time to evolve in the glass for more of the fruit aromatics to show. Also a hint of tobacco smoke and light notes of old cedar box as it opens. Very nicely balanced across the palate with pleasing texture (a medium grip of long lasting tannins). Still shows plenty of brightness with a red cherry flavor on the finish. This wine has aged very well.
The 1991 Silver Oak Alexander Valley (100% varietal) is medium to dark ruby in color and shows some light brickening of the color. We tasted this wine 31 years post vintage date. The nose immediately offers a green pepper spice along with crushed dark pepper, mushroom and leather. It is musty, with damp earth and forest floor. The bouquet is savory and needs some time to breathe; as it does, it becomes a bit more brambly. The palate is nimble and fresh on its feet; it is balanced and still has life ahead of it. Offers flavors of old cedar, currant and sour cherry on the finish. This wine lingers with a bright red fruit liveliness and a slight tartness. The tannins are still perceptible, are light gravelly in texture and are very well integrated.
We tasted the the 1973 Silver Oak Cabernet Sauvignon North Coast with extreme reverence. After all, this was only the second ever vintage produced at Silver Oak. The 1973 Silver Oak Cabernet Sauvignon North Coast is medium garnet and brick-red in color. For reference, we tasted this wine in 2023, 50 years post vintage date. The bouquet still shows some fruit but its all tertiary aromatics at this age including dried blackberries (reminded us of harvesting blackberries very late in the summer which have dried on the vine), dried black figs, cooked plums and prune along with leather, tobacco spice, mocha, coffee, toffee, espresso and truffle oil. There is also a note of petrichor – the smell of dust when rain falls after a long period of dryness, usually late in the year. Its aromatics are also somewhat savory, showing some meaty and dried herb characteristics, especially as the wine has more time in the glass. The palate offers flavors of red plums, dark cherry, tobacco spice and licorice. The finish lingers gently with tannins so rounded and supple, that the best word to describe their textural feel is seamless. It shows a balanced and bright acidity. This bottling is 100% Cabernet Sauvignon and refreshingly only 12% alcohol.
The back label notes the grapes for this bottling were sourced from vineyards in two counties and that, "aging in 50 gallon oak barrels has softened and rounded the wine. Subsequent bottle age has polished it further and developed its complex bouquet. While enjoyable now, further bottle age will improve the wine." We are not sure that Justin was thinking this wine might be consumed 50 years after he produced it but true to its original description, the bouquet is still diverse and the palate is still polished. It has aged extremely well. Total production of this wine was 1,850 cases.
A very special and rare wine called Six, named in honor of Ray's lucky number six is a red blend and is only released from exceptional years. The first ever Silver Oak Six was from the 2012 vintage.
Culinary Offerings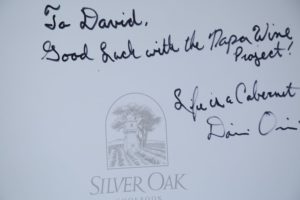 Silver Oak's culinary program was created in 2008 by founding chef Dominic Orsini. Dominic has come a long way in the culinary world since his first food related job – working at a Burger King at age 14. He graduated from the Culinary Institute of America in Hyde Park, New York City; prior to working at Silver Oak he worked on a small cruise ship, was sous chef at the acclaimed Waldorf Astoria hotel in New York for several years and was chef at several notable restaurants in Napa Valley. Surrounded by wine, it is no surprise that Dominic has also passed his Introductory Sommelier Course of the Court of Master Sommeliers.
The focus of Silver Oak's food and wine pairings is on education and enjoyment. Dominic says, "ingredients can soften and make the wines sing" – these flavor changes on the palate can be rather remarkable. Dominic told us about one of his pairings; a plain risotto with side ingredients including salt, lemon juice and butter. Guests add each of these ingredients one at a time to notice the differences in flavor or mouth feel as they are paired with Silver Oak wines. Salt rounds out the wine, the lemon juice helps heighten the flavors of the wine and butter helps soften tannins.
During his time at Silver Oak, Dominic sourced much of his ingredients from a small garden on the property including from raised beds. Not only does he use fresh ingredients but also makes preserves and dry specific products including persimmons and beans. Early on, Dominic harvested Cabernet Sauvignon and used the indigenous yeast on the grape skins to make a bread starter. This starter is maintained weekly and all bread is baked in house. Note: after 14 years at Silver Oak, in September 2022 Dominic left to assume the position of Executive Chef for the Culinary Institute of America at Copia.
And then there are the meat offerings – they smoke their own prosciutto, make dry-cured salami and one of their specialty's is bison meat cured for three months using salt, juniper and rosemary.
Silver Oak's food & wine pairing is available by reservation daily – this experience lasts about 90 minutes and pairs four wines with four small plates. This sit-down tasting is available at either of the Silver Oak properties.
Silver Oak also offers private cooking classes with the winery chef on select dates throughout the year.
Corporate groups take note – Silver Oak can customize food and wine pairings based on group size and interest. And can handle sizable parties – one pre-wedding gathering that we arranged for a visit to the winery was nearly 100 people.
In 2022, in honor of their 50th anniversary, Silver Oak organized the Dinner Series, curating food and wine dinners in select cities across the U.S. Silver Oak continues to offer these experiences; they are hosted at top restaurants by acclaimed chefs. Each event is typically open to between 30 and 50 guests and each dinner is paired with a flight of Silver Oak and Twomey wines. In 2023 Silver Oak began offering Timeless Moments, rare and intimate food and wine events hosted inside the home of select well-known chefs, with the cuisine paired with wines from Timeless.
And the Silver Oak Cookbook (written by Dominic with a forward by chef Charlie Palmer) features a treasure trove of recipes that all Silver Oak fans with a culinary interest will want to get their hands on. One of the most intriguing recipes from not only from an artistic point of view but from a flavor profile is the Heirloom Tomato Mosaic with fresh Mozzarella and Petite Garden Herbs. Not only does the book feature Dominic's personal seasonal recipes (all listed with suggested Silver Oak or Twomey wine pairings), but various chapters are sprinkled with notes about their vineyards, wine making, gardens and winery events.
Silver Oak, Alexander Valley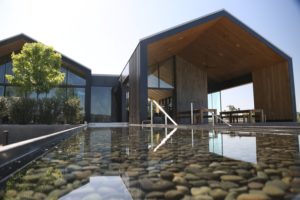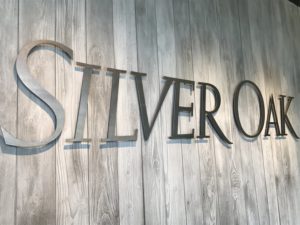 Like in Oakville, Silver Oak Alexander Valley has evolved through multiple spaces. Looking for additional space due to the fact they had outgrown their Oakville production facility, in 1992 Silver Oak acquired the twice-bankrupted Lyeth Winery and property near Geyserville from the Lyeth family. The winery was originally used for white wines, but Silver Oak converted it to produce Cabernet Sauvignon and made their Alexander Valley wines here until 2016 before selling the winery to Lodi-based Michael David Winery in 2017.
In 2012 Silver Oak purchased Sausal Winery in Sonoma County's Alexander Valley. This property was deeded in 1877 to Cyrus Alexander (Alexander Valley is named for him) and was one of Sonoma County's earlier vineyards. More recently, the site used to be planted to Zinfandel, but Silver Oak completely replanted the entire vineyard footprint to 100% varietal Cabernet Sauvignon. The Miraval Vineyard (purchased in 1987), which provides a significant portion of the Cabernet for the Silver Oak Alexander Valley bottling, is located only about a mile south of the winery. Silver Oak Alexander Valley is about a 50-minute drive from Silver Oak Napa Valley and about a 15-minute drive from Healdsburg Plaza.
The total property is 113 acres of which approximately 75 acres are planted to vines. A state-of-the-art winery was built on site which was operational in time for the 2017 harvest. In April 2018 a contemporary hospitality center opened. Lead architect Daniel Piechota of Sagan Piechota Architecture based in San Francisco was responsible for both the design of the winery and the hospitality center. This company has overseen design for a number of mostly San Francisco based commercial paces including Ritual Coffee's headquarters in San Francisco.
The winery is sizable housing some 80 stainless steel tanks – each one corresponding to a specific vineyard block. Only their Alexander Valley Cabernet Sauvignon is made here. Silver Oak currently produces around 70,000 cases of this wine annually and about 30,000 cases of their Napa Valley Cabernet Sauvignon.
And the winery is very green. Recycled materials were used in the construction including redwood siding on the outside of the winery building (taken from old wooden tanks dating from the 1930's). These tanks were originally used by Cherokee Wine Association, an old co-op in Lodi that was founded in the years immediately following Prohibition and was eventually purchased by Robert Mondavi Winery; it is now home to Woodbridge Cellars. Oak wood is used for flooring and for the ceiling panels in the tasting room – all harvested from local trees.
Over 2500 solar panels are installed on the winery roof, providing much of the wineries' electricity needs, producing more than one megawatt a year. In addition to securing their LEED Platinum certification, the winery features 100% zero net energy and zero net water commercial use. A big part of this is because of the costly Membrane Bioreactor (the small building and setup that houses these can be seen from near the tasting room). This technology recycles water – treats it and filters 100% of the water used in the winery. Purple hoses next to the winery tanks indicate any water recycled using this technology. Silver Oak also uses steam to swell their oak barrels (to prevent leaking), further reducing their water needs as opposed to filling oak barrels with the requisite 60 gallons of water.
And continuing to pursue as environmentally friendly practices as possible, Silver Oak Alexander Valley participated in The Living Building Challenge (LBC) – an organization that sets high standards for green buildings. The winery building was fully certified in 2020, at the time one of only 26 buildings on the planet to receive such coveted status.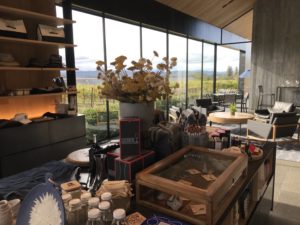 A number of raised beds are located near the parking lot and are used to grow a variety of produce (including edible flowers) which are used in their food pairings. A sizable commercial kitchen is also located on site (propane was not able to be used due to Living Building Challenge requirements – instead these are induction cook-tops).
Visitors need an appointment to taste although if not busy, last-minute appointments are usually available. A tour + a tasting requires an appointment as does any of their food + wine offerings. A general tour includes a walkthrough of the winery and barrel room. Several tasting experiences are offered including the Silver Oak Tasting, the Silver Oak + Twomey Tasting and the Silver Oak Napa Valley + Alexander Valley Comparative Tasting. A seasonal offering is the Silver Oak Cabernet Vertical Tasting, typically featuring 6 vintages in a row from either Napa Valley or Alexander Valley, plus bonus wine.
The tasting spaces are spacious with a liberal use of large windows so one has excellent views of the surrounding vineyards. While the winery and hospitality center are visually dramatically different then Silver Oak's winery in Napa Valley, visitors will be comforted by a few similarities between the properties including the long divided driveway (although unlike at Silver Oak Oakville, there are no oak trees growing along its length), the use of reflecting pools and the iconic wooden water tower.
One highlight of the tasting room is impressive circular Silver Oak Library Room. Besides being surounded by older vintages, one's eye quickly is drawn to the sizable basalt rock. Chosen from a quarry in Washington State in 2016 by David and Daniel, once the rock arrived at the winery it had to be lowered into place by a large crane. It was lowered into place well before the roof was even added to the building. After it was cut to flatten out the base and the top cut and polished, its total weight is estimated to be approximately 6 tons.
While threatened by the Kincade Fire in October 2019, fortunately the winery and hospitality center were spared. The fire burned the hills directly behind the winery and damaged and or destroyed several nearby winery properties.
Silver Oak, Alexander Valley

Old Silver Oak, Alexander Valley
(we keep these photographs here for historical reference)

Other Wineries
The Duncan family operates four Twomey (pronounced two-me) locations with a focus on Sauvignon Blanc, Pinot Noir and Merlot. The Napa Valley and original Twomey tasting room is located just south of Calistoga, a second Twomey is near the town of Healdsburg (Sonoma County), a third Twomey is in Philo (Anderson Valley) and a fourth and the newest Twomey is near the small town of Dundee, just south of Portland Oregon in the Willamette Valley. With the exception of the Oregon Twomey, all of the other locations are open to the public for tastings by walk-in. And each one of the Twomey tasting rooms can taste guests on the latest vintage of both the Napa Valley and the Alexander Valley Silver Oak wines. The Twomey spaces generally do not have older vintages of the Silver Oak wines.
And in 2017 the Duncans purchased a majority interest in Ovid Napa Valley on Pritchard Hill – their focus is on limited production premium wines with visits reserved for active members of their allocation list. While under the same ownership, Ovid Napa Valley remains completely separate from Silver Oak. We have additional reviews on this site of all the Twomey properties and of Ovid Napa Valley.
Timeless Napa Valley

In early September 2020, the Duncan family released the first vintage of Timeless Napa Valley (2017), a proprietary vineyard designate red blend from their Soda Canyon Ranch created as a tribute to Ray Duncan. This was the first new brand from the Silver Oak family since Twomey was created back in 1999. David and Ray share the same birthday (October 23rd) and are 35 years apart in age. In honor of Ray's 85th birthday, David decided to treat him with a special present, a song.
This wine was named after the song Timeless, that David co-wrote with country songwriter Monty Powell at the music studio at Gargiulo Winery (located mere minutes from Silver Oak). Ray's favorite music was Jazz and the original recording of this song has a slow and sultry feel to it with lyrics thoughtfully written for Ray – but unfortunately he never had a chance to listen to it.
And the label is highly personal, featuring a lyric from Timeless, an illustration of Soda Canyon Ranch and most intriguing a gold colored outline of two oak leaves and an acorn, inspired by a ring David gave his wife Kay which was modeled after actual oak leaves and acorns from their Soda Ranch winery property. Jean-Claude Berrouet of Château Pétrus was consulting winemaker for Timeless. Unlike the Silver Oak wine, Timeless is aged in French oak barrels.
The 2017 Timeless Napa Valley (inaugural vintage) is medium ruby in color; sports bright and elegant aromas of blackberry, currant, cassis and a subtle hint of mocha. Shows restraint on the bouquet and is a little bit closed upon opening; it needs time to breathe to tease out the aromatics which become slightly savory over time. Juicy across the palate, with flavors of red cherry, currant and raspberry. A lively spiciness continues mid palate through to the finish with notes of white pepper and old cedar. A bit savory. Lingers with chewy tannins and a noticeable grip but are not heavy in their textural feel. And some darker spices. Already balanced in its youth, this is a wine that most definitely has plenty of life ahead of it.
1700 cases of the 2017 were produced, sold only in 3-packs through the Silver Oak website or in person at their tasting room.
The 2018 Timeless Napa Valley is even more balanced than the 2017 in its youth. This wine is dark ruby in the glass; the bouquet is well layered with aromas of blackberry and plum but there are some darker aromatics also present including saddle leather, dried rose petal and some subtle notes of tobacco spice. This wine features mouthwatering acidity from start to finish with flavors of red cherry and cranberry. One can feel the density of tannins on the palate but with rounded, rather than sharp edges. The finish lingers bright and with some notes of dried tobacco leaf. This wine is highly worth seeking out.
The 2019 Timeless is dark ruby in color; the aromatics offers a variety of red fruits combined with a dried rose petal note, dried herbs and a subtle hint of licorice. There is also a thread of black currant and cassis among the various scents. The palate is remarkably well-balanced for its youth (we tasted three years post vintage date) and includes flavors of red cherry and a light note of boysenberry. The tannins are noticeable but without any youthful harshness. Rather, their texture is chalky with an accompanying and persistent dryness framing the long and juicy finish. This wine also lingers with a hint of tobacco spice. It certainly has years of life ahead of it.
—
Wing & Barrel Ranch
Silver Oak was one of the first vintner members at this prestigious hunting, fishing and culinary ranch located in neighboring Sonoma County (easily seen from and bordering the north side of Highway 37). Co-founders of this ranch, the Sutso family have generationally owned and overseen hunting operations in this part of Sonoma County, initially as Black Point Sports Club dating back to 1964 (which sold in 2013). Their co-founder Darius Anderson is also the Founder and CEO of Kenwood Investments and along with his team, Sonoma Media Investments (the largest publishing company in the North Bay).
With the vision and foresight and financial fortitude, the founders have built a remarkable operation on property that we have always referred to as 'no man's land' due to its location just below sea level, proximity to the tidal fluctuation of the San Pablo Bay and very little human development in the region. A series of dikes protect against the tidal zone fluctuation.
In 2020 a state of the art and world-class private members clubhouse (capped at 400 memberships) opened featuring two levels containing men and woman's locker rooms, a sports shop featuring fine outerwear, footwear and other high-quality sports related items, a gun cleaning room, an impressive gun vault with a massive Fort Knox door, an excellent restaurant led by renowned chef Charlie Palmer with both indoor and outdoor terrace seating (great views looking north over the ranch), the Trap bar next to a large rustic yet elegant lounge seating area and a more private cigar room.
And equally as impressive as all of the other spaces is the Akin Family Wine Cellar (named after a pioneering family that immigrated to the United States in the 1660s and whose heirs over the generations have been outdoor enthusiasts and conservationists. One family member, Veterinarian Dr. Howard Akin oversaw a California based team that eradicated tuberculosis in livestock. This wine cellar contains a number of wine lockers for members including prominent display spaces and small screens with winery owners speaking about their passions for founding vintner members including Silver Oak.
A portion of the ranch is set aside for dry farmed seasonal crops including wheat and rye – the majority of the property is still in its natural state with plenty of natural water bodies on site including the Sonoma and Tolay creeks. Specific parts of the ranch are set aside for shooting with about a mile in diameter circumference Sporting Clays Course for trap and skeet action with 15 shooting stations including one specifically for Silver Oak. This is the only course on the west coast designed by acclaimed shooting instructor and gun fitter, Chris Batha.
One of the most popular activities is hunting for pheasant, chukar and quail in one of 24 hunting fields. And many other activities are offered such as fly fishing for bass or seasonally for trout (catch and release), expert gun instructors, shooting with winemaker days, a kids Adventure Camp, culinary instruction, special gun sales and seasonal trail rides on horses.
—
Of the well over 1,100 Napa Valley based wineries and producers I have personally met with and written extensively about; Silver Oak holds a very special place in my heart. I have followed Silver Oak's heritage involving numerous related spaces and places to seven states around the country including California, Colorado, Illinois, Indiana, Kansas, Missouri and Oregon.

Because of the scope of the Napa Wine Project, people always ask me to choose my favorite winery in Napa Valley and that is a question I simply cannot answer and will not answer. However, if someone told me to choose a Napa Valley based winery that best represents the valley, more often than not I will choose Silver Oak. Sure, there are older wineries and wineries with arguably richer heritage and deeper roots in the valley and I often reference them, but I'm looking at the overall picture here.

By virtue of its location, Silver Oak is basically the center point of the entire Napa Valley. From a geographical perspective that is extremely appealing. And their decision to focus entirely on Cabernet Sauvignon from the beginning ultimately was a fortuitous one, a variety that is now synonymous with Napa Valley.

My journey following their heritage has become highly personal, their success story involving two sets of owners and now multiple generations, is extraordinary. The scope of ownership and or places and spaces in select states around the country that have been or are currently somehow connected to ownership is significant.

But most importantly of all, their ethos of character that built the foundation of Silver Oak truly represents the valley at its finest: above all, have integrity, be gracious, be humble, be respectful, be hospitable and be part of the community and help out your neighbors when you can. Of critical importance is to always strive to produce the best possible product and get better doing so each year. Financial stretching involves risks, but make them calculated – an inherent savvy business acumen is a critical component to success. And a sometimes forgotten attribute – simply have fun doing what your doing!
—
**** A huge thank you goes out to all the tasting room staff we have met with over the years and interviews or chats with Bonny Meyer, David Duncan, winemaker Nate Weiss, Vineyard Manager Dave Shein, Chef Dominic Orsini, Viticulturist Allison Bettis, Master Cooper Daniel Orton and Bonny & Justin's son Matt Meyer.
In 2023 country music singer Scotty McCreery released a single called Cab in a Solo with several repeating lyrics prominently highlighting the Silver Oak 1998 Cabernet Sauvignon, although it doesn't mention if he is drinking the Silver Oak Oakville or Sonoma County bottling.
"So now I'm findin' out how a heartbreak taste
With a Silver Oak, 1998
Drinkin' cab in a solo
Solo in the cab of my truck"
And while the Duncan's have certainly left their legacy across multiple states and businesses, we will leave you with their simple slogan, one most likely will see on license plate frames in the Silver Oak parking lot: "Life is a Cabernet", a play on lyrics from the title song, Life is a Cabaret, from the 1966 musical, Cabaret starring Liza Minnelli. And so, it is for thousands of fans of this storied winery.
Silver Oak is an official wine partner of the San Francisco Giants and the Golden State Warriors. They are a wine partner in San Francisco's Chase Center Splash Wine Bar, located in the upper Budweiser Legends Club. Select Silver Oak and Twomey wines are available throughout Oracle Park including at Vintage '58, a wine bar located on the promenade level branded with Silver Oak's logo. Those who purchase a full bottle of a Silver Oak or Twomey wine will receive two wine cups and a co-branded wine carafe. A Silver Oak suite level wine bar has been open since 2017.
Silver Oak is a member of the Napa Valley Vintners and often hosts special vintner events at the winery. In 2023 David Duncan chaired the vintner's annual wine auction, Collective Napa Valley.
Note that Silver Oak does not directly offer a wine club, rather several wine clubs are offered through Twomey Cellars providing preferred access to Silver Oak wines and events. Although the 8 cases per year Club Twomey Founder's Club does provide direct club access to the Silver Oak wines. These wines are distributed widely domestically through numerous distributors and also in many countries around the planet through a variety of importers. One doesn't always think of Silver Oak as having an international presence but in actuality they are selectively distributed in parts of Africa (including Nigeria), Asia, Australia, Europe and North and South America. At one point, Japan was their largest international market. The Silver Oak Cabernet Sauvignon has become some of the most popular and ordered wines at fine restaurants and steakhouses across the U.S.
For more information, to shop for wines (including select Library wines) or to sign up for their mailing list, visit: www.silveroak.com
Silver Oak, Oakville

Related Videos