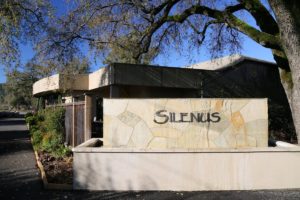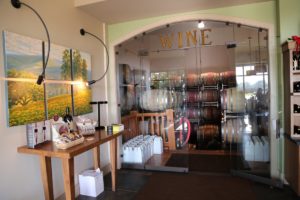 Silenus Winery is located on Solano Ave parallel to Highway 29 on the west side of the highway just south of Yountville in the Oak Knoll District. Their name originates from Greek mythology, Silenus was the companion of Dionysus, God of Wine. He even left a lasting quote "The man who does not enjoy drinking wine is mad. Their tasting room opened in mid 2007.
Silenus is located on site of the old Koves Newlan Winery – the valley's 35th bonded winery. If you visited that winery and visit Silenus today, you won't even recognize this place. Former proprietor, Bob Williamson and his family purchased the site and did a great job of remodeling, adding state of the art wine making equipment, adding a new tasting room and redoing the landscaping.
Bob came from a construction background and has been a fine wine enthusiast for a number of years. While living in foggy Half Moon Bay he and his wife decided to try to find property inland in a warmer location. Enter Napa; Bob's original purchase was a nearby 15 acre vineyard but when this property came on the market with an existing winery he took the jump not yet knowing that it would involve additional ventures including vineyards, a winery, a custom crush facility and a tasting room all wrapped up into one property.
In 2010, Silenus Winery was purchased by a Chinese-American company, Silenus International Group.
The location of Silenus Winery was originally a walnut orchard in 1967. The orchard was converted to Cabernet Sauvignon vineyards and the grapes sold to Robert Mondavi, Inglenook and Clos du Val. After discovering that the grapes consistently ended up in the various wineries' reserve wines, the first vintage from the property dated from 1980 (a Newlan Cabernet Sauvignon).
Silenus is a "collection of artisan winemakers" – in other words, this is a custom crush facility for a number of small wineries (varies depending on the year). What separates Silenus from other area collectives is not only do these wineries taste their wine here but they also make it on site as well. These wineries do not have their own physical winery facilities.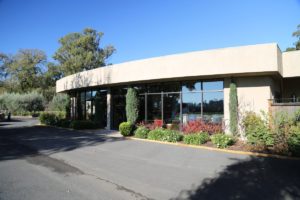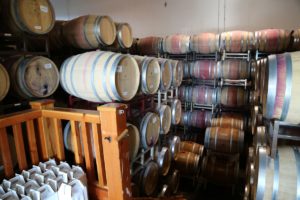 Besides having the small winery to work in as well as other winemakers to bounce ideas off of, these small wineries have a public face (the tasting room) for offering the wines to the public (which is very rare at other area custom crush facilities). In addition, it is refreshing to find varietals poured here not often found at Napa wineries. The reason for this is several of the clients source fruit from outside of Napa for varietals that you just won't find grown in the Napa area.
Bob Williams produces his own label Ideology at the winery – it is also often available for tasting here. Be sure to try their two Chardonnays which are both created in totally different styles. Note that we have conducted a separate review of Ideology Cellars and you can visit that review for additional information as well as for reviews of their wine. Much of the surrounding property which extends to the base of the western Mayacamas mountains is planted and some of the fruit is sourced from the estate. The estate contains bench-land and alluvial soils which have resulted partly from the erosion over many years from the mountains as well from the influence of nearby Dry Creek.
The one nice thing about a tasting here is you are sampling premium wines from very small Napa producers (wineries who typically produce merely several hundred cases). The tastings always change so you never know exactly which type of wine will be pouring.
The wines available at the tasting counter vary from time to time depending on which wineries are represented. The winery produces more than 30 wines from vineyards throughout the Napa Valley. A tasting includes their own estate wines as well as some of the wines from producers on site. Two tastings are offered; a Vintner's Collection Tasting which includes 6 wines (3 whites, 3 reds) and the Vintner's Reserve Tasting (4 reds). The tasting fee is waived with a two-bottle purchase.
Two small parking lots are available – the first lot on your right has shade while the other one is mostly in the sun. Look for a winery dog or two sprawled out, possibly in the tasting room. The inside of the tasting room is elegant, modern and chic with a spacious curved tasting bar. The staff is friendly and knowledgeable especially their tasting room manager Scott. He has been here ever since they opened and is one of the more hospitable behind the counter guys you will meet in the Napa Valley.
Certainly not all Napa wineries allow picnics – Silenus does, with tables located in their shady grotto. You can also use their bocce ball court after your tasting.
For more information Visit: www.silenuswinery.com